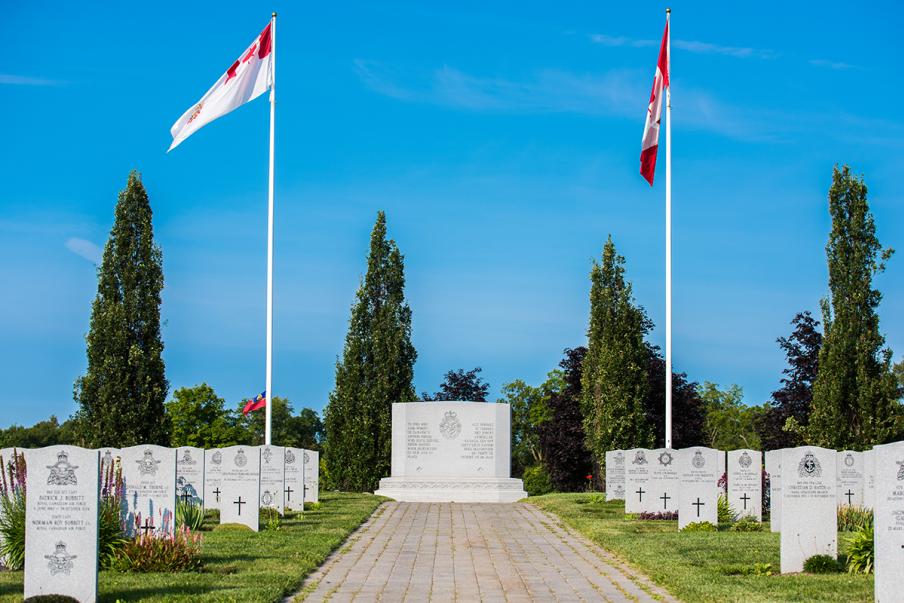 2158 A.G.S. 'Tony' Griffin 1911 – 2015 (Entered RMC in 1930) –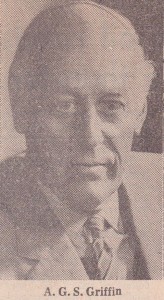 To our knowledge, until his death "Tony" was the oldest living Ex Cadet.  He had an older brother who was also an Ex cadet – 1904 WMR Griffin – entered RMC 1926 and killed while serving with the RAF in World War Two.
Tony served with the RCN from 1940 and was discharged with the rank of Commander, September 1945.
His obituary (following) describes just a small part of his remarkable life.
The photo in our Table of Contents was provided courtesy of Appleby College Archives.Tony attended Appleby from 1922 to 1929, and played on the First Rugby, Hockey, and Crickets teams. While at RMC he played on both the hockey and football teams.
No photos are available from his RMC days at press time.)
***
More death notices (6)
Tony Griffin died at the age of 104 on September 4, 2015, from complications following a recent hip fracture. He lived an extraordinarily full, even charmed, life and his accomplishments were many, measured by his career, his contributions to society, his wide circle of friends and family and especially by his joie de vivre and endless sense of humour.
He was predeceased by Kitty, his wife and ultimate companion of seventy-four years and leaves his children, Scott (Krystyne), Ian (Judy), Ann McCall (Storrs), Peter (JoAnn) and Tim (Darka), as well as fifteen grandchildren and twenty-five great-grandchildren.
Tony was born in England, grew up in Toronto, attended Appleby College and RMC and began his business career with the Standard Life. When the war intervened he was able to work his way up through the ranks of the Navy in short order and become a commander of a corvette, the Pictou and subsequently a frigate, HMCS Toronto. The war awoke in him powers of imagination and leadership that arguably made it the most unforgettable and immense experience of his life.
Following the war, he worked in Ottawa for the Wartime Prices and Trade Board and the Department of External Affairs. A career in the diplomatic service was clearly in the making, however he then met British merchant banker Siegmund Warburg, who convinced him to join his firm. This led to the formation of Triarch Corporation and ultimately to a distinguished career as a corporate director of some twenty-one companies, notably Consumers Gas, Home Oil and Guardian Capital. At the same time, he served on the boards of several philanthropic institutions, including the presidency of the National Ballet of Canada and St. Michael's Hospital, where he was chairman for ten years.
His personal life with Kitty was equally full. An accomplished sailor, tennis player and skier, he never had a dull moment sailing offshore on over fifty occasions, skiing every single winter weekend until age ninety at Osler Bluff Ski Club, socializing with their many friends in Toronto and abroad and above all summers at their beloved property on Balsam Lake with multiple generations of family.
A funeral will be held on Friday, September 11th, at 11:00 a.m., in Victoria Road at Our Lady Help of Christians Roman Catholic Church. In lieu of flowers, donations will be gratefully received by St. Michael's Hospital Foundation, Toronto. A special thank you to Maria and Joseph Varanda for decades of care and to Susie Chiarot whose devoted work over the last six years made a huge difference to the final stages of his remarkable life.
***
8889 David N. Caddey: A Driving Force in Canada's Space Industry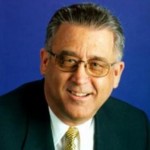 David N. Caddey, the recently retired senior executive at Richmond, BC based MacDonald Dettwiler (MDA), who spent most of the last three decades managing the technical, economic and political issues associated with large space projects such as RADARSAT-2, has passed after a short illness.
Much more here
xx
888
***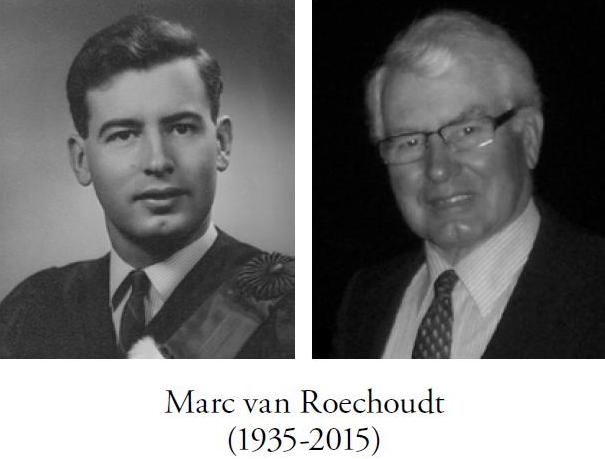 4727 Marc van Roechoudt 1935-2015
Marc van Roechoudt passed away peacefully, 10 Auguest at home after a yearlong battle with a brain tumour.
Marc was born in Geneva, Switzerland, and spent his early years living in the Haute Savoie region of France. During WWII the family escaped occupied France in a canoe on Lake Geneva, while being shot at. They stayed in Switzerland until the end of the war when his father found horticultural work on an Agricultural Experimental station in the Belgian Congo (now the Democratic Republic of Congo). From the Congo the family immigrated to Canada and came straight to the Okanagan. They purchased part of the original Rainbow Ranche in Okanagan Centre, BC.
Marc graduated from Rutland High School and went on to attend Royal Military College in Kingston. He graduated as a geological engineer from what is now the Polytechnic in Montreal. After working for several years in eastern Canada, he returned to the Okanagan to help run the family orchard.
The van Roechoudt's were well known as leaders in the tree fruit industry. Marc's father was the first to plant dwarf trees in the Okanagan and Marc followed in his innovative footsteps by experimenting with high-density plantings and new varieties. Marc took great pride in his apples and recently was awarded the Golden Apple Award, the Farm Family of the Year award along with taking top prizes at the Royal Winter Fair for his Ambrosia and Royal Gala apples.
Marc was an active volunteer with both community and industry groups. He sat on the Lake Country Water Advisory Committee (formerly Winfield and Okanagan Centre Irrigation District) for nearly thirty years, was a BC Fruit Growers' Association committee member, and more recently vice-chair of the Ambrosia Council.
Marc's biggest passion was skiing. You could regularly find him on the slopes of Big White in the winter, often as a Snow Host touring guests around the mountain.
He is survived by his wife Tessa, daughters Jessie (Stefan Belavy) and Madeleine (Timothy Lynch), twin sister Anne (Ronald Crozier) and brother Eric (Anne de Blommaert). There will not be a funeral service, but a date for a celebration of life will be announced at a later time.
***
4638 McKINLAY, Ronald Warrener – Capt. (Retired) RCA – March 25, 1936 – September 4, 2015

Peacefully at the Ottawa Hospital – General Campus surrounded by his family. Beloved husband of Jill Frances (Née McMullen). Loving father of Kenneth Ian and Alain Louise (Carl Tilgner), and proud grandfather of Kurt, Jacqueline, Alessandra and Marcus Tilgner.
Ron was a scouter, gunner, layreader emeritus of the Anglican Diocese of Ottawa, and a respected analyst, modeller, mentor, guide and friend with exemplary professional and personal work ethics.
He will be deeply missed by a diverse community of friends that he touched through his caring words and deeds.
Family and friends gathered at Beechwood National Memorial Centre, on Thursday, September 10, for a Memorial Service.
***
Joseph Bryson Winchester – spouse of M361 Theresa Winchester
Joseph Bryson Winchester, age 79, resident of Guelph and formerly of Kincardine, died on Tuesday, September 8 at Guelph ​General​​ ​Hospital. He is survived by his wife Theresa ​ (Ernewein) and his children, ​Joe Jr ​(​Pat)​ of Ottawa​​, Deb​bie​ of Kingston​​, Kyla ​ of Toronto​, Bryson ​(​Katie ​)​ of Toronto​​, and his grandchildren, ​Christopher ​ ​(​Livia ​ Belcea)​, Katherine ​(​Kane​ Jackson)​ and Tommy as well as a ​sister, Leslie (Philip) Shand ​ of Fall River NS​.  He is pre-deceased by his father, Leonard (Bun) Winchester, his mother Pearl (Denton) and his step-mother Hazel (Rogers).
Joe joined the ​Royal Canadian Air Force in 1953 and served for 25 years in Canada ​ and​​ ​France ​, on land, at sea and in the air​.  He continued to enjoy military life as ​ ​"​dependent husband" ​and proud supporter of Theresa's career, trekking​ across Canada for a further 24 years​​  Joe was well known for ​ his love of the​ ​military,​​ ​his sense of humour and his ​passion for ​​sports, both ​in participation and observation.
A service will be held at the ​ 8 Wing ​Trenton Chapel, on Friday, ​September ​18 ​ at noon with visitation at 11 a.m.​  Memorial donations may be made to the National Air Force Museum Foundation of Canada (RCAF Museum Trenton​ 613-965-​7314) ​or ​the ​Admiral ​Digby​ Museum​ in ​Digby ​NS (902-245-6322)​. ​  ​For those who cannot attend the service, please raise a glass and say something wildly inappropriate ​in his name​.​
***
Rev. Father J. Georges Ivan, Maj (ret) Savoie – former RC padre at RMCC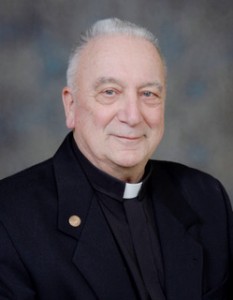 SAVOIE, Rev. Father J. Georges Ivan, Maj (ret) – Passed away peacefully at Kingston General Hospital on Tuesday September 8, 2015, in his 89th year. The son of Lucien Savoie and Thérèse Proulx, he was born in Louisville, Quebec, on September 24, 1926, and ordained a priest for the Archdiocese of Saint Boniface, Manitoba, on January 19, 1959. Fr. Georges is survived by his beloved Jeannine Paillé and by his siblings, Réal Savoie (Clémence Perron) of Gatineau, Marguerite Savoie of Trois Rivières, Quebec, Maurice Savoie of Trois Rivières, Quebec and Bruno Savoie of Montmagny, Quebec. He will be dearly missed by his brother priests, numerous nieces and nephews, and friends. During his priesthood, Fr. Georges served with the Canadian Forces, regular and reserve, for over 40 years. He served as RC military chaplain on 15 Bases. As a chaplain, he followed the troops in their exercises and served in European countries. His priesthood was characterized by his deep loyalty to the men and women who served in the Forces. He ministered with great faith, care and love. In his latter years he settled in Kingston and assisted occasionally in various parishes. Friends will be received at the GORDON F. TOMPKINS FUNERAL HOME, 435 Davis Drive (Centennial Dr. and Taylor-Kidd Blvd.) on Sunday, September 13, 2015, from 2:00-4:00 p.m., with the Vigil Service at 4:00 p.m. He will lie in state at St. Mary's Cathedral Kingston on Monday September 14, 2015, from 9:00-9:55 a.m., with the Mass of Christian Burial at 10:00 am, Archbishop Brendan M. O'Brien, Archbishop of Kingston presiding. A reception will follow at St. Mary's Parish Centre (corner of Brock and Clergy Street). Memorial Mass and Rite of Committal with prayers will take place at Yamachiche, Quebec, burial place of his mother's ancestors. Memorial donations to be directed to the Education of Seminarians Fund of the Archdiocese of Kingston or the Education of Seminarians Fund of the Archdiocese of Saint Boniface in Manitoba. May he rest in the peace and joy of the Risen Lord.