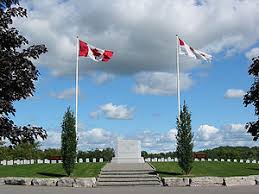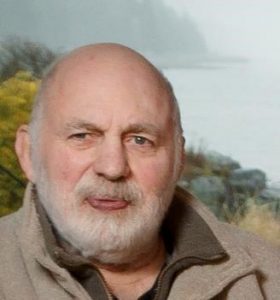 6998 Dennis Richard Guelpa, RRMC RMC, Class of 1966
It is with great sadness that we announce that Dennis Guelpa passed away peacefully on April 24, 2022 in Courtenay BC at the age of 78. Dad was surrounded to the end by his Son Paul, Daughter Lindsay, and Son-in-Law Ryan. He is predeceased by his daughter Stephanie.
Dennis was born June 16th, 1943 in Prince Rupert BC to Lydia and Oscar Guelpa. Dennis, his brother Keith, and his parents moved to Victoria when 'the boys' were children and spent many days and nights hosting friends and enjoying life – in true Italian form.
Dad graduated high school from St Louis College and pursued a Degree in Civil Engineering through Royal Roads and Royal Military College. From 1981 'The Guelpas' called the Comox Valley home and Dad owned and operated Guelpa Construction and later Guelpa Consulting. In his younger years Dennis could be found boating, skiing or playing rugby. He loved nothing more than to be on the water, ski hill or the pitch.
The family would like to take this opportunity to extend our gratitude to the Staff of Glacier View Lodge for their kind and patient care over the last few years.
A funeral Service is scheduled for 1:30pm May 14th at Piercy's Mt. Washington Funeral Home in Courtenay. In lieu of flowers, donations to Glacier View Lodge in Dad's name are welcome or buy yourself a scotch and drink a toast to him.
---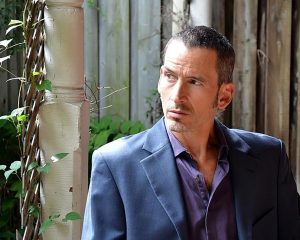 Remembering Steven Heighton (1961-2022) / À la mémoire de Steven Heighton (1961-2022)
Article prepared by James S. (Jim) Denford, CD, PhD Professor and Dean, Faculty of Social Sciences & Humanities | Professeur titulaire et Doyen, Faculté des sciences humaines et sociales
RMC's first Artist in Residence (2010), Steven Heighton, died last Tuesday (19 April) of complications due to pancreatic cancer.  He was 60.
Le premier artiste en résidence du CMR (2010), Steven Heighton, est décédé mardi dernier (19 avril) des complications dues à un cancer du pancréas.  Il avait 60 ans.
Steve maintained ties with the ECC Department following his residency, guesting in Dr Lavoie's Creative Writing course and assisting student writers, recently helping (28568) Liam Chambers to publish his first novel, Scars and Black Armor (2021).  Steve's death is a great loss both to Canadian literature and to the Kingston community.
Steve a maintenu des liens avec le département d'ACC après sa résidence, en étant invité dans le cours d'écriture créative du Dr Lavoie et en aidant les étudiants écrivains, aidant récemment (28568) Liam Chambers à publier son premier roman, Scars and Black Armor (2021).  La mort de Steve est une grande perte tant pour la littérature canadienne que pour la communauté de Kingston.
Kingston was Steve Heighton's home during his life as a writer.  He authored eighteen books, among them four novels and seven poetry collections.  His 2016 collection of poems The Working Comes Late won the Governor General's Literary Award, and throughout his career Steve was the recipient of numerous literary awards and accolades.
Kingston a été le foyer de Steve Heighton pendant sa vie d'écrivain.  Il est l'auteur de dix-huit livres, parmi lesquels quatre romans et sept recueils de poésie.  Son recueil de poèmes The Working Comes Late, publié en 2016, a remporté le Prix littéraire du Gouverneur général, et tout au long de sa carrière, Steve a reçu de nombreux prix et distinctions littéraires.
Steve's recently published memoir, Reaching Mithymna (2020) recounts his experiences as a volunteer aid worker on the Greek island of Lesvos, helping tend to Syrian refugees arriving in overladen boats and rafts and sometimes washed ashore.  In the last year of his life, Steve returned to his first creative endeavour, song-writing, and released an album of original Leonard Cohenesque songs, The Devil's Share (Wolfe Island Records, 2021).
Le mémoire de Steve récemment publié, Reaching Mithymna (2020), raconte ses expériences en tant que travailleur humanitaire bénévole sur l'île grecque de Lesvos, aidant à soigner les réfugiés syriens arrivant dans des bateaux et radeaux surchargés et parfois échoués sur le rivage.  Au cours de la dernière année de sa vie, Steve est revenu à sa première activité créative, l'écriture de chansons, et a sorti un album de chansons originales à la Leonard Cohen, The Devil's Share (Wolfe Island Records, 2021).
Those at RMC who knew Steve are sorrowing, and remember him as a generous and compassionate man of immense talent and acute awareness.  A celebration of Steven Heighton's life will shortly be announced in local media.
Ceux qui, au CMR, connaissaient Steve sont peinés et se souviennent de lui comme d'un homme généreux et compatissant, doté d'un immense talent et d'une conscience aiguë.  Une célébration de la vie de Steven Heighton sera annoncée prochainement dans les médias locaux.
Steven Heighton 1961-2022 Obituary
J. Steven Heighton passed away peacefully surrounded by the people he loved after a brief battle with cancer on Tuesday, April 19th, 2022, at the age of 60. Predeceased by his mother Lambie George Stephanopolous (1937 – 2001), he is survived by his father John McEwen Heighton and his wife Christina; his sister Pelly Heighton and her grown daughters Julia, Christine and Tarah; former wife Mary Huggard; daughter Elena Heighton and her partner Liam Fenton; and his partner Ginger Pharand. To the public, Steve was an inspiring, award-winning author: a poet and prose writer; a songwriter; a true craftsman; a seeker of human truths. To many of us he was so much more. What made him a great writer–his intellect, his curiosity, his openness, his energy, his compassion – made him beloved to his family, friends, and the community who knew him best. Steve loved to see the world through the eyes of children and delighted in their creative observations. He often said that the adventure and joy of raising a child – the love he had for his daughter Elena – was the most important thing in his life. Several of his poems over the years
eloquently express that love. Steve had a positive effect on everyone who encountered him. The cheery wave of his fedora in greeting, the warm resonance of his voice – Steve had the ability to make everyone, even strangers, feel a little better. He had a responsible nature, striving to do the right thing for others, and this more serious side was balanced with a keen sense of humour, especially in his love of quirky details and turns of phrase.
Steve's interests were wide and varied. He was a much-loved and inspiring mentor to many writers. A dog-walker and a barefoot runner, he was an avid urban forager who was both outraged and delighted to find neglected apples and berries around town. He was an explorer of languages and a lifelong traveller who craved the sunshine of Greece. Taking up skating and hockey later in life helped him finally embrace winter. Steve's part on a local writers' hockey team was a preoccupying passion. Most recently, he brought to fruition the lifelong dream of creating an album of remarkable songs.
Our memories of Steve are just as varied. But we will always remember him sitting at his desk or with his guitar, ignoring the phone or a knock at the door, dedicated to bringing exacting precision to the next story, poem or song. His work brought to the surface the darkness and light of the world. He was a beautiful soul and we are so grateful for all he shared with us. Thank you to KGH and James Reid for their compassionate care. A Memorial/Celebration of Life will be held on Saturday May 28th in Kingston.
---
Officer Cadet Andrei Honciu, RMC,  Class of 2022
HONCIU, ANDREI April 1, 2000 – April 29, 2022 It is with broken hearts that we announce the tragic passing of Andrei Honciu, on Friday, April 29, 2022, at the age of 22. Dearest son of Michaela and Leonard Honciu, loving brother of Luca Honciu. Adored grandson, nephew, cousin, and boyfriend. Andrei will be deeply missed and fondly remembered by his many friends, classmates, soccer team, and Royal Military College (RMC) community. Born on April 1, 2000, Andrei Honciu was raised in Galati, Romania, by his parents and grandparents. He immigrated to Canada in 2006, where he completed his education at Milne Valley Middle School, followed by Northern Secondary School and was admitted at the RMC. Andrei was a passionate soccer player, loved tennis and chess. He was fluent in three languages (English, Romanian and French) and was proud of his culture and heritage, as his Romanian love of life inspired the ease and happiness he shared with all those around him. Andrei will be remembered for his sense of humor that brought light and laughter into the lives of everyone he met. Andrei always gave the best of himself and helped others in any way he could. He was loved by all for his abundant generosity and kindness. We will miss his smile, laughter, and boundless optimism, and we will keep him in our hearts until we meet again. A visitation will take place at York Funeral Centre, 160 Beecroft Road, on Thursday, May 5, 2022, from 3 – 8 p.m. and Friday, May 6, 2022, from 11 a.m. – 12 p.m. A Funeral Service will follow at 12 p.m. This event will be livestreamed. Burial at York Cemetery. If desired, donations in memoriam may be made to: https://www.gofundme.com/in-loving-honour-of-andrei-honciu Online condolences may be left at www.mountpleasantgroup.com.
---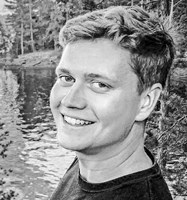 Officer Cadet Jack Farmer Hogarth, RMC, Class of 2022
JACK FARMER HOGARTH March 18, 1995 (London, England) – April 29, 2022 (Kingston, ON) Jack was an engaging and selfless young man with a broad appreciation for life and unbounding love for his family, friends and classmates. He passed away in a tragic car accident alongside three of his fellow Royal Military College (RMC) cadets and dearest friends, Andrei Honciu, Broden Murphy and Andrés Salek.
So near to graduation and pursuing his life's ambition to serve in the military, there was great promise ahead of him. Jack was deeply loved by those close to him who will forever be proud of his moral strength, kindness and humility. Though Jack's future was cut short, his memory will forever be affectionately carried by his loving parents, John and Susan; sister, Lauren (Kyle); brother, Richard (Paige); grandmother, Martha; aunts and uncles Edward, Donald and Jane, and cousins, Marshall, Evan, Georgina, Georgia, Renée and Henry.
At Crescent School in Toronto, Jack became a leader, approaching any challenge with a calm air of confidence and pragmatism. He was patient and a good listener, a rare virtue in a family of loud voices. Most of all, Jack was brave, honourable and compassionate, standing up for what was right and protecting those who could not protect themselves. All of these attributes indicate what a tremendous military career he was to have and the man of character he was becoming.
Jack went about life full of positivity, functioning dutifully so those around him could savour moments while he watched on with a prideful smile. He sought neither recognition nor validation. Jack was respectfully formal upon introduction but was quick to ease into his naturally casual and goofy demeanor. He was wise beyond his years. That wisdom, fueled by avid reading of politics, military history and current events, was most apparent during deep conversations on world affairs. Jack was engaging and non-judgmental, respectful of differing opinions and ready to admit fault. Jack documented his goals with daily journal entries and approached every day with a full heart. His life was filled with enjoyment, enriched by the activities he embraced and the communities that supported him.
He was a keen sportsman and a crack shot. He was especially passionate about playing rugby for the province of Ontario, RMC, Western University, Toronto Nomads and Toronto Saracens; downhill skiing, racing and coaching at Osler Bluff Ski Club; cross-country skiing around Collingwood and the RMC campus; golf with his brother Richard at TGC and his family at Bigwin; and tennis with his late grandfather, Richard Hogarth, playing at TLTC. He adored the outdoors, boating on Georgian Bay and Lake of Bays, canoe tripping with his "Bog Boys", barbequing (but not cleaning up) for his friends, and jogging through Toronto's Brick Works.
The loss of Jack at such an early age leaves all of us who loved him with a deep hole in our hearts. Our family is sincerely thankful for the support of numerous individuals from the communities central to Jack's life. We also thank RMC for providing Jack with the opportunity to follow his dream, and for their kind support at this difficult time. A visitation will be held at Mount Pleasant Funeral Centre on Friday, May 6, 3-7 p.m. A funeral service will be held at Rosedale United Church on Sunday, May 8 at 2p.m. The funeral can also be attended online. In lieu of flowers, please donate to www.canadahelps.org/en/dn/72121 or speak to the family directly about a foundation to be set up in Jack's honour.
---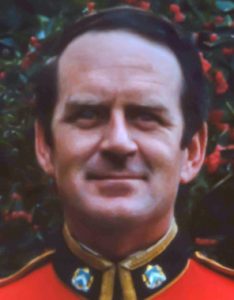 6094 Charles Allison Hardie (Al), CMR RMC, Class of 1964
Charles Allison Hardie (Al), 79, of Merrickville, Ontario, passed away peacefully on Wednesday, April 13, 2022 at the Perth & Smith's Falls District Hospital.
Born on March 10, 1943 in Montreal, Quebec, Al began his military career in 1959 later attending the Collège militaire royal de Saint-Jean (CMR), and graduating in 1964 with a degree in Economics and Political Science from the Royal Military College (RMC). He joined the 8th Canadian Hussars and then re-badged to the 12e Régiment blindé du Canada (12 RBC). A succession of military assignments followed inside Canada and overseas. Al's favourite part of military life was travelling. Deployments and special assignments within Canada included moves to Ottawa, Valcartier, Petawawa, Toronto, and Gagetown. Overseas assignments for NATO and the United Nations took him to Germany, Finland, Cyprus, Kenya, Somalia, and Honduras. In total, Al spent 39 years with the Canadian military retiring as a Lieutenant-Colonel in 1998.
Al had an enormous soft spot for animals of every kind (crows and gophers excluded) and home life was kept occupied by a succession of wonder dogs (Tanya, Poochy, Lacey, Josie, Leila, Oreo, and Abi) and the never-ending cottage and home maintenance at Sand Lake and later in Merrickville. A skilled handyman, Al was always ready with a solution to a homeowner problem and had a large selection of tools to choose from. "Bluebeard the Pirate" also roamed Sand Lake in his small sailboat or runabout, usually with a bemused dog or two in tow. He was an avid driver, ferrying his sons Colin and Sean locally and across North America to a variety of activities including soccer tournaments, scout camps and model railway shows. As an avid reader he never shied away from a good military history book. Being interested in world affairs he was almost permanently tuned to CNN, the History Channel, or CBC radio.
Later in life Al was an active volunteer with the St. John's Ambulance Therapy Dog program, Merrickville Legion branch 245, and the Old Farts Breakfast Club. He loved a wide variety of music from opera to bluegrass although on occasion the song selection would become "stuck" on one particular song. Finally, he achieved his teenage dream of owning a BMW in retirement.
Al is survived by his wife of 55 years, Pat (Galloway), and his sons, Colin (Lucie & Granddaughter Emilia) and Sean (Junko).
An interment ceremony with military honour guard will be held at the Beechwood Cemetery in Ottawa on Saturday June 18, 2022, at 11:00 am. A social gathering will follow at the Merrickville Legion at 1:00 pm.
Memorial tributes may be made to the Wounded Warriors (www.woundedwarriors.ca), A Chance Animal Rescue, (www.achanceanimalrescueinc.com), or the St. John's Ambulance Therapy Dog program (www.sja.ca). If you have pictures or memories of Al that you would like to share please send them to: AHMemories22@gmail.com.
---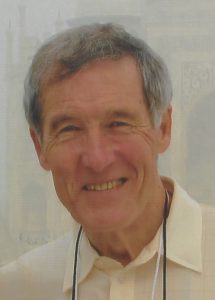 7277 Peter Day, RMC, Class of 1967
It is with loving regret we announce the death of Francis Peter Everard Day on May 3, 2022, in Ottawa.  A long-time resident of Southampton, Ontario, he is survived by his two sons and their families, Richard and his wife Fiona and Kevin and his wife Bonnie, his grandchildren to whom he was "Grampa"; Kieran, Cameron, Kyla, Anthea, and Ethan; and his sister-in-law and her family, Nellie Day (née: Gugula) (Trevor and Candice). Predeceased by his loving wife Carolyn and his parents John and Kathleen (née: Everard), his brother Michael, and his step-mother Simone (née: Piché).
Besides his commitment to his family and his love of golf and the outdoors, Peter was a lifelong volunteer and dedicated community supporter through the Church, Scouts Canada, the local cross-country ski club, Probus, and the Rotary Club of Southampton.  He impacted many people through his roles as a teacher, mentor, treasurer, and coordinator.
Visitation will be at the Eagleson Funeral home, Southampton, on Friday, May 13th, 2022 from 3:00 to 6:00 pm.  Funeral Service will be held at the Southampton United Church on Saturday, May 14, 2022 at 1:00 pm.
In lieu of flowers, donations will be gratefully received for the Rotary Club of Southampton http://www.southamptonrotary.com the Southampton United Church www.southamptonunited.ca, or the Ottawa Heart Institute  https://foundation.ottawaheart.ca
For those who wish to attend the visitation or the service in person, the family respectfully asks that all attendees please wear a mask.
---