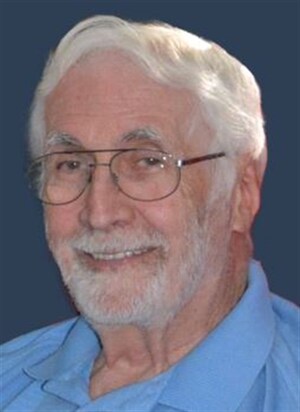 3448 Andrew Henning RRMC RMC Class of 1956
HENNING, ANDREW CLINTON HODGES April 19, 1932 – October 10, 2023 We are deeply saddened with the passing of our beloved husband, father and Papa. He is survived by his wife of 67 years, Catherine (nee MacLean); daughters, Lynda, Karen (Wayne); and No. 1 grandson, Kyle. Andy was predeceased by his father, Roy; mother, Jean; brothers, Victor, William, Patrick; and sister, Dallas. Born in Kerrobert, SK, raised in Edmonton, AB, Andy attended Royal Rhodes in Victoria, BC; Royal Military College in Kingston, ON; and University of Toronto, graduating as a Mechanical Engineer. After completing his Naval service, he worked in management roles in various manufacturing and foundry businesses in the US and Canada. Andy loved tennis, was a ranked player in Alberta, and continued playing until a few years ago. He loved his family unconditionally. He especially enjoyed get-togethers and celebrations with family and close friends. In retirement, he discovered the joy of RVing for local outings, as well as his and Cathy's trips to the four corners of Canada and the US and Mexico. Cremation has taken place and a Celebration of Life is planned for a later date. In lieu of flowers, the family asks that a donation be made to the Alzheimer Society, in Andy's name. www.smithsfh.com
---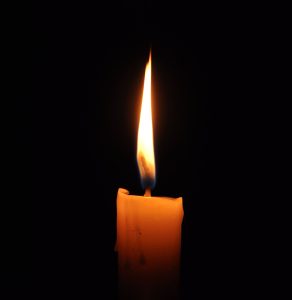 3566 Ian Smart RRMC Class of 1956
Much loved and greatly missed. Predeceased by son Phillip Smart, survived by wife Norma Walker, daughter Margaret Smart, sons James Walker (Megan) and Douglas Walker (Karla), and grandsons Darcy Hansen, Alex Walker and Constantine Walker.
Born and raised in Bermuda, Ian became a proud Canadian. Ian attended Royal Roads Military College and RMC before a career in the Canadian Army. That was followed by a long career as a counsellor for the Faculty of Engineering at the University of Waterloo. Never too old to learn new things, Ian was a fitness instructor until age 80. Ian will always be remembered for his love of family, his wonderful sense of humour, his quick wit, and his charming and caring personality. Donations to the Canadian Red Cross or charity of your choice.
---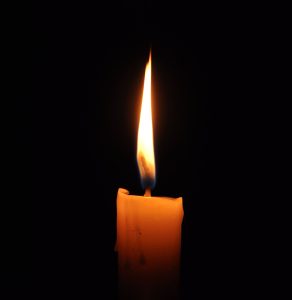 5491 Paul Jefferson RMC Class of 1962
On October 3rd 2023, at the age of 82, Paul Gordon Jefferson passed away peacefully in the care of close family, surrounded by love.
Paul has been a loving and devoted husband to his wife Peggy of over 52 years and the most supportive, caring and proud father to his two sons, Charles and James who describe Paul as being the best dad they could have asked for.  Paul was a grandpa to a little boy Logan who has so much affection for him and thinks he was the best grandpa in history. Paul also shared a wonderful relationship with his daughter-in-law and son-in-law, Lisa and Liam, who remember Paul as the kindest man they know.
Paul was born in Round Hill in the Annapolis Valley in Nova Scotia, and raised by his mom and grandparents. Although Paul grew up not knowing his father, he became the most amazing dad himself. As a child and teen, Paul worked on an apple orchard.  Later on, Paul attended the Royal Military College (RMC) where he was Captain of the Rifle Team, and graduated with a Masters in Math and Science. Paul began his career in the Royal Canadian Air Force (RCAF) and was a navigator on the Argus – an aircraft that you can currently find behind the Aviation Museum in Ottawa. Paul also became a Certified Management Accountant (CMA) and IT professional later in his career.
Anyone who knew Paul would agree that he was extremely smart, hardworking and accomplished, but also gentle, patient and tenderhearted.  For many years, Paul was a prolific blood donor, and later volunteered at the food bank in his retirement. Paul always offered to help others in need and for his family, he remained a constant source of support until the very end.
Paul will be remembered for many things such as his soft chuckle and calm nature; his long funny stories with way too much detail; for his sweet tooth and taste for wine and whiskies; and for being able to fall asleep anywhere, especially in his favourite armchair.
But most of all, Paul will be remembered for being a tremendous part of his family's life, forever filling their hearts with love and warmth.
We will all miss him so much and still cannot believe he is gone, but he left this world a much better place, and our lives are so full because of Paul.
With lots of love,
Peggy, Charles, James, Lisa, Liam and Logan
---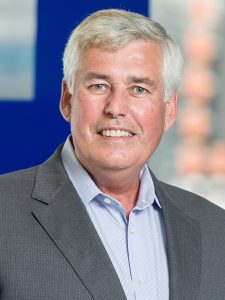 9473 Dale Carl CMR RMC 1973
With great sadness, we announce that Dr. Dale Carl passed away suddenly on October 12, 2023. Brother of Al Carl (Sue), Judy Milling (Steve), Heather Rahilly (Mike) and Brian Carl. Predeceased by parents Emmard and Verena Carl and sister Nancy Carl. Also missed by nephew Mike (Jenise), nieces Jen Corkum (Colin), Elisha Lopez (Paul) and Serena Delaney (Mike), and 6 great-nieces.
Dale attended the Royal Military College Saint-Jean and Royal Military College Kingston and served in the Canadian Navy. Dale participated in many different operations, was assigned to the Royal Yacht Britannia during the 1976 Summer Olympics and performed the duties of aide-de-camp for two Governor Generals for three years.
After retiring from the Canadian Navy, Dale had a distinguished career with the Canadian Foreign Service, in the US, Norway, Pakistan, East Africa, and the Middle East and was Chargé D'Affaires of the Canadian Embassy in Baghdad during the 1990 Gulf Crisis. He also worked on a variety of international projects, mainly in the Middle East.
Dale was Associate Professor of International Marketing at the Ted Rogers School of Business Management for 23 years. He also held the position of Director of Research, the Director of Graduate Students, and the Coordinator of International Programs.
Funeral Details: Private Family Service
A Celebration of Life will be held on November 09, 2023 at the Ted Rogers School of Management, 55  Dundas St West, in room TRS 1-067 from 7:00 to 9:00 PM.
In lieu of flowers donations may be made to a special fund set up by Toronto Metropolitan University to support Ted Rogers School of Management students at the following link.
https://secure.donate2torontomu.ca/registrant/DonationPage.aspx?eventid=385979&langpref=en-CA&Referrer=direct%2fnone
---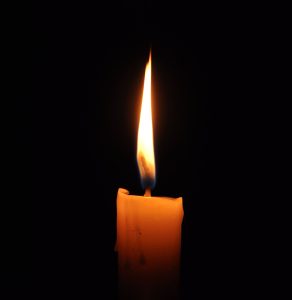 We received notice of the passing of Page Abbott, Class of 1964.  At the date of publishing an obituary had not yet been published.  Below is a note from friend and classmate 5507 Jack Peltier
Page Abbott was a couple of years behind me in high school in our hometown and at RMC. He was a self-described "misfit' in the RCAF but went on to build a successful business in building log houses in Ontario.  As I recall he was a Civil Engineering grad and an MBA from the U of T.
---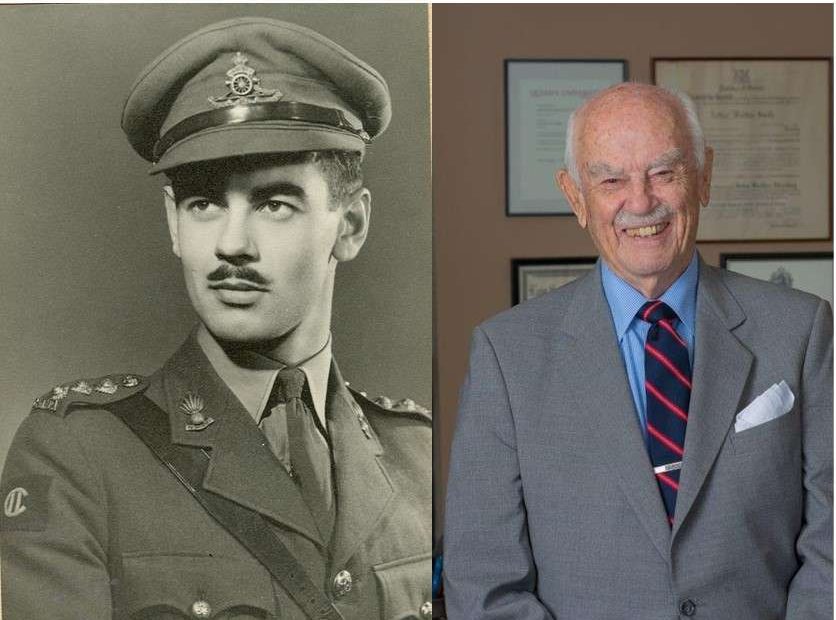 2652 Britton Smith, RMC Class of 1938
SMITH, ARTHUR BRITTON, WWII Captain, 4th Field Regiment, RCA,  2nd Cdn.Division., CM, MC, OOnt., CD, Q.C., LofH(Fr), BSc(Mil), LLB, LL.D(Queens), LL.D(RMC) plus six medals for WWII and long service.
In Kingston, Ontario on ­ October 28th, 2023, in his 104th year, after a long life fully lived.  Predeceased by his beloved wife Sally (nee Edith Carruthers) 2012 and son Britton Carruthers (wife Dianna) 2022.   Left with happy memories are his daughter Sheila Bayne (husband Donald); son Alexander (wife Bonnie), many grandchildren and great grandchildren, sisters Gwen Berry, Cynthia Hurst and partner, Margaret Daicar.  Predeceased by parents Cyril Middleton Smith and Edna Madeleine Smith.
Educated in Kingston at Victoria School and KCVI.  On graduation from Royal Military College he proceeded overseas in 1940 and served with the 4th Field Regiment RCA, 2nd Canadian Division.  He was awarded the Military Cross for service in the Normandy campaign and was later severely wounded.  He graduated from Osgoode Hall Law School in 1948 and practiced law in Kingston for over 50 years.
His hobby was building apartments and he founded and retained Homestead Land Holdings Limited.  He had several other hobbies and was active in many charities.
He served several terms as Honorary Colonel of the Princess of Wales' Own Regiment, as a City Alderman and as chairman/honourary patron of the United Way campaign, was past president of the Frontenac Bar Association and a life member of many organizations.
It was his long-standing request that there be no visitation or memorial service.  A private family funeral will be held. Flowers and memorial donations are respectfully declined.  A foundation has been established on behalf of his family and friends which will carry on his philanthropic interests.
Arrangements entrusted to the James Reid Funeral Home, 1900 John Counter Blvd., Kingston
---