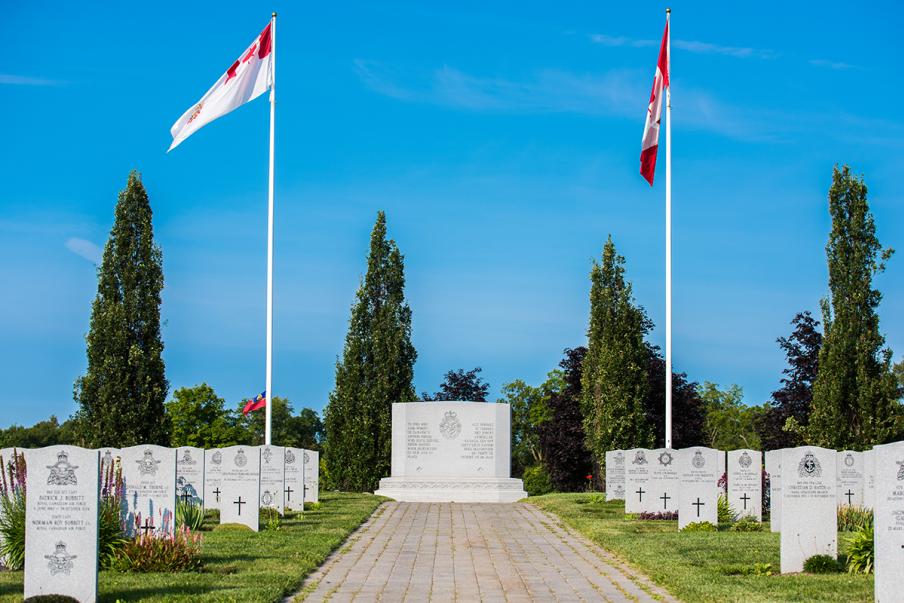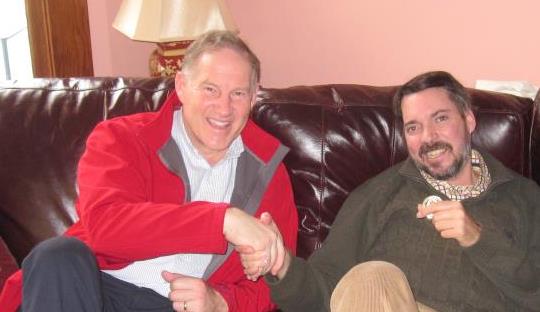 John Coppard was always so positive and cheerful. Recently, he had a VIP visit from, 12320 Walter Natynczyk, Chief of Defence Staff, who happened to be John's Squadron Commander (8 Sqn) while at RMC.
16416 Commander (ret.) John Coppard, RMC 1988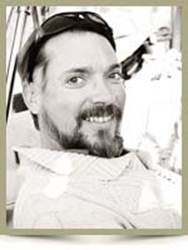 John passed away peacefully at home March 5 in the company of family and friends. He is survived by his father, Dennis; brothers Paul (Andrea) and David (Rita); sister Pat (Mark); along with nephews Aidan, Alex and Alexei; nieces Elisabeth, Cate and Sophia; extended family and countless friends. He was pre-deceased by his mother in 1996.
John grew up in Williams Lake, B.C., eldest of four children of Dennis and Maureen Coppard, and joined the Canadian Forces in July 1984, at the age of 18. He attended the Royal Military College of Canada in Kingston, Ontario, graduating in 1988 with a BA in English. He later served as a Maritime Surface Officer with the Canadian Navy aboard various ships in Canada's Pacific Fleet, including HMCS Provider, HMCS Huron and HMCS Vancouver, before moving to the Forces' Public Affairs branch. John loved the military for its camaraderie and adventure, but in public affairs he found his niche. He began at CFB Comox, writing news releases about search-and-rescue efforts and spending his off time skiing, sailing and kayaking. Later, he became Deputy Director of Naval Communications in Ottawa with Chief of Maritime Staff Public Affairs, and was deployed on operations in the Balkans as a public information officer with the NATO stabilization force in Bosnia and Herzegovina.
In 2006, John was posted as a strategic communications advisor to the government of Afghanistan in Kabul, as part of Canada's Strategic Advisory Team. John immediately took to Afghanistan, the country and the people. He loved his work and life in Kabul, from advising ministers to touring the countryside and meeting new friends from all over the world. Once he'd tasted the experience, he wanted to go back. So in 2008, John, now a naval commander, retired from the Canadian Forces and accepted a civilian posting as spokesman for the senior civilian representative for NATO in Afghanistan. In the summer of 2009, however, shortly after having signed on to serve a second term in Afghanistan, he learned he was suffering from a brain tumour and was evacuated to Brussels for surgery. While he was in Brussels, his living unit back in Kabul was badly damaged in an early-morning bombing of NATO headquarters. After the surgery, John returned to Victoria to rest, recover and get treatment, but though he was often tired from chemotherapy, he continued to lead an active life. He worked on behalf of the Conservative candidate in Victoria in the federal election campaign and was active in the Catholic church, devoting his time and energy to pro-life and anti-euthanasia campaigns and serving with the Knights of Columbus, while never neglecting his single malt scotch or the comfy chairs at the Union Club.
His friends and family remember him for his ability to charm people of all walks of life, his sense of humour, intelligence, wit, kindness, positive spirit and, above all, his zest for life. Wherever the action was, he wanted to be part of it. As one of his many friends wrote, "The world is less fun with his departure from it."
Prayers will be offered Friday, March 16, at 7:00 pm at McCall Brothers Floral Chapel at Johnson and Vancouver streets. A funeral mass will be celebrated at St. Andrews Cathedral on Saturday, March 17 at 2:00 pm, with a reception to follow at the Union Club. In lieu of flowers, donations can be made to the Victoria Hospice Foundation (www.victoriahospice.org), in thanks for the wonderful care provided by the palliative team.
 _____________________________________
2821 WILMOT, Allan Hopkins
December 27, 1922 – December 7, 2011

Born in Ealing, U.K., he died in Ottawa, of pneumonia, following years of circulatory issues, at the age of 88.
Allan, the widower of Marion, his wife of 47 years, is survived by one sister (Valerie), two children John (Astrid Lichti) and Allanna Turner (John), as well as 4 grandchildren, and 3 great-grandchildren.
Allan had a career starting with the Royal Navy, serving in WWII, and then 35 plus years with Agriculture Canada. He was very appreciative of nature, generous with both his time and resources and got joy and fellowship from family & friends, involvement in the Anglican church and then the Worldwide Church of God.
For leisure, he enjoyed physical fitness, playing bridge, participating in Bible study, going to Red Pine Camp and activities promoting fairness (later shaping his investment and charitable-giving selections).
Donations, in lieu of flowers, may be made to Heart & Stroke Society of Canada. A memorial service will be held at the Perley & Rideau Veteran's Health Centre (Lupton Hall), 1750 Russell Road, Ottawa on December 27, 2011 at 5:00 p.m. Reception immediately after.
Published in The Ottawa Citizen on December 10, 2011
 _____________________________________
Hundreds attend funeral for RMC cadet Article
Distinguished bird enthusiasts die Article