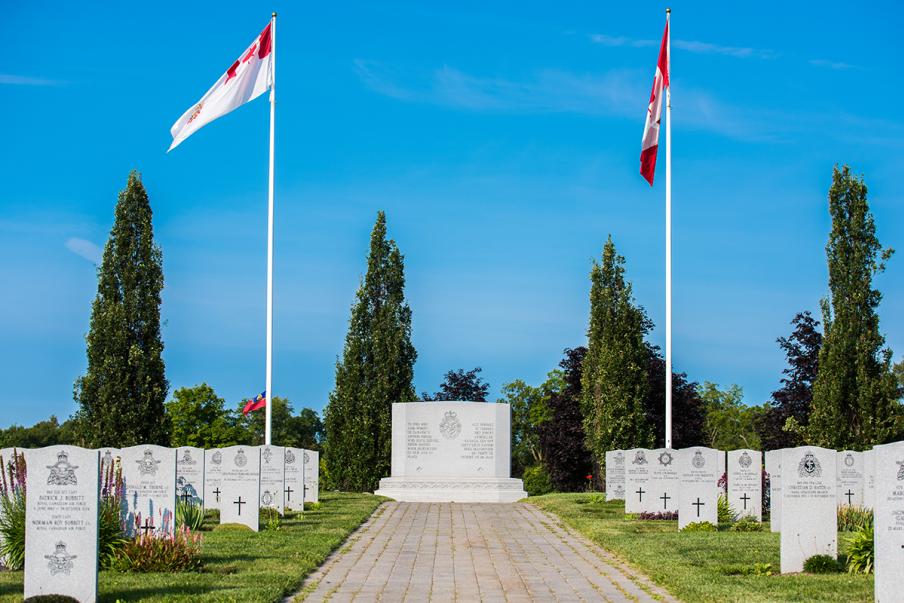 2633 Alexander Andrew GREENLEES, B.Sc., B.Mil.Sc., P. Eng.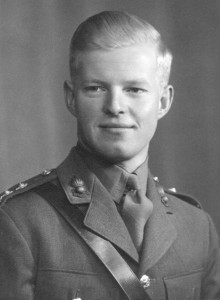 Alex Greenlees died in Barrie, Ont. on April 24, 2013.
Alex was born in London, Ont. on September 10, 1920 to F. Henry Greenlees and Elfleda L. Clarke, twin brother of Tom. He graduated from the Royal Military College in 1940 and from Queen's University in 1948.
He served in the Canadian Army 1940 to 1945 – in Canada and the U.K., and in Holland and Germany with the Essex Scottish Regiment.
Alex married D. Jean Brown on October 27, 1951. He was a professional chemical engineer and worked for Polysar in Sarnia from 1948 to 1983. He moved to Barrie in March 2008.
He will be greatly missed by his daughter Betsy Greenlees and her husband Ray Dorosz of Lethbridge, Alta., and his son Rob Greenlees and his wife Mary Greenlees of Barrie, and his four grandchildren, Megan and Sam Dorosz and Kristen and Cameron Greenlees, and several nieces and nephews.
Alex was predeceased by his wife Jean Brown in 1986; by his twin brother, Thomas C. Greenlees, of London in 2009; and his parents.
A memorial service will be held on Saturday, May 4, 2013, at 1:00 p.m. at McCormack Funeral Home in Sarnia. If desired, donations in memory of Alex to the Royal Victoria Hospital Foundation, Barrie or the Canadian Cancer Society would be appreciated. Source
_________________________________________
11543 O'NEILL, Major (Ret'd) Laurence Hugh, CD
The Royal Canadian Regiment (RCR)

Laurence passed away 23 April 2013 after a year-long battle with cancer. Born in Calgary, he was predeceased by his father Hugh and mother Elizabeth. He is survived by his wife Johanna Douglas-O'Neill and daughter Meaghan, his sister Catherine, her husband Bill Jeffery, and by his brother Eugene. His Canadian Army career started at Royal Roads Military College and saw him graduate from Royal Military College in 1978. Laurence was respected, indeed revered, by his soldiers in the 2nd and 3rd battalions of The RCR.
Laurence retired from the Army in 1997, after 24 years of service. After a successful period with Calian, Laurence joined Computing Devices Canada (CDC) in 1998. CDC was acquired by General Dynamics Canada and Laurence progressed to his ultimate position as Director of Business Development. Laurence will be fondly remembered by all who knew him as a devoted husband and father, a dedicated Canadian, soldier and leader of men. He would "Never Pass a Fault", be it small, great, military or civilian.
PRO PATRIA  Source
_________________________________________
HILL, Major Dudley – J.F. R.C.A.F. Retired – Former Director of Athletics @ RMC 1972- 75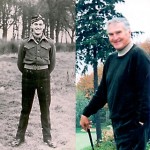 HILL, Major Dudley – J.F. R.C.A.F. Retired. – Sept. 30 1928 – April 19 2013 – Suddenly at Kingston General Hospital, on April 19, 2013. Loving husband of the late Audrey M. Hill with whom he celebrated 62 years of marriage. Beloved father of Dudley (Cheryl), Gregory (Anna), and Susan Rogers. A kind and generous grandfather to Megan, Michael, Derek, Jessica, Jennifer, James, Jeffrey and Andrew and the delighted observer of many great grand children. Survived by siblings Margaret Woolfrey and Jack Hill (Joyce) both of Sydenham and Susan Murphy (Neil) from Calgary. Predeceased by sister Joan, son Mark, Graham and son in law Randy Rogers. Dudley was born in Ottawa of a home boy father, Jack Hill from Luton, England and Violet Grace, a Londoner, who was in Canada as a handmaiden to Lady Kingsmill.
Due to the depression the family returned to Luton, England where Dudley excelled at many sports as well as being a fine scholar. After school Dudley attended Loughborough College where he again excelled at sports playing Rugby, his first love and soccer for both university and city teams. Upon graduating with a teaching certificate he enlisted in the Royal Scots regiment of the British Army where he further honed his sporting skills. In 1950 he married his childhood sweetheart Audrey and deciding there was little future in war ravaged Britain he returned to Canada with 17 dollars in his pocket and a mountain of optimism. His first jobs included stocking shelves in a Dominion store, managed the Quebec City YMCA, taught school in Shelbourne, Nova Scotia. And finally joined the R.C.A.F. where he rose to the rank of Major while training and coaching 1,000's of recruits from many countries. His many transfers included London, Ontario; St. Jean, Quebec; Fontainebleau, France; Comox, B.C. and finally the Royal Military College here in Kingston.
He will be remembered by hundreds of students for his belief in enjoying sport purely for the pleasure of it. One of his proudest achievements was the year he coached RMC badminton team to a national title, Queens University badminton team to a provincial title and Sydenham High School badminton to a provincial title. He also coached and played on numerous Armed Forces National Championship teams in soccer, rugby, badminton and volleyball as well as playing rugby for the Toronto Barbarians. Finally at the age of 48 he retired from his beloved rugby and with 25 years of service he also retired from the Air Force. He then sought out a second career and with his typical optimism purchased a tired old fishing lodge in Newboro Ontario, although he had barely fished a day in his life. With the help of his tireless wife Audrey, sons Mark and Gregory and daughter in law Anna, by force of will, and incredible hard work, he transformed Stirling Lodge into one of Ontario's most successful fishing resorts. In later years, Stirling Lodge purchased another water front property in addition to opening Kilborn's on the Rideau and just recently the Stagecoach Inn restaurant. His whole life he loved flower gardening and into his 80's he planted and cared for over 6,000 flowers on his properties and throughout the village of Newboro.
He also loved travelling and toured every inch of Portugal and France, often with family in tow. Wintering in Myrtle Beach he changed his focus to golf where his unorthodox athletic swing allowed him to shoot his age at 78 years old. The Major will be fondly remembered by thousands of fishermen from Pennsylvania, New Jersey, New York as well as many other states, by his family and friends, as well as his teammates and students across Canada. As expressions of sympathy, memorial donations may be made to the Newboro Beautification Committee, c/o Keitha Burtch, Box 83, Newboro On K0G 1PO and would be appreciated by the family. A private family memorial will take place at a future date. IN CARE OF SIMPLER TIMES CREMATION SERVICE 613-389-7223 / 613-382-3683 on-line condolences www.simplertimes.org    Source