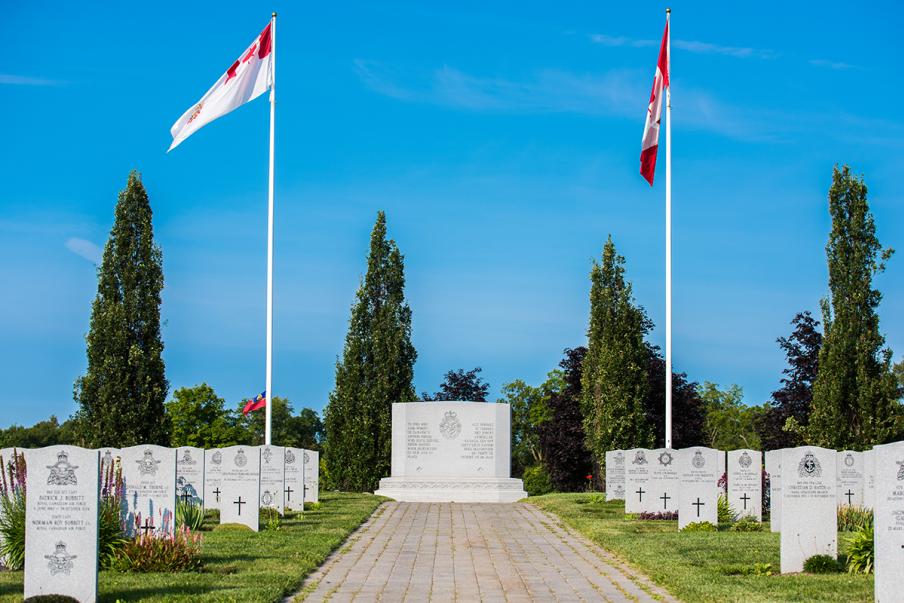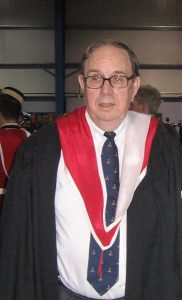 3610 Paul SOUTHALL (RMC 1956) It is with regret that I pass along the news of Paul Southall's passing. Paul has been an active member of the Hamilton branch of the RMC Ex Cadet club for decades, recently serving as treasurer and one of the main organizers for the myriad of events that have occurred within the club over the years. Paul's enthusiasm and infectious laugh will be sadly missed.
Warmest Regards,
20456 Adam McInnis (RRMC RMC 1996)
Secretary Hamilton Ex Cadet Club
"Paul was a member of the "investment advisory committee" of the Foundation.
The other members were John Bart and Keith Ambachtsheer. I was chair.
This group worked together from 1997 to 2005.
He made a major contribution to the Foundation in this capacity.
Paul was a fantastic contributor. I am going to miss him."
H3938 Peter Kirkham (RMC 1957)
Old Brigade Member, Prominent At LXXXIV CONVOCATION

SOUTHALL, Paul Albert Surrounded by his family, Paul passed away peacefully on Monday, July 20, 2009 at Joseph Brant Memorial Hospital. Beloved husband of Barbara, dear father of Patricia (Randy), Peter, Andrew (Tiffany), and Sarah (Mark). Papa will be greatly missed by grandchildren Spencer, Alyssa, Karsten, Connor, Garret, Madelaine and Taylor. Survived by brother John (Felicity), predeceased by mother Rita, father Clarence, sister Eleanor and brother Barry. Family will receive friends at the DODSWORTH & BROWN Funeral Home, BURLINGTON CHAPEL, 2241 New Street (at Drury Lane), Burlington on Thursday from 2-4 and 7-9 p.m. Funeral Service will be held on Friday at 11 a.m. at Port Nelson United Church, 3132 South Drive, Burlington. Interment at Greenwood Cemetery. In lieu of flowers, a donation to a charity of your choice would be greatly appreciated.
___________________________________________
Robert James Uffen
UFFEN, Robert James – O.C., Ph.D., D.Sc., F.R.S.C., P.Eng. On Saturday, July 18, 2009, at Extendicare, Kingston, at the age of 85 years, after a long battle with cancer. Predeceased by his loving wife, Mary Ruth, in 1994. Loved and deeply missed by his son, Rob Uffen, his daughter, Joanne Brand, his son-in-law, Ed Brand, and their children, Jamie Brand (Sarah), Julie Runions (Chris), and John Brand. Predeceased by his parents, Elsie and Fred, his sister, Mary Cobo, his brother, Norman, and survived by his brother, Jack. Served in the 2nd World War with the R.C.A. Infantry Corps, 1941-42 and the Royal Canadian Artillery, 1942-45. B.A.Sc. (Engineering Physics) 1949, M.A. (Geophysics) 1950, University of Toronto; Ph.D. (Physics) 1952, University of Western Ontario; D.Sc. Queen's 1967, U.W.O. 1970, R.M.C. 1978, McMaster 1986. Principal, University College of Arts and Science, U.W.O., 1961-65; Dean, College of Science, U.W.O. 1965-66; member, National Research Council, Canada, 1963-66; Chairman, Defence Research Board of Canada, 1967-69; Chief Science Advisor to the Cabinet, Privy Council Office, Ottawa, 1969-71; Dean, Faculty of Applied Science, Queen's University, 1971-80; Vice- Chairman, Ontario Hydro, 1975-79; member, Club of Rome, 1969-84; Commissioner, Ontario Royal Commission on Asbestos, 1980-84; Commissioner, Ontario Commission on Truck Safety, 1981- 83. Internationally distinguished research geophysicist, professor, and university administrator. Authored numerous articles on geophysics, evolution of the earth, science policy, nuclear waste, and occupational safety. Was awarded the Centennial Medal, Canada, 1967; Officer, Order of Canada, 1983; Distinguished Service Award, Queen's University, 1990; Queen Elizabeth II Golden Jubilee Medal, Canada, 2002. Bob was an extraordinary artist who documented his worldwide travels with many paintings and drawings. Bob loved to sing and play the harmonica. He enjoyed many happy years at the family summer home on Lake Muskoka. Lunches with his colleagues, at the Faculty Club at Queen's were a great source of pleasure for Bob, particularly during his years of retirement. Bob experienced happiness and contentment during his eight years at Extendicare, Kingston. A special thank you from the family to the staff at Extendicare for taking such good care of our dad and grandfather. A memorial service will be held at JAMES REID FUNERAL HOME, 1900 John Counter Boulevard, on Saturday, July 25, 2009 at 10:30 a.m. with a reception to follow. In remembrance, in lieu of flowers, donations may be made to Extendicare, Kingston or to the Mary Ruth Uffen Bursary, Queen's University.
One of our Honorary Members died on Saturday 18 July in Extendicare Kingston. Dr Robert J. Uffen, OC, was Chairman of the Defence Research Board among many other distinguished positions. He was awarded an honorary degree at RMC in 1978.
Source: 5611 Gerry Stowe (RRMC RMC 1962)
___________________________________________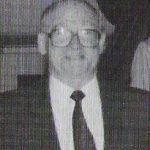 3210 Peter Charles Hitchon Fortier (RMC 1954)
FORTIER, Peter Charles Hitchon – It is with great sadness that the family of Captain (N) (Ret'd) Peter Charles Hitchon Fortier announce his sudden passing, at Kingston General Hospital on Thursday July 23, 2009. Born on August 14, 1931 he will be sorely missed by his wife Shirley Fortier (nee Lyons); son Philip Fortier (Mireille); daughter Sandra Schmidt (Lorne) and granddaughter Kristin Schmidt. Peter was predeceased by father Wilfred, mother Jean Hitchon, brother Robert and sister Jane Kangrga. Peter enrolled in the Royal Military College in 1951 and embarked a career in the Royal Canadian Navy that spanned 30 years. Notable assignments during his career included duty officer assignments on the ships HMCS Stadacona, HMCS Antigonish and HMCS Hochelaga and a three year exchange assignment with the United States Navy in Oakland California. Following his return to Canada, Peter served as the Base Comptroller of CFB Shearwater in Dartmouth Nova Scotia. Along the way Peter completed graduate studies at the University of Western Ontario. Peter returned to the Royal Military College in 1972 for a five year assignment as the College's Director of Administration. In 1977 Peter became the Base Commander of Canadian Forces Base Moncton. In 1981 he resigned from the military and happily took up duties as the Registrar of the Royal Military College. It was a labour of love which he thoroughly enjoyed for the next fourteen years. During his retirement years Peter was active in the Naval Officers Association, the Pittsburg Historical Society, and the Royal Military College Club of Canada and was President of the Probus Club of Kingston. Peter enjoyed spending time with friends and family and caring for his gardens and cottage. In lieu of flowers donations to the Canadian Diabetes Association or the HMCS Sackville Memorial Trust would be appreciated. The Family extends their heartfelt gratitude to the doctors, nurses and staff of the Intensive Care Unit of the Kingston General Hospital for their care and compassion and to the Rev. Alex Wakeling for his care and guidance. Interment will be at the Emmanuel Anglican Cemetery in Portland, Ontario following a private ceremony. A celebration of Peter's life will be at the Royal Military College at a later date.  Source
"Gary Ferguson, Ted Davie, Fraser Holman and I lived on the College grounds with Pete Fortier when he was DAdm 74-76. We all became very close friends, hence the message from Gary Ferguson to the three of us.
I'm sure that the Memorial Service will be very well attended and I'm sure someone will do a write-up for Everitas – Gerry Stowe probably knows as well as anyone?"
5571 George Kennedy

Ed:
At the time of this writing details for a Peter Fortier Memorial Service at RMC were not available. When they are – we will publish them and notify e-Veritas readers, with a special notice, if necessary.