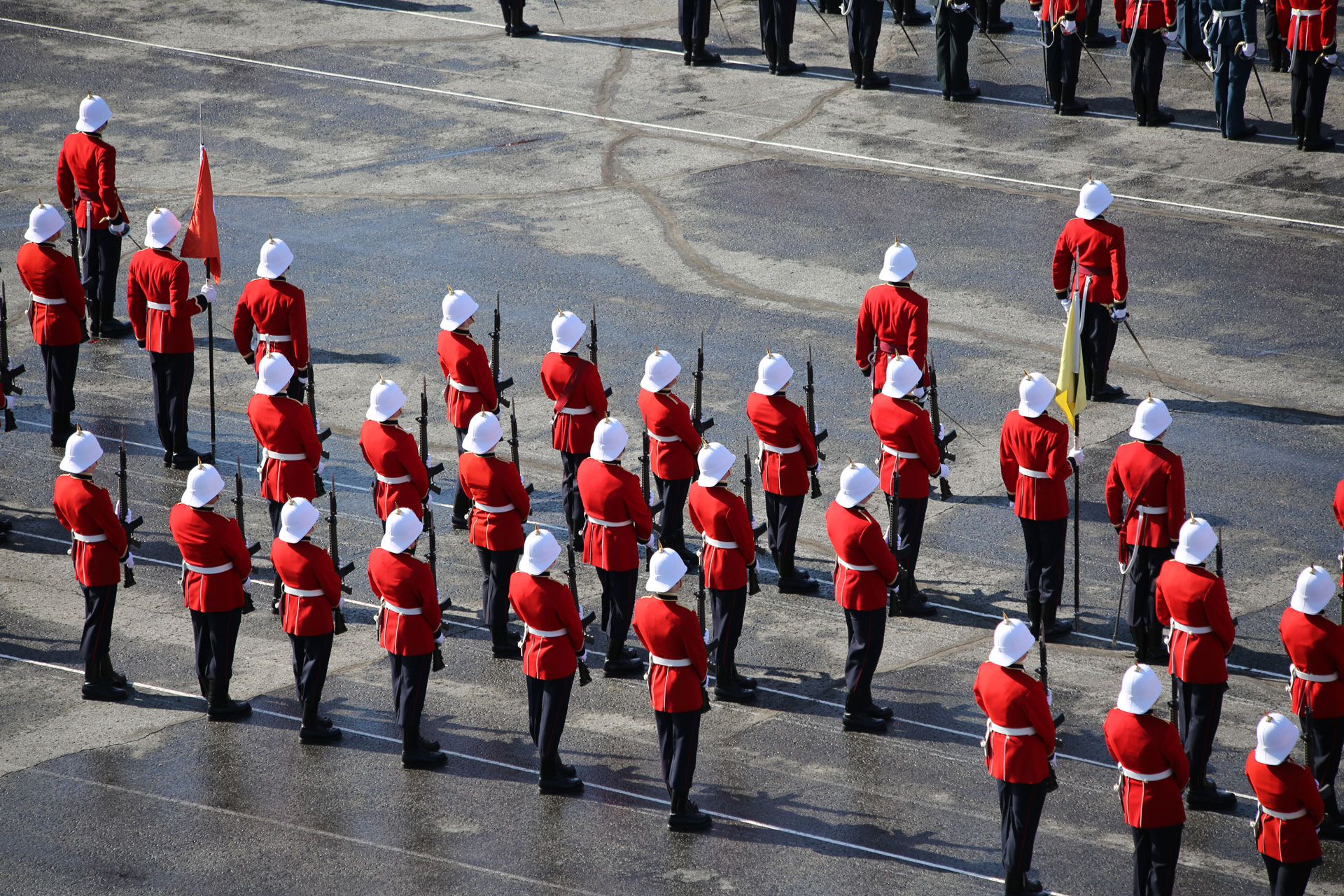 Lieutenant-Colonel Anthony J. O'Keeffe proves false the assumption that one has to be an Ex Cadet to be an outstanding Director of Cadets."Tony" is a very sharp individual. He is never afraid to speak his mind and is always very fair in what he does. The two year Lieutenant-Colonel has no patience with whining or complaining and is a great believer in lets get on with it and solve the problem.
He has quickly earned deep respect from cadets and staff for his toughness, sense of humour and most of all for his obvious love for the Royal Military College of Canada and what it stands for.
Cadets and the Military Wing staff of today are indeed in good hands!
Bill Oliver – Editor e-Veritas
E3161  Victoria Edwards (RMC '03) recently connected with the new Director of Cadets, LCol "Tony" O'Keeffe on how he views his role in this high profile and important position.
Lieutenant-Colonel Anthony J. O'Keeffe, MMM, CD, is Director of Cadets at RMC in Kingston. LCol O'Keeffe's staff appointments include RMC as both Squadron and Division Commander from 1995 -1998, and later with the Director Military Careers as the AEC Career Manager in NDHQ, from 2001-2003. Following that, he was posted to the Canadian Defence Academy as staff officer for CF professional military education. In 2007, LCol O'Keeffe was promoted to present rank and posted to RMC as the Chief of Staff. In 2008, he was appointed as the Director of Cadets. LCol O'Keeffe has served 2 tours on Operation Southern Watch as Mission Crew Commander on E3A's, enforcing the UN sanctioned no-fly zone over Iraq. He also served in Bosnia and Herzegovina on Operation Bronze 2006/07. LCol O'Keeffe has a Bachelor's degree in Military Arts and Science from RMC, and a Masters of Arts Degree from the University of Oklahoma.
E-Veritas: What do you see your role, as Director of Cadets to ensure that the Recruit camp and First Year Orientation Period are successful?
LCol O'Keeffe: I am responsible for the military training of ROTP, RETP and UTPNCM cadets, and I have a superb team of CF members – officers and NCM's, and PSP personnel who have expertise in specific facets of that training. As such, I see myself as a coach of coaches. I draw on my lifelong experiences as a CF officer and leader, those as a family man and father, and those from competitive athletics, to lead and mange the RMC staff. I set the direction as to what we want to achieve with the First Year Orientation Period from well established values, norms and standards required of a basic officer entrant. When recruits arrive at RMC, they are required to participate in a three week recruit camp where they are instructed, examined and assessed on general service knowledge, organization and leadership. The First Year Orientation Period is a period of intense training designed to familiarize the cadets with the traditions, history, rules and regulations of the College; to increase their level of physical fitness; to develop the cadets' ability to work effectively within a team; and to prepare them to successfully undertake a course of demanding academic study. During reunion weekend, the first year class participates in the running of the annual Obstacle Course, where each cadet will compete as a member of their Squadron. This physically demanding event is designed to foster a sense of accomplishment and esprit de corps. Prior to the first years running the course, I will personally walk through each obstacle on the course with select members of the staff, including the Director of Physical Plant – RMC's Chief Engineering Officer, 20633 Major Geneviève MCG Lehoux (CMR '97) to ensure all is as safe as it can be, while providing rigour and challenge for each cadet.
Officer Cadets who are successful at RMC will shine anywhere in life, in my view. The RMC experience is akin to any successful life-journey: one will get out of it exactly what one puts into it. Each and every cadet here has the opportunity to be as excellent as they desire to be, there are no limits. When young people join the CF at their Recruiting Centers back home, they do so with a little trepidation and fear: they are not joining a community Glee-Club. They are joining a lifestyle that they do not yet understand, and so I make it my personal obligation to provide opportunities for success as early and as often as possible. That is how I have been treated ever since I joined. Now, it's my time to give back, and I am delighted to have an opportunity to help shape and mold our future leaders.
E-Veritas: What do you find stands in the way of the officer cadets' success?
LCol O'Keeffe: The young men and women that show up at RMC come so with their own expectations and perceptions, and they vary as you can imagine. Each of them arrive on the door armed with the values and experiences from home. I have found everything from the more extreme "Full Metal Jacket" type boot camp experience, to something out of "Monty Python's Flying Circus". My experience tells me that there is no one characteristic that ensures success; I look at every character here as a future Canadian Hero, because in my view, the hardest step has already been taken: enrolling at the Recruiting Center. Everything else is just a challenge, and will be a memorable experience whatever the outcome. Getting young people to see this potential in themselves, is the only thing standing in their way.
E-Veritas: What is your view on skylarks at RMC? What skylarks do you recall?
LCol O'Keeffe: I love skylarks. It is in the best interest of the College though, concerning skylarks to define the rules of engagement. A skylark is an act of useful mischief, for example, a means to express squadron pride. A well-executed skylark should be original, funny, and involve an element of risk and stealth. There should be no damage to person or property. Having a sense of humour is part of serving in the Canadian Forces, whether at RMC or on deployment. Last year, during a DCadets parade, just as Col Ouellette was prepared to address the crowd, fireworks were set off at Fort Frederick. The skylark was well done, and the timing of the fireworks was choreographed perfectly. Although the Director of Cadets is frequently the target of skylarks, I haven't been hit yet. This is not an invitation or a challenge!
E-Veritas: What skills did you learn at RMC that have since been of great value to you?
LCol O'Keeffe: When I was posted to RMC as squadron commander, I learned that there are always two sides to a story. I learned to be patient. I try not to react or jump to conclusions until I have all the facts. When my kids were young, we had a number of small crises, almost on a daily basis. As the kids grew, the numbers of problems diminished. And though the number of problems have diminished, the scope and magnitude of each problem increased. Having kids of the same age as the officer cadets permits me some insight into the parents' aspirations and concerns for their kids here at RMC.
I remember what Deputy Director 20627 LCdr Hugo Laplante (CMR RMC '97) & 20633 Major Geneviève MCG Lehoux (CMR RMC  '97) were like as cadets. Now I have the opportunity to see what they are like as adults with operational experience and young families of their own. They got the message and are perfect force multipliers to help me get the message out to this group of cadets.
E-Veritas: Have you found yourself concerned with any facets of cadet discipline since returning as Director of Cadets?
LCol O'Keeffe: Alcohol concerns me, nothing scares me. A minority of cadets at 18-19 are determined to drink the town dry. Those of us with some life experience of our own know well that they can't win. My role is to mitigate the risk of the experience. I try to build a dialogue between my office as the authority and the Cadet Wing as a student body, where we can learn from mistakes without having to suffer painful, life altering consequences. To that end, I will continue to explain to cadets that violating personal space, sexual harassment and criminal activities are unacceptable, and now is the time to make it a personal choice to take the higher road. I feel that if we can get this bit correct right from the start, then we have got the makings for some real team building based on respect.
E-Veritas: Would you prefer to live on the peninsula as opposed to the base/civilian housing?
LCol O'Keeffe:I have always lived on the economy as opposed to living quarters. My wife and I would like to live on the peninsula but it looks like that just won't happen in our time. The DCadet residence is currently undergoing renovation and is scheduled for use as office space. As such, we live in town. I would prefer to live on the grounds and among the cadet wing so I can better know what is happening. If something is going to happen it will likely occur in the evening when I'm not on campus grounds. After 16:30hrs, the Commandant and his wife are the only adults on the peninsula with over a thousand officer cadets, I'd love to provide some mutual support.
E-Veritas: How do you feel about change in such a storied institution as RMC?
LCol O'Keeffe: Change is going to happen. Traditions frequently have historical value. Since I don't believe in changing traditions just for the sake of change, I would ask why- what is the change going to fix or improve? Is it a legislative, regulatory or policy change? Have the appropriate stakeholders been consulted e.g. alumni, staff and cadets? If there is sufficient benefit, I support change for the sake of improvement.
E-Veritas: Did you play on a RMC team/are you a fan of any RMC sport teams?
LCol O'Keeffe: I will play any sport, any level, any time! The challenge is to get me to sit down. I like all sports but prefer physical/contact sports. I don't mind being hit, I can take it. I am a fan of all the RMC sport teams. My wife and I often watch the hockey games. I also enjoy watching intramurals and squadron competitions. I love hard challenges, and feel better about myself for venturing outside my comfort zone.
E-Veritas: What do you see is your role as Director of Cadets – to ensure that the Regular Officer Training Program (ROTP) is a success?
LCol O'Keeffe: I understand what the Canadian Forces requires of graduates of RMC and that each of the four components is designed to produce officers capable for operational service with the CF. I break down the qualification standard by training year, and we deliver the military training in a graduated approach, keeping in mind that the end-state is commissioning for service, as opposed to graduation from university. I have complete interest in all four pillars, though the Principal is primarily responsible for the academic pillar. The academic pillar is important to me since that is the primary goal of the College.
E-Veritas: What do you see as your role as military athletic director – to ensure that deficiencies are dealt with quickly and effectively?
LCol O'Keeffe: The Commandant has tasked me as the Military Athletic Director to administer the College's varsity sport program as well as the physical education and intramural programs. Under his direction, and in cooperation with the PSP staff in the Athletic Department, I coordinate and evaluate the athletic program from a CF perspective. It is important to communicate to cadets timely and accurate feedback on how they are doing. Physical fitness is a life skill, and is fundamental for service as an officer and leader in the CF. For some cadets, fitness is a challenge. Everyone knows that good physical condition takes energy, commitment, dedication, perseverance and hard work. But not everyone has experienced it, and therein lies the challenge. These cadets have to work smart. They have to have a plan of attack, learn to read their body and be willing to make adjustments to guarantee progress. Cadets have to learn when to work, how hard to work, when to rest and understand that quality of training should supersede quantity. It is a bad plan to wait until 4th year to find that a cadet has selected the wrong PT philosophy. I see it as my responsibility to ensure that each and every cadet knows exactly where they are relative to the standards of the program. To be clear, I don't want cadets running with 40 pound packs and combat boots to prove they are tough. I would prefer to see each cadet develop and commit to a personal philosophy that has fitness and competition as a constant part of their daily routine. I would prefer to see these cadets running in the Army Run at fifty years of age than on a medical category as a result of some ill-conceived fitness strategy that required pain as an end-state.
E-Veritas: What are your aspirations?
LCol O'Keeffe: RMC is a high energy place. To be a Director of Cadets requires giving a lot of yourself to make things better for the staff and cadets. I certainly enjoy working with 12192 Brigadier-General Tom J Lawson (RMC 1979). He loves this place and it shows. I have had great experiences at RMC. I am in the right place at the right time of my life as the DCdts at RMC. It is perfect. My aspirations are to make the RMC experience a positive and memorable one for each cadet that marches off the parade square. I would love to be Commandant at RMC in future. I'm in! This is not an expectation, mind you, but a personal desire. I'm certain that the line for the job is both long and distinguished.
E-Veritas: Since you have been back at RMC, what have been your favourite special events?
LCol O'Keeffe: I enjoy the parades, graduation and Christmas ball. I look forward to the recruit obstacle course during reunion weekend. I enjoy watching varsity hockey and the WestPoint exchange. There is not much I don't like. My wife and I like to watch all the activities and we enjoy cheering together.
E-Veritas: What do you recall about social aspects of life at RMC?
LCol O'Keeffe: I studied at RMC as a mature student while serving as a Squadron commander. I was happy with a work-life balance consisting of training, studying, working and parenting. I stay fit through training for triathlons and competing in sports. My kids are well-adjusted so I will assume I had the right approach. When the kids were younger, I brought them to RMC athletic events. The cadets treated them like their younger brothers and sisters. These are all outstanding memories for me.