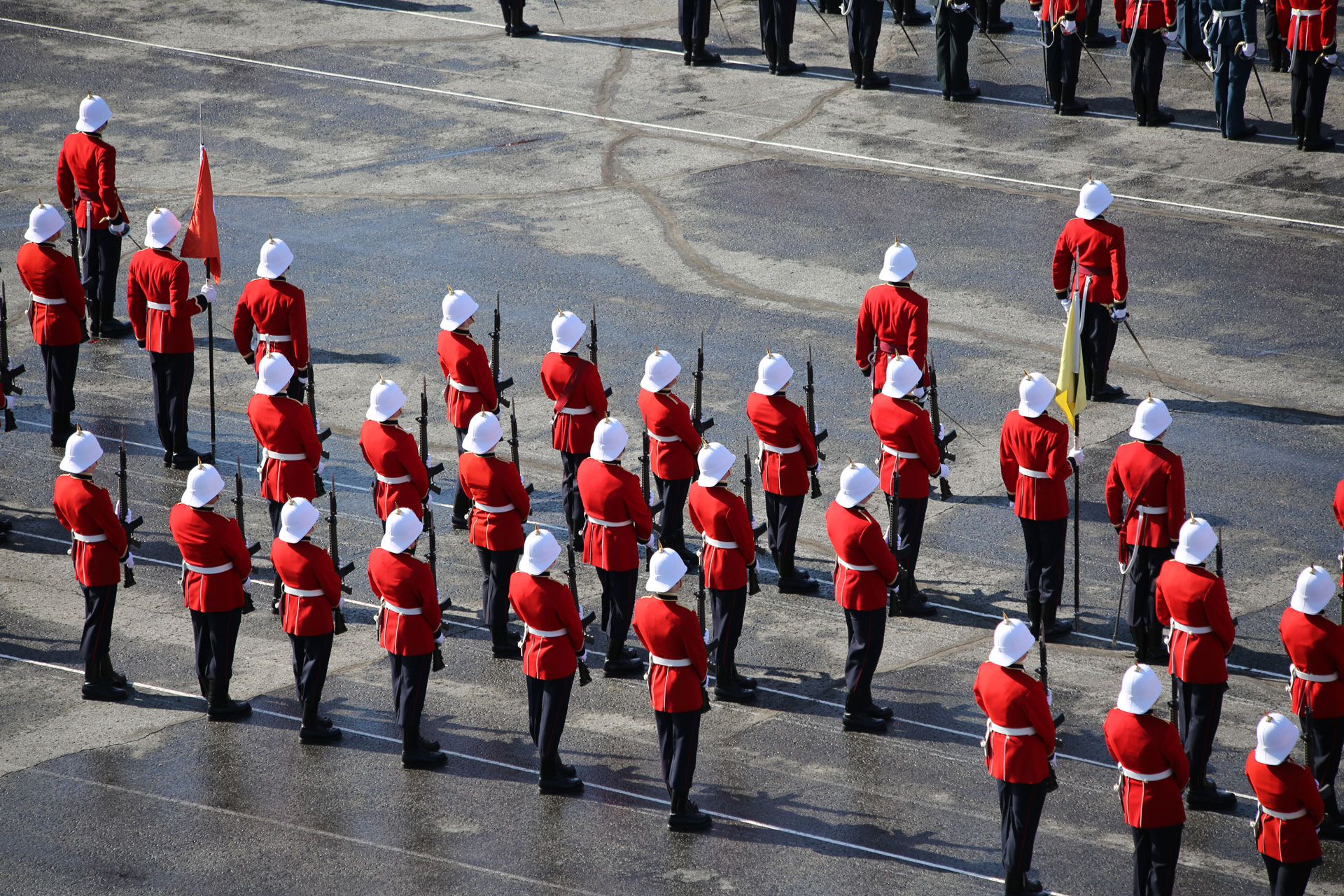 Revised RMCC Mission Statement
The following mission statement has been endorsed by the RMCC Board of Governors.
The mission of the Royal Military College of Canada (RMCC) is to produce officers with the ethical, mental, physical and linguistic capabilities required to lead with distinction in the Canadian Forces (CF). As a federally chartered bilingual university, RMCC delivers undergraduate academic programs together with a range of complementary programs to accomplish this mission. As Canada's military university, RMCC also provides undergraduate and post-graduate programs, and professional development education, to meet the needs of other members of the CF and DND, and civilians with interest in defence issues. RMC carries out research appropriate to a modern university, one that serves the profession of arms.
Énoncé de Mission révisé pour le CMRC
L'énoncé de mission suivant a été approuvé par le Conseil des gouverneurs du CMRC.
Le Collège militaire royal du Canada (CMRC) a pour mission de former des officiers ayant un sens éthique et les capacités mentales, physiques et linguistiques nécessaires pour commander avec distinction au sein des Forces canadiennes (FC). En qualité d'université bilingue à charte fédérale canadienne, le CMRC offre des programmes d'études de premier cycle ainsi qu'un éventail de programmes complémentaires pour remplir cette mission. Le CMRC offre également des programmes de premier cycle et d'études supérieures, ainsi que des cours de perfectionnement professionnel afin de répondre aux besoins des autres membres des FC et du MDN, et des civils intéressés aux questions de défense. De plus, au service de la profession des armes le CMRC mène des recherches propres à une université moderne.
________________________________________________________________
I Remember When…
By: OCdt Stephen Paish
This past Monday Royal Military College of Canada sent a representation to the internment of  2424 Major General (Ret'd) Spencer – XXIV  Commandant  Royal Military College of Canada at Beechwood Military Cemetery in Ottawa. The RMC cadets who went were IV Francois Bosse and IV Stephen Paish. For those who don't know who Maj. Gen. Spencer  here is a bit of biographical information.

It was a short, moving ceremony. One that I will never forget. I like to think that we did a job that was fitting of the General.
________________________________________________________________
Passing Off the Square
By: 24488 Sébastien Delage
With Reunion Weekend quickly approaching, First Year cadets have successfully completed yet another hurdle: Passing Off the Square.  This long standing tradition represents the culmination of the drill and College knowledge segment of the First Year Orientation Program (FYOP).  They were tested on their ability to maintain a smart uniform, their ability to drill, and most importantly, their ability to memorize College knowledge.  RMC has a long and distinguished history, and it falls upon senior cadets to impart this history the the next generation who will then be able to perpetuate this legacy.  The Passing Off the Square is a challenge which every cadet must overcome in order to integrate the Wing.  They must go through a clearly choreographed drill sequence ending with a face off with the Top Four senior cadets in charge of the Cadet Wing.  Face to face with very intimidating seniors in full scarlet uniforms they are asked a random question — failure to answer correctly results in a resounding FAIL!  While all First Years finally succeeded, many struggled and had to go through the sequence several times before being judged as worthy of Passing Off the Square.
Click HERE to see the Passing Off the Square.
Click HERE to see the College cheer.
Click HERE to see cadets being "informed" of their failure to Pass Off the Square.
Click HERE to see First Year cadets singing their rendition of the national anthem.
________________________________________________________________
All Work and Some Play…Comdt & DCdt join staff & IV Years in Checking Out the 2008 Obstacle Course.
By: 24488 Sébastien Delage
As First Years are undoubtedly fretting over the dreaded Obstacle Course their senior cadets are hard at work ensuring that while the Course delivers a hard punch, it is also relatively safe.  Fourth Year cadets — bravely accompanied by the Commandant, the Director of Cadets, and many of the military staff —  ran the Obstacle Course last Friday in order to ensure the obstacles are safe and in fact surmountable.   While this aspect of the dry run was all work, there was some (a lot!) of play involved.  Fourth Year cadets generally look forward to redoing the Obstacle Course: this time they are not competing for time and are relatively well rested as they do not have the accrued tiredness of FYOP to deal with.  Most cadets will have changed squadrons one or more times during their stay at the College, but the Obstacle Course dry run offers a blast from the past by reuniting the Fourth Year cadets into the original Flights they were a part of when they went through FYOP.  This takes them back to nearly four years prior, when dreams of graduation were still very far away.  Good times to reminisce, and even better times to fool around!
Click HERE to see 8 Squadron play Pirates of the Cataraqui.
Click HERE to see 10 Squadron enjoying a relaxing mud bath.
Click HERE to see 2 Squadron "pulling their weight".
Cmdt gets muddy with the rest of 'em!