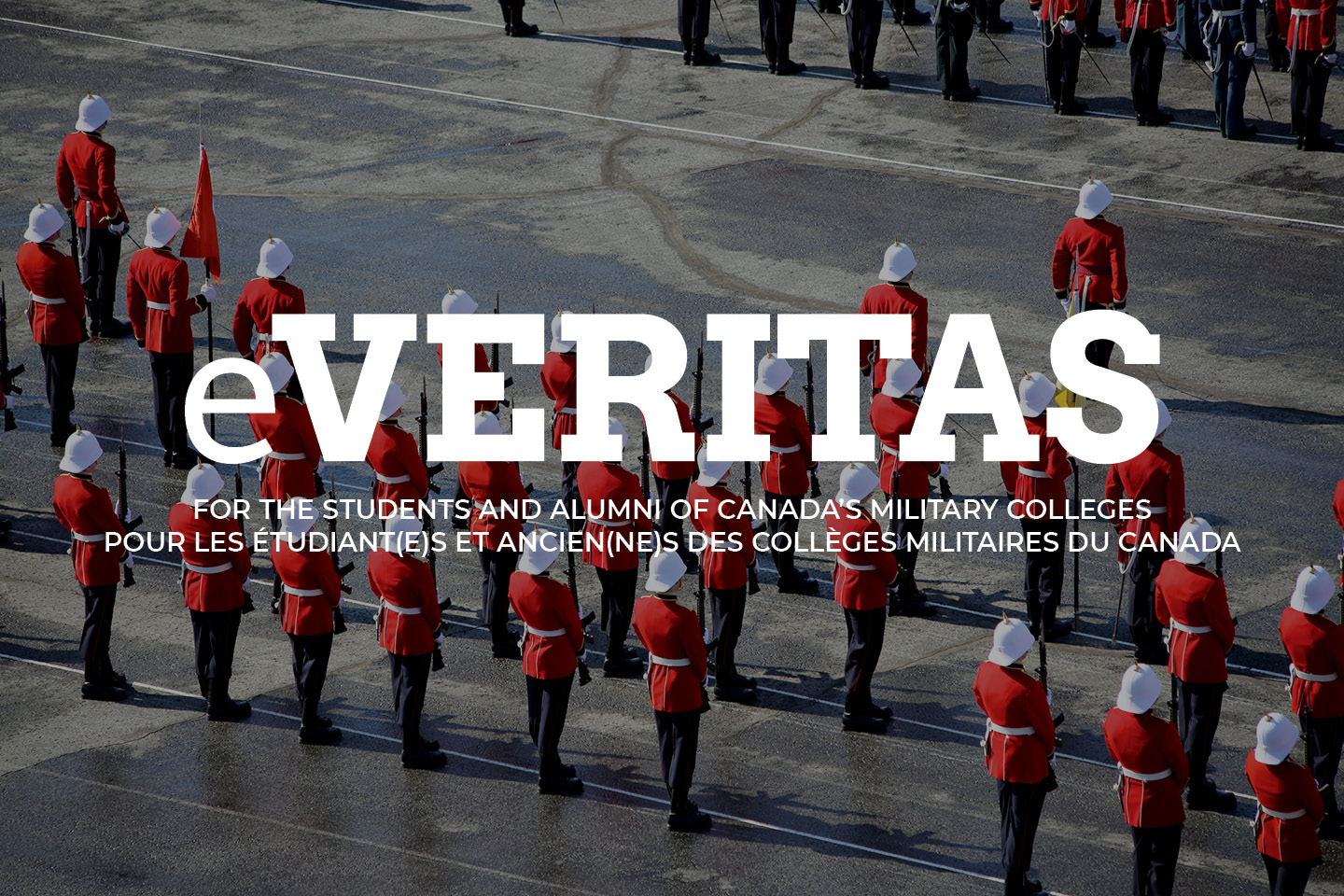 E3161 Victoria Edwards in conversation with 10080 Robert Booth (RMC 1974) who served as RMC Club President 2005-06.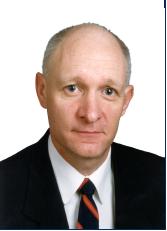 e-veritas: What extracurricular activities were you involved with at Military College? Did you hold leadership position(s)?
Bob Booth: Yes, I played centre for the RMC Redmen (as we were then known) varsity hockey team for all of my four years at RMC. I was fortunate that in my rookie year we had the "Maj" H25917 Danny McLeod coaching us in his last coaching year of an amazing period of growth for RMC hockey. Another highlight was our split (one win, one loss, two ties) in our West Point games. In my fourth year I was Cadet Squadron Leader (CSL) of Number 3 (Pontiac) Squadron. I attended RMC as an RETP cadet with a Foundation Scholarship and in my fourth year I was lucky enough to join the Commandant, 2816 BGen William Turner (RMC 1940), senior staff, and three of my fellow fourth year cadets in Mexico City to attend a meeting of military colleges from around the world.
e-veritas: How did you get involved with RMC Club business? How did you end up as RMC Club president?
Bob Booth: Unlike many of the Club Presidents who first became involved with the RMC Club through holding office with the Branch Club of their city, I became involved with the National Club when an Executive Committee vacancy came up and I was recruited by Club President G0055 Valerie Keyes (RMC 1980) in 1999. I served on the Executive Committee of the RMC Club for a number of years until being asked to step into the progression ladder of 2nd Vice, Vice, and finally President in 05/06.
e-veritas: What were some of the biggest challenges during your tenure as president?
Bob Booth: Very similar to those mentioned by previous past Presidents that you've chatted with, including financial and membership challenges. During my tenure we succeeded in establishing a methodology to recover from prior years' borrowings of capital from life membership fees that had been used to fund operations. On the membership front I believe we were reasonably successful due to the great efforts of then Executive Director S150 Peter Dawe and S125 Bill Oliver who seriously grew the number of serving cadets who joined the Club, most as life members and most in their first year.
e-veritas: What are you most proud of?
Bob Booth: I was personally very proud, and hope my colleagues would agree, with our national Club's efforts to engage the Branches of the Club across the country and in conjunction with that, the Club's contribution to the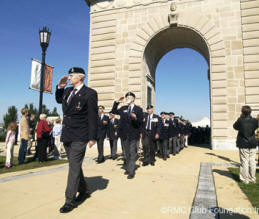 then "Red and White Program" for recruitment. I believed then, as I do now, that the Club's strength is in the Classes and the Branches and that the National Club's key role is to assist and facilitate them. During this time period we intentionally moved our annual Spring meeting of General Council and the AGM out of Kingston and St. Jean, where it had traditionally taken place, and held the meeting in Victoria (Royal Roads); Quebec City (Valcartier); Edmonton (Namao); and Halifax (Stadacona). In each of those locations we were superbly hosted by, and got to meet, local Branch members and usually spent a couple of days doing this. It was quite a time requirement for those having to travel sometimes great distances to attend the meetings, almost always at their own expense, and yet we had very high percentages of General Council attendance. Finally, during my time as President of the Club and in conjunction with the Foundation's plans to hold a Legacy Dinner in Calgary for the first time, I reached out to the Calgary Branch with an idea to present a leadership award that we decided to call the Birchall Leadership Award. It was established to annually or bi-annually recognize Canadians having outstanding leadership qualities along the lines of those demonstrated and taught by former Commandant 2364 Air Commodore Leonard J. Birchall CM, OBE, DFC, OO, CD (1915-2004). I'm really glad that the Birchall Leadership Award continues to this day, having been presented each year since its inauguration in 2005. The present leadership dinners and awarding of the Birchall Leadership Award offers a unique opportunity for RMC Branches to take on a worthwhile undertaking that raises awareness of RMC in their local community as well as recognizing outstanding leadership qualities of selected members from those communities – in addition to having raised over the years thousands of dollars of funding for the RMC Club Foundation as well as other military related and extremely important local charitable causes such as the Military Families Fund. This is an example of coordinating national Club leadership working with local Branch "heavy lifters" that could only be made possible through the training, collegiality, and organizational capabilities of ex-cadets. Since 2005 and with the unwavering support of Mrs. Kathleen Birchall and the Birchall family, a leadership dinner and Birchall Leadership Award presentation has taken place in Calgary, Toronto, Winnipeg, Kingston, Edmonton, and Halifax. It's wonderful that just this past year the Foundation, with Cameron Diggon's leadership and commitment to the Birchall Leadership Award since inception, has agreed to assume from the Calgary Branch responsibility for continuing Leadership Dinners and the presentation of the Birchall Leadership Award.
e-veritas: What do you know of the Club business today? What are the Club's/College(s) biggest challenges?
Bob Booth: I like the way you've framed the question "Club's/College(s)" biggest challenges as I think the biggest challenge is the matter of recruiting and its one that faces the College(s) and Club jointly. Since the Club was formed, one of the most important written or unwritten initiatives of Club members has been to help attract to RMC the most capable and committed of students. There have been a variety of program names and initiatives over the many years to describe this, including during my time with the Club, the "Red and White Program", which has since again been renamed and reshaped. Most people who feel passionately about RMC recognize the importance of attracting the highest quality of men and women for purposes of intake to the College(s), but it has proven to be a challenge getting the attention of DND to focus and expend resources to this end. There are structural impediments in my view in the Canadian Forces and in particular Canadian Forces Recruiting Group (CFRG)'s relationship to RMC that pose unnecessary challenges and complications to what should be in the national interest, let alone the interest of the Canadian Armed Forces, in attracting the very best.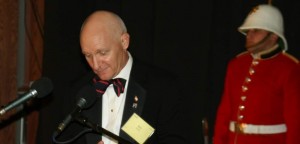 e-veritas: Would you advise cadets/Ex cadets and former students to get involved with the College extracurriculars/RMC Club? If yes, Why? If not, why not?
Bob Booth: Absolutely. Why? – to first appreciate and then communicate the enormity of the College's stature and value to Canada. There is of course also the selfish reason to enjoy reconnecting with classmates and ex-cadets who are lifelong friends.
e-veritas: What are you up to these days?
I'm actively practicing as a partner in the Calgary office of the Bennett Jones law firm where I have been for over 35 years now. In my spare time I serve as Honorary Counsel to each of the RMC Club Foundation, the Conference of Defence Associations and the CDA Institute. I serve on the Board of the Canadian Defence & Foreign Affairs Institute, a national think-tank based out of Calgary. I also serve on a number of private corporations' Boards of Directors as well as on the Board of two public companies, ATCO Ltd. and Canadian Utilities Limited.
 _______________________________
Previous Interviews with Former Presidents