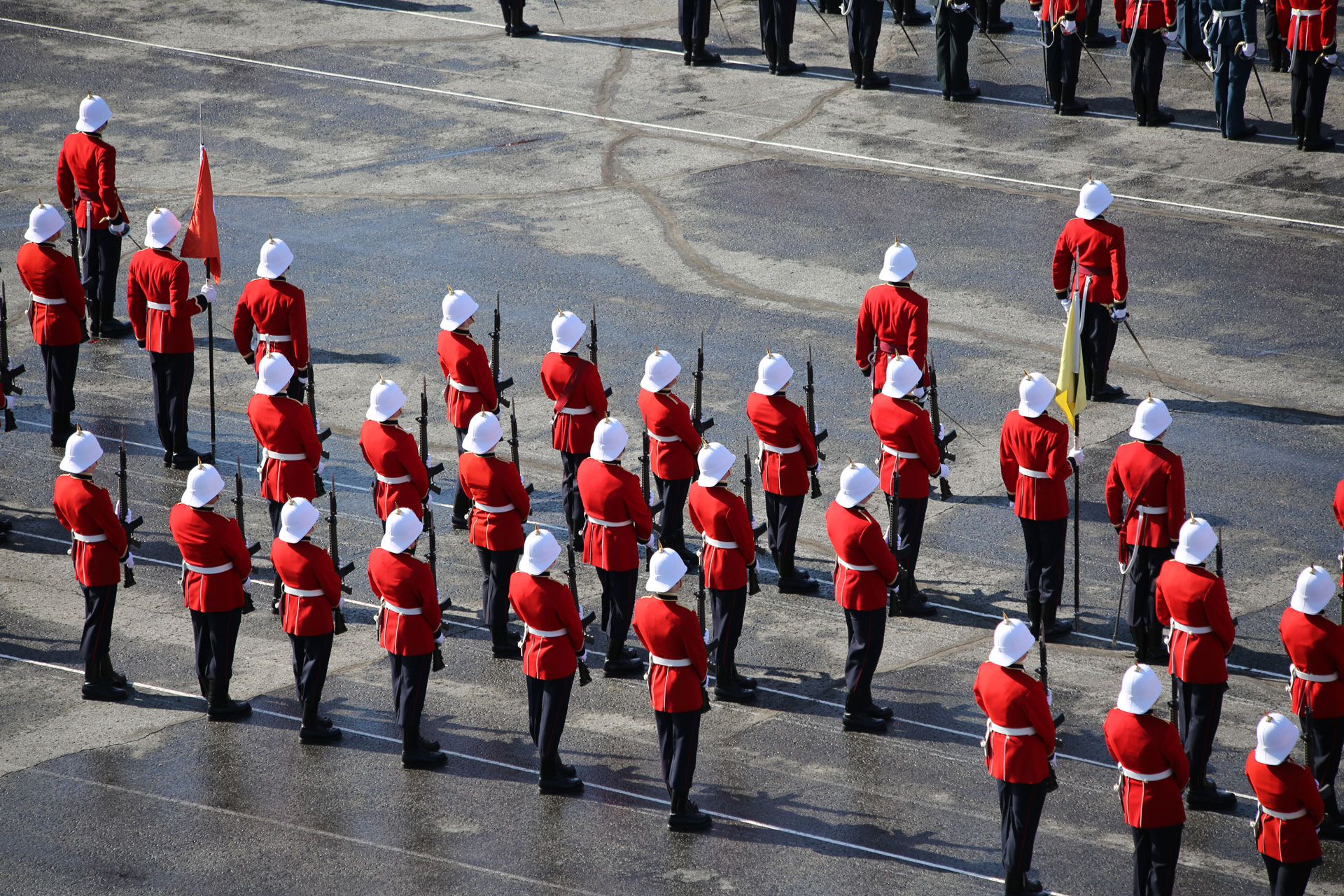 Photo 1: Major Claire Bramma

Photo2: Debris removal at a school in Léogane.
Photo 3: Local water truck filling up with our water.
Photo 4: Sgt Tellier (ROWPU detachment commander) adjusting the system settings.
Photo 5: Construction of a medical clinic for Léogane Help Hospital.
Photo 6: Installation of Red Cross transitional centre.

Engineers on Op HESTIA – a demonstration of operational readiness, teamwork, and pride.
By: 22461 Major Claire Bramma (RMC 2002)
On a bitterly cold morning in Valcartier on the 12th of January 2010, I woke up to the CBC radio news announcement that the region of Port-au-Prince had just experienced a horrendous earthquake and was in a state of emergency. I had a feeling that my new year's resolution was going to be realized: in 2010 I intended to travel somewhere warm and help people at the same time. At 1100h the same day I received a warning order from my Commanding Officer 17876 LCol Dan MacIsaac (RMC 1991) that my squadron would deploy on Operation HESTIA as part of the 3e R22eR Battle Group in support of Canada`s humanitarian and disaster relief effort in Haiti.
I was officially appointed commander of 55 Engineer Support Squadron on the 6th of January following our return from Christmas leave, and I was only just beginning to get to know the names of my soldiers when the deployment to Haiti arose. This mission would prove to be a fantastic way to begin my tenure as a Squadron Commander and to experience the impact that military engineers have during humanitarian operations.
I deployed to the city of Léogane, approximately 30km west of Port-au-Prince, on the 19th of January with the Battle Group advanced party. Upon understanding the commander's intent, my initial efforts were focussed on the reconnaissance of routes and buildings as well as the preparation of sites for Battle Group assets such as the Role 2 Hospital. By the 4th of February the Squadron camp was fully established and the majority of the 70-piece vehicle and equipment fleet had arrived in-theatre. My Squadron consisted of 108 personnel that included a headquarters element, a Field Troop, and a large Support Troop. The latter provided a wide range of capabilities such as water purification, construction technicians and heavy equipment, while the field troop carried out engineer reconnaissance, hands-on support, and site security tasks.
The engineer work during Op HESTIA consisted of four lines of operation that we carried out simultaneously. First, we produced potable water using two Reverse Osmosis Purification Units (ROWPU) and constructed latrines to support sanitation infrastructure. Second, using excavators and dump trucks, we were responsible for the demolition of damaged public buildings as well as for the removal of debris from the roads. Third, we employed our dozers, grader, and Multi-Purpose Engineer Vehicle (MPEV) to prepare terrain to support civilian camps and non-governmental organizations. Finally, our construction technicians worked hard to repair plumbing and electrical systems in public buildings as well as to construct a variety of transitional shelters. Everyday, there were at least eight task-tailored sections dispatched throughout the region in direct support of the local population as well as a wide range of non-governmental organizations (such as the Red Cross and Unicef). At the end of the 60-day mission, 55 Engineer Squadron was able to have a tangible impact on the region of Léogane: 2.1 million litres of water was produced and distributed; 29 public buildings were cleared of debris equating to an estimated 25,000 tonnes of rubble removed; 180 latrine units were built and installed; and a municipal office, 2 medical clinics, and 4 transitional shelters were constructed.
Looking back at the accomplishments achieved during Op HESTIA, three components were essential to our success: operational readiness and the flexibility to adapt to humanitarian operations; teamwork both within the squadron and with civilian and military partners; and taking pride in representing both the Canadian Forces and Canada.
Being posted to an operational unit means that at all times one should be operationally ready and prepared to take on either a domestic or foreign deployment. At the time of Op HESTIA I was in fact on 12 hours notice to move to deploy on domestic operations in Eastern Canada, so my personal kit was already packed (albeit for winter operations!) and I was mentally prepared to deploy. What I learned from this recent deployment was that operational readiness also means flexibility and the ability to adapt to change; you never know where a military deployment could take you geographically or in terms of the spectrum of operations. Humanitarian operations is not something that I have specifically trained for, however I can attest that my past experiences during field exercises, while on operations in Afghanistan, and during my years at RMC have provided me with the ability to deal with the unexpected. Humanitarian operations require strong communication skills and a high-degree of patience especially when operating in a joint, interagency, multinational and public (JIMP) environment. In addition, a can-do attitude and mental agility is essential to overcome the challenges of resource and time constraints.
Working together as a team is a fundamental part of military life. Everyday I was truly impressed by the teamwork demonstrated within my Squadron. Everyone was dedicated to doing their share to get the job done and help the Haitian people; although there were two separate Troops based on capabilities, resources were shared equally based on the task and everyone worked together despite differences in trades and experience. Teamwork was also essential within the Battle Group which was achieved through good communication with the operations staff and Civil Military Cooperation (CIMIC) teams. Effective collaboration was also essential during the construction of the Red Cross transitional shelters as it was a combined effort of engineers, 3e R22eR soldiers, HMCS Athabaskan personnel, as well as local carpenters.
Finally, taking pride in representing Canada helped my squadron maintain a high-degree of professionalism and work ethic throughout the mission. On the leadership side, it was important that I explained to the NCOs the reasons for the deployment as well as reinforce the fact that the actions of each and every member of the squadron were not going unnoticed. In addition, reinforcing the positive impact that our activities were having on the people of Léogane helped motivate the squadron to complete tasks to the best of our ability.
For the RMC cadets reading this article, I hope this may encourage you to make the most your college experience before embarking on your career as a commissioned officer. As future leaders in the Canadian Forces you are sure to encounter endless opportunities to confidently deal with the unexpected on operations in Canada and abroad.
Ed: Claire Bramma received her Civil Engineering Degree in 2001. While at RMC – she was a busy and a highly accomplished young lady.  Among her many, many accomplishments at the college was winning the Kelly Gawne Memorial (Best all-round Lady Ocdt in athletics) three of the four years she attended RMC.