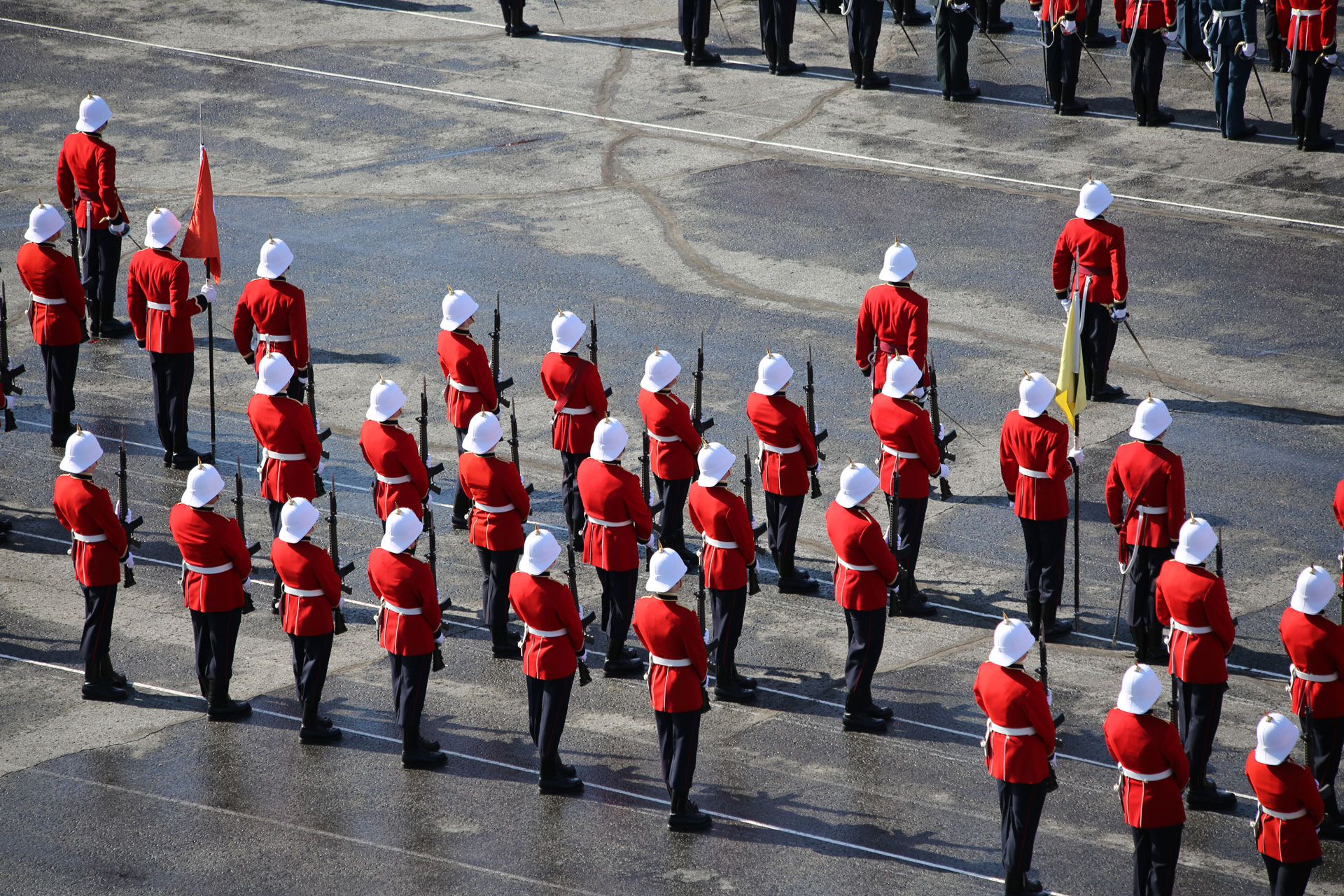 Expand your horizons
A/SLt 24498 Noelani Shore (RMC 2009)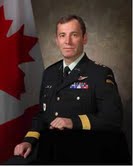 After five operational tours, Major General 12966 Marquis Hainse, Commander of Land Force Doctrine and Training System, was in a good position to lead the training of the Army. He has been to Cyprus twice, Haiti, Bosnia, and Afghanistan.
After two years at this posting, he will be moving on at the end of July.
"I'll be replaced by a new commander, and I think he's in for an exciting and challenging job, but I know he'll be up to the task, so all the power to him," MGen Hainse said.
For the past two years, the commander has been developing different components of army training. The three big components are training delivery, lessons learned, and the doctrine aspect.
"Those are the three big dimensions that reside under one roof. And I feel very fortunate that they are all under one roof, because they all link and inform each other, and this is how we learn and adapt. I can change the training in order to stay ahead of what's happening out there in terms of security challenges," he explained.
While this is a fairly broad mandate, MGen Hainse manages to combine these training challenges with nurturing the connection between our main allies, so that everyone learns together, as well as shares the practice and lessons within this new futuristic environment.
MGen Hainse returned from Afghanistan as the Deputy Commander of RC South, only to take over as commander of LFDTS a few months later.
"I had a few months to recover, and then I took over this job. A lot of aspects of the new threat were certainly clear in my mind, so I was able to advance a few of those initiatives that I set for myself, but the focus should not be on only one specific threat," said the Commander. "We have to be careful. We have to look at what is out there, but we also have to make sure we keep doing our foundation training. That is probably what I find we need to focus on – not losing our strong foundation."
According to MGen Hainse, the training for members of the Canadian Forces is first rate. He has never seen or heard of a soldier complain about the fact that they were not well trained before they arrived in Afghanistan.
"We will never hit the 100 percent mark, but we can certainly hit the 88-90 percent mark, and maybe even higher, and in my mind, we're achieving that goal," he said. "I certainly trust the training, but we do spend a lot of effort to make sure we stay ahead. We have to go back to theatre every three months to make sure that we are in line with what is happening. Lessons learned is very active, and we do send a team every Roto, just to look after that aspect. So it's a continuous cycle, and it's evolving all the time. When you ask the troops if they feel they have been trained enough, when they've been through the high readiness training, you can tell sometimes they get tired, and they say that there was some repetition, and we could cut a few things. Once they're in theatre though, and we ask them again, they wouldn't like to cut training; in fact, they would like to add a few things. It's a balance, but I'm very confident with what we have in place now."
Deploying to Afghanistan made for an interesting tour, and it was by far the most dangerous deployment MGen Hainse has ever been on, but the most complex mission was his deployment to Haiti.
"I took battalion command in Haiti, so this one sticks out in my head a bit more because of the significance of taking command in operation. It was certainly complex because there were no belligerents in Haiti when I was there in 1996. The country was totally out of order, and it was certainly hard and complex to understand what needed to be done," he said. "So for me, we had to change our mind set on the type of operation that we were doing. It was changing from the Cold War type, to what the threat is now, to failed and failing states, and we had to wrap our head around it. There can be many causes of failed states, and we have to see how we can improve the situation by combining military action with whole of government action."
With the devastating earthquake in Haiti on Jan 12, it is clear to MGen Hainse that the catastrophe induced a big set back.
"The problem that I find with Haiti is that people wanted to have the peace dividends, to reap out the benefits, early on. You can never reap out benefits early when you go and try to rebuild a country. There's no such thing as overnight success. That's been the hardest problem in Haiti," said the Commander. "We've all been there, and we've all done good work, and we've seen progress, but we've declared success too early, and then we left the place, and we didn't put the effort that needed to be put in. So clearly now, with the big earthquake, it'll be a big set back, but on the other hand, it will be a great opportunity to look at it from the ground up, and then to build that country, and build the institutions that the country really needs."
The most rewarding thing about being deployed is, according to MGen Hainse, seeing the actions and commitment of his troops.
"This is to me, at the end of the day, the most rewarding thing. When you know that you make a difference, and when you can see it in your troops that they feel they made a difference, it's a great feeling. You can see it in their eyes and in their energy and deportment, and I can tell you, every time I get energized by it, and that's what keeps me going."
Being vested with command responsibility in Haiti was MGen Hainse's proudest moment in his career so far.
"It was then that I knew the institution was putting its trust in me to command CF troops. The very first command appointment at a battalion level was, to me, a significant event. I've had higher appointments since then, but this one was very special, being the first one, and just the fact that I was nominated, I was very grateful to the institution."
While MGen Hainse would certainly return to a deployment he's already been on, he would like to go somewhere different to face new challenges.
"I would not say no to any type of deployment. This is what being a military member is all about. If you're not deployable, as far as I'm concerned, you're not employable."
MGen Hainse was challenged with a deployment in his first posting from CMR.
"I did my first operational tour as part of that first posting, and I would not change anything with regards to joining the regiment or that unit. I changed programs after two and a half years at CMR, so I did my phase training, and then right after that I joined the 2nd Battalion in the Royal 22nd Regiment based out of Valcartier," he said.
As far as MGen Hainse is concerned, CMR and RMC are great institutions, and he feels fortunate to have been at the college.
"I consider now that I did make a mistake to leave the college too early. You don't realize it at the time, but education is not just about the degree, but it's about expanding your horizons in many other aspects. And as an officer, you need to have those horizons expanded, but it doesn't stop there," said the Commander. "Self-study is something that you will need to continue when you are a commissioned officer. The rank will not make you brighter, nor will it increase your culture, and for that very reason, you need to pay particular attention to the self-study aspect, and you have to keep doing it. It's like PT – it needs to be continuously practiced and maintained. The college is a good start, but it's not an end."
MGen Hainse had the opportunity to revisit the military college as the Director of Cadets at RMC from 1994-96. He learned a lot as DCadets, but being involved at RMC reaffirmed what he already knew.
"There's a great pool of talent at the college. I knew it from when I was a cadet, but returning as DCadets just reaffirmed that the quality of people coming in, as well as those graduating from the college," he said.
MGen Hainse joined the RMC staff at an interesting time, as the three military colleges were being amalgamated into one.
"I learned at that time that the college has to be more than just a university. The added value at RMC is the four pillars, and we need to make space for those four pillars. It's very important. The four pillars do make an individual very complete. And if you follow those four pillars and develop skills in all of them, it will certainly help you in your career. The other aspect of the benefits of the college is that any opportunity you have to practice leadership is a good opportunity, and it will serve you well in the future."
"There's no question about it. I think RMC is a great institution, and needs to be protected. I wish the college many more years, because, quite frankly, Canada and the officer corps benefits from the type of officers that graduate from RMC."