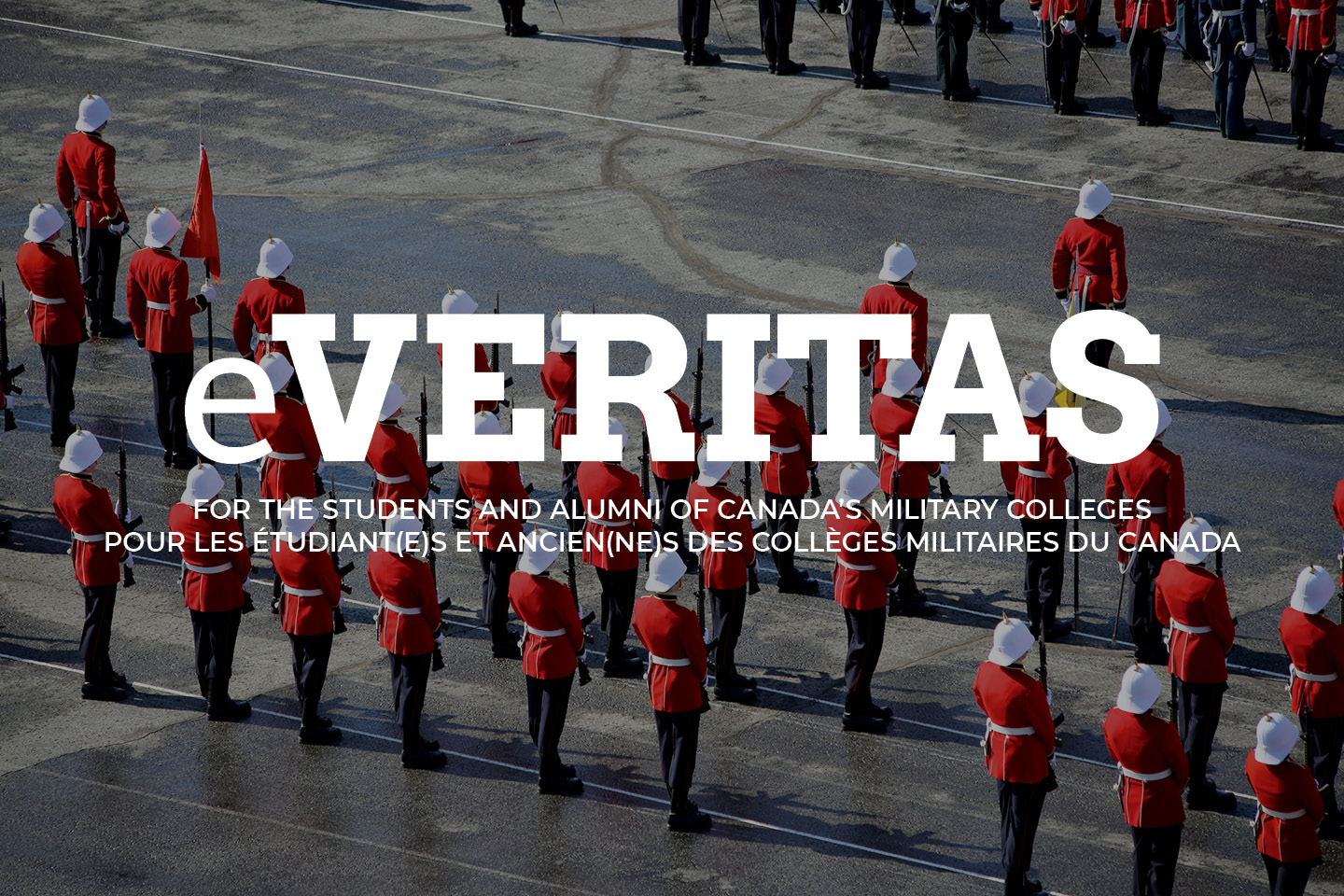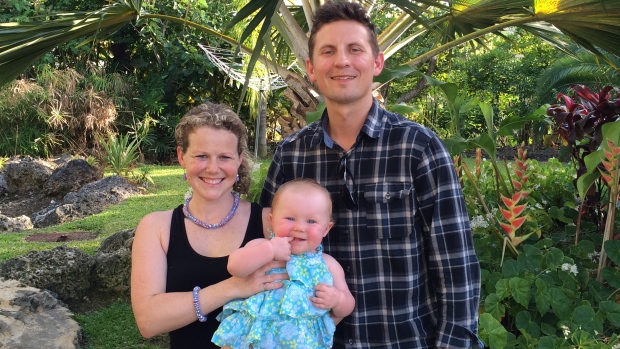 Canadian shot in Barbados robbery kept alive by wife
"The first thing I could think of was my daughter was between the two of us. So I went to grab her right away. And they said stop,"
23234 Heather Rebin Article 
***
Legal officer receives rare honour
"Hearing from the Minister of Justice is unusual," said Colonel Gleeson. "As military lawyers, we are members of the CAF, not employees of the Department of Justice."
14865 Patrick Gleeson Article
***

With 20397 Lieutenant-Colonel Christopher M. Stewardson in command, the evening kicked off with a charming accordion player in the pre-reception, and a bugler who sounded the call for dinner.
***
Chris Hadfield on building a better spacesuit
"It has to keep you alive so therefore the design of it really is driven to a large degree by the fact it is has to keep you healthy and safe in your environment."
13738 Chris Hadfield – Article
***
Former midget Flames' captain took leadership skills to military
22362 Matt Cossaboom – Article
***
Travel Opportunity! Space for Two on Upcoming South Danube Tour Hungary to Romania (May 31 to June 14th, 2014)
Unexpectedly we still have space for two persons on our South Danube tour that has been sold out for months. The June 2014 tour includes all flights on the new Dreamliner Boeing 787 airliner on Star-Alliance partner airline LOT, two nights and tours in Budapest, seven nights on the 5* luxury AmaPrima in a cabin with a large picture window, from Budapest, Hungary to Russe, Bulgaria (you will be travelling on the Danube through Hungary, Croatia, Serbia, Romania and Bulgaria. AMAWaterways, owner of the AmaPrima, offers beautiful, spacious ships, free flowing wine/beer and superb meals at lunch and dinner, comprehensive touring programs at ports-of-call, and delightful evening entertainment on board. On disembarking from the cruise ship, you'll experience a tour of Bulgaria, visiting leading cities of Plovdiv, Veliko Turnovo and the capital city of Sofia.
You can also stay for an optional third week tour of Romania, including visiting Transylvania and Bran Castle (home of Vlad the Impaler, Count Dracula) and lesser known but magnificent Peles Castle; touring the capital of Romania, Bucharest; and visiting several very scenic medieval hill towns that are UNESCO world heritage sites, like at Biertan and Sighisoara. This part of Europe is little visited by Canadians, but based on my own experiences leading a group a couple of years ago, the tour is very scenic and well worth the experience. We are holding the early booking price (which expired last October), so if you are interested, please view the attached brochure and give me a call (at 1-250-592-8897) or directly to Paul at Know the World Tours at 1-800-554-9754.
5758 Mike Morres – Tour Director – Know the World Tours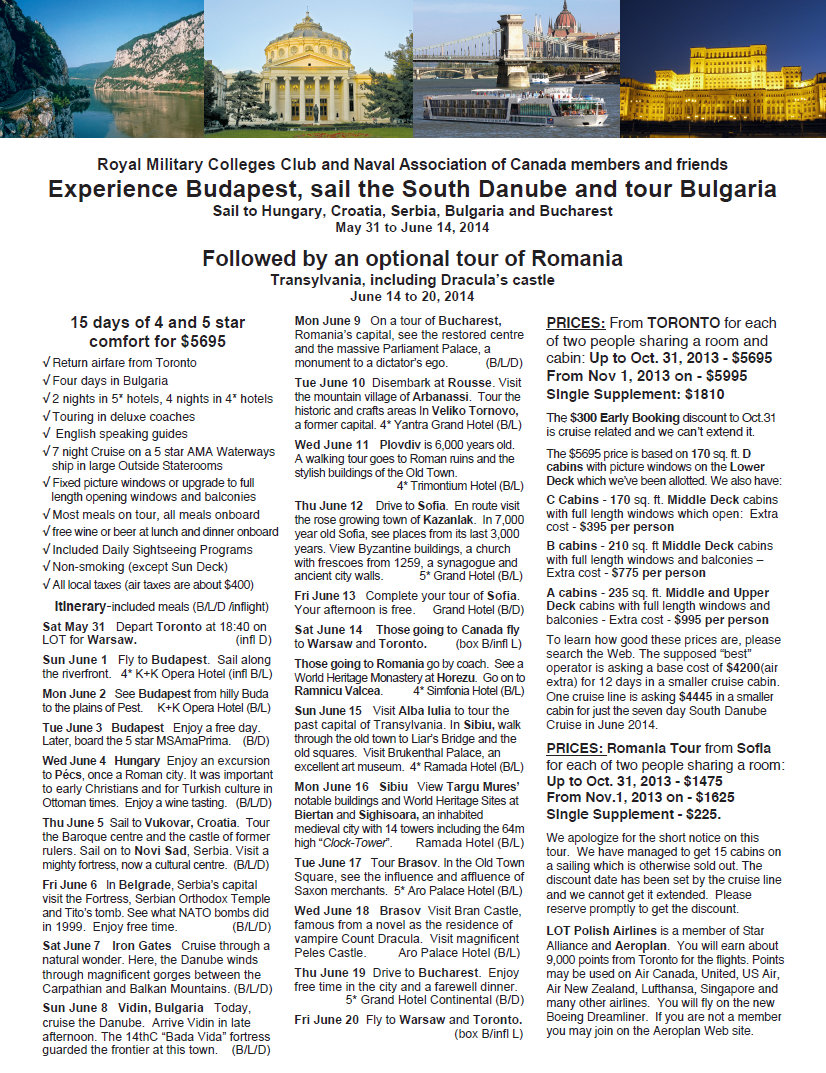 Click, click for better viewing…
Following are the highlights from a recent CANFORGEN
CANFORGEN 051/14 CMP 023/14 021830Z APR 14
2014 COLONEL / CAPTAIN (NAVY) PROMOTIONS AND APPOINTMENTS UNCLASSIFIED
CLICK HERE FOR THE ENTIRE LIST WHICH INCLUDES A NUMBER OF EX CADETS

A.      COLONEL M.C. ATKINS WILL BE APPOINTED DIRECTOR STRATEGIC
READINESS, STRATEGIC JOINT STAFF, AT NDHQ, IN OTTAWA, REPLACING COLONEL P.J. WILLIAMS
B.      COLONEL B.S.P. BAKER WILL BE APPOINTED A3/COMBINED AEROSPACE
OPERATIONS CENTRE DIRECTOR, AT 1 CANADIAN AIR DIVISION, IN WINNIPEG, REPLACING COLONEL N. GAGNE
C.      COLONEL M.R. BARKER WILL BE APPOINTED COMMANDING OFFICER
AEROSPACE ENGINEERING TEST ESTABLISHMENT, IN COLD LAKE, REPLACING COLONEL M. LEBLANC
D.      CAPTAIN (NAVY) M.W.J. BATSFORD WILL BE APPOINTED NAVAL ADVISOR
CANADIAN DEFENCE LIAISON STAFF, IN WASHINGTON, DISTRICT OF COLUMBIA, USA, REPLACING CAPTAIN (NAVY) J.R.P. GRAVEL
E.      COLONEL S.T. BLAIR WILL BE APPOINTED DIRECTOR SPECIALIST AND
SUPPORT PLANS, STRATEGIC JOINT STAFF, AT NDHQ, IN OTTAWA, REPLACING COLONEL V.C. TATTERSALL
F.      COLONEL P.R. BOSSE WILL BE APPOINTED CHIEF OF STAFF DIRECTOR
GENERAL INFORMATION MANAGEMENT PROJECT DELIVERY, ASSISTANT DEPUTY MINISTER (INFORMATION MANAGEMENT), AT NDHQ, IN OTTAWA, REPLACING COLONEL K.F. BRYSKI
G.      COLONEL S. BOUCHARD WILL PROCEED TO THE ADVANCED TRAINING LIST
TO ATTEND THE NATIONAL SECURITY PROGRAMME, AT CANADIAN FORCES COLLEGE (CFC), IN TORONTO
H.      COLONEL J.R.L. BOUCHER WILL PROCEED TO THE ADVANCED TRAINING
LIST TO ATTEND THE NATIONAL SECURITY PROGRAMME, AT CANADIAN FORCES COLLEGE (CFC), IN TORONTO
I.      COLONEL L.H.P.S. BOUCHER WILL BE APPOINTED CHIEF OF STAFF 2
CANADIAN DIVISION SUPPORT BASE, IN MONTREAL, REPLACING COLONEL
J.      N.L. LALONDE J.CAPTAIN (NAVY) J.R.R. BRISSON WILL PROCEED TO THE
ADVANCED TRAINING LIST, AT CANADIAN FORCES LANGUAGE SCHOOL, IN GATINEAU
K.      COLONEL K.F. BRYSKI WILL BE APPOINTED UNITED STATES STRATEGIC
COMMAND LIAISON OFFICER, WASHINGTON DISTRICT OF COLUMBIA, USA, REPLACING COLONEL D.M.N GOSSELIN
L.      COLONEL S.M. CADDEN WILL BE APPOINTED ARMY G3, CANADIAN ARMY, AT
NDHQ, IN OTTAWA
M.      COLONEL T.J. CADIEU WILL BE APPOINTED COMMANDER 1 CANADIAN
MECHANIZED BRIGADE GROUP HEADQUARTERS AND SIGNAL SQUADRON, IN EDMONTON, REPLACING COLONEL D.J. ANDERSON
N.      CAPTAIN (NAVY) S.W. CARTER WILL BE APPOINTED DIRECTOR NAVAL
REQUIREMENTS, ROYAL CANADIAN NAVY, AT NDHQ, IN OTTAWA, REPLACING COMMODORE A.G. MCDONALD
O.      COLONEL R.K. CHAMBERLAIN WILL PROCEED TO THE ADVANCED TRAINING
LIST TO ATTEND THE NATIONAL SECURITY PROGRAMME, AT CANADIAN FORCES COLLEGE (CFC), IN TORONTO
P.      COLONEL J.J.G CHAPDELAINE WILL BE APPOINTED DIRECTOR CHAPLAINCY
STRATEGIC SUPPORT, MILITARY PERSONNEL COMMAND, AT NDHQ, IN OTTAWA, REPLACING COLONEL N. SHAW
Q.      COLONEL S.N. CLANCY WILL BE APPOINTED COMMANDER 1 WING, IN
KINGSTON, REPLACING COLONEL K.G. WHALE
R.      CAPTAIN (NAVY) J.A. CLARKE WILL BE APPOINTED COMMANDER MARITIME
OPERATIONS GROUP 4, IN ESQUIMALT, REPLACING CAPTAIN (NAVY) B.A. PEATS
S.      COLONEL G.D. CORBOULD WILL PROCEED TO THE ADVANCED TRAINING LIST
TO ATTEND THE NATIONAL SECURITY PROGRAMME, AT CANADIAN FORCES COLLEGE (CFC), IN TORONTO
T.      COLONEL D.J. COTE WILL PROCEED TO THE ADVANCED TRAINING LIST TO
ATTEND DEVELOPMENTAL PHASE FOUR PROGRAMME AT NATIONAL DEFENCE COLLEGE, IN ROME, ITALY
U.      COLONEL J.J.A.M. COURNOYER WILL PROCEED TO THE ADVANCED TRAINING
LIST, AT CANADIAN FORCES LANGUAGE SCHOOL, IN GATINEAU
V.      COLONEL G.F. DAME WILL BE APPOINTED DIRECTOR MILITARY CAREERS,
MILITARY PERSONNEL COMMAND, AT NDHQ, IN OTTAWA, REPLACING COLONEL P.R.
BOSSE
W.      COLONEL J.P. DAVIS WILL BE APPOINTED ARMY ADVISOR CANADIAN
DEFENCE LIAISON STAFF, IN WASHINGTON, D.C., REPLACING COLONEL D.A.
RUNDLE
X.      COLONEL A.R. DAY WILL BE APPOINTED COMMANDER 15 WING, IN MOOSE
JAW, REPLACING COLONEL P.T. GODDARD
Y.      COLONEL J.P.P. DEMERS WILL PROCEED TO THE ADVANCED TRAINING
LIST, AT CANADIAN FORCES LANGUAGE SCHOOL, IN GATINEAU
Z.      COLONEL P.F.A. DEMERS WILL BE APPOINTED DIRECTOR PEACE KEEPING
POLICY, ASSISTANT DEPUTY MINISTER (POLICY), AT NDHQ, IN OTTAWA, REPLACING COLONEL J.P. DAVIS
AA.     COLONEL B.C. DERRY WILL BE APPOINTED COMMAND CENTRE DIRECTOR, AT
NORAD, IN COLORADO SPRINGS, REPLACING COLONEL S.N. CLANCY
BB.     CAPTAIN (NAVY) P.J.C DESCHENES WILL BE APPOINTED DIRECTOR
DEFENCE SECURITY, AT NDHQ, IN OTTAWA, REPLACING COLONEL M.A. FRANK
CC.     COLONEL (ACTING WHILE SO EMPLOYED) S.P. DESJARDINS WAS PROMOTED
COLONEL AND WILL REMAIN AS BRANCH HEAD J2X, AT SHAPE
DD.     CAPTAIN (NAVY) P.C. DICKINSON WILL BE APPOINTED CANADIAN DEFENCE
ATTACHE TO JAPAN, REPLACING CAPTAIN (NAVY) (ACTING WHILE SO EMPLOYED) B.A. WALKER
EE.     CAPTAIN (NAVY) C.P. DONOVAN WILL PROCEED TO THE ADVANCED
TRAINING LIST TO ATTEND THE NATIONAL SECURITY PROGRAMME, AT CANADIAN FORCES COLLEGE (CFC), IN TORONTO
FF.     COLONEL T.P. DUNNE WILL BE APPOINTED COMMANDER 19 WING, IN
COMOX, REPLACING COLONEL J.C. BENNINGER
GG.     COLONEL M.G.G.J. DUSSAULT WILL BE APPOINTED CANADIAN DEFENCE
ATTACHE TO INDIA, REPLACING COLONEL S.G. LAPLANTE
HH.     COLONEL R.A. ELVISH WILL BE APPOINTED DEPUTY CHIEF MAJOR
OPERATIONS ALPHA, AT NATO HEADQUARTERS INTERNATIONAL MILITARY STAFF, REPLACING COLONEL D.D. MCALEA
II.     COLONEL R.B. EWING WILL BE APPOINTED CHIEF OF STAFF FORMATION,
OPERATIONS, SUPPORT, AND MANAGEMENT, AT CANADIAN DEFENCE ACADEMY, IN KINGSTON, REPLACING COLONEL D.J. COTE
JJ.     COLONEL E.R. FETTERLY WILL BE APPOINTED COMPTROLLER ROYAL
CANADIAN AIR FORCE, AT NDHQ, IN OTTAWA, REPLACING COLONEL J.E.P.
BOUFFARD
KK.     COLONEL A.S. FLEMING WILL BE APPOINTED A4 MAINTENANCE, AT 1
CANADIAN AIR DIVISION HEADQUARTERS, IN WINNIPEG, REPLACING COLONEL M.R.
BARKER
LL.     COLONEL W.H. FLETCHER WILL BE APPOINTED SPECIAL ADVISOR TO THE
CHIEF OF THE DEFENCE STAFF, AT NDHQ, IN OTTAWA, REPLACING CAPTAIN (NAVY) C.A BAINES
MM.     COLONEL M.A. FRANK WAS APPOINTED COMMANDER CANADIAN MANOUEVERING
TRAINING CENTRE, IN WAINWRIGHT, REPLACING BRIGADIER-GENERAL J.J.M.J.
PAUL
NN.     COLONEL B.H. GAGNE WILL BE APPOINTED DIRECTOR DIVISION
HEADQUARTERS REAR, AT 1 CANADIAN DIVISION HEADQUARTERS, IN KINGSTON, REPLACING COLONEL D.A. PATTERSON
OO.     COLONEL J.R.M. GAGNE WILL BE APPOINTED COMMANDER 4 CANADIAN
DIVISION SUPPORT BASE, IN PETAWAWA, REPLACING COLONEL K.W. HORLOCK
PP.     COLONEL N. GAGNE WAS APPOINTED DIRECTOR FLEET READINESS, AT 1
CANADIAN AIR DIVISION, IN WINNIPEG
QQ.     CAPTAIN (NAVY) D.M. GARNIER WILL BE APPOINTED COMMANDING OFFICER
CANADIAN ARMED FORCES MARITIME WARFARE CENTRE, IN HALIFAX, REPLACING CAPTAIN (NAVY) D.M.C. YOUNG
RR.     COLONEL M.G.M. GIGNAC WILL PROCEED TO THE ADVANCED TRAINING
LIST, AT CANADIAN FORCES LANGUAGE SCHOOL, IN GATINEAU
SS.     COLONEL P.T. GODDARD WILL BE APPOINTED DIRECTOR AEROSPACE
READINESS, AT 1 CANADIAN AIR DIVISION HEADQUARTERS, IN WINNIPEG, REPLACING COLONEL B.S.P BAKER
TT.     COLONEL J.E. GOODMAN WILL BE APPOINTED COMMANDER 5 CANADIAN
DIVISION SUPPORT BASE, IN GAGETOWN, REPLACING COLONEL L.C. DALTON
UU.     COLONEL D.M.N. GOSSELIN WILL BE APPOINTED J6, AT CANADIAN JOINT
OPERATIONS COMMAND, IN OTTAWA, REPLACING COLONEL S.M. MORITSUGU
VV.     COLONEL J.M.A. GUEVREMONT WILL BE APPOINTED DIRECTOR CHAPLAINCY
SERVICES, MILITARY PERSONNEL COMMAND, AT NDHQ, IN OTTAWA, REPLACING COLONEL J.J.G CHAPDELAINE
WW.     COLONEL K.W. HORLOCK WILL BE APPOINTED DEPUTY CHIEF OF STAFF
STRATEGIC/SUPPORT, AT CANADIAN JOINT OPERATIONAL COMMAND HEADQUARTERS, IN OTTAWA, REPLACING COLONEL D.A. MACISAAC
XX.     COLONEL J.A. IRVINE WILL BE APPOINTED J5, AT CANADIAN JOINT
OPERATIONAL COMMAND, IN OTTAWA, REPLACING COLONEL L.P. MCGARRY
YY.     CAPTAIN (NAVY) J.J.H.R. JEAN WILL BE APPOINTED CHIEF OF STAFF
ROYAL CANADIAN NAVY, AT NDHQ, IN OTTAWA, REPLACING CAPTAIN (NAVY) W.A.
WOODBURN
ZZ.     COLONEL C.R. KEIVER WILL PROCEED TO THE ADVANCED TRAINING LIST
TO ATTEND THE DEVELOPMENTAL PHASE FOUR PROGRAMME, AT THE ROYAL COLLEGE OF DEFENCE STUDIES, IN LONDON, ENGLAND
AAA.    COLONEL S.R. KELSEY WILL PROCEED TO THE ADVANCED TRAINING LIST
TO ATTEND THE NATIONAL SECURITY PROGRAMME, AT CANADIAN FORCES COLLEGE (CFC), IN TORONTO
BBB.    COLONEL E.J. KENNY WILL BE APPOINTED COMMANDER 4 WING, IN COLD
LAKE, REPLACING COLONEL J.R.P. LAROCHE
CCC.    CAPTAIN (NAVY) F.M. KNIPPEL WILL BE APPOINTED COMMANDER NAVAL
PERSONNEL AND TRAINING GROUP, IN ESQUIMALT
DDD.    COLONEL J.R.P. LAROCHE WILL BE APPOINTED DIRECTOR NEXT
GENERATION FIGHTER CAPABILITY, AT NDHQ, IN OTTAWA
EEE.    COLONEL M. LATOUCHE WILL BE APPOINTED DEPUTY DIRECTOR
OPERATIONS, AT NORAD, IN COLORADO SPRINGS, REPLACING COLONEL E.J. KENNY
FFF.    COLONEL J.G.R. LAVOIE WAS APPOINTED CHIEF OF STAFF ASSISTANT
DEPUTY MINISTER (PUBLIC AFFAIRS), AT NDHQ, IN OTTAWA, REPLACING COLONEL J.P.E.J. POITRAS
GGG.    COLONEL M. LEBLANC WILL BE APPOINTED COMMANDER TASK FORCE
PORT-AU-PRINCE AND CHIEF OF STAFF MINUSTAH, IN HAITI, REPLACING COLONEL S.M. CADDEN
HHH.    COLONEL S.N. LEW WILL BE APPOINTED DIRECTOR AEROSPACE EQUIPMENT
PROGRAMME MANAGEMENT (RADAR AND COMMUNICATION SYSTEMS), ASSISTANT DEPUTY MINISTER (MATERIEL), AT NDHQ, IN OTTAWA, REPLACING COLONEL S.C. SIBBALD
III.    COLONEL I. LIGHTBODY WILL BE APPOINTED SPECIAL ADVISOR TO
COMMANDER ROYAL CANADIAN AIR FORCE, AT NDHQ, IN OTTAWA, REPLACING COLONEL J.R.L. BOUCHER
JJJ.    COLONEL D.A. MACISAAC PROCEEDED TO THE ADVANCED TRAINING LIST,
TO ATTEND THE DEFENCE STRATEGIC STUDIES PROGRAMME, IN AUSTRALIA
KKK.    COLONEL D.D. MCALEA WILL BE APPOINTED CANADIAN DEFENCE ATTACHE
TO AFGHANISTAN, REPLACING COLONEL R.J.A. SPENCER
LLL.    COLONEL L.P. MCGARRY WILL PROCEED TO THE ADVANCED TRAINING LIST
TO ATTEND THE NATIONAL SECURITY PROGRAMME, AT CANADIAN FORCES COLLEGE (CFC), IN TORONTO
MMM.    COLONEL S.A. MCLEOD WILL PROCEED TO THE ADVANCED TRAINING LIST
TO ATTEND THE NATIONAL SECURITY PROGRAMME, AT CANADIAN FORCES COLLEGE (CFC), IN TORONTO
NNN.    COLONEL B.W.G. MCPHERSON WILL BE APPOINTED J7, AT CANADIAN JOINT
OPERATIONAL COMMAND, IN OTTAWA, REPLACING COLONEL S.R. KELSEY
OOO.    COLONEL J.G.R. MELANCON WILL BE APPOINTED MILITARY ADVISOR NEW
YORK PERMANENT MISSION OF CANADA, IN NEW YORK, REPLACING COLONEL R.R.
BARRETT
PPP.    COLONEL C.J.J. MIALKOWSKI WILL BE APPOINTED DIRECTOR LAND FORCE
DEVELOPMENT, CANADIAN ARMY, AT NDHQ, IN OTTAWA
QQQ.    COLONEL B.A. MILLMAN WILL BE APPOINTED ASSISTANT CHIEF OF STAFF
SUPPORT, AT 4 CANADIAN DIVISION, IN TORONTO, REPLACING COLONEL M.E.K.
CAMPBELL
RRR.    COLONEL K. MOORE WILL BE APPOINTED DIRECTOR LAND EQUIPMENT
PROGRAM STAFF, ASSISTANT DEPUTY MINISTER (MATERIEL), AT NDHQ, IN OTTAWA, REPLACING COLONEL R.A. ELVISH
SSS.    COLONEL M.J. MORIN WILL BE APPOINTED COMMANDER 37 CANADIAN
BRIGADE GROUP, 5 CANADIAN DIVISION, IN MONCTON, REPLACING COLONEL S.P.
LEONARD
TTT.    COLONEL S.M. MORITSUGU WILL BE APPOINTED COMMANDER CANADIAN
ARMED FORCES INFORMATION OPERATIONS GROUP, IN OTTAWA, REPLACING COLONEL F.J. ALLEN
UUU.    CAPTAIN (NAVY) J.D. MOSS WILL BE APPOINTED CHIEF OF STAFF
MARITIME ATLANTIC HEADQUARTERS, IN HALIFAX, REPLACING CAPTAIN(NAVY) D.M.
GARNIER
VVV.    COLONEL S.P. MYERS WILL BE APPOINTED CHIEF OF STAFF DIRECTOR
GENERAL MATERIEL SYSTEMS AND SUPPLY CHAIN ASSISTANT DEPUTY MINISTER (MATERIEL), AT NDHQ, IN OTTAWA, REPLACING COLONEL J.B.G. POULIN
WWW.    CAPTAIN (NAVY) B.A. PEATS WILL BE APPOINTED DEPUTY COMMANDER
JOINT TASK FORCE NORTH, IN YELLOWKNIFE, REPLACING CAPTAIN (NAVY) J.D.
MOSS
XXX.    COLONEL B.N. PENNINGTON WILL BE APPOINTED DIRECTOR NATO POLICY,
ASSISTANT DEPUTY MINISTER (POLICY), AT NDHQ, IN OTTAWA, REPLACING BRIGADIER-GENERAL M.N. ROULEAU
YYY.    COLONEL R.F. PUCCI WAS APPOINTED CHIEF OF STAFF, HEALTH SERVICES
GROUP HEADQUARTERS, IN OTTAWA, REPLACING COLONEL P. RUEL
ZZZ.    CAPTAIN (NAVY) R.G. PUMPHREY WILL PROCEED TO THE ADVANCED
TRAINING LIST TO ATTEND THE NATIONAL SECURITY PROGRAMME, AT CANADIAN FORCES COLLEGE (CFC), IN TORONTO
AAAA.   COLONEL J.D.M. ROBIDOUX WAS APPOINTED ASSISTANT CHIEF OF STAFF
RESERVE, AT 2 CANADIAN DIVISION, IN MONTREAL
BBBB.   COLONEL J.N.P.E. ROY WILL BE APPOINTED CANADIAN DEFENCE ATTACHE
UNITED ARAB EMIRATES, REPLACING COLONEL J.P.R. MILOT
CCCC.   COLONEL N. SHAW WILL BE APPOINTED DIRECTOR CHAPLAINCY
OPERATIONS, MILITARY PERSONNEL COMMAND, AT NDHQ, IN OTTAWA, REPLACING COLONEL J.M.A. GUEVREMONT
DDDD.   COLONEL J.S. SHIPLEY WILL BE APPOINTED PROJECT DIRECTOR MILITARY
PERSONNEL MANAGEMENT CAPABILITY, AT NDHQ, IN OTTAWA, REPLACING COLONEL J.G.B. OUELLETTE
EEEE.   COLONEL G.R. SMITH WILL BE APPOINTED TEAM LEADER, DEFENCE
RENEWAL TEAM, AT NDHQ, IN OTTAWA, REPLACING CAPTAIN (NAVY) J.J.H.R. JEAN
FFFF.   COLONEL R.J.A. SPENCER WILL BE APPOINTED A4 LOGISTICS, AT 1
CANADIAN AIR DIVISION HEADQUARTERS, IN WINNIPEG, REPLACING COLONEL T.M.
ROSS
GGGG.   COLONEL J.A.P.P. ST-CYR WILL BE APPOINTED CANADIAN DEFENCE
ATTACHE UKRAINE, REPLACING CAPTAIN (N) (ACTING WHILE SO EMPLOYED) J.L.
MCRAE
HHHH.   COLONEL M.H. ST-LOUIS WILL BE APPOINTED DIRECTOR CURRENT
OPERATIONS, STRATEGIC JOINT STAFF, AT NDHQ, IN OTTAWA, REPLACING COLONEL J.R.M. GAGNE
IIII.   CAPTAIN (NAVY) C.F. SUTHERLAND WILL BE APPOINTED SPECIAL ADVISOR
TO THE COMMANDER CANADIAN JOINT OPERATIONS COMMAND, IN OTTAWA, REPLACING COLONEL J.R.M. LALUMIERE
JJJJ.   COLONEL V.C. TATTERSALL WILL PROCEED TO THE ADVANCED TRAINING
LIST TO ATTEND THE DEVELOPMENTAL PHASE FOUR PROGRAMME AT THE EISENHOWER SCHOOL, IN WASHINGTON, D.C.
KKKK.   CAPTAIN (NAVY) M.W. TEFT WILL BE APPOINTED CANADIAN DEFENCE
ATTACHE CHILE, REPLACING COLONEL M.G.G.J. DUSSAULT
LLLL.   COLONEL K.P. TRUSS WILL BE APPOINTED COMMANDING OFFICER CANADIAN
ARMED FORCES AIR WARFARE CENTRE, IN TRENTON, REPLACING COLONEL J.J.A.M.
COURNOYER
MMMM.   COLONEL J.P.D. VERMEERSCH WILL BE APPOINTED COMMANDANT CANADIAN
FORCES SUPPORT UNIT (OTTAWA), AT NDHQ, IN OTTAWA, REPLACING COLONEL W.J.
MCLEAN
NNNN.   CAPTAIN (NAVY) S.M. WADDELL WILL BE APPOINTED BASE COMMANDER
CANADIAN ARMED FORCES BASE ESQUIMALT, REPLACING CAPTAIN (NAVY) L.
CASSIVI
OOOO.   COLONEL K.G. WHALE WILL BE APPOINTED DIRECTOR AIR STRATEGIC
PLANS, ROYAL CANADIAN AIR FORCE, AT NDHQ, IN OTTAWA, REPLACING COLONEL K.P. TRUSS
PPPP.   COLONEL P.J. WILLIAMS WILL BE APPOINTED DIRECTOR ARMS CONTROL
VERIFICATION, STRATEGIC JOINT STAFF, AT NDHQ, IN OTTAWA, REPLACING COLONEL D.S. HIGGINS
QQQQ.   COLONEL W.A. WOOD WILL BE APPOINTED COMMANDING OFFICER CANADIAN
ARMED FORCES SHARED SERVICES GROUP, AT NDHQ, IN OTTAWA, REPLACING COLONEL J.J.M. GIRARD
RRRR.   CAPTAIN (NAVY) D.M.C. YOUNG WILL BE APPOINTED CHIEF OF STAFF
MARITIME PACIFIC HEADQUARTERS, IN ESQUIMALT, REPLACING CAPTAIN (NAVY) F.M. KNIPPEL
SSSS.   COMMANDER I. ALLAIN WILL BE PROMOTED TO CAPTAIN (NAVY) AND WILL
BE APPOINTED CANADIAN DEFENCE ATTACHE TO TURKEY, REPLACING COLONEL (ACTING WHILE SO EMPLOYED) C.R. KILFORD
TTTT.   LIEUTENANT-COLONEL P.C. ALLAN WILL BE PROMOTED TO COLONEL AND
WILL BE APPOINTED DIRECTOR AIR STAFF ROYAL CANADIAN AIR FORCE, AT NDHQ, IN OTTAWA, REPLACING COLONEL J.R.L. BOUCHER
UUUU.   ASSISTANT DEPUTY MINISTER (MATERIEL), AT NDHQ, IN OTTAWA,
REPLACING COLONEL J.J.Y. MORIN
VVVV.   LIEUTENANT-COLONEL J.R.S. BOIVIN WILL BE PROMOTED TO COLONEL AND
WILL BE APPOINTED COMMANDING OFFICER TASK FORCE EL GORAH REPACING COLONEL A.M.G. BRASSARD
WWWW.   LIEUTENANT-COLONEL A.J.Y. BELZILE WILL BE PROMOTED TO COLONEL
AND WILL BE APPOINTED USNORTHCOM DEPUTY J2, IN COLORADO SPRINGS, USA
XXXX.   LIEUTENANT-COLONEL T.J. BISHOP WILL BE PROMOTED TO COLONEL AND
WILL BE APPOINTED DEPUTY COMMANDER CANADIAN ARMED FORCES RECRUITING GROUP HEADQUARTERS, IN BORDEN, REPLACING COLONEL N.L. SAULNIER
YYYY.   LIEUTENANT-COLONEL J.T. BRAITHWAITE WILL BE PROMOTED TO COLONEL
(ACTING WHILE SO EMPLOYED) AND WILL BE APPOINTED CANADIAN DEFENCE ATTACHE TO EGYPT, REPLACING CAPTAIN(NAVY) S.R. MOORS
ZZZZ.   LIEUTENANT-COLONEL K.I. CAMERON WILL BE PROMOTED TO COLONEL AND
WILL BE APPOINTED CHIEF OF STAFF 4 CANADIAN DIVISION HEADQUARTERS, IN TORONTO, REPLACING COLONEL R.K. CHAMBERLAIN
AAAAA.  LIEUTENANT-COLONEL J.P.E. CHARRON WILL BE PROMOTED TO COLONEL
AND WILL BE APPOINTED DIRECTOR AIR FORCE TRAINING, AT 1 CANADIAN AIR DIVISION HEADQUARTERS, IN WINNIPEG, REPLACING COLONEL A.R. DAY
BBBBB.  LIEUTENANT-COLONEL P.G. DITTMAN WILL BE PROMOTED TO COLONEL AND
WILL BE APPOINTED DIRECTOR AIR SIMULATION, ROYAL CANADIAN AIR FORCE, AT NDHQ, IN OTTAWA, REPLACING COLONEL C.R. KEIVER
CCCCC.  LIEUTENANT-COLONEL F.K. EBNER WILL BE PROMOTED TO COLONEL AND
WILL PROCEED TO THE CANADIAN ARMED FORCES LANGUAGE SCHOOL, IN GATINEAU
DDDDD.  LIEUTENANT-COLONEL J.S. FIFE WILL BE PROMOTED TO COLONEL AND
WILL BE APPOINTED CHIEF OF STAFF 5 CANADIAN DIVISION HEADQUARTERS, IN HALIFAX, REPLACING COLONEL J.S. SHIPLEY
EEEEE.  COMMANDER P.W. FORGET WILL BE PROMOTED TO CAPTAIN (NAVY) AND
WILL BE APPOINTED J1, AT CANADIAN JOINT OPERATIONAL COMMAND, IN OTTAWA, REPLACING CAPTAIN (NAVY) M.W.J BATSFORD
FFFFF.  LIEUTENANT-COLONEL H.W.R. GOODYEAR WILL BE PROMOTED TO COLONEL
AND WILL BE APPOINTED COMPTROLLER, CANADIAN ARMY, REPLACING COLONEL J.P.D. VERMEERSCH
GGGGG.  LIEUTENANT-COLONEL L.J. HAMMOND WILL BE PROMOTED TO COLONEL AND
WILL BE APPOINTED DIRECTOR PLANS WESTERN HEMISPHERE, STRATEGIC JOINT STAFF, AT NDHQ, IN OTTAWA, REPLACING COLONEL J.P.P. DEMERS
HHHHH.  LIEUTENANT-COLONEL M.G.A. HOGAN WILL BE PROMOTED TO COLONEL
(ACTING WHILE SO EMPLOYED) AND WILL BE APPOINTED CANADIAN DEFENCE ATTACHE TO THE NETHERLANDS, REPLACING COLONEL (ACTING WHILE SO EMPLOYED) J.E.U. KNACKSTEDT
IIIII.  COMMANDER S.E. IRWIN WILL BE PROMOTED TO CAPTAIN (NAVY) AND WILL
BE APPOINTED DEPUTY COMMANDER AND DEPUTY CHIEF OF STAFF OPERATIONAL SUPPORT, TASK FORCE JERUSALEM, REPLACING COLONEL M.G.M GIGNAC
JJJJJ.  LIEUTENANT-COLONEL N. JARDINE WILL BE PROMOTED TO COLONEL AND
WILL BE APPOINTED DIRECTOR ARMAMENT SUSTAINMENT PROGRAM MANAGEMENT, ASSISTANT-DEPUTY MINISTER (MATERIEL), AT NDHQ, IN OTTAWA, REPLACING COLONEL R.B. EWING
KKKKK.  LIEUTENANT-COLONEL J.R. JENSEN WAS PROMOTED TO COLONEL AND WAS
APPOINTED CHIEF OF STAFF SUPPORT, 1 CANADIAN DIVISION HEADQUARTERS, IN KINGSTON
LLLLL.  COMMANDER T.A. KERR WILL BE PROMOTED TO CAPTAIN (NAVY) AND WILL
BE APPOINTED DIRECTOR NAVAL STRATEGY, ROYAL CANADIAN NAVY, AT NDHQ, IN OTTAWA, REPLACING CAPTAIN (NAVY) C.P. DONOVAN
MMMMM.  LIEUTENANT-COLONEL M. KOESTNER WILL BE PROMOTED TO COLONEL AND
WILL BE APPOINTED JOINT FORCES AIR COMPONENT COMMANDER LIAISON OFFICER,
1 CANADIAN AIR DIVISION HEADQUARTERS DET OTTAWA, IN OTTAWA, REPLACING COLONEL T.P. DUNNE
NNNNN.  COMMANDER S.J.D. LAFOND WAS PROMOTED CAPTAIN (NAVY) AND WAS
APPOINTED COMMANDING OFFICER FLEET MAINTENANCE FACILITY (CAPE SCOTT), IN HALIFAX, REPLACING COMMODORE M.D. WOOD
OOOOO.  LIEUTENANT-COLONEL J.R. LEMIEUX WILL BE PROMOTED TO COLONEL
(ACTING WHILE SO EMPLOYED) AND WILL BE APPOINTED CANADIAN DEFENCE ATTACHE THAILAND, REPLACING CAPTAIN (NAVY) M.R. MCGRATH
PPPPP.  LIEUTENANT-COLONEL M.A. LIPCSEY WAS PROMOTED TO COLONEL AND WAS
APPOINTED DEPUTY CHIEF OF STAFF HEALTH SERVICES PERSONNEL, HEALTH SERVICES GROUP HEADQUARTERS, IN OTTAWA, REPLACING COLONEL R.F. PUCCI
QQQQQ.  COMMANDER D. MARTINS WAS PROMOTED CAPTAIN (NAVY) AND WAS
APPOINTED COMMANDER CANADIAN ARMED FORCES INTELLIGENCE GROUP HEADQUARTERS, IN OTTAWA
RRRRR.  LIEUTENANT-COLONEL H.E. MIDDLETON WILL BE PROMOTED TO COLONEL
AND WILL PROCEED TO THE ADVANCED TRAINING LIST, TO ATTEND THE DEVELOPMENTAL PHASE FOUR PROGRAMME, AT THE US ARMY WAR COLLEGE
SSSSS.  LIEUTENANT-COLONEL P.J. MORISSETTE WILL BE PROMOTED TO COLONEL
AND WILL BE APPOINTED DEPUTY CHIEF OF STAFF MENTAL HEALTH, HEALTH SERVICES GROUP HEADQUARTERS, IN OTTAWA, REPLACING COLONEL S.A. MCLEOD
TTTTT.  COMMANDER A.M. PADDOCK WILL BE PROMOTED TO CAPTAIN (NAVY) AND
WILL BE APPOINTED COMPTROLLER, MILITARY PERSONNEL COMMAND, AT NDHQ, IN OTTAWA, REPLACING COLONEL E.R. FETTERLY
UUUUU.  LIEUTENANT-COLONEL R.A. PAMPLIN WILL BE PROMOTED TO COLONEL AND
WILL BE APPOINTED DEPUTY DIRECTOR AIR MOBILITY DIVISION, TASK FORCE TAMPA, REPLACING COLONEL B.F. FRAWLEY
VVVVV.  LIEUTENANT-COLONEL R. PELLETIER WILL BE PROMOTED TO COLONEL AND
WILL BE APPOINTED COMMANDER CANADIAN ARMY ENABLER GROUP, AT CANADIAN ARMY DOCTRINE AND TRAINING CENTRE, AT KINGSTON, REPLACING COLONEL J.G.R.
MELANCON
WWWWW.  LIEUTENANT-COLONEL E.S. PLANTE WILL BE PROMOTED TO COLONEL AND
WILL BE APPOINTED TASK FORCE DEMOCRATIC REPUBLIC OF THE CONGO, REPLACING COLONEL P.F.A. DEMERS
XXXXX.  LIEUTENANT-COLONEL L.H. REMILLARD WILL BE PROMOTED TO COLONEL
AND WILL BE APPOINTED SOCNORTH LIAISON OFFICER, IN WASHINGTON, DISTRICT OF COLUMBIA, USA
YYYYY.  COMMANDER C.A. ROBINSON WAS PROMOTED TO CAPTAIN (NAVY) AND WILL
PROCEED TO THE ADVANCED TRAINING LIST, TO ATTEND DEVELOPMENTAL PHASE FOUR PROGRAMME, AT US NAVAL WAR COLLEGE, NEWPORT RHODE ISLAND, USA
ZZZZZ.  LIEUTENANT-COLONEL P.C. SABOURIN WAS PROMOTED TO COLONEL AND WAS
APPOINTED DIRECTOR CYBER SPACE FORCE DEVELOPMENT, CHIEF FORCE DEVELOPMENT, AT NDHQ, IN OTTAWA, REPLACING COLONEL J.A.A. BOUCHER
AAAAAA. LIEUTENANT-COLONEL T.S. SULLIVAN WILL BE PROMOTED TO COLONEL AND
WILL BE APPOINTED J6 COORDINATOR, DIRECTOR GENERAL INFORMATION MANAGEMENT OPERATIONS, ASSISTANT DEPUTY MINISTER (INFORMATION MANAGEMENT), AT NDHQ, IN OTTAWA, REPLACING COLONEL W.A. WOOD
BBBBBB. LIEUTENANT-COLONEL P.A. THAUBERGER WILL BE PROMOTED TO COLONEL
AND WILL BE APPOINTED DETACHMENT COMMANDER AIR COMPONENT COORDINATION ELEMENT (ATLANTIC), IN HALIFAX, REPLACING COLONEL B.M. CHINNER
CCCCCC. LIEUTENANT-COLONEL J.M THERIAULT WAS PROMOTED TO COLONEL AND WAS
APPOINTED DIRECTOR PUBLIC AFFAIRS OPERATIONS, ASSISTANT DEPUTY MINISTER (PUBLIC AFFAIRS), AT NDHQ, IN OTTAWA, REPLACING COLONEL J.G.R. LAVOIE
DDDDDD. LIEUTENANT-COLONEL Y.N. THOMSON WILL BE PROMOTED TO COLONEL AND
WILL BE APPOINTED COMMANDING OFFICER AIR FORCE TRAINING CENTRE, IN BORDEN
EEEEEE. LIEUTENANT-COLONEL M.C. WRIGHT WILL BE PROMOTED TO COLONEL AND
WILL BE APPOINTED J3, AT CANADIAN JOINT OPERATIONS COMMAND, IN OTTAWA, REPLACING CAPTAIN (NAVY) C.T. SKJERPEN
FFFFFF. LIEUTENANT-COLONEL T.R. YOUNG WILL BE PROMOTED TO COLONEL AND
WILL BE APPOINTED ARMY G1, CANADIAN ARMY, AT NDHQ, IN OTTAWA, REPLACING COLONEL G.F. DAME
2.      THE FOLLOWING COLONELS/CAPTAINS (N) HAVE BEEN OR WILL BE
PROMOTED TO BRIGADIER-GENERAL/COMMODORE IN 2014:
A.      BRIGADIER-GENERAL J.H.C. DROUIN
B.      BRIGADIER-GENERAL T.L. HARRIS
C.      BRIGADIER-GENERAL J.R.A.S. LAFAUT
D.      COMMODORE A.G. MCDONALD
E.      BRIGADIER-GENERAL J.J.M.J. PAUL
F.      BRIGADIER-GENERAL M.N. ROULEAU
G.      BRIGADIER-GENERAL W.F. SEYMOUR
H.      BRIGADIER-GENERAL J.S. SIROIS
I.      BRIGADIER-GENERAL C.J. TURENNE
J.      COLONEL F.J. ALLEN
K.      COLONEL D.J. ANDERSON
L.      CAPTAIN (NAVY) C.A. BAINES
M.      CAPTAIN (NAVY) S.N. CANTELON
N.      CAPTAIN (NAVY) L. CASSIVI
O.      COLONEL B.F. FRAWLEY
P.      COLONEL S.G. FRIDAY
Q.      COLONEL J.J.M. GIRARD
R.      COLONEL S.C. HETHERINGTON
S.      COLONEL J.R.M. LALUMIERE
3.      AFTER DISTINGUISHED SERVICE TO CANADA AND THE CANADIAN ARMED
FORCES, THE FOLLOWING OFFICERS HAVE OR WILL RETIRE IN 2014:
A.      COLONEL D.E. BARR
B.      COLONEL J.P.G. BERUBE
C.      COLONEL J.A.A. BOUCHER
D.      COLONEL J.E.P. BOUFFARD
E.      COLONEL B.M. CHINNER
F.      COLONEL J.S.R. FREDETTE
G.      CAPTAIN (NAVY) J.R.P. GRAVEL
H.      COLONEL D.S. HIGGINS
I.      COLONEL J.N.L. LALONDE
J.      COLONEL S.G. LAPLANTE
K.      COLONEL M.D. MAKULOWICH
L.      CAPTAIN (NAVY) M.R. MCGRATH
M.      COLONEL J.P.R. MILOT
N.      COLONEL J.J.Y. MORIN
O.      CAPTAIN (NAVY) I.A. PATERSON
P.      COLONEL J.P.E.J POITRAS
Q.      COLONEL T.M. ROSS
R.      COLONEL P. RUEL
S.      COLONEL D.A. RUNDLE
T.      COLONEL S.C. SIBBALD
U.      COLONEL J.J. TASSERON
V.      CAPTAIN (NAVY) W.A. WOODBURN