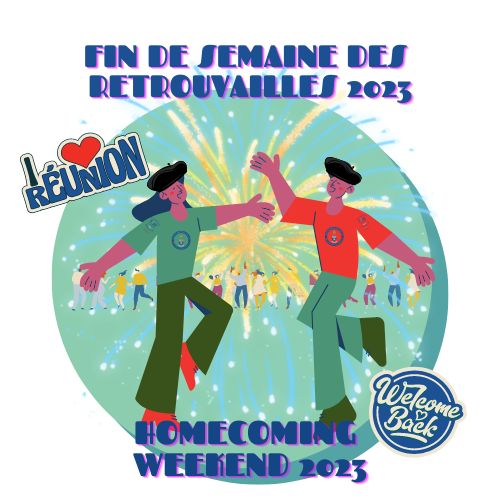 La prochaine grande activité à mettre à vos calendriers sera la Fin de semaine des Retrouvailles 2023 et l'intronisation de la classe de 1973 dans la Vieille Brigade, les 25 et 26 août prochains. Venez célébrer soit le vendredi soir pour le DMCV ou encore pour le grand souper du samedi. Réservez dès maintenant vos places en ligne sur notre site web, dont voici les liens plus bas. Serez-vous au rendez-vous? On vous attend en grand nombre!
The next big event to put on your calendars will be the Homecoming Reunion 2023 and the induction of the 1973 class into the Old Brigade on August 25 and 26. Come celebrate either Friday night for the TGIF or for the great Saturday supper event. Book your tickets online now on our website (links below). Will you be there? Can't wait to see you all!
Il n'y a pas que les casquettes! Il y a aussi ce magnifique ( et comfortable) chapeau à l'effigie du Chapitre FSJ. Si vous désirez l'avoir avant la Fin de semaine des retrouvailles en août, notez qu'il y a un délai de livraison de 3 semaines. Cependant, la livraison sur tous les articles de notre boutique est gratuite pendant juin!
It's not just the caps! There's also this beautiful ( and comfortable) hat with the effigy of the FSJ Branch. If you would like to have it before the Homecoming Weekend in august, please note that there is a 3 week delivery time. However, delivery fees, on all items in our shop are free for the month of June!
Soyez des nôtres pour encourager et féliciter les nouveaux aspirants de marine et élèves-officiers du Collège militaire royal de Saint-Jean lors de la course à obstacles et de la cérémonie de remise des insignes.
26 août 2023
Course à obstacles : 7 h 45 à 11 h 30
Cérémonie de remise des insignes : 13 h 45 à 16 h 30
À votre arrivée sur le site, veuillez-vous diriger vers les estrades correspondantes à l'escadron de votre choix. Tout au long de la course, vous pourrez suivre votre équipe d'un obstacle à l'autre donc veuillez prévoir de bonnes chaussures.
Veuillez aussi noter que la course à obstacles aura lieu beau temps, mauvais temps. La Cérémonie de remise des insignes pourrait avoir lieu à l'Édifice Adjudant-chef Jean Couture en cas de forte pluie. Les places seront alors limitées.
Please come and encourage our new officer cadets and naval cadets as they run the obstacle course and be in attendance for their badging ceremony.
August 26th, 2023
Obstacles Course : 7:45 a.m. to 11:30 p.m.
Badging Ceremony : 1:45 p.m. to 4:30 p.m.
When you'll arrive on site, please go to the bleachers corresponding to the squadron of your choice. Throughout the race, you will be able to follow your team from one obstacle to another, so please bring comfortable shoes.
Please also note that the obstacle course will take place rain or shine. The Badging Ceremony may take place at the Chief Warrant Officer Jean Couture Building in the event of heavy rain. Places will then be limited.
La fin de semaine des retrouvailles (FDSDR) 2023 au CMRSJ se tiendra les 25 et 26 août prochains. Le programme planifié présentement se déroulera comme suit: le vendredi soir l'heure de la onne humeur (TGIF) ou anciens et anciennes se retrouvent de façon informel afin de reprendre le temps perdu; le samedi matin aura lieu la course à obstacles , suivi en après-midi de la Cérémonie de remise des médaillons commémoratifs du Club des ancien(ne)s et des insignes, cérémonie qui regroupera sur la parade, la classe d'entrée de 1973, laquelle sera intronisée au sein de la Vieille Brigade de même que tous les ancien(ne)s qui seront présents, par la suite il y aura le souper dansant pour la Vieille Brigade et tous les ancien(ne)s.
Le Musée du Fort Saint-Jean sera ouvert à tous pour la visite.
Lors de la fin de semaine des retrouvailles, le Chapitre FSJ diffusera en direct les moments forts de l'événement.
Le vendredi
Dès 18h: l'entrée des membres de la vieille brigade qui se présenteront à tour de rôle et un peu de l'atmosphère sur place. Ce sera assez festif!
Le samedi:
Dès 9h: l'étape du mur des Anciens(nes) lors de la course à obstacle. Ce sera plutôt décoiffant!
Dès 14H: L'entrée de la classe 1973 sur le défilé et leur intronisation à la Vieille brigade. Ce sera assez émouvant!
Dès 18h: Le souper et les présentations officielles. Ce sera vraiment intéressant!
Les directs seront diffusés sur la chaine Youtube du Chapitre et sa page Facebook. Les liens seront communiqués sous peu.
Alors serez vous sur place avec nous ou vous joindrez-vous en ligne?
During the Homecoming weekend, the FSJ branch will broadcast live highlights of the event.
On Friday
6pm: the entrance of the members of the old brigade who will introduce themselves in turn and a little atmosphere on the spot. It will be quite festive!
On Saturday:
9am: the stage of the Ex-Cadets' wall during the obstacle race. It will be rather stunning!
2PM: The entry of class 1973 on the parade and their enthronement to the Old Brigade. It will be quite moving!
From 6pm: Supper and official presentations. It will be really interesting!
The live broadcasts will be broadcast on the Chapter's Youtube channel and its Facebook page. Links will be communicated shortly.
So will you be on site with us or will you join online?