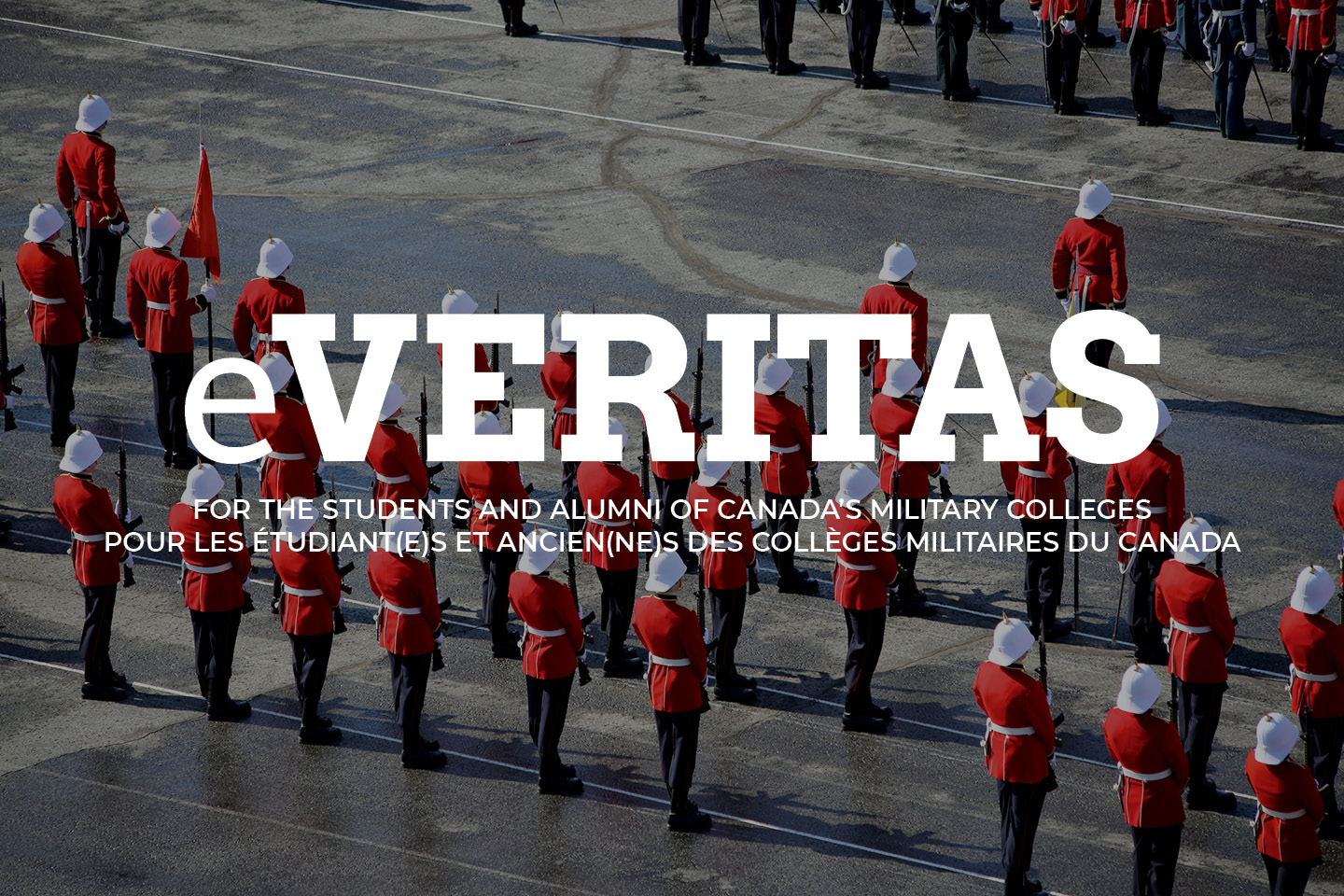 E3161 Victoria Edwards interviewed 9391 Paul Mansbridge (RRMC RMC 1972), who served as DCdts at RMC 1988-1992.
e-veritas: What was your military background prior to becoming DCdt? I understand that you had an extensive tenure at RMC.
Paul Mansbridge: I attended RRMC/RMC as a cadet 1968 -1972. On several occasions early in my military career, I had (and took) the opportunity to fly over the college in T-33s, Trackers, and Auroras. As a Squadron Commander (1980-1982), Staff Officer Training (SOT) 1981-1982, and finally as DCdts, I welcomed every one of these unforecasted visits, as good for cadet morale as for my own. Not likely that I will be able to do that in my Global Express…but I would if I could!
• 880 Squadron 1974-1977;
• 406 Squadron 1977-1980;
• French course 1983;
• RAF Staff College Bracknell 1984;
• 415 Squadron 1985-88
e-veritas: You were instrumental in getting biathlon started at RMC as Squadron Commander 1980-1982.
Paul Mansbridge: Garry Plant, then RMC's Physical Education Recreation Instructor and I coached the biathlon team in 1980-1982. The sport combines cross-country skiing or cross country running and rifle shooting. We were assisted by the drill staff, who acted as the rifle coaches. The RMC biathlon team competed against other military teams, for example Valcartier, and Petawawa.
e-veritas: What timeframe were you DCdts?
Paul Mansbridge: I served as DCdts from 1988-92. I wrote an article, "DCdts Tales" after being DCdts that is full of hilarious events during my tenure at the college. It also includes comments from my predecessors, whom I had contacted to save some of their memories as well. It was not just the cadets who were having fun!
e-veritas: Who were the commandant(s) during your time?
Paul Mansbridge: 8790 BGen Jean Boyle (Ret'd) CMM, CD (RMC 1971) served as Commandant 1991-3. 4459 Commodore (Ret'd) Edward Murray OMM, CD, (RMC 1959) served as Commandant 1987–1991.
One of the best "skylarks" during my tenure at RMC involved both the staff and cadets. On a particular Tuesday, the Prime Minister, Minister of National Defence, and the CDS descended on RMC to make an announcement. Of course, the commandant, Cmdre Murray, pulled all the stops to make it a grand occasion. It all went off without a hitch, despite a lobby of Queen's students who tried to protest the announcement. The commandant was exhausted by the end of the day, and retired early. The next day was his birthday – his last birthday as commandant.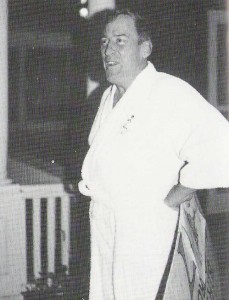 As DCdts, I was obliged to conduct wing fire drills at least once a semester, and this seemed like a good way to get the cadet wing on the parade square just before midnight. With most of my staff and all the cadets on the square, the plan was announced. We would proceed to the Commandant's residence – quietly – and set up the scenario. It included a ship's horn to give six short blasts (Cmdre Murray would recognise that as a naval emergency signal, even in his sleep!) Then, the cadet band would strike up a rendition of "Happy Birthday", and some 700 voices would sing him the song. The plan went off perfectly. Comdre Murray sat bolt upright at the six blasts, then in the haze of the moment with the band striking up, he thought the Queen's rabble-rousers had returned to harass him again. The curtains parted on this cold February morning, and then Cmdre Murray appeared on his balcony in a housecoat, and thoroughly enjoyed the music of the assembled mob. He said a few words before the fire drill parade broke up, which was ample time for the Kingston Whig Standard photographer and reporter to capture the evidence…and have it published in the next day's paper as a birthday tribute to Cmdre Murray. Such was the respect at RMC for Cmdre Murray!
e-veritas: Where did you live?
Paul Mansbridge: I lived in Panet House. The cadets kidnapped my white poodle, and sent a ransom note. I refused to "pay", and duly received "Charlie" with a deep-red dyed tail. After a couple of questions below the surface, I knew who the perpetrators were. I planned to paint their noses with red lipstick at the next DCdts parade, but it was rained out. But the following day, during the inspection during the Commandant's parade, the Commandant stopped to speak to a cadet, which left me standing directly in front of one of the perpetrators of the dog napping. I leaned forward, and said to Jonathon, "I know!" A most impressive blush followed (his, not mine!) A couple of months later, after his Grad Parade, Jonathon approached me to ask how I had known. I congratulated him on his graduation before informing him that I never reveal my sources.
e-veritas: You had an open-door policy.
Paul Mansbridge: The college faced financial restrictions…seems like an old story. With my position, I tried very hard to convince cadets that my open-door policy was for real. I recall that I would never have gone to see my DCdts with an issue, and always felt that this was wrong, and it should change. Slowly, cadets took me up on the offer and it proved very valuable for all. It started at my first meeting with the 4th year class (Class of 89) when I asked if they had any issues. One asked if they could drink alcohol in their quarters. I replied that I would like very much to grant that privilege, but for the 1% for which that would become a serious problem, and for which I would have no control, the request was denied. I hastened to add that Bill & Alphie's, their own cadet mess, and downtown pubs were all available, and that if all of these venues were closed and they still felt the need, they could always drop into Panet House to have a beer with me. Two weeks later, 130 of their class descended upon my residence (with the secret knowledge of my wife). It was a great ice-breaker for the class and me, but I thereafter was more careful with my remarks!
e-veritas: What were the biggest challenges at that time – facing the college? with your position?
Paul Mansbridge: Of course, the biggest challenges were getting to know the cadets and keeping abreast of what was happening below the surface. I made a point of getting to know all of the staff (including the barber, cleaners and secretaries), as they were a rich source of information, especially when they knew that I never revealed a source. As an aside, BGen Boyle and I were doing rounds of the quarters one morning, when we encountered the cleaner in 7 Squadron. He greeted us with a "good morning, sir, good morning, Paul" to which I responded "good morning, Larry". BGen Boyle, once we were out of earshot of Larry, asked me why I was on a first-name basis with cleaners. I told him, that apart from keeping a thumb on the pulse at RMC, I had another common denominator with Larry; our daughters were in the same class at school and often participated in sleep-overs at one another's place. The general seemed unimpressed.
e-veritas: What memories (good & bad) do you have of this time period?
Paul Mansbridge: All good but some more stressful than others. It started off "badly", as I had only been at the college one week when I had to hold a charge parade (passed on by my predecessor) for a MCpl who had been embezzling from the cadet mess.
e-veritas: As DCdt, to what extent did you follow the motto "never pass a faulter." What discipline issues stick out in your mind? Any tips?
Paul Mansbridge: I called it "never knowingly pass a fault" and it was just one of my weekly messages to cadets. Others were the First Rule of Holes proverb attributed to British politician Denis Healey – 'When you're in one stop digging' and the 5 S's of loyalty.
Never knowingly pass a fault did not necessarily equate to quick responses or disciplinary actions. At the beginning of a week, I would pass on the message of the week to the CWC, with the understanding that, by Thursday, I should be able to ask any cadet in the wing what the message was. It seemed to work quite well, as no CWC wanted to be explaining to DCdts why a message had not gotten through.
e-veritas: There was a suicide at RMC.
Paul Mansbridge: The "discipline" case that stands out most, and tragically, was that of a 4th year cadet whose marks were falling, whose class attendance was erratic, whose overall performance was in a tailspin. I asked his squadron commander to have him in my office on a particular morning at 0730, to put him on probation; he never showed up. A search of quarters did not find him. A short time later, a commissionaire called to advise that there was "either a very bad joke or a tragedy" on the point; it was the latter, the cadet having shot himself earlier in the morning.
e-veritas: Are there any skylarks that stick out in your mind?
Paul Mansbridge: Countless. Where do we start? As for cadet birthdays, I would check on all the birthdays for a given week at 0730 or so on Monday morning (student reference system made life easy), then send a hand-written note to each cadet having a birthday that week. If by chance I encountered a birthday boy or girl on or near their day, I would quite audibly wish them the very best on this auspicious occasion. Of course, cadets always tried to keep that secret, because it usually meant a trip to the lake or the pool courtesy of their peers.
The clown suit and daisies skylark also makes a good story.
e-veritas: What were, if any, the major changes that took place at the college during this time period?
Paul Mansbridge: Jacques Tremblay was hired as the very first "full-time" professional coach at RMC in 1989. He coached the Varsity hockey team, then known as Redmen for seven seasons (1989 to 1996) and was named CIAU Men's Hockey Coach of the Year in 1996.
It was a period where we were looking to cut expenses. The military wing was not so much affected but there was an impact on sports, etc.
e-veritas: What did you do in the CAF after this time?
Paul Mansbridge: I was posted to Winnipeg as Command Coordinator of Official Languages (CCOL) in summer of 1992. This was followed by an overseas posting to NATO Airborne Early Warning & Control Force (AWAC) in Geilenkirchen, Germany, in March 1994. I retired from that job and the military in November 1995, with 28 years of service, 10 of them at MilCol.
e-veritas: What are you doing these days?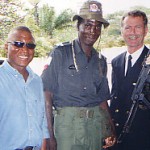 Paul Mansbridge: After the air force, I joined Canada 3000 Airlines, 1995-2001. The airline failed after 911, so I built houses for eight months, and then was hired by Air Atlanta Icelandic, flying B767 and B757 aircraft for various operators around the world. I returned to Canada in 2005 to join Bombardier as a Global Express instructor and then production test pilot on Challenger 300 and Global Express aircraft. An opportunity to fly for an overseas corporate operation arose at the end of 2007, so I headed off to Vienna for three years. I retired in the summer of 2011, only to be asked by an old friend to lend a hand on their new Global Express for six months to a year, flying the Weston family.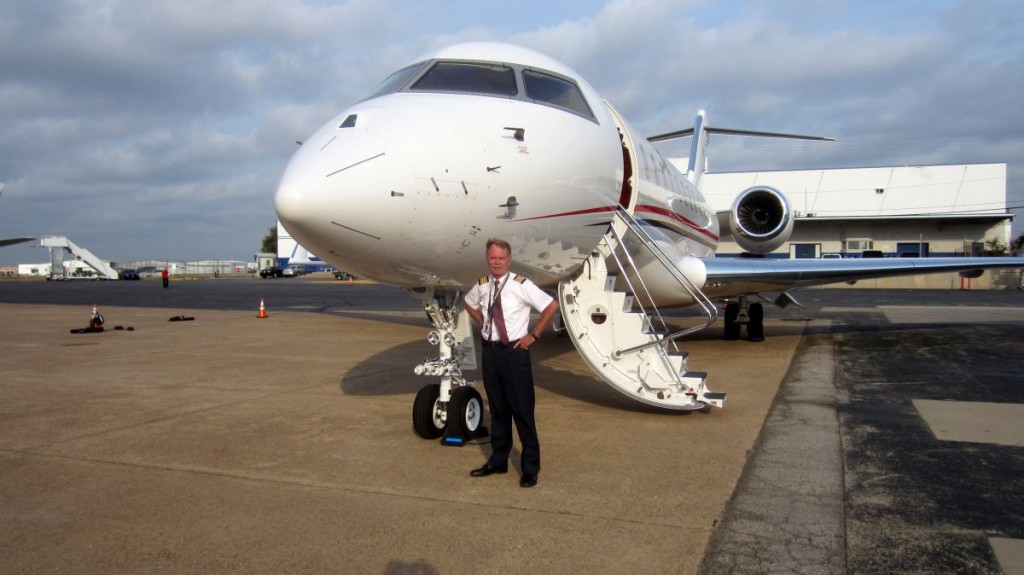 I finally hung up my wings for good on September 27, 2012, just in time to attend my 40th reunion at RMC.
Now in retirement, I am busier than ever before with all the projects that have had to wait because work got in the way!
e-veritas: Are you in touch with what is happening at the college these days? If yes, what are your views?
Paul Mansbridge: Not in any depth. At the moment, my class (1972) is in deliberation about our class gift when we enter the Old Brigade.
{Previous Class of 72 gifts contributed toward the RMC Band Endowment fund (2001), and caps and cap badges for the Old 18 Precision Drill Team(1997)}. http://rmc72.carossa.org/clist_e.html