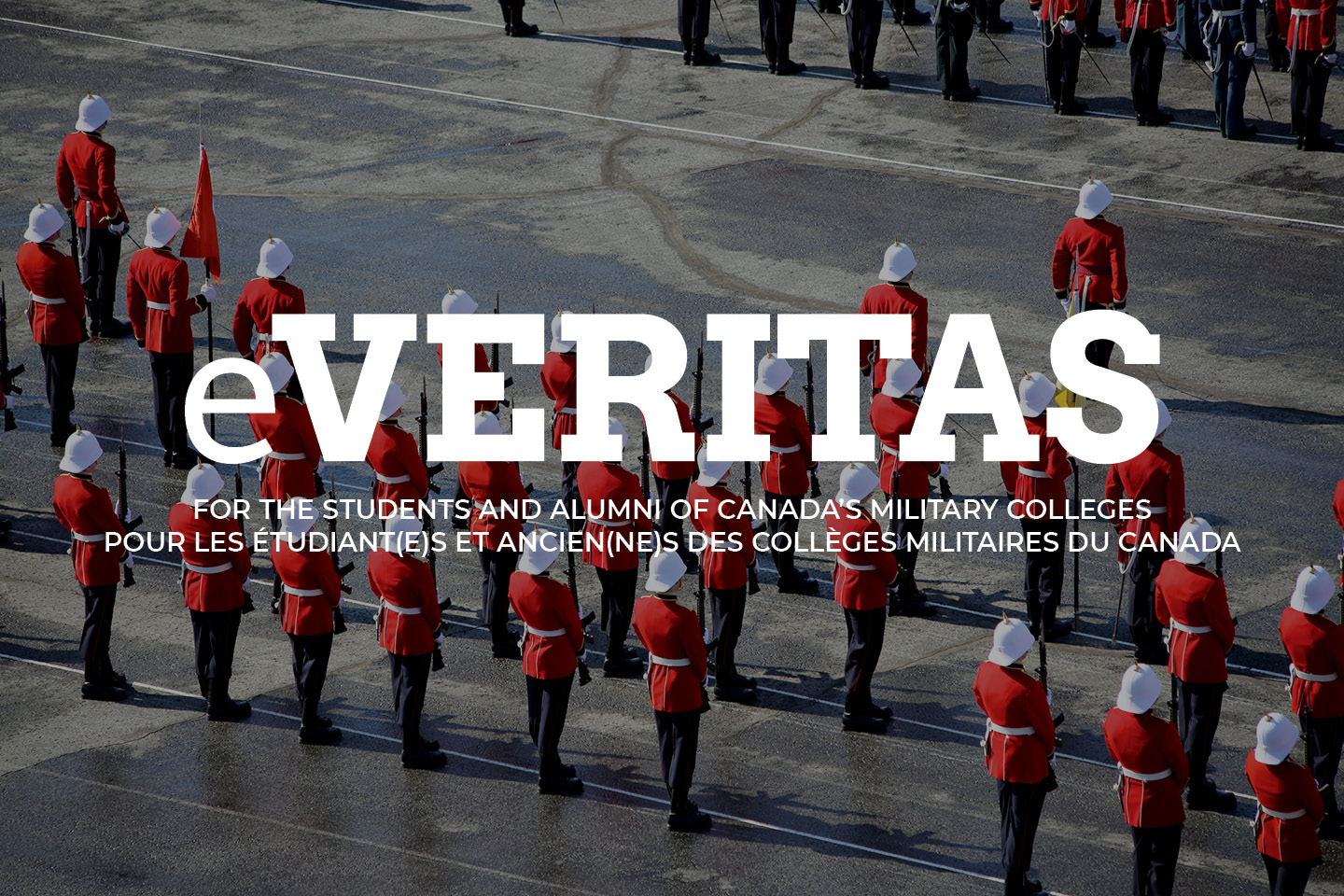 FIRST IN A SERIES OF ARTICLES ON FORMER DIRECTOR OF CADETS
E3161 Victoria Edwards (RMC 2003) interviewed 3927 Col (Ret) Charles (aka Tim) E. S. Ryley (RRMC RMC 1957), who served as Director of Cadets from August 1975 to July 1977 at RMC.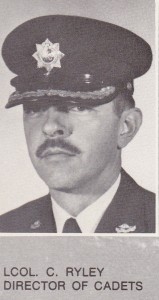 e-veritas: How did you find your workload at Military College as opposed to civilian universities you attended?
Tim Ryley: I started at Royal Roads, which was utopian. I didn't work very hard academically at either Royal Roads or RMC and my marks showed it. In fact, I squeaked through with sups in 2nd and 4th years. Since RMC didn't offer degrees until 1962, I took an extra year at U of T to get an engineering degree. The workload was much tougher: at RMC: 4th year cadets in engineering had 37 hours of labs or classes a week, while 4th year students at U of T had 22 hours. At U of T, my average went up 15%. I was on the track team at both RMC and U of T. I later earned an MA in Public Administration at Carleton U.
e-veritas: Did you attend convocation where you were granted a degree from RMC?.
Tim Ryley: Yes. Arts and science graduates were granted degrees retroactively in 1962, after RMC was permitted to grant degrees, but not engineering graduates.
When invited back to attend the convocation at RMC in 1993, I was working on my second career as a civilian Defence consultant at DND. It was an unusual convocation – engineering graduates from 1952-61 were granted B. Sc. degrees retroactively. Prewar graduates, some in wheelchairs and sporting many medals, were awarded Bachelor of Military Science degrees.
e-veritas: What was your military background prior to becoming DCdt?
Tim Ryley: On completion of the two terms at U of T in May 1958 and summer training at the Royal Canadian School of Infantry in Camp Borden, I was posted to First Battalion, The Royal Canadian Regiment at Camp Ipperwash ON. Subsequently, I served in that battalion in the ranks of captain and major, including a tour with the United Nations Force in Cyprus. I then attended Staff College at Fort Frontenac and had four years at Headquarters Force Mobile Command at St. Hubert PQ. Finally, I served two years as Deputy Commanding Officer of Third Battalion of the Regiment followed, on promotion, by a year as Senior Staff Officer Administration in Headquarters 2 Combat Group in CFB Petawawa.
e-veritas: When did you serve as DCdts at RMC?
Tim Ryley: I was DCdts from August 1975 to July 1977. Since the Athletic director and Squadron Commanders reported to DCadets, I was ultimately responsible for the athletic program, (varsity, recreation and clubs) as well as military studies and career counseling given by squadron commanders who represented the services.
e-veritas: RMC celebrated its Centenary in 1976.
Tim Ryley: The Centenary involved many celebrations:
There was an exchange of cadets with Heroic Military College in Mexico.
Canada Post issued a stamp featuring 10966 LGen (Ret) Michel Maisonneuve (RMC 1976), then Cadet Wing Commander, in scarlets by the Frigate.
490 Brigadier F. H. Maynard, (RMC 1901) unveiled the RMC Club's centennial gift, the statue now known as 'Brucie.'
The College was granted new Colours on Parliament Hill.
The RMC graduation parade was postponed a few weeks to coincide with the actual anniversary date of the Old 18 cadets. It was a challenge to occupy the cadets; I recall that the schedule consisted of time on the parade square in the morning and sports during the afternoon.
On the night before the grad parade, a traditional Sunset Ceremony was held on the square.
At the grad parade, LGen Sir Patrick Howard Dobson GCB, then military secretary (United Kingdom), presented an oil painting, on behalf the British Army, commemorating many RMC graduates who served in British and Imperial Armies.
e-veritas: Who was the commandant(s) during your time?
Tim Ryley: 2816 BGen (Ret) William Turner (RMC 1940) was Commandant throughout my tour at RMC. General Turner was very energetic and effective in promoting the College. [He served as Commandant of RMC from 1973-1977]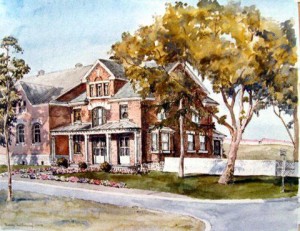 e-veritas: Where did you live?
Tim Ryley: My wife Cindy and I lived in Panet House with our two children, who were then 11 and 13 years old. Cindy considers our time at RMC as our best posting. She attended Queens' part time and earned her B. Ed.
e-veritas: What were the biggest challenges at that time facing the College?
Tim Ryley: The biggest challenge was the introduction in September 1977? of French First-year cadets who had one year of CEGEP education in Quebec. Although CMR was still going strong, the goal was to increase the number of Francophones in the officer corps. While some of the French cadets spoke some English when they arrived, some did not. Although the academic program was primarily in English, there was a lot of French instruction at the time. I recall that the hockey coach was pleased since many of the francophone students were talented athletes.
e-veritas: As DCdt, what discipline issues stick out in your mind?
Tim Ryley: I don't recall that discipline was ever an issue. I recall cadets like 10966 Michel Maisonneuve , now Directeur des Études du Collège militaire royal de Saint-Jean, who stood out for the right reasons, not the wrong.
However, the Deputy Wing Commander did streak one parade, resulting in due course with suitable informal punishment.
e-veritas: Any memorable skylarks?
Tim Ryley: The most memorable occurred when many cadets invited female friends to participate in the usual Thursday morning parade at 0630 hours. The Cadet Wing Commander asked that these friends be allowed to attend classes until Coffee Break, and after a phone call to the Principle's home (H11332 Dr. J.R. Dacey [who served 1967-1978] was travelling, but his wife urged me to say yes), I agreed. The Commandant did not appreciate my initiative, but many professors at Coffee Break indicated an unusual attention to their every word during their classes.
e-veritas: What did you do in the CAF after this time?
Tim Ryley: After RMC, I commanded First Battalion of the Regiment, and then served in Heidelberg FRG as ACOS G1 in Headquarters Allied Command Europe Mobile Force (Land). I was then Directing Staff Infantry at the Royal Military College of Science at Shrivenham, UK (where I had been a student twenty years earlier) and was Project Director in NDHQ for the Army's Anti-Armour and Light Armoured Vehicle Programmes until retirement in August 1988.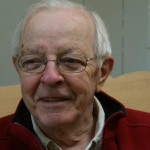 e-veritas: What are you doing these days?
Tim Ryley: I am retired, living in the Fall, Winter and Spring in Ottawa and in the Summer at our cottage on Dunlop Island in the Ottawa River at Petawawa. I read and get lots of exercise.
e-veritas: Are you in touch with what is happening at the college these days? If yes, what are your views?
Tim Ryley: I couldn't say that I am in close touch, but whenever I visit for reunions, I like what I see. The CF have changed dramatically since I served, indeed, since I joined, and the College has had to change as well.