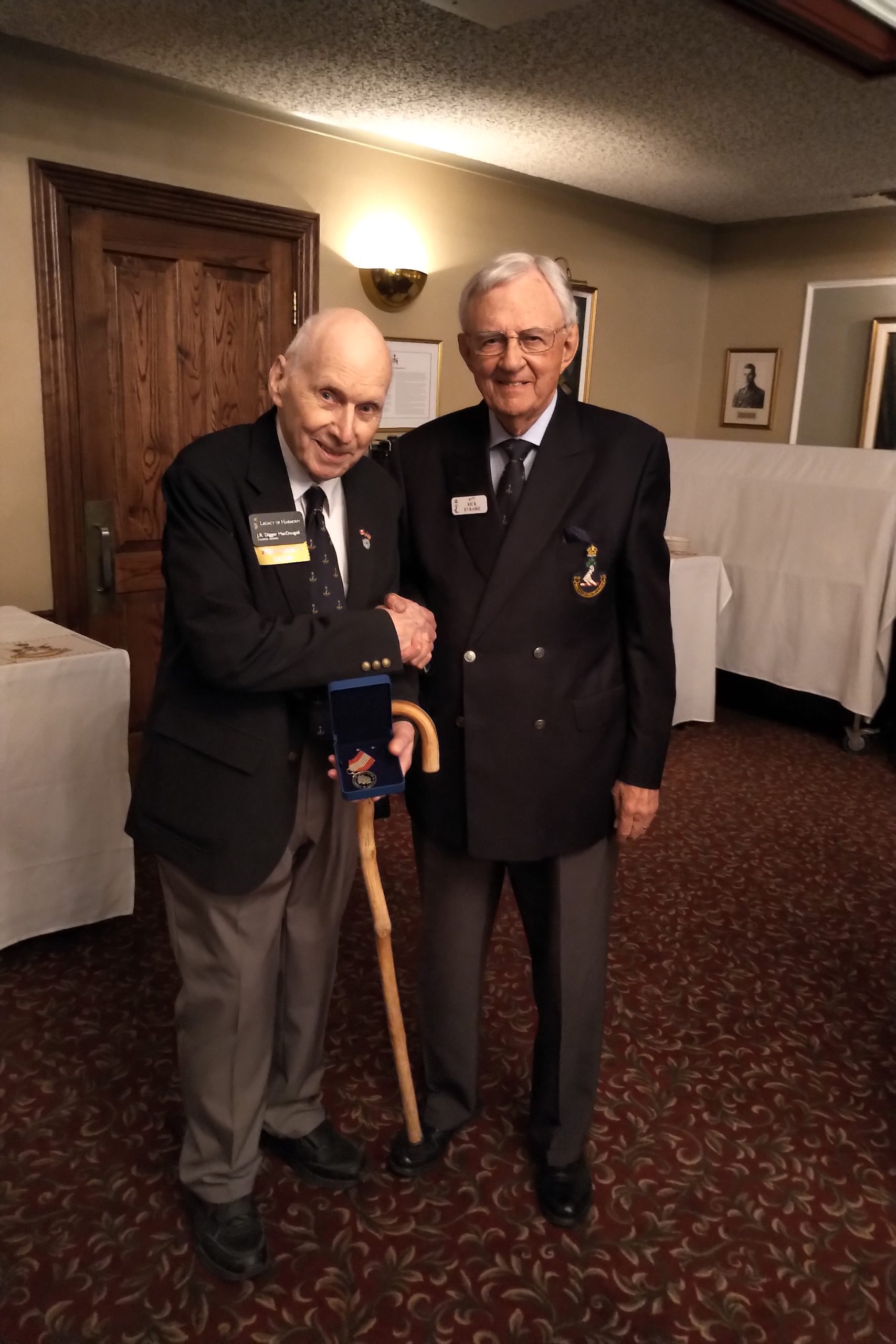 On June 7th, 2023, the Ottawa Branch held its monthly luncheon at the Ottawa Army Officers Mess. They used this opportunity to have 4377 LGEN retired Richard Evraire make presentation of the Sovereign Medal for Volunteers to H5276 Digger MacDougall (immediate Past President of the Ottawa Branch). Digger received word from the Awards Unit of the Governor General's Secretariat approximately two months ago that he was being recognized for his volunteer work.
H5276 Digger MacDougall, CD is a veteran of the Canadian Armed Forces and served his country for over 33 years. Throughout his professional career and into retirement, Digger has strived to make a difference in peoples' lives by promoting positive relationships, dialogue and mental health support.
Digger has been a steadfast and reliable volunteer, offering his time, knowledge and money in furthering awareness, knowledge, education of youth and young adults for the betterment of his community and society at large.
Digger has been a volunteer for over 50 years. During this time he sought to better his community through his involvement with organisations, committees, associations and sports Clubs by taking a leading role. He has provided guidance, support and mentored youth and adults of all ages. He has promulgated and fostered positive interactions and relationships creating lifelong bonds and friendships. Digger has been a veteran-volunteer with the Canadian War Museum where he serves as an interpretative guide and in a support role with the Friends of the War Museum. Digger has also been an active promoter, supporter and contributor as President of the Ottawa Branch, RMCAA.
He has served as a volunteer Board member and leader for a number of not-for-profit and charitable organizations since 1968.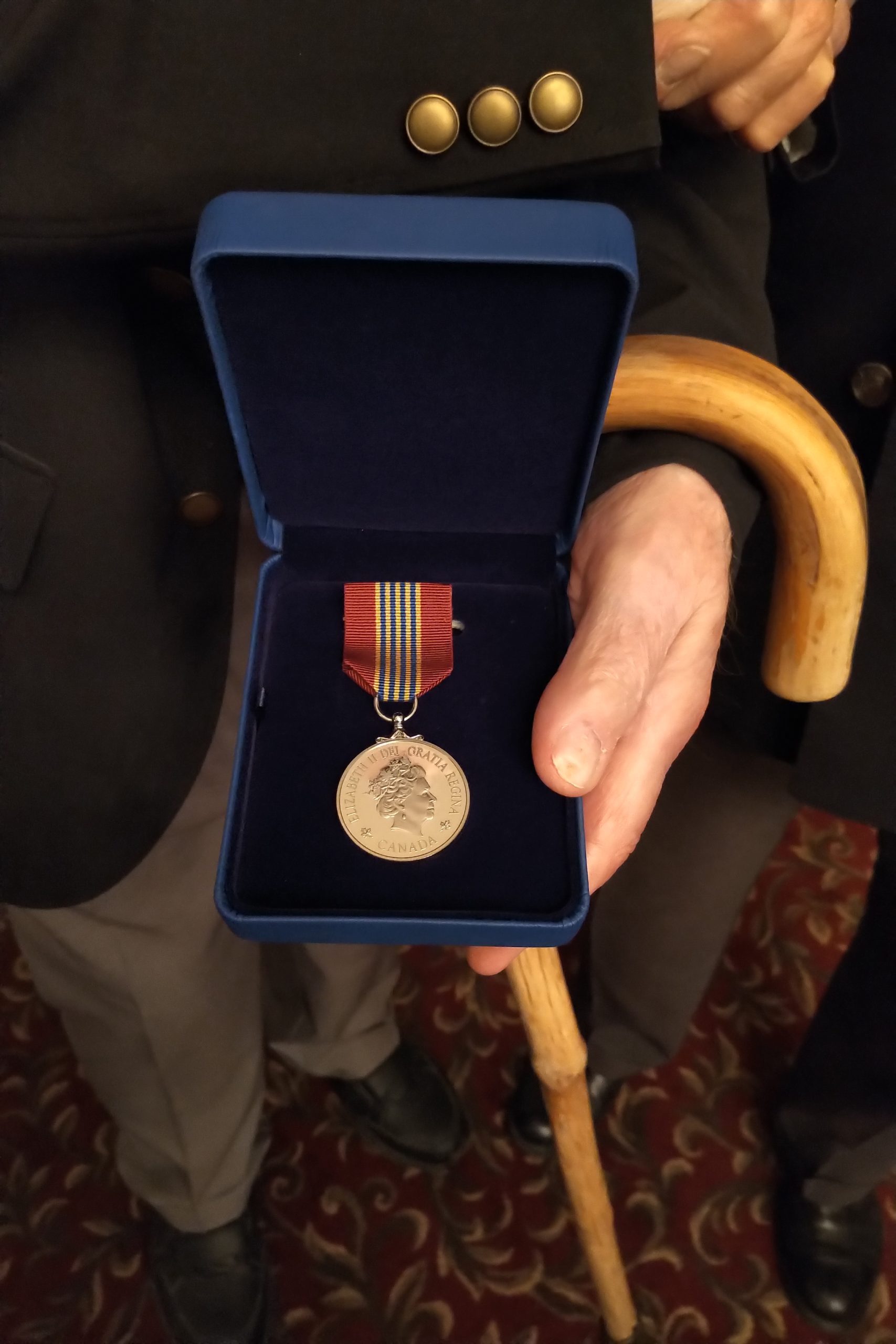 J.R. Digger MacDougall (current roles):
• Founding Chair and Legacy Chair of Sing Canada Harmony Scholarship Fund;
• President of the Ottawa Branch of The Royal Military Colleges Club of
Canada (1000+ members);
• Ontario District Board of Directors Chair for Sing Canada Harmony;
• Volunteer Interpreter at the Canadian War Museum;
J.R. Digger MacDougall (past roles):
• Board Member: Coalition for Music Education in Canada
• Board Member Friends of the Salmon River;
• Board Member of Friends of Hospice Ottawa West;
• Volunteer Vice President of FloraSong Inc.;
• Trustee and Vice Chair of Harmony Foundation International;
• Chair of the Saint-Vincent Hospital Foundation;
• Vice Chair and Director of the Sisters of Charity Ottawa Health Service Foundation;
• Past President of the Trent Valley Unit of the American Contract Bridge League;
• Past Executive Member of the "Tour des Quickies" Foundation (Ottawa Hospitals);
• Vice Chair of each of the: Envisioning Task Force Strategic Planning (2 Years)
and Leadership Task Force (7 Years) of the Barbershop Harmony Society;
• Ontario District Vice President of Chapter Support and Leadership Training;
• Past President of the National Capital Chapter of the Canadian Association of Pre-retirement Planners;
• President, Frontenac Shores Cottage Owners Association;
• Volunteer mentor for members of the Ottawa-Carleton Junior Board of Trade.