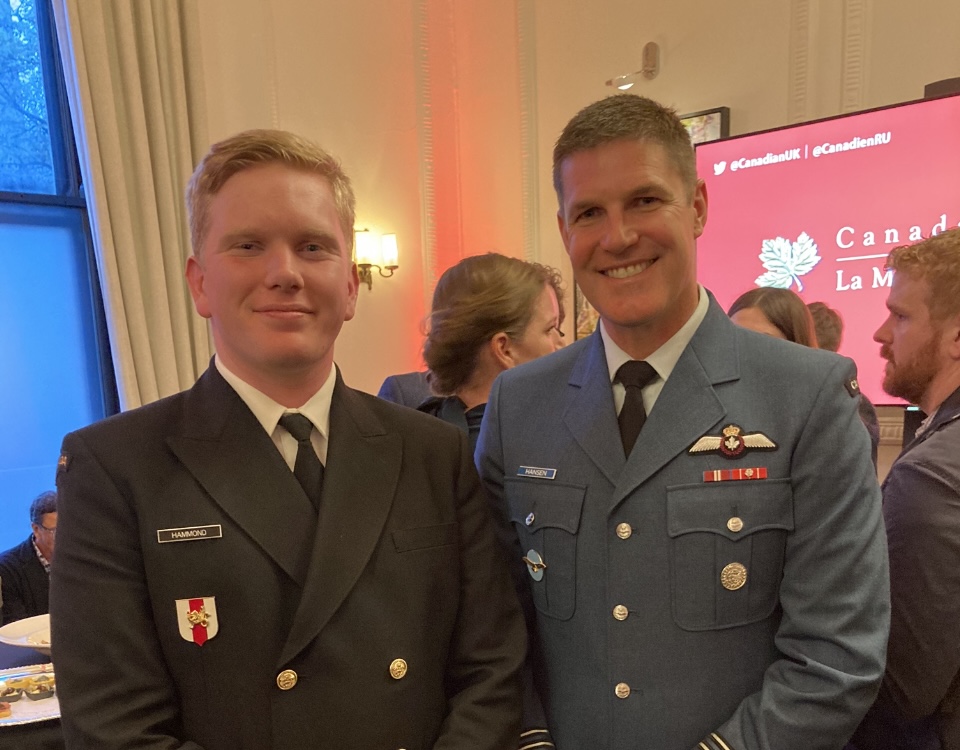 If you watched the Coronation in May, you may have seen the 45-strong Canadian Armed Forces contingent marching in the coronation procession to Buckingham Palace. Although it probably wasn't visible to those watching TV,  there was actually a naval cadet from the Royal Military College marching with the other Canadian Forces members. I was extremely lucky to be the first and only cadet in the College's nearly 150 year history to attend the coronation of our Sovereign. It was an experience of which I am extremely proud and which I shall never forget for the rest of my life.
Military tradition and ceremony have interested me ever since I joined the CAF. My grandfather, 5833 BGen. (ret'd) Jack Partington, instilled in me a great appreciation for these from a young age, which I took with me when I enrolled. It is clear to me that tradition and ceremony both are crucial to our institutional and personal professional identities, and I've found a passion in researching uniform dress, ceremonial drill, official protocols, and the history surrounding them. I find that these enrich and enhance my understanding and appreciation of the institution in which I have served for three years now. I became more interested in the Coronation ceremonies as the date drew nearer, as I saw firsthand the CAF's involvement in commemorating the passing of our late Queen Elizabeth in Ottawa, and I knew we'd have an important job to do to celebrate the beginning reign of our new King. To that end, I signaled my interest to the powers that be regarding potential coronation participation by RMC, to no definitive response. I figured I'd go with some friends to observe the festivities in Ottawa on our own time, but to my surprise, in April I received official word offering to RMC cadets a single spot in the Canadian Forces Contingent to the Coronation. I immediately responded to the call and was overjoyed to be selected just a few days later. This was an unprecedented honour for an RMC cadet, and likewise an honour never before undertaken by anyone in my family history. I was privileged to represent my family, my College, and my nation at such a momentous occasion, in addition to my own personal interest in the event.
Our contingent arrived in Britain a week and a half before coronation day. We were lodged at the British Army Training Centre Pirbright, just as our predecessors were nearly 70 years before. I was fortunate enough to room with five corporals of the Canadian Army, a rather uncommon occurrence for an RMC cadet. The next day, our contingent of 45 began the first of many rehearsals along with hundreds of military personnel from about 35 other Commonwealth nations. We received drill instruction from members of the Coldstream, Scots, and Grenadier Guards, including four lieutenant-colonels from the latter who served as the parade marshals for the Commonwealth contingent. Their jobs were a lot like "herding cats" sometimes, as leading 35 distinct and very different groups of people proved challenging. Nevertheless, our contingent picked up the routine fairly quickly, and soon moved on to larger-scale practices with the rest of the procession.
Over the next few days we practiced at many different locations, the first of which was the Royal Military Academy Sandhurst. RMC certainly has a good-looking campus, but the buildings at Sandhurst put ours to shame. I took the opportunity to speak with some Sandhurst officer cadets, who described a more disciplined and militarized college experience than we have at RMC. We marched alongside three other contingents from the British Army, who displayed a very impressive standard of drill. The next day, almost the entire 5000-person coronation procession rehearsed at RAF Odiham, which halted operations so we could use both of its runways as a parade ground. It was remarkable to see a parade that large; because of the flat geography of the base, you could see the thousands of us marching all at once. With all those people marching over the landscape and the brilliant uniforms and tradition on display, the scene was reminiscent of the leadup to the Battle of Waterloo!
On May 2nd, four days before the coronation, all the servicemen and women taking part in the coronation were transported by train into central London for the overnight dress rehearsal. Many groups of keen citizens observed us as soon as we got off the trains at Waterloo Station, and they watched us for the whole rehearsal into the wee hours of the morning. Marching down the streets of London at night, past the Houses of Parliament and through the gate of Buckingham Palace was quite a surreal experience. We then had to wait for over three hours at Wellington Barracks because we followed the exact timings of the real event. I spent this time watching the other contingents march in and out of the barracks, chatting with some of the British servicemen, and snacking on the sausage rolls provided to us. Unbeknownst to us, our contingent would be directly behind the King's Company Royal Horse Artillery, whose horses left plenty of excrement which we tried (and failed) to dodge on our march to Buckingham Palace. One of our parade marshals later explained that we could either step over it, or step through it; and to just be happy they didn't use elephants instead!
Eventually, the day was upon us. It began at 2:30am when we all woke up to put on our uniforms. We had gotten the previous day off to rest and rejuvenate ourselves for the big day, which included a sightseeing trip into London. From the moment we stepped off to Wellington Barracks, it was showtime. Chest out, chin up, millions of people watching. Everything went according to plan, and our British liaison officers were on hand to talk us through what was going on. The precise moment that King Charles was crowned came when we were marching down the Mall into position, and there was broadcast on overhead speakers so that we could all hear. A roaring cry of "God Save the King!" was followed by six artillery guns firing at once. The significance of those few seconds sent a tingling feeling through our bodies that we will never forget. Eventually, the drum-majors of the different contingents all called the quick march in unison, and it was time to do what we had been trained for for the past week and a half. I heard some in the crowds crying, "there's the Canadians!", and I saw a few Canadian flags. Finally, all 5000 of us formed up in the back garden of Buckingham Palace, and their Majesties the King and Queen stepped out on their balcony in their full ceremonial regalia. The Royal Salute was played beautifully by hundreds of bandsmen, followed by our thousands of voices joining in unison for three thunderous cheers. With that, our work was done.
Immediately after the coronation had finished, we were greeted warmly at Canada House by the Canadian Defence Liaison staff led by 17601 BGen. Dwayne Parsons, who provided us with dinner. General Parsons had everyone sing me "Happy Birthday" (I turned 20 that day), followed by a speech to the contingent that was truly excellent; one that I unfortunately can't remember as I was extremely tired from the day's previous activities. General Parsons and his staff were tremendous hosts to us, and I'm glad I had the chance to speak with them. Later, the members of the Canadian coronation delegation arrived from Westminster Abbey led by the Prime Minister and the Governor General. We trudged upstairs in our damp uniforms and scuffed boots to a cocktail reception where they were waiting for us. I had the chance to meet 21364 Col. Jeremy Hansen, who was in his seldom-used airforce uniform and talked with me about RMC and his future trip around the moon. I also spoke to many of the other dignitaries in the delegation; I thanked the Prime Minister for his announcement of Canadian coronation medals, spoke to some behind-the-scenes staffers, and stumbled upon Mark Critch of 22 Minutes who just happened to be in town. By far the best conversation I had was with the High Commissioner, the Hon. Ralph Goodale, who spoke with me about the coronation and Canada's meaningful ties to the monarchy. I left the reception overwhelmed with sheer joy of having experienced the day's events, and I was glad to know the excellent men and women who had experienced it alongside me.
Being at the coronation of my King, bearing witness to the proud display of British Commonwealth tradition, and representing my nation to the millions of people watching made the day of King Charles' coronation one of the proudest moments of my life. Although those who participated in the coronation were very diverse, we all have a bit of shared history, and the same King, and to be able to help continue this legacy with such dedicated, patriotic people was amazing. Although I am not a British citizen, almost all of my lineage comes from the British Isles, and the amount of history and tradition on display, unchanged for generations. really made me feel a sense of connection to my King and country.  You might say the crown on my cap badge felt heavier than it normally does that day. The ceremonial spectacle of the military aspect alone was unlike anything seen for decades, and the amount of pride that I and the people around me could feel makes me hope that we can only have something similar in Canada again in the future. 
Although the military tradition, the pomp and ceremony, the stunning city, and the significance of the event was the most interesting and captivating part of my time in the UK, it was not the most valuable. I was privileged to have met 44 of the most personable and dedicated members of the CAF among the ranks of the coronation contingent. As an RMC cadet, most of my interactions with military personnel who aren't cadets are with officers and warrant/petty officers. Spending over a week and a half with the sailors, aviators, privates, corporals, and sergeants in the contingent was incredibly educational, and really gave me a broader perspective of what it means to be an officer. The five army corporals that I mentioned earlier, all significantly older and more experienced than me, immediately took to calling me "sir" when we first met, something that was normal for them and took some getting used to for me. Over the course of my time in the UK, however, they became my friends, and shared stories of their careers with me, notably about the good and bad leaders they've had and lessons about how to lead an effective team. Getting to know them and the other junior NCMs was one of the most valuable experiences I've had so far in my career. We simply don't get this kind of opportunity at RMC, and I'd say that I've learned just as much about being an officer from these troops as I have from other officers; a sentiment echoed also by General Parsons. The contingent's officers were also great people; one of them was another naval warfare officer whom I had some great conversations with and gave me some important lessons for when I eventually join the fleet. Another was an RMC grad who taught me about an alleged tradition that involves taking your shirt off whenever "Dancing Queen" is played. With all that said, this experience has encouraged me to spend as much time learning from the junior ranks as I can, and I'd encourage all other RMC cadets to do the same. 
To conclude, my experience at the coronation wasn't just a week and a half of drill and tourism, it was an invaluable education on history, military drill and ceremony, different cultures, and professional development for this aspiring officer. It's a shame I was the only RMC cadet to be included in the contingent, but everything I learned over the course of my time in the UK is valuable insight that I can hopefully use to improve the college and the knowledge of my peers. It was an honour to have been a part of the momentous occasion that was the coronation, and I can safely say that my participation in that ceremony, the experiences that came along with it, and the people I met have all made me a better future officer than I was before I left.  
TDV. God Save the King.
30233 NCdt Kenneth J. Hammond