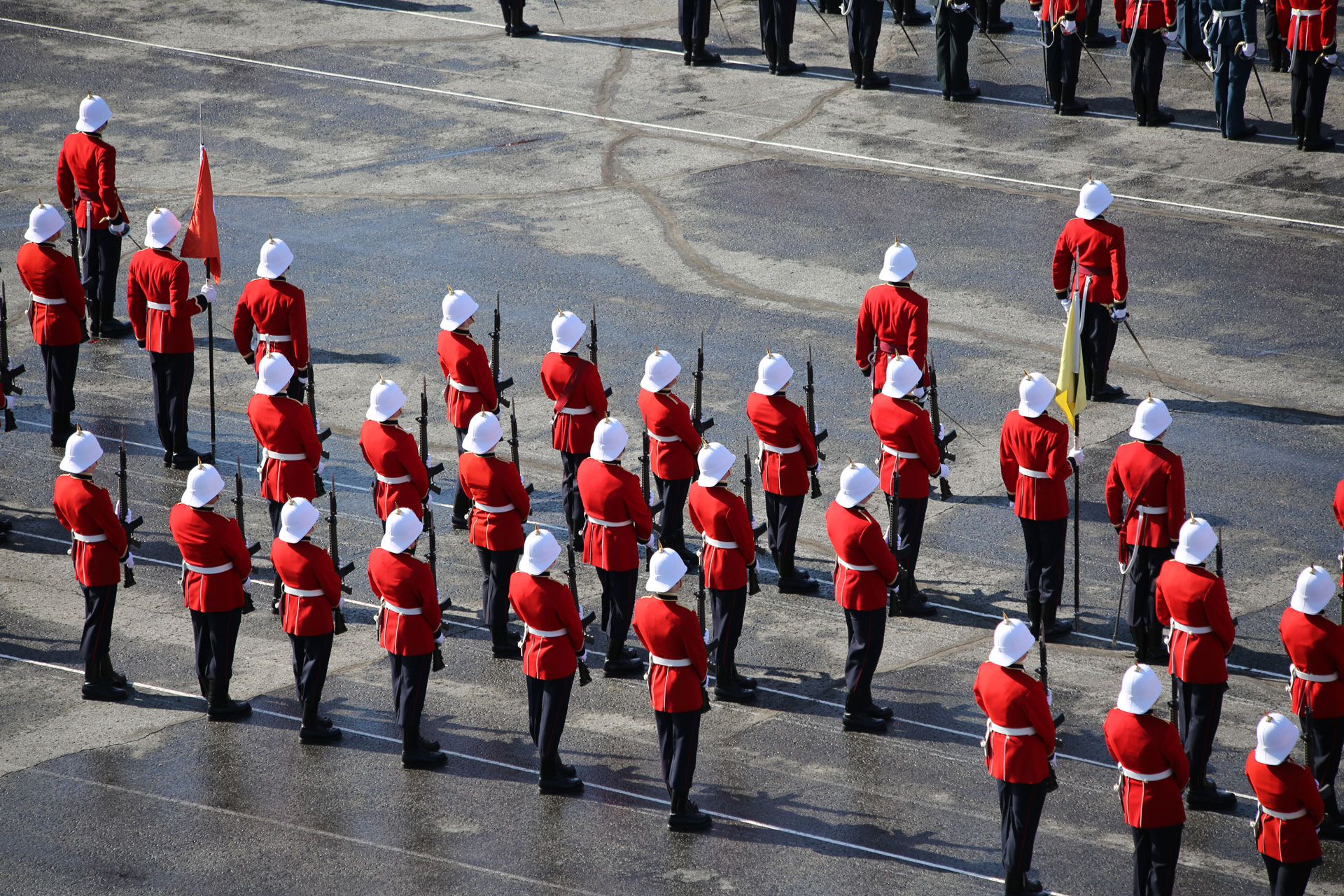 Starting with this edition of e-Veritas we hope to have a regular article from a cadet within the Wing. The topics will vary.  Basic ground rules apply in that the article will not criticize official Canadian Forces or RMC policy. The views expressed are those of the author and do not necessarily reflect those of the Cadet Wing leadership or anyone else in the Cadet Wing.  Comments are always welcome.
Alright listen up! I'm on Send, you're on Receive.
So, with another September upon the city of Kingston again, two things are certain: Queen's frosh are going to paint themselves purple and the first years are on their love-hate experience known simply as First Year Orientation Period (FYOP). It's something anybody with a college number won't soon forget. From their first steps on the hallowed parade square, to being caked in a myriad of sweat, mud, fatigue and jovial camaraderie as they negotiate that final obstacle on that fateful Friday afternoon.
Wait a minute, what's the training value of all this? First years can't finish that obstacle course if they're broken from overexertion. Is this the end state of FYOP: to get first years ready for an obstacle course? Yes…and no. Like units in the CF, there has to be indoctrination into the regimental culture; RMC calls this FYOP. There's a difference between training recruits in Saint-Jean and training recruits on how to cope with RMC. Honestly, FYOP is the easiest part of the 4 years here: everything is cut and dried for you. Anxiety, stress, and generally being tired are necessary. First years use this as a fuel to cope with RMC. The Sapper, Patricia, or Royal doesn't earn their cap badge until being baptized by the fires of regimental indoc. The same goes for RMC recruits. The senior classes accept first years based on the fact that we all share the common FYOP war story.
By questioning the merits of inspections, panic drills, push ups, and CDH etiquette with regards to their respective "training value," we are losing focus of what truly matters for the FYOP experience. RMC has a reputation of producing excellent leaders for over a century. This is due greatly in part because our first experiences here taught us the way things were: respect the chain of command, keep your uniform sharp, and march straight. If you didn't meet that standard of excellence, you could expect discomfort. Without the discomfort, there is no incentive to change negative behaviour. Beyond this simple veil of spit-and-polish structure sits the fact that when you finish that obstacle course and earn your privileged place in the RMC family, you will always carry with you the solemn pride of where you stand.
_____________________________________________________________


Running in Memory of Mic
Last Sunday's Army Run in the capital city was especially significant for the friends and family of 22007 Major Michelle Mendes (RMC 2001), who organized a team for both the 5km and Half Marathon race to run in memory of Michelle, or Mic as she was known by many. Major Michelle Mendes, who died in Afghanistan in April of this year, ran the Inaugural Army ½ Marathon last year and many of her friends and family remember her talking about the importance of this event. This year's race was particularly memorable, with all runners wearing Michelle's bib number from last year under their own number to help motivate them throughout the race. These same people, some ex-Cadets, other friends and family of Michelle, raised over $2600 for the Michelle Mendes Memorial Fund which was established by Michelle's mother, Dianne and husband, Victor, the head coach of the RMC Men's Varsity Soccer Team. The Fund is run through the RMC Foundation and one of its goals is to support the Annual RMC Nijmegen team. One of the members of this year's Nijmegen team, 24915 Guylaine Archer (RMC 2011) from 13 Sqn volunteered to represent her team and ran the Half Marathon on Sunday in Michelle's memory. Donations are continuing to pour in and organizers would like to sincerely thank all those who supported this year's team. It is hoped that this will become an annual tradition, with more runners joining the original group of 11 and even more money being raised for this important cause.
21936 Lt(N) Amber Comisso (RMC 2001), 9 Squadron Commander