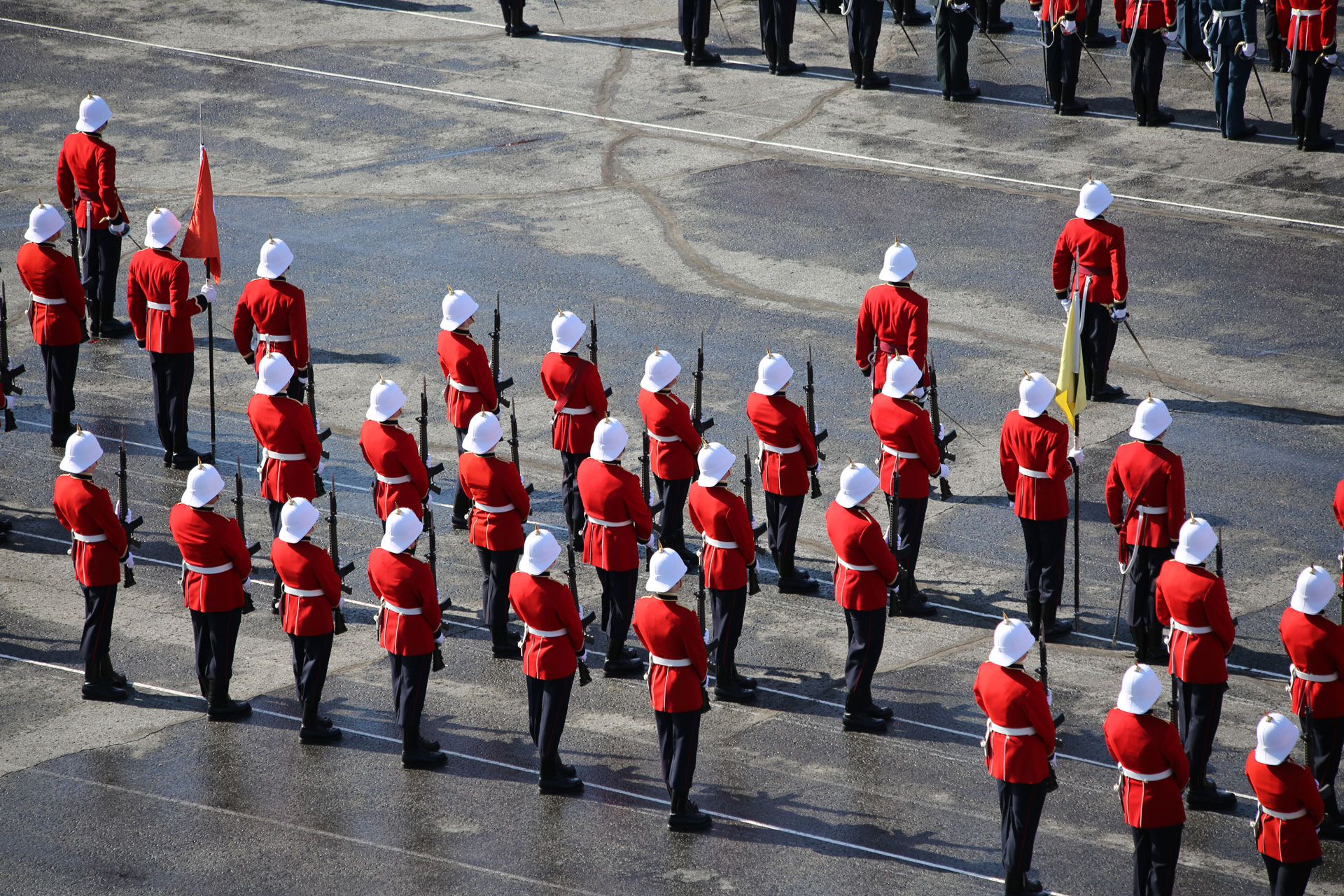 by M0917 Dean Fleet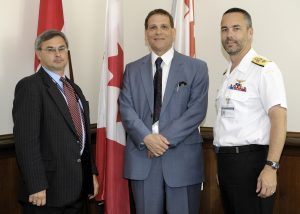 Principal of Queens University meets RMC Commandant, Commodore Truelove and RMC principal Joel Sokolsky in the Commandant's office on 21 September 2009.
Dr. Daniel Woolf, of British origins, earned his undergrad in History at Queen's in 1980. From then he went on to his doctorate at Oxford University before returning to Queen's as a postdoctoral fellow in history. He taught at and/or served as a Dean at the following institutions:  Bishop's University, Dalhousie University, McMaster University, and the University of Alberta. He returned to Queen's this past July as its principal, and has a reputation for being a strong advocate for each institution which he has had the pleasure of working, often leading various innovative campus projects. He also has  son entering his second year at Queen's. He made an office call to both  Principle Sokolsky and Cmdre Truelove before joining them at the SSM for lunch.
Cmdre Truelove left Royal Roads in 1985 with a degree in Military and Strategic Studies to begin his career upon the open seas aboard Her Majesty's Canadian Ships.  After various operational deployments, command and staff appointments, and an Order of Military Merit, he now has the honour of being able to give back to a military which has given him so much by leading RMC in our dynamic age. He is at the pinnacle of his career having reached the flag rank, and he, too, has the added pleasure of being able to head the academic institution at which his son is a student. Cmdr Truelove took this opportunity to apologize "in advance for the 'whooping' RMC is gonna give Queen's in the Carr-Harris hockey game!" He followed this up with an invitation to join him and his wife at the match.
Dr. Joel Sokolsky has taught for many years at RMC, and was the recipient of research excellence award in 2005, and was named to the teaching excellence honours list at RMC. He received his BA from the University of Toronto, MA from John Hopkins University, and his PhD from Harvard University. He became the Principle of RMC in 2008. He is also a Senior Fellow at the Queen's University Centre for International Relations, and holds an appointment with the Queen's Department of Political Studies. With his longstanding involvement at both RMC and Queen's, he is well-suited in his position as principal to continue building the relationship between these two academic institutions.
_____________________________________________________________________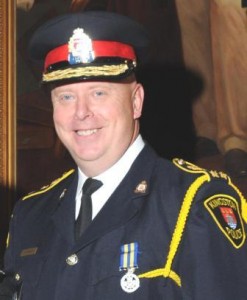 RMC was fortunate to have a second VIP visit the college last week:  Chief Stephen Tanner, who since October 2008 has been Kingston's Chief of Police. It was the Chief's first visit to RMC, where he paid an office call to both the Principle and the Commandant. Such visits are, according to Cmdre Truelove, "important in building relations with our neighbours and supporters. Something that I place great importance on."
REMARKS OF CHIEF OF POLICE STEPHEN J. TANNER
SWEARING-IN CEREMONY OCTOBER 29, 2008
x
x
x
_____________________________________________________________________