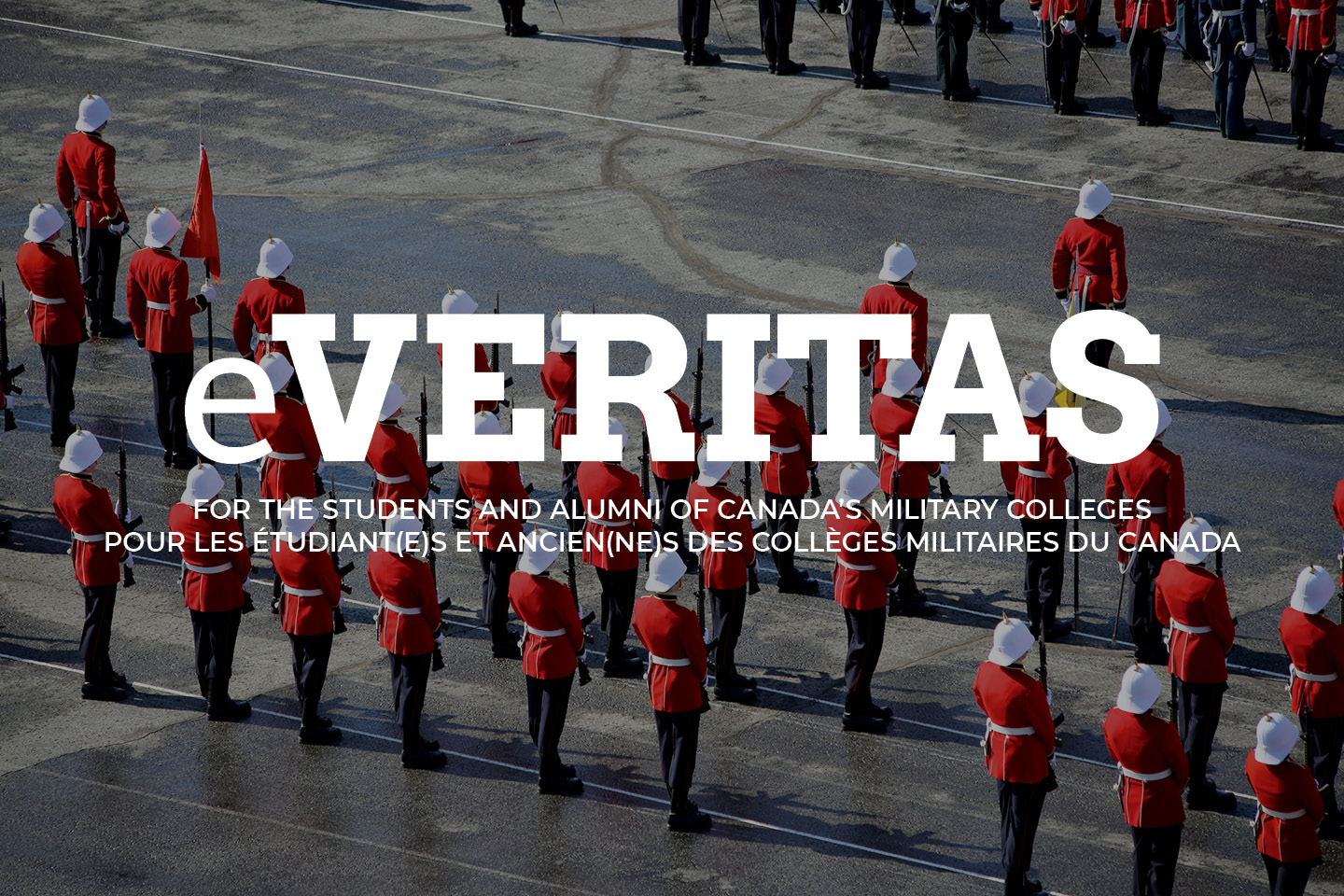 From all of us at eVeritas, Happy New Year and best wishes for a healthy and happy 2021!
De la part de nous tous à eVeritas, bonne année et meilleurs voeux pour une 2021 saine et heureuse!
---
ISSN 2562-5071
In This Issue 1 / Dans ce numéro 1

Table of Contents / Table des matière
Alumni Making the News / Des anciens font l'actualité
New Year's Message from 18777 BGen Sébastien Bouchard and 14458 Dr. Harry Kowal / Message du Nouvel An de 18777 Bgén Sébastien Bouchard et 14458 Dr Harry Kowal
Message du 20380 colonel Nicolas Pilon, commandant du CMR Saint-Jean / Message from 20830 Col Nicolas Pilon, Commandant of RMC Saint-Jean
Need something to break the COVID Winter Blues? Try the Gift Shop's Winter Reading List! / Besoin de quelque chose pour briser le blues d'hiver COVID? Essayez la liste de lecture d'hiver de la boutique de cadeaux du Club des CMR!
12570 Mike Kennedy Reviews "Extraordinary Canadians" by Peter Mansbridge
16020 Lt(N) Blake Patterson, RMC Public Affairs Officer, Retires as Career Comes Full Circle
6650 Andrew Nellestyn's Food for Thought: ADA LOVELACE – WORLD'S 1st PROGRAMMER
RMC's Dr. Lubomyr Luciuk To Deliver Virtual Conversation Regarding Bow Valley Internment Camps from a Ukranian Perspective
We Get Emails: The Glee Club Visits Kingston Women's Penitentiary in 1962
Keeping Tabs / Gardez un œil sur eux
Golden Oldies / Photos d'antan
Qu'est-ce qui se passe au CMR Saint-Jean
Sports: Paladins Earn 2019-20 Academic Accolades
Dr. Darrell Menard: Making military fitness challenges safer / Rendre les défis d'aptitude physique militaires plus sécuritaires
A170 Tom Rozman: Perspectives Regarding the Assistant Division Commander Leadership Role in a Maneuver Division
"Tip of the Hat" for December 2020 / Chapeau aux membres pour décembre 2020
In Case You Missed It / Si vous avez raté
eVeritas Publishing Schedule Winter 2021 / Calendrier de publication d'hiver 2021 d'eVeritas
RMC Wall of Honour: How YOU can Nominate a Candidate for recognition in 2021 / Mur d'honneur du RMC: Comment VOUS pouvez proposer un candidat en 2021
Memorial Fund for Fallen Ex Cadets
TD Insurance Customer Relief: Helping Canadians Impacted by COVID-19