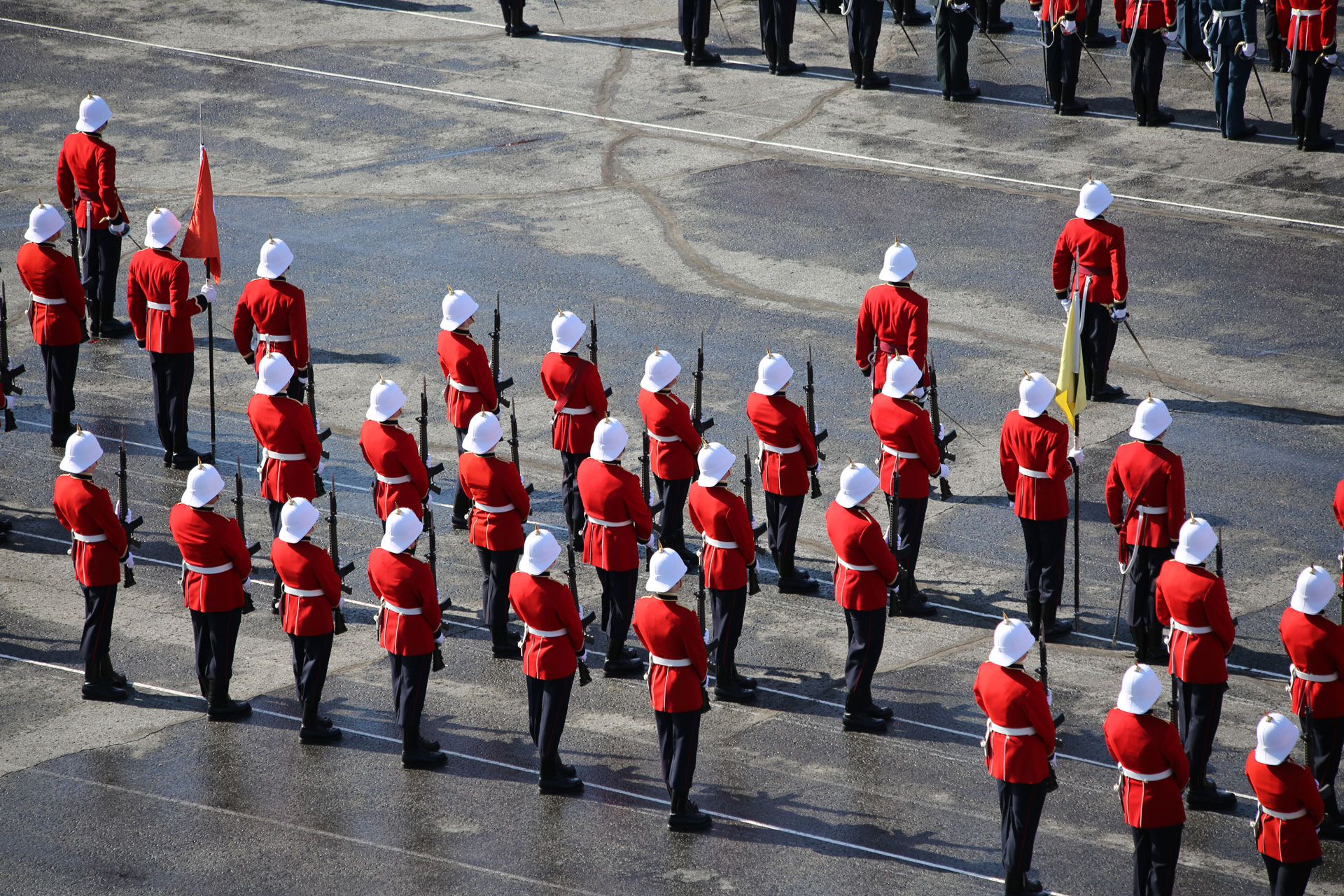 20633 Major Geneviève Lehoux (CMR RMC '97) enrolled in the CF in June 1992 in Trois-Rivières (QC). She completed three years at CMR St-Jean and graduated from RMC in May 1997 with a bachelor degree in Civil Engineering. While at CMR and RMC, she was a member of the varsity women soccer team. She completed basic training and trade training in Chilliwack (BC). In November 1997, she was posted to 17 Wing Construction Engineering, Winnipeg, (MB). Promoted to Lt in May 1998, she became the 171 Airfield Engineer Flight Commander and later the Construction Engineering Operations Officer. She was promoted to Capt in May 2000. In 1998 she had a tour in Kumanovo, Macedonia and in 2000 a tour in Aviano, Italy. She was posted to 3 Wing Construction Engineering, Bagotville as the Study and Design Officer in April 2001. In July 2002, she was posted to RMC to complete Post Graduate Studies. She graduated in June 2004 with a Master Degree in Civil Engineering. She is currently the Royal Military College Engineering Officer and an assistant professor in the Civil Engineering Department. She is also one of the assistant coaches with the varsity women soccer team.
Interview by E3161 Victoria Edwards (RMC '03)
E-Veritas: Comment on your role as College Engineering Officer and as assistant professor. What do you do on a day-to-day basis?
Major Lehoux: The RMC College Engineering Officer serves as project director and project implementer for the engineering projects undertaken for or by RMC in conjunction with CFB Kingston. On a day-to-day basis, I work in construction project management – planning and development for short and long term construction projects. The design and construction or renovation for minor projects is done in house/CFB Kingston, while major projects are contracted out to consultants or contractors. The Commandant serves as the project leader and the Project Sponsor is Chief of Military Personnel. Since I manage 50 people, which includes Cleaning Services, Maintenance Services, and a few construction project managers, my day to day work consists of human resources and financial administration. My staff is engaged in rehabilitation, repair, maintenance and operation of RMC campus physical facilities. I ensure that expertise in all trades is available either on staff or on call and ensure that all personnel have the necessary knowledge and skills and are aware of their responsibilities, liabilities and legal requirements through directed training, and professional development. In addition, as an assistant professor, I teach for five hours a week in the Civil Engineering Department.
E-Veritas: What is your view on skylarks? What skylarks (practical jokes) do you recall?
Major Lehoux: I enjoy a good, imaginative skylark which results in no or minimal cleaning or damage to infrastructure. When I was in 4th year, some cadets took advantage of the sodding of the campus near the dorms to set up a soccer field in one of the male soccer player's dorm room. Baby powder was used to represent the lines and a soccer jersey represented the players. I recall that the skylark resulted in a lot of clean up and the sod rolls were very smelly. The cadets are responsible for the first clean up, and if necessary, my staff will go in afterward with proper cleaning products.
E-Veritas: Do you have any ghost stories from the military college(s)?
Major Lehoux: When I was driving onto the College grounds on Halloween this year, I saw a horsewoman riding towards me. In the `Legend of Sleepy Hollow` by Washington Irving, the horseman is a Hessian soldier from the Revolutionary War who was decapitated by a cannonball and now roams on the back of his horse, with his severed head resting upon the pommel of his saddle. The RMC headless horsewoman was actually a lady cadet on the soccer team who was participating in an informal 200 days before graduation parade, in which the first years acted as fourth years. It was a nice, imaginative skylark with no damage done. It must have been quite impressive to see a horse coming out of nowhere during a morning parade.
E-Veritas: Comment on the knowledge and skills which are most commonly a prerequisite for College Engineering Officer.
Major Lehoux: The College Engineering Officer must have a strong understanding of construction and maintenance practices and the project management and financial management that goes with it. It is critical to have an understanding of building codes, federal, provincial and municipal laws and regulations. It is important to have strong computer skills, specifically using Excel, Word and Construction Forces Engineering Management System (CFEMS) to develop the technical documentation (i.e. Engineering Change Proposals, specifications) and know how to read documentations from AutoCAD and the Financial Management Administration System (FMAS). It is necessary to read blueprints and schematics. Licensing by federal, provincial and local governments is most often required. It is important to understand the extensive responsibilities that life cycle materiel managers have towards environmental protection, through the, selection, storage, transportation, use and disposal of materiel.
E-Veritas: Have you found yourself concerned with any facets of engineering since returning as College Engineering Officer?
Major Lehoux: A major refit project, such as the retrofit of the Heating Ventilation and Air Conditioning system into Sawyer and Girouard buildings is expected to improve energy efficiency and air quality in accordance with the DND/CF Climate Change Plan for Canada. The Hewett house renovation project, which includes a new elevator, applies barrier free access and universal design integration in building designs. A project involving the reuse of an existing building, for example Rideout Row as office space, applies green building concepts and sustainability. Projects must comply with archaeological and heritage legislation and policies. Workers didn't find anything of archaeological interest during a project involving basement waterproofing and foundation repair of the Currie and MacKenzie buildings, however water lines and manholes were found that were not on the drawings. It may be necessary to address such surprises with remedial action plans, contingency measures, or risk management programs as appropriate.
E-Veritas: Comment on the requirements that construction and major retrofit projects at the College meet.
Major Lehoux: DND/CF must comply with all federal laws, regulations and policies (including territorial laws and regulations, and international standards if they are incorporated in federal laws), and they must be otherwise compatible with provincial and international standards to the extent required by federal or DND policy. It must also ensure safe and adequate Realty Assets by acquiring, designing, constructing, operating, maintaining and disposing of Realty Assets in accordance with health, environmental, nuclear/radiological, accessibility, safety, building, fire, engineering, acts, regulations, codes and standards. To reflect the 2005 Canadian Building Code, for example, columns and steel bracing against hurricane force winds or earthquakes will be added to the Sawyer building when renovated.
E-Veritas: How do you feel about civil engineering in such a storied institution as RMC?
Major Lehoux: The former 1812 British naval base during the War of 1812 is now the site of the RMC. The Rideau Canal was inscribed on the UNESCO World Heritage List and the Kingston Royal Naval Dockyard is a National Historic Site of Canada. Several of the College buildings are on the Registry of Historic Places of Canada including Mackenzie building, Currie building, Hewett House, Fort Lasalle, Fort Frederick, Old gym, Stone Frigate, Yeo Hall and Gatehouses 3 & 14. The Heritage Character, which means the synthesis of a building's heritage values, of Crown-owned buildings derive from historical associations, architectural significance and environmental importance. Construction and engineering projects must follow archaeological and heritage legislation and policies. There is a requirement, for example, to do archaeological studies when you dig on the Peninsula. To prevent or control water and wind erosion and soil loss on the peninsula, a physical barrier, including rock and vegetation was created to absorb some of the energy of the wind or water that is causing the erosion. It is necessary to follow the chain of command. I report to the Chief of Staff, Commander Rich, who reports to the Commandant, BGen Lawson. On various construction engineering projects, I work with the base construction engineering officer Major Parker. The project funding comes from Canadian Defence Academy (CDA), Chief Military Personnel (CMP), and the RMC.
E-Veritas: Do you see yourself as a role model for lady cadets at RMC and/or for girls/women interested in a career in engineering?
Major Lehoux: I actively encourage a greater representation of women in engineering at RMC and in the Canadian Forces. I see myself as a positive influence on lady and male cadets. I hope they see that I am happy in what I do and that they aspire to the same type of career. I have direct contact with officer cadets as an assistant professor and as an assistant coach to the varsity women's soccer team.
E-Veritas: Which women in engineering have influenced your work?
Major Lehoux: Brigadier-General Christine (Chris) Whitecross OMM CD, who holds a Masters Degree in Defence Studies from the RMCe, is my role model in the Canadian Military Engineers branch. She was appointed Deputy Commander/Chief Operations and Plans, Canadian Operational Support Command Headquarters in July 2008. Her postings have taken her from Germany, the former Yugoslavia to almost every province in Canada. In addition, she is a Foster parent, who plays an essential role by providing homes for children whose families are temporarily unable to look after them. I am impressed by her work life balance.
E-Veritas: Comment on your views on women in engineering.
Major Lehoux: In Canada, women have not traditionally been involved in engineering at a proportion equal to their general proportion in society. Although I was the only woman out of thirty in my troop, during my initial military engineering training, I was always accepted. In the civil engineering class I taught at RMC last year, there were more women than men although in previous and current terms, there have been more men then women. When I deployed to Macedonia in 1998, the French engineers were surprised to meet a female engineering officer. Among the 350 French serving in Macedonia, the 4 women were all NCM clerks. Among the 50 Canadians serving in Macedonia, the 3 women served as engineers (one carpenter, one electrician and one officer), and one as a clerk.
E-Veritas: What skills did you learn at CMR/RMC that have since been of great value to you?
Major Lehoux: As a cadet, I learned to be organized, and to multitask. I developed good communication skills (phone & email). I found that studying civil engineering and soccer were higher priorities for me than my social life. As a soccer player, I learned skills which I may be able to pass on as an assistant coach to the RMC women's soccer team for the last five years.