The fifth Invictus Games – The Hague –  took place from 16-22 April 2022.  500 competitors participated in 10 different sports including wheelchair basketball, sitting volleyball, cycling, indoor rowing and wheelchair rugby.
The Invictus Games is an international sporting event for wounded, injured and sick Servicemen and Women.  The Games use the power of sport to inspire recovery, support rehabilitation and generate a wider understanding and respect of all those who serve their country.
The word 'Invictus' means 'unconquered'.  It embodies the fighting spirit of the wounded, injured and sick service personnel and what these tenacious men and women can achieve, post injury. – shared from https://invictusgames2020.com/en/contact/faq/
With help from our friends in the Athletic Department we were able to identify the following Alumni who participated in this year's event: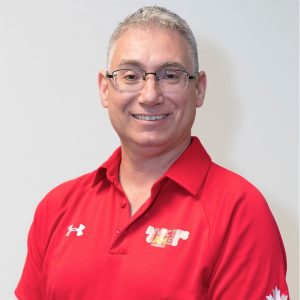 18804 James "Mike" Bourgeois, 1993
Mike suffers from a severe degradation of mobility as a result of a spinal cord injury that occurred while in service. The injury caused a reduced capacity for multitasking, poor short-term memory and limited mobility. Mike worked on several humanitarian relief missions before suffering the injury and, through the Invictus Games 2020, he hopes to find the worth he feels that he's lost by being able to represent Canada at this international event.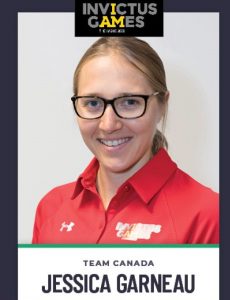 25172 Jessica Garneau, 2012
After graduating from the Royal Military College of Canada, Jessica worked at the First Canadian Field Hospital in Petawawa, ON. The highlight of her career was having the opportunity to fence on behalf of Canada for the International Military Sports Council. After her injury she had to make adjustments to her lifestyle. Now she wants to inspire others by participating in the Invictus Games 2020 to show others that they can overcome their own challenges. Her motto is "She believed she could, so she did," and she will!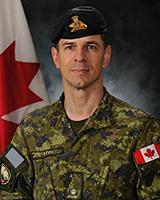 21123 Patrick Levis, 1998
Major Patrick Levis has served as an infantry officer in many locations across Canada. In 2001 he deployed to Bosnia. He has also served twice in Afghanistan, in 2007-2008 and again in 2009.
His career highlights include commanding an infantry platoon both in garrison and operational theatre. Patrick also enjoyed representing his unit and base in regional and national sport competitions. After an extensive surgery, Patrick was left with a mobility disability. He has had to modify all aspects of daily life. No longer able to do the sports and simple activities he used to enjoy brought feelings of fear and hopelessness. In order to remain active, Patrick has turned to adaptive activities.
Sports and competitions have always been a part of Patrick's life and has helped him to develop life skills such as discipline, determination, devotion, and concentration. Becoming physically disabled put an end to practicing many of the sports Patrick once loved and the enjoyment that came with competing. Participating in the Invictus Games has rekindled a sense of purpose and pride in Patrick. His motto is to enjoy life to the fullest. Patrick will be competing in wheelchair racing, handcycling and wheelchair basketball.
The Invictus Games 2025 has been awarded to Vancouver and Whistler, British Columbia, Canada, following a successful bid led by True Patriot Love Foundation.  These Games will be the first to incorporate winter adaptive sports, in addition to some of the core sports from previous Invictus Games.
True Patriot Love is partnering with the Government of Canada, the Government of British Columbia and the First Nations in Vancouver and Whistler to ensure the Invictus Games 2025 will be the most innovative and accessible Games to-date.
The Invictus Games 2025 will bring together over 500 competitors from 20 nations to compete in adaptive sports, including the new winter sports: Alpine Skiing, Skeleton, Wheelchair Curling and Nordic Skiing, in addition to the core Invictus Games sports of indoor rowing, sitting volleyball, swimming, wheelchair rugby and wheelchair basketball.