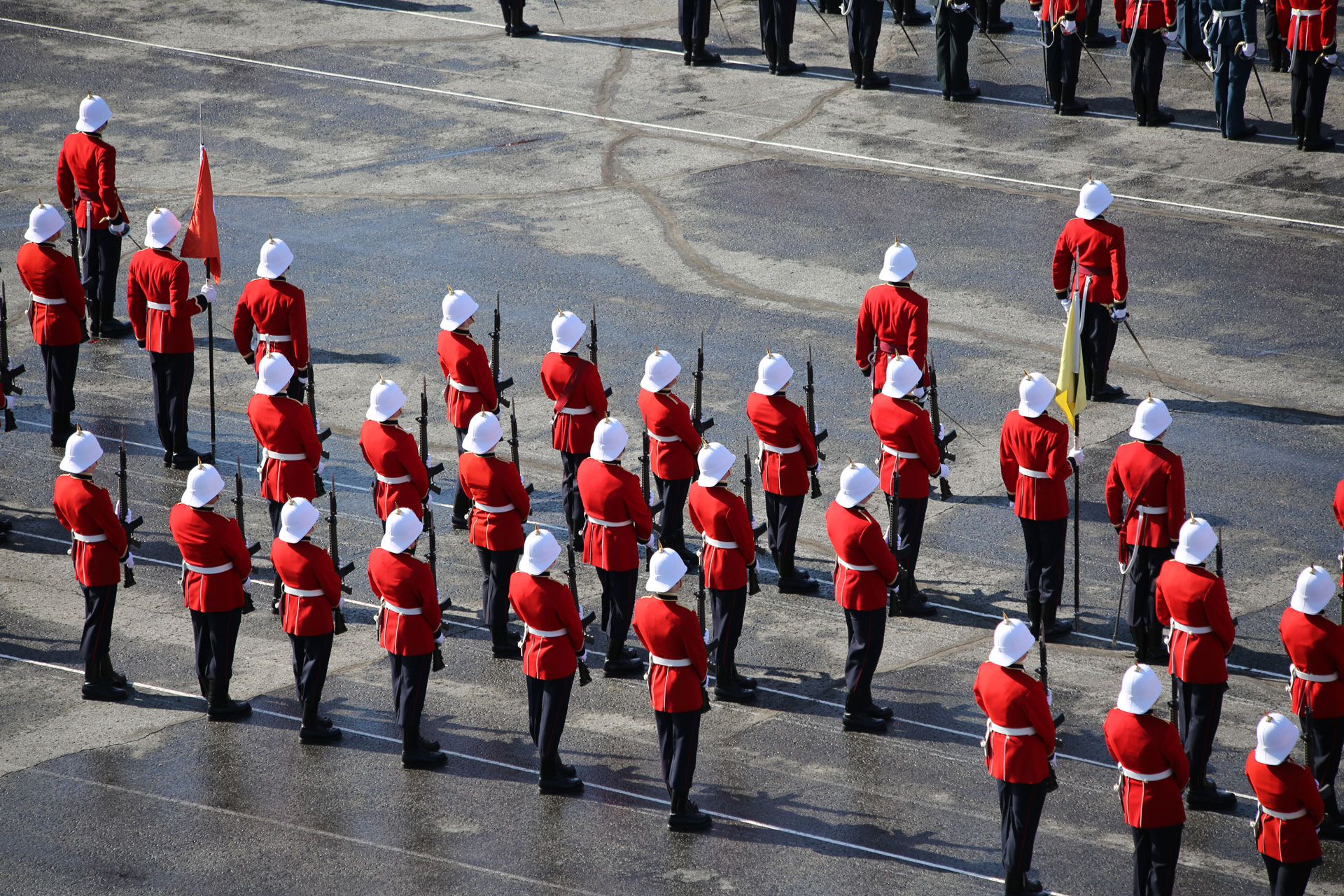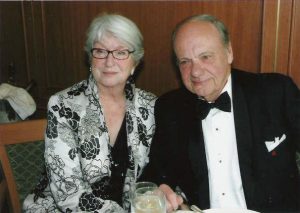 -3667 Don Gray (RRMC RMC 1956) and Dene (Lawrence) Gray (KGH 1956).  by E3161 Victoria Edwards (RMC 2003)

Don was born in Kingston and Dene is from Belleville. Don wanted to go to military college but didn't want to start at RMC. He thought that being at RMC when all of his KCVI buddies were at Queen's (the majority in Science '56) would be too great a distraction…in retrospect he was probably right because some of his high school friends were unfocused and spent a bit more time at Queen's than was really necessary. He also wanted to be in the navy so Royal Roads seemed to be a better option. He left for the West in September of 1952, and finally got back to Kingston and RMC two years later. Dene was the sister of 3227 Dave Lawrence (RMC 1954, now deceased) and she entered training at KGH in 1953. Obviously she was aware of RMC.
A couple of weeks after getting back to RMC, Dene and Don ended up at one of the Saturday night dances at the Cataraqui Golf & Country Club on the arms of others, but they were introduced. Don was immediately infatuated and called Miss Lawrence on the phone a few days later and was rewarded with a date for a movie the following weekend. The usual autumn dating scene of a KGH nursing student and an RMC cadet ensued. It all seemed to fit together perfectly because each had to be in by 2359 every weekend night.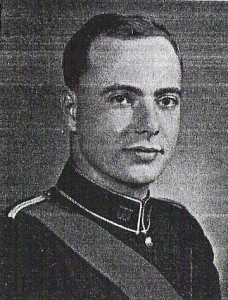 Now their relationship was not mutually exclusive that fall but it was frequent. As we both recall it was in the spring of 1955 that Don was asked to visit Dene's parents in Belleville. The following vignette is strange but true. When Don met Dene's mother she asked him if his family lived on Nelson Street. Yes Don replied, "I'm one of that Gray clan."
Dene's mother then related the following story. About 1944 Dene's grandfather, who then lived on Victoria Street, passed away suddenly and she and her brother and their mother moved to Kingston for a few months to help settle Dene's grandmother. Now Don remembers her brother during these few months but his memory of Dene is "hazy".(Ten year old boys usually aren't interested in 8 year old girls). Nevertheless her mother claims that one day Dene told her that she had met a cute little boy (?) Donny Gray and one day she wanted to marry him. Hard to believe but that's the story. It took her 17 more years to make it happen!
The final year at RMC and KGH, they suspect, were pretty normal. Dating with no car was the rule. This coupled with, as they recall, one 0200 pass per month doesn't provide a lot of latitude for weekends away from Kingston. They both graduated in the spring of 1956 without too much academic problem but with no particular distinction. Don was a 3 Bar in Wing Headquarters. There was one special day that even today keeps them laughing.
At the end of Don's third year his naval training was taking him to Halifax for his final naval training phase, which was to include several weeks in Norfolk, Virginia with the third year Midshipmen from Annapolis to take an Amphibious Landing course. There would be just a few Canadians (less than 25) and about 880 Americans from the Naval Academy. Now summer uniforms for the Yanks are white and to keep pace the few Canadians were issued whites to conform.
Now Dene was a very attractive lady and Don was going to be off at sea and in the States for fourteen weeks and he figured that he needed at least one more leg up to impress her. And that was his full white uniform of the RCN. So the last day before he caught the train for Halifax, he donned his whites, borrowed his sister's car and headed out to say farewell to Dene at Rockwood (the local mental hospital) where she was on a six week familiarization course.
Picture this Don in his whites, Dene in her KGH nurse's uniform standing together on the porch of the nurses' resident when a wagon of male mental patients slowly drove by on an open wagon heading for the fields to do some gardening. When they saw Don in his uniform, they all got into the semblance of a formation and all saluted (some with the left hand) and some presented arms with rakes and shovels and with gales of laughter started to lustily sing, "Anchors Away!" This wasn't the exact effect Don was looking for but it has been a great memory and laugh for nearly 60 years.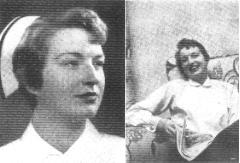 After graduation from KGH, Dene went home to Belleville to live at home and work in the Operation Room at the Belleville Hospital. Don stayed at Queen's to finish his degree in civil engineering. It was a great year. Both were finally making a bit of money, Dene as an RN and Don as Sub-Lieutenant, RCN. Also Don's work at Queen's was easy. About 80% was a review because most of the work had already been taken at RMC. Don decided to take civil because he was unsure that he would make the navy a full career. As it turned out the combination of being a trained naval officer and educated as a civil engineer was perfect, particularly as integration was only eleven years in the future.
x
A Career Synopsis
After graduation from RMC, Don was commissioned into the Royal Canadian Navy in 1956 as a Sub-Lieutenant and served in the Navy up to the rank of Lieutenant Commander until integration when he was re-classified as a Military Engineer, a branch of the newly created Canadian Forces in 1968. He and Dene followed a fascinating career through eighteen moves to live in five Canadian provinces (several more than once), the USA and Europe.
His military career spanned 35 years, including four years at RR & RMC, and was somewhat unusual. Among many postings, notably he served on exchange with the Civil Engineer Corps of the United States Navy for three years (ironically in Norfolk), was on the academic staff at RMC for three years. He was Commanding Officer of a combat unit, 3 Field Squadron RCE. He also was commanding Officer of 1CEU a former RCAF engineering unit. He was Base Commander of CFB Chilliwack (School of Military Engineering and the CF Officers Candidate School) in BC. He gradually rose in rank to Major-General (Rear-Admiral equivalent) and retired as the Chief of Construction and Property at NDHQ.
After retirement in 1987 he was retained by the federal government as a civilian with External Affairs to become the Counselor (Finance) in the Canadian Delegation NATO in Brussels, where he was responsible for the Canadian participation in the NATO infrastructure program and the NATO civil & military budget programs. He retired from his NATO appointment and returned to Canada in 1990
He was involved in many engineering projects and activities in every part of Canada (including the far North) and several in Europe. The one project that he remembers with pride was the construction of a 360ft, 3 span permanent highway bridge over the Ogilvie River in the Yukon in 1971. This bridge was built by 3 Field Squadron RCE while he was the Commanding Officer and it still serves the Canadian highway system in the Arctic. This bridge is 122 miles north of Dawson City (of gold rush fame in 1898) and is very close to straddling the Arctic Circle.
On retirement from his appointment in Brussels in 1990, the Gray's returned to Kingston where they play golf at Cataraqui Golf & Country Club in the summer, winter for five months each year in Florida and travel and cruise. It is a wonderful retirement after an exciting career.
Dene is a talented watercolor artist and many of her paintings are hung in many homes in the cities in which she has lived. Also she is a terrific golfer and has won far more accolades on the links than has Don. Her last two victories (2007 & 2008) were in Florida at the Signal Hill Ladies Snowbird Tournament, where 83s brought home the top prizes.
The Grays have been very fortunate over the years and have travelled widely and have met many famous people, including royalty and politicians to say nothing of admirals and generals, but their greatest pleasure still comes from their condo on the lake across from the golf club where they met nearly 60 years ago.
x
A big afterthought! Two sons appeared during these years. In 1960 Peter (Queen's BA '82) and in 1963 14437 Michael ( RMC 1984) & Queens (MBA '90).