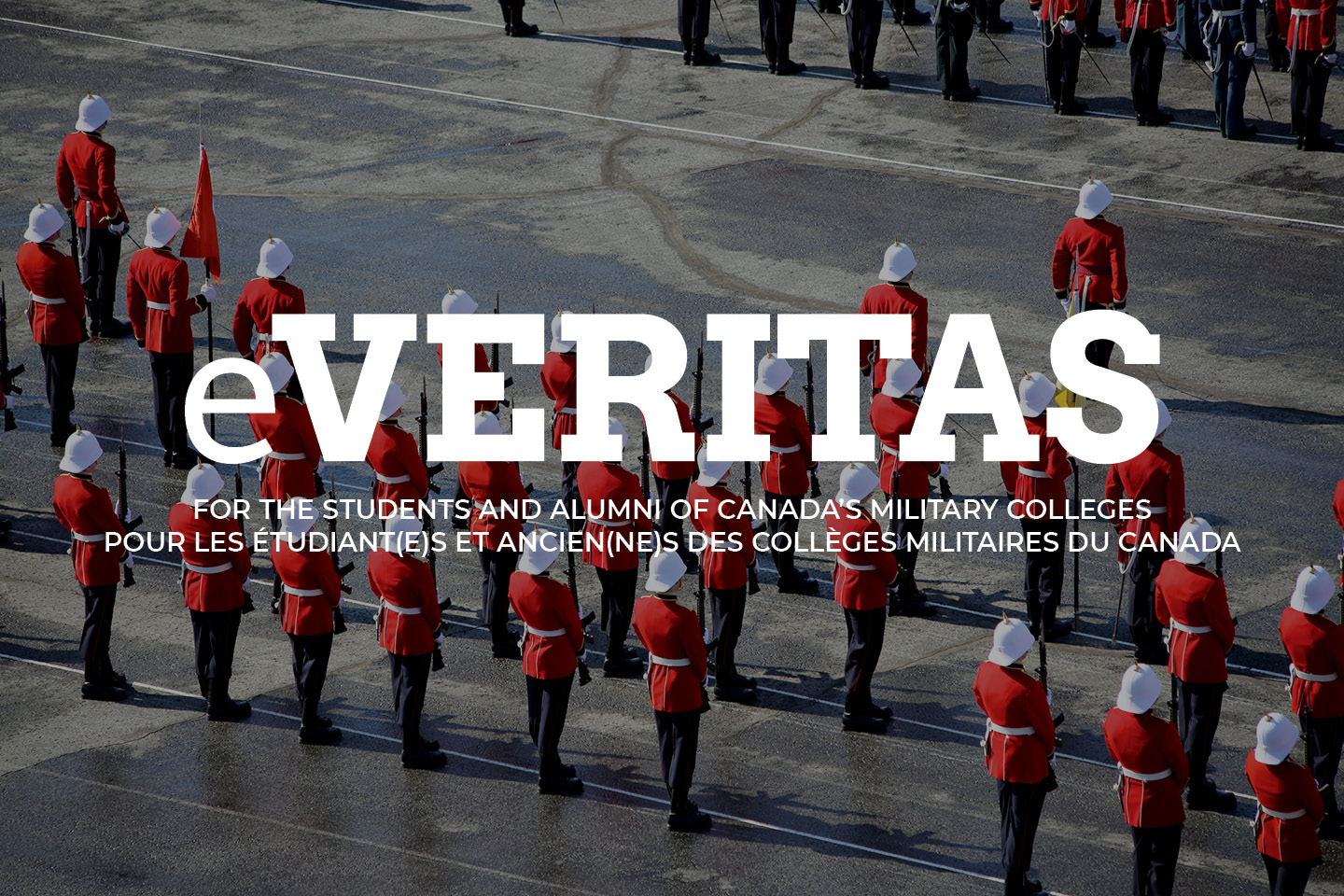 RMCC Ceremony – Well Done. Well Attended
By: WJO
This past Tuesday, 11 Nov, the Royal Military College of Canada recognized and celebrated a very impressive Remembrance Day Ceremony at the Memorial Arch.
Three wreaths were laid (Photo left)14835 Major General Tremblay, accompanied by Chief Warrant Officer Thibault, on behalf of the Canadian Defence Academy; (Photo C) Cmdt, 16888 BGen Meinzinger accompanied by the CCWO, CPO1 Davidson on behalf of the Royal Military College of Canada; and on behalf of the RMC club of Canada (Photo right) 5877 Captain (N) (Retired) Ted Davies, President of the Kingston Branch of the RMC Club, accompanied by the Cadet Wing Commander 26339 OCdt Lizee.
The two MCs – OCds Andela and LaPlante handled their duties in the most able manner, and successfully stayed on script for the 30 minute ceremony under sunny skies and mild temperatures (14-16c); weather one would expect and even hope for on Reunion Weekend.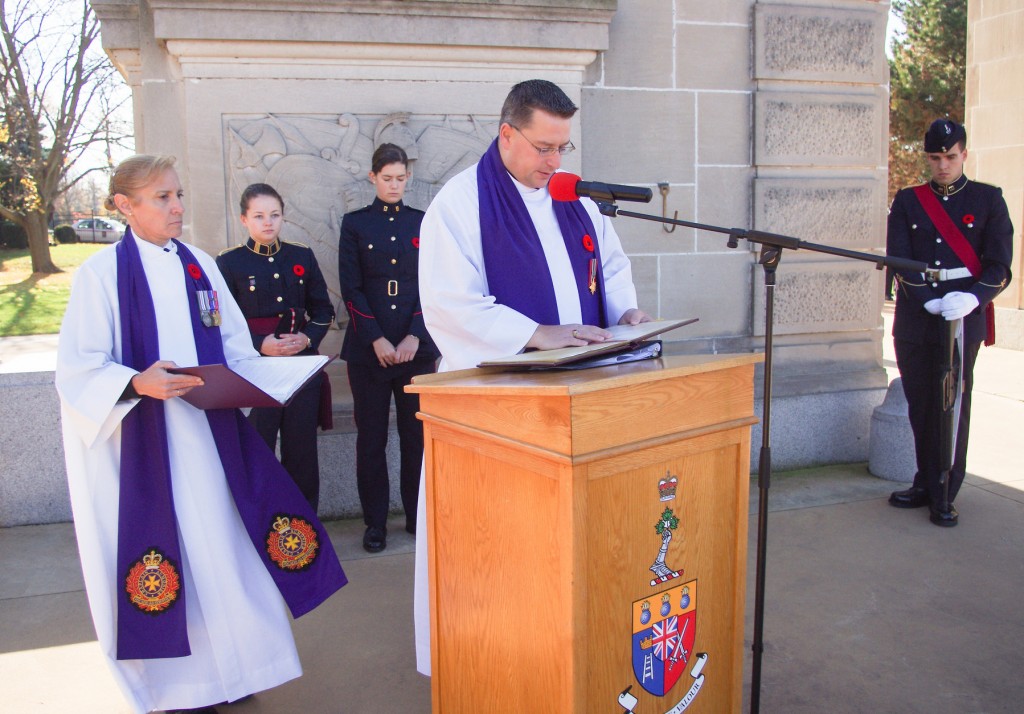 Administering the prayers' service were the RMCC Chaplains, Major Newhook (right) and LCdr Mackinnon (left).
A large crowd was in attendance including a good portion of the Cadet Wing, RMCC military & civilian staffs, Ex Cadets, and many family & friends from the City of Kingston and surrounding areas near & far.
Following the Memorial Arch ceremony there was reception at the Cadet Mess in Yeo Hall. All in all, a very well organized day. All involved should be proud on how they pulled it off.
 Click on photos for better viewing. More photos by Kai Zhao

here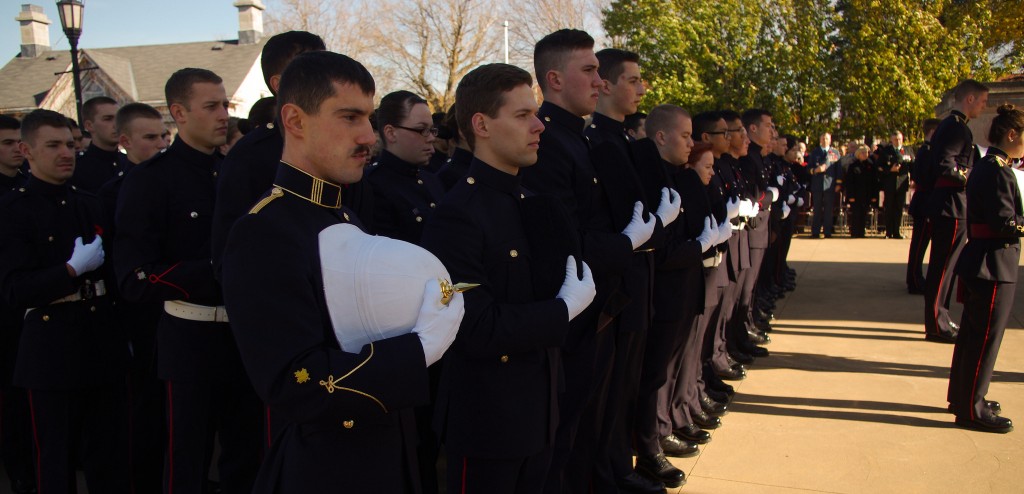 11 Nov – The Way I See It
27421 OCdt (I) Melissa Sanfaçon – 6 Squadron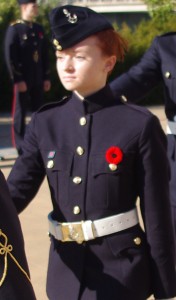 Remembrance Day is generally accepted as a day where Canadians, and people all over the world, take a few moments to pay respect to those who fought, and gave their lives for their country. Though this is an indisputable fact, I'm sure many would agree with me in saying that Remembrance Day stands for much more than that.
Those who we remember and pay our respects to, have given the ultimate sacrifice; for their countries and in turn their families, their neighbours, and people whom they had never met. They fought for many causes; peace, freedom, equality, and many other fundamental rights that are too often taken for granted. To me, Remembrance Day is a time where we not only pay our respects for fallen soldiers, but we remember the importance behind the sacrifice that was made. Our lives would not be as they are today, were it not for the bravery and courage of the soldiers who came before us.
Growing up, Remembrance Day was always a day I took seriously and held close to heart. Coming from a military family, I not only respected, but practically idolized men like my father, and his father, who had served or were currently serving. I was shown the importance of respecting veterans and understanding the importance behind why soldiers had to sacrifice their lives. I grew up appreciating the sacrifices that were made, and the courage it took to fight for Canada and Canadian values.
Now that I have joined the military, Remembrance Day has not only remained important to me, but has grown to hold an even deeper meaning. Though I do not have much military experience, and can in no way understand what those who fought had gone through, the meaning behind Remembrance Day has become more of a reality. Though it is intimidating to know that one day, those of us here at the Royal Military College of Canada, could be remembered for the sacrifice we made for Canada, it is not something to be afraid of. In fact, it is an honor. It is an honor to be here, and to serve your country, part of this being in honorable memory of those soldiers who fought before us.
Remembrance Day reminds us all of the courage the ultimate sacrifice takes, and shows that the legacy of the fallen, and of veterans will not be forgotten, but treasured, as many young soldiers and officer cadets strive to demonstrate these same qualities. It is a day that has always been important to me, and as a new military member has grown in meaning.
***

RMCC Cadets Attend Annual Sikh Remembrance Day Service
Article by 26288 OCdt (IV) Sarabjot Anand
This past weekend, 26285 OCdt (IV) Saajandeep Sarai, 26788 OCdt (III) Sarbjeet Nijher, 27232 (I) NCdt. Maheep Bhui and myself attended the Annual Sikh Remembrance Day service that was held at the Mount Hope Cemetery in Kitchener, Ontario. This cemetery holds the only military grave in Canada belonging to a Sikh soldier. It is the largest annual gathering of Sikh soldiers and veterans in North America. Sikhs from across Ontario gathered to pay tribute to the service and sacrifices of the Canadian Armed Forces and celebrate the Sikh military tradition by honoring veterans.
Private Buckam Singh was born on December 5th, 1893 in the farming town of Mahilpur, India. Since India was still a British Colony, many Sikhs enlisted in the British Army because of their warrior tradition. At the age of 14, Singh departed for British Columbia and left behind his homeland. When he arrived, he faced many racist laws in the province and therefore moved to Ontario and worked as a farmer in Rosebank. When World War I was declared, Singh enlisted in the Canadian Expeditionary Force and became one of just nine Canadian Sikhs to fight in World War I.
He was sent to Barriefield Camp near Kingston and joined the 59th Battalion. On his registration papers, he recorded himself to be a follower of the "Church of England" as he did not have the option to identify himself as a Sikh.
He fought in France and was injured in the head by shrapnel on June 2, 1916. He was hospitalized at St.Eloi. LCol. John McCrae, the author of "In Flanders Fields", was in command of this very hospital. After about eight months, Singh was sent to rejoin combat, but he developed severe tuberculosis and was sent back to Canada. Upon his return, he was discharged. He spent the rest of his life at Freeport Military Hospital. He died on August 27, 1919. He was buried in the only known grave of a Canadian Sikh soldier.
The first Remembrance Day ceremony in Canada took place 95 years ago in 1919, a mere two and a half months after Pvt. Buckam Singh's death, when King George designated the day in all Commonwealth countries to remember the members of the armed forces who had died in line of duty in World War I.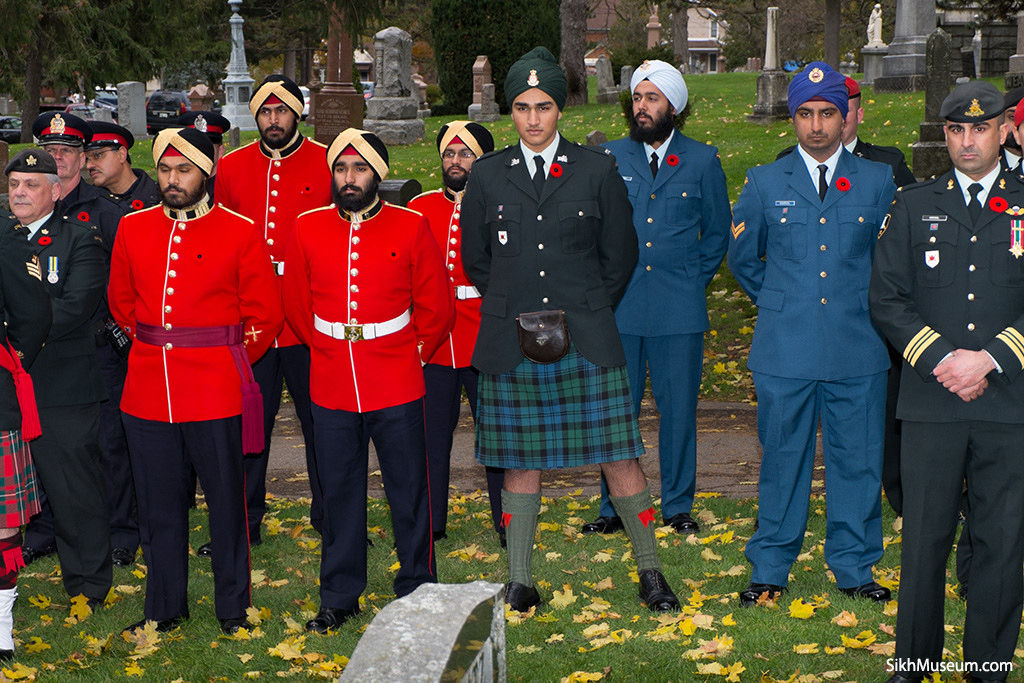 Sikh members of the Canadian Forces (CF) have attended this annual event since 2009. For the third year in a row, the Royal Military College of Canada received an invitation from the event organizers to attend the service; we gladly accepted the invitation and represented RMCC at the event in uniform. The event had a huge audience, numerous media personnel and many political party members. Various members of the CF also attended. Major Richard Silva, the Commanding Officer of the Canadian Forces Recruiting Center, was also present at the event as the Guest of Honour. The service was held also to honour the local soldiers that served from the Kitchener/Waterloo area; their graves are also located at the cemetery. A moment of silence was given to remember all the sacrifices that our soldiers have made.
Remembrance Day is all about heart, about remembering those who never came home to their families.
Lest We Forget.
More photo by SikhMuseum Here
***

On 9 November 2014, the Toronto Branch of the Ukrainian Canadian Congress held its annual Remembrance Ceremony at the Ukrainian Canadian Memorial Park. This event was highly successful.
This year's ceremony was attended by several hundred people. We had a well-organized march of veterans and current serving military members. For the first time, the march included representatives from the Royal Military College WO Julian Wieczorek, Officer Cadet Konrad Schnurr and Officer Cadet Nicolas Saulnier.
At the Ceremony, there were also members from the federal and provincial government. Twenty six wreaths were placed at the cenotaph, escorted by Officer Cadet Nicolas. The Canadian flag was held by Officer Cadet Konrad Schnurr.
In addition, the Orion Choir and the Vanguard Marching Band, and a piper from the 48th Highlanders of Canada performed superbly.
The Guest Speaker was a Colonel from the Ukrainian Air Force who is currently attending the Security Program at the Canadian Forces College. He shared his thoughts on Remembrance Day from the perspective of a country currently defending its territorial sovereignty and integrity from Russian invasion that has suffered the loss of thousands of military members.