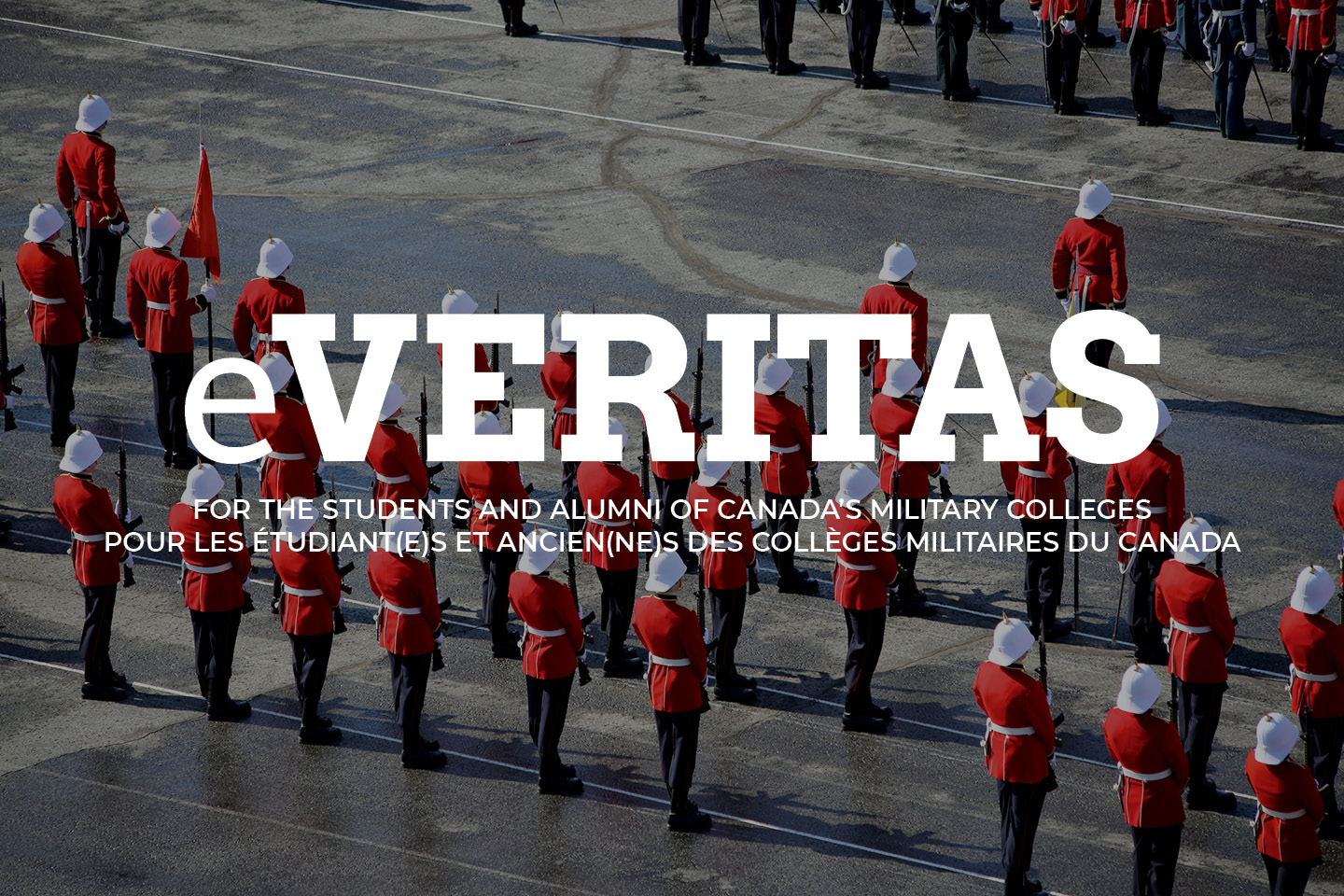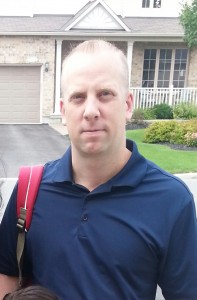 21736 Adam Bruce started his time at RMC in 1996 under the ROTP plan. Interestingly, what ended with him receiving a degree in Politics and Economics from the College actually began as a Kinesiology degree at Dalhousie University in Halifax, Nova Scotia. "I was looking to get into the ROTP," he recalls, "but at the time they weren't offering civilian university as an option." Bruce had the choice to either apply again later in the hope that he could then continue at Dalhousie and finish his Kinesiology degree, or else change programs and go to RMC right away. "I picked 'get started now' and [went] to RMC."
But how did a degree in Kinesiology turn into one in Politics and Economics? "I wasn't into engineering, and once you're into Arts you have so many choices," the 2000 graduate explains candidly. "It just seemed like something interesting at the time."
Bruce describes his time at RMC as an incredibly busy time, saying that he and his classmates were "going all day" with things like classes, homework, and extracurricular and sports activities, among other things.
For him, the sport was soccer, for which he played varsity; indoor first to third year and outdoor second and third year. Bruce agrees that those are some of his best memories of his time spent at the College. "Especially the indoor soccer… They opened up a soccer dome off Division Street where we used to play. That was just great…It was like a hockey rink for soccer. It was really cool," he recalls fondly.
It turns out that being so busy all of the time played a key role in Bruce's development. "You learn really early on how to panic effectively at RMC," he laughs. "The first seven weeks of indoctrination— it's such a busy time that if you can't panic in an organized fashion, then you're going to have a rough go," he adds. "It wasn't [a skill] I didn't have," Bruce assures, "but it's just that level, that intensity."
And this is something that has stuck with Bruce and helps him to this day: "Now, the ability to keep my kids and their activities [organized], and work, and all of the other things that are going on in life… that's the greatest legacy, for sure." he explains.
After leaving RMC in 2000 the graduate headed to Winnipeg for his one-year training to become an Air Navigator. What followed was a posting to CFB Greenwood, where he worked as a navigator until 2007. That year, Bruce was sent back to Kingston to work as a squadron commander at RMC, a time he seems particularly proud of and describes as "the best of times."
In 2008, however, it was time for a change for the navigator. "After a while it was time to move on and do something else," he says. "Long hours and 3:00AM phone calls on standby were getting to be a bit much," Bruce explains, "so I figured I'd go to law school."
After finishing law school at Queen's University in Kingston, Bruce was posted to Ottawa where he now works as a Legal Officer. "I work in the military justice side of things," he explains. "There's always ongoing reform of the military justice and discipline system, so I work in the regulatory part that does the documentation of that."
Despite how far he has come, there is still a very real sense of how much Bruce loved his time spent in Kingston, both as a student and as a squadron commander. That is where he met his wife (who attended Queen's, but whose father taught at RMC), and also made many friendships. When asked if he keeps track of people from his Kingston days, Bruce is quick to say that he believes most do, even if it's difficult: "People are in different places, leading different lives. Most of them are still serving, doing their different types of service… You don't keep track of people day-to-day, but you always know where everyone is and what they're doing."
And, even if the graduates from Bruce's class don't see each other often, they still have their 15-year reunion to look forward to next year. He admits that he is often too busy to go back every year for Reunion Weekend, but he thinks next year will be big for his class and is looking forward to returning for that.
In the meantime, Bruce keeps up with what his happening around RMC and what his classmates and colleagues are up to through e-Veritas: "I get e-Veritas every Monday, and that's where you check in to see where people are, what are they doing, what's going on, what's happening at the College… It's really the pulse of things… It's great that we have that." And now, thanks to Adam Bruce generously giving up his time for this interview, readers can check in with him.