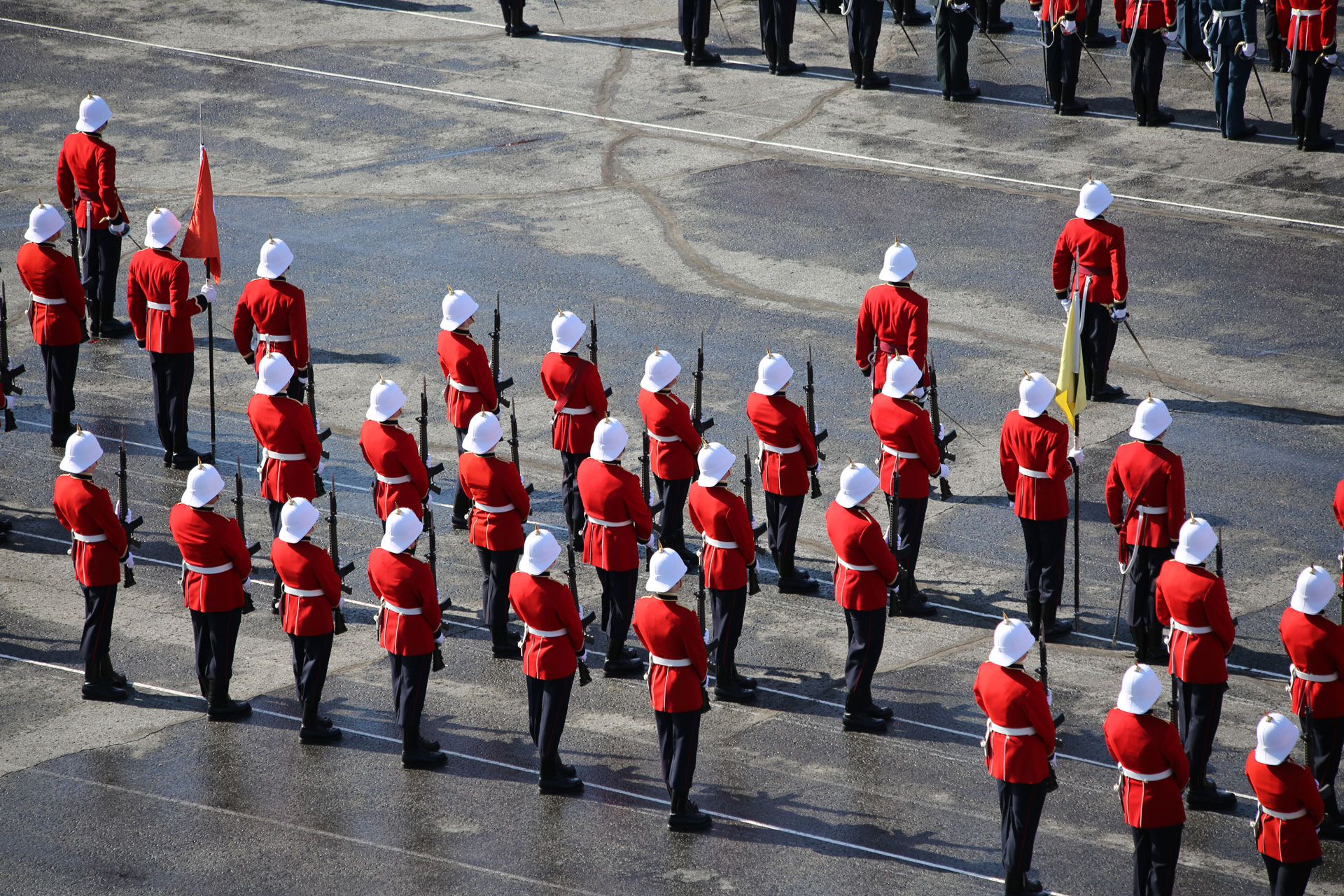 Royal Military College bestowed two honourary degrees Friday (19 Nov) at its annual fall convocation ceremony. Retired colonel 5780 Bernard Laliberte, an RMC graduate, specialized in disaster preparedness in an international career with the Red Cross and Red Crescent organizations. Dr. Colin Franklin, a physicist and member of the Order of Canada, was a pioneer in Canada's space program, playing a lead role in the development of our first satellite, the Alouette.
Chancellor's dinner including Honourary degree recipients
Thurs evening, the Commandant, in his capacity as Vice Chancellor of the University, hosted the Chancellor's dinner. In addition to the Principal and members of the Senate, RMC's newest honorary degree recipients, Dr. Colin A Franklin and Col (ret'd) Bernard Laliberte, were present for the dinner. A wonderful start to the fall convocation activities!
Currie Hall – Convocation…
On Friday afternoon, the College conducted its fall convocation in Currie Hall. Once again, RMC was honoured to confer degrees at the undergraduate and graduate level, and to present honourary degrees to RMC alumni, Col(ret'd) Bernard Laliberte and Canada's pioneer of Space, Dr. Colin A Franklin.
Unfortunately, due to commitments outside the country, the MND ( Chancellor) was unable to attend. The Commandant presided over the ceremony is his capacity of Vice Chancellor of the University. Congrats to all of the latest RMC graduates!!
The Fall convocation was a great event all around. Everything went well, particularly the speech which was well delivered; hit the right chords with the attendees, and kept them interested just for the right amount of time.
Following are just a few excerpts from the Address by 5780 Dr. Bernard Laliberte (CMR RMC 1963).
C'est avec des grands sentiments de fierté, gratitude, et humilité que j'accepte l'honneur qui m'est conféré aujourd'hui. Je remercie sincèrement le Sénat du Collège pour m'avoir choisi. C'est tout un honneur.
I would like to thank Naval Captain (Ret'd) Tex Thomas for having taken the initiative, unbeknown to me, to submit an application on my case. Your gesture and valuation of my life that you felt you could do that are much appreciated.
From the beginning, I felt very welcomed, well treated and supported by everyone but more so by professors such as Dr Jack Pike, Dr Pierre Bussières, and College officers in key positions like Major (ret'd) Danny Mcleod and many, many others who, for different reasons, remained interested in my situation throughout my stay here.
Today, I want to thank them openly for staying by me. Because of them, I was able to graduate and for this, I will be forever grateful. Now to be endowed with an RMC Doctorat Degree, some 46 years after my first RMC degree, is the ultimate reward for having bought in the values, discipline, way of life, and ethos of this institution.
En terminant, je voudrais remercier mes frères et soeurs qui sont venus d'assez loin pour assister à cette cérémonie prestigieuse. Votre présence ici démontre encore une fois le grand esprit de famille que nos parents nous ont laissé.
Finally, I consider this doctorat from my Alma Mater as the culmination of my life work, even if that does not mean that I will stop working. It is a great reward for which I am very grateful.
However, I was not alone or on my own while doing everything that I was able and allowed to do. Throughout, I have had the unhesitant and constant support of my "first and only wife", Colette. We have been together for some 44 years and she has always been there to support me in what I felt I needed to do like extra studies, work related extended travels, or other adventures or activities while serving in the military or internationally with the Red Cross.
Always, she has been there to keep the home fires burning for Denise and Marc, our kids, (Marc is here today with our grandson Oscar while Denise is in Guinea-Conarkry working for the ICRC) and provided a warm home for me to return to at all times. Where ever we went, she always managed to create a home for us, sometimes under very difficult conditions.
And the best is yet to come, as we are still both healthy and have many years to live together. Thank you Colette.
To you all, thank you for being here and listening.
Je vous remercie.
Social following the formal proceedings…
Following the formal festivities in Currie Hall a first class social was held at the Senior Staff Mess where Degree recipients, staff, family & friends, special guests all met in a relaxed atmosphere.