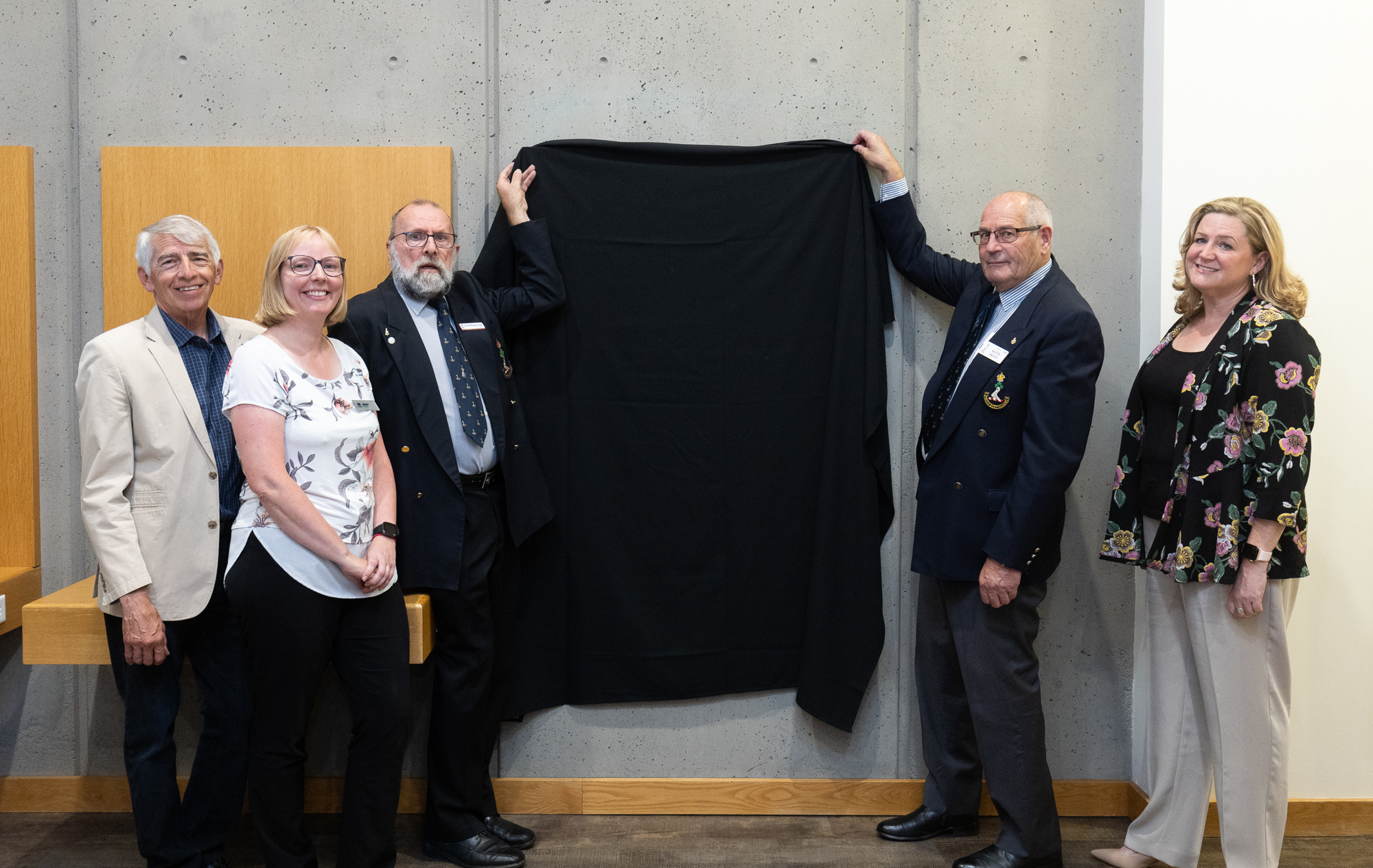 Royal Roads conducted their Homecoming 2022 from 9 to 11 September.  This was the first in person Homecoming held on site at Royal Roads University since 2019.  On the Friday evening, a Memorial Plaque was unveiled in the Royal Roads Memorial Room in the Grant Building.  The plaque reads " In Honour of Royal Roads Ex-Cadets And Alumni Who Gave Their Lives In The Military Service Of Canada In War Or On Duty During Training, Exercises, Operations Or Missions".  There are 46 names on the plaque.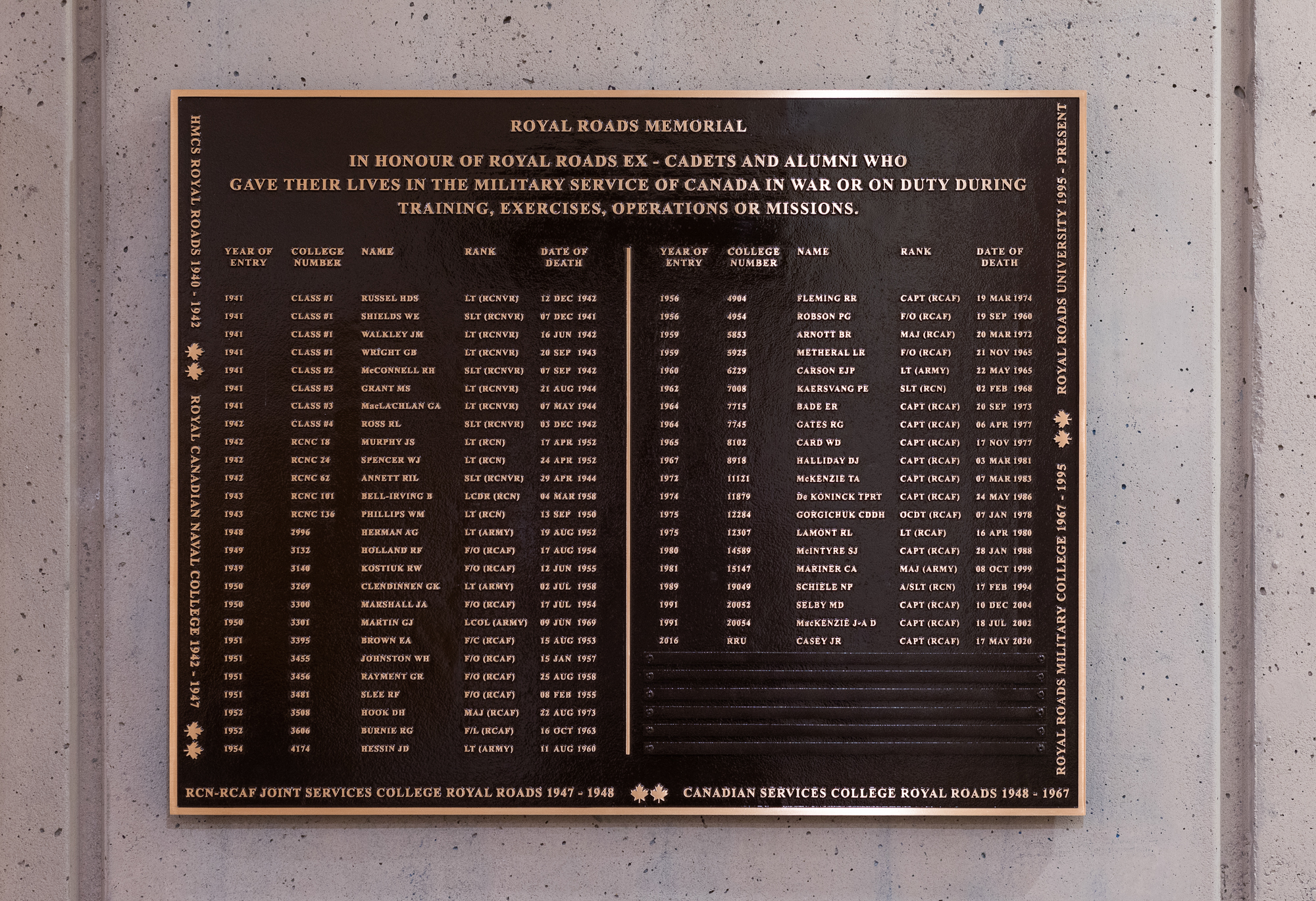 Early in 2021, the Royal Roads Military Heritage Committee (MHC), chaired by 12324 Ty Pile, initiated a memorial plaque project. The project was also supported by the Vancouver Island Ex-Cadet Club. A sub-committee, consisting of 9318 Dave Bindernagel, 10263 Don Lovell and Jenny Seeman, RRU Archivist, conducted extensive research to determine the Ex-cadets whose names should be listed on the memorial plaque. The work included seeking names from Royal Roads ex-cadets by placing notices in E Veritas, checking all the Royal Roads yearbooks, The Log, from 1942 to 1995, researching newspapers and online data, checking records at RMC Kingston and cross-referencing names with the Veterans Affairs Canada Book of Remembrance.
The Sub-Committee was able to recommend to the MHC a final list of names as well as an initial design in February 2022. The information that should be included on the plaque as well as the design layout of the plaque was extensively reviewed and considered by the Heritage Committee.  In May of 2022, the Memorial Plaque received approval from the MHC.  It was constructed by Ornamental Bronze in Victoria BC.  The plaque was installed by RRU Campus Operations and Resilience staff in late August 2022, in the Royal Roads Memorial Room just behind the Quarterdeck of Grant Building.
The MHC is indebted to the generosity of the RMC graduating class of 1969 whose Bade Endowment Fund provided the funding for the plaque's fabrication and installation.  At the September 9th unveiling of the plaque, #8170 Keith Orton represented the Class of 1969.  A special thanks must go out to #7761 Mike Johnson, who as the Class 1969 fund coordinator, worked to have the plaque project supported by his classmates. Additionally, he liaised with RRU to ensure that the funds were received.
The Endowment Fund is named after their classmate, 7715 Edward Ronald Bade who died in a Tracker air crash on 20 September 1973 while conducting a search and rescue mission.  At the unveiling we were honoured to have his daughter, Nikki Bade, in attendance to represent all of the families of those ex-cadets named on the plaque.
—————————————————————————
There are two attached photos of the unveiling of the Memorial Plaque.
Photo #2 – from left to right:
10263 Don Lovell; Jenny Seeman, RRU Archive Manager; 9318 Dave Bindernagel; 8107 Keith Orton; Nikki Bade
Photo #1
The Royal Roads Memorial Plaque