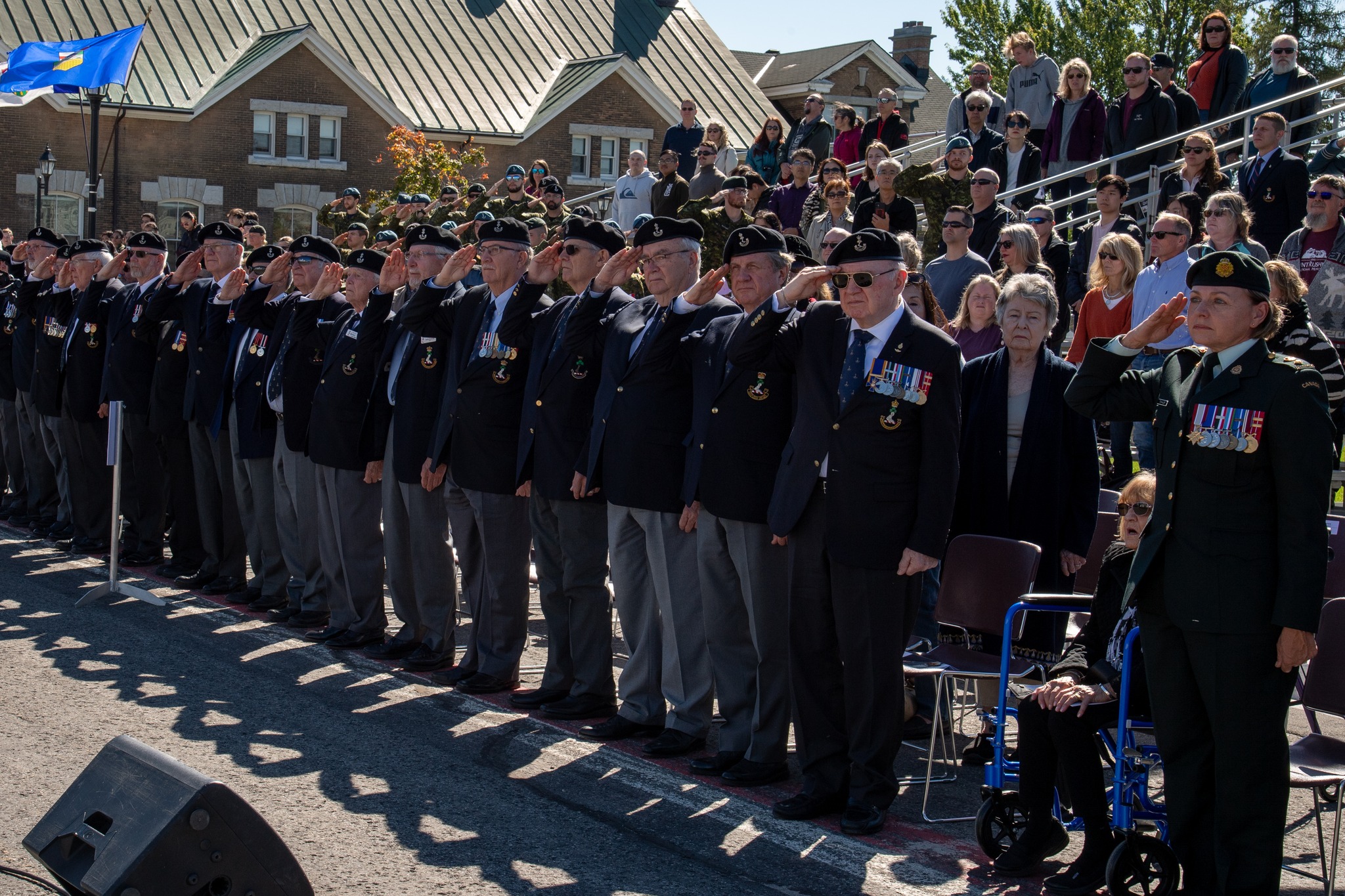 Greetings Old Brigade Class Secretaries
Just a short note to let you know how Part 2 of this year's RWE Weekend turned out.  First, let me emphasize how disappointed the Commandant, the Alumni Association and I were that most of your classmates were back home and unable to participate in the on-campus activities of 23-24 September.  This was a decision made at a far higher level than any of us, but we are still sorry it had to be that way.
The weather on Weekend #2 was perfect – sunshine, but cool enough that we all knew Fall was coming.  The Friday afternoon Obstacle Course was more fun than ever.  A credit to the pyrotechnics industry – there are twelve squadrons with twelve unique squadron colours, and each one had smoke grenades at the kickoff that perfectly matched their colours.  There was the usual mixture of mud and grunts, with a hearty backdrop of cheering from squadron members, staff and families.  Bagpipes and a chicken on a leash also figured prominently.  Class of 77 was very well represented at the Medallion presentations, saying a few words of personal congratulations to every Cadet at the end of the ordeal.
Badging Parade on Saturday morning was also a big success.  In answer to my urgent response, over thirty Old Brigade members from Kingston, Ottawa and points beyond volunteered to participate, again allowing time for personal words of congratulation to each and every new First Year.  The seating plan for the parade had all of us Old Brigade members in our Alumni jackets, ties, berets and medals seated directly in front of the First Year squadrons – a powerful message of our support and pride in them.
The Wall of Honour Ceremony on Saturday afternoon highlighted exemplary contributions of five distinguished individuals who have made outstanding contributions to Canada.  Honouree Dr Bob Banks, LCol (ret'd) – pilot, medical doctor and author – gave a short address explaining how his career accomplishments – contributions to aviation and space research – tracked straight back to the discipline and education he received in Canadian Military Colleges.  His talk was one of the best justifications I have ever heard for supporting and enhancing our Military Colleges.
As the bulk of RWE visitors were only able to attend the previous weekend, I concluded that a March to the Arch would not be possible.  Instead, we opted for a memorial service held at the Arch late Saturday afternoon.  It was well attended, and allowed us all to reflect on those who have gone before from Royal Canadian Naval College, Royal Roads Military College, Collège Militaire Royal de Saint-Jean and Royal Military College to serve their country in war and peace.
In closing, I want to thank all of you for encouraging your classmates to attend this weekend, for your help in planning it, and for sticking with the plan despite all the curve balls that were thrown at us.  Thank you also to the Alumni Association staff who worked tirelessly in the background to make this weekend a success, particularly Mary Darlington and Jennifer Jordan.  This experience has certainly increased the pride I feel for the Colleges and the programs they offer.  Yes there are things that need to be improved, and those improvements are important, but the smiles on those First Year faces told me that what are doing is truly worthwhile.
TDV***VDV
Don Bell, 7964
Adjutant, Old Brigade *** Adjudant, Vieille Brigade