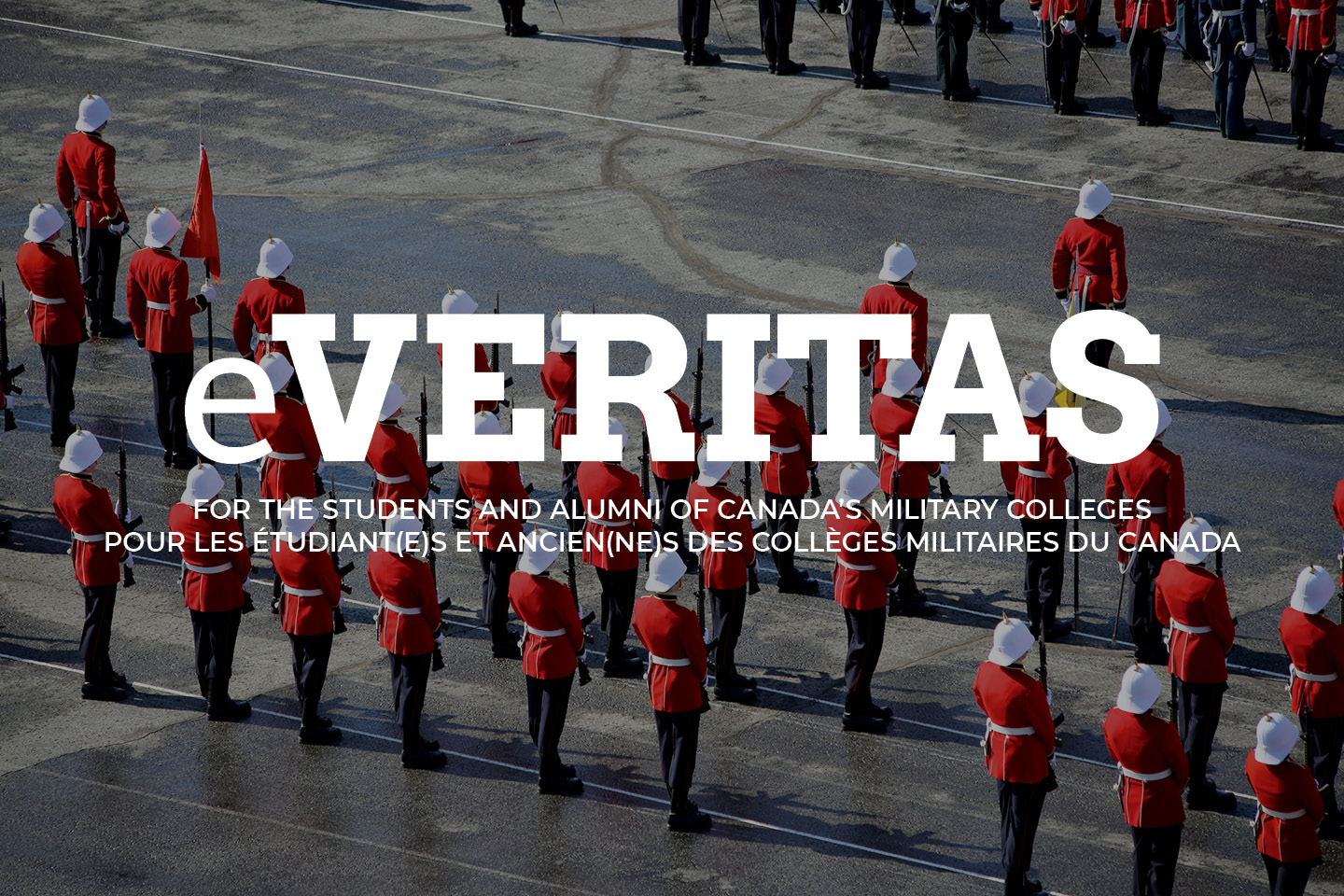 Need to change the culture? 6508 John Adams became the go-to guy
By CLAUDE SCILLEY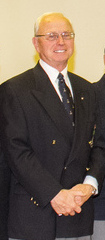 Danny McLeod could spot a hockey player a mile away.
Even, John Adams discovered one day, if that hockey player was on a running track.
McLeod, then the athletic director and hockey coach at Royal Military College, happened to be on campus one summer day, where some young ROTP Officer Cadets in Kingston to explore the army engineering schools on the base, were participating in a track meet.
One of them caught the Major's eye.
"During the summer, we used to have what was called the Introductory Tour," Adams recalled the other day. "They took ROTP Army Cadets from all over Canada to visit each of the schools.  and two of the schools were in Kingston—RCEME School and the School of Signals. We dormed at RMC and they had a track meet while we were there.
"I won six events or something, and Danny McLeod was watching. Next thing I know my course officer came up to me and said, 'Adams, I don't know what you did, but Maj. McLeod wants to see you.' 'Who's Maj. McLeod?' I said. 'I don't know, he's some bigwig here.'
"So in I go to see the Major."
It was the summer of 1961.
More
"Danny said, 'You did pretty well in the track meet.' I said, 'Yes sir.' He said, 'What else do you do?' I said, 'My first sport is hockey.' His eyes lit up. 'He said, 'What the hell are you are you doing at UNB?'"
As a child in a military family, Adams had bounced around in his youth. By the time he reached high school, they were living in Oromocto, N.B., close to where John's father was posted at Gagetown. Young John had a wish to attend military college, but since New Brunswick had only junior matriculation at the time—and Ontario universities required senior matriculation—he first would have had to attend College militaire royal in St-Jean, Que. Meanwhile, however, an opthamologist had declared his vision below the standard required for admission to RMC, so Adams had enrolled as an ROTP Cadet at the University of New Brunswick, where he'd just completed his first year.
Adams explained to McLeod that his eyesight wasn't as good as it should be.
"He said, 'That's fine. Carry on.' The next day the course officer comes to me and says, 'I don't know what you're up to, but they want you to go up and see Col. Beswick at the base hospital.' I said, 'How do I get there?'
"Of course, the course officer is some pissed by this time, because I've got this Major running me around and I'm missing the so-called education we're supposed to be getting at the schools. 'That's your (deleted) problem,' he said. 'It's got nothing to do with the course.'
"So I went over to see the Maj, and said, 'Sir, I don't even know where the CFH is.' He said don't worry, we'll get you up there.'"
Col. Beswick was the senior eye doctor at the base hospital. "He examined my eyes and he said, 'I don't know how you ended with up that (classification), your eyes are just fine by my standards,' so I went back to Danny and said, 'I guess my eyes are OK.'"
Don't for a minute think the story ends happily ever after—yet. Now that McLeod had hooked his hockey player, it was time to land him, and that was going to happen in the office of Col. Sawyer, RMC's Vice-Commandant and Director of Studies.
"He said, 'What's this about McLeod wanting you to come to RMC?' I said I always wanted to go to military college. He said, 'You're from New Brunswick?' I said yes sir. He said, 'Did you know that only one in four of our students from New Brunswick ever passes?' I said, 'Well, I guess I'll have to be the one. I really want to come to RMC.'
"He said, 'Are you sure?'
"'Yes sir.'"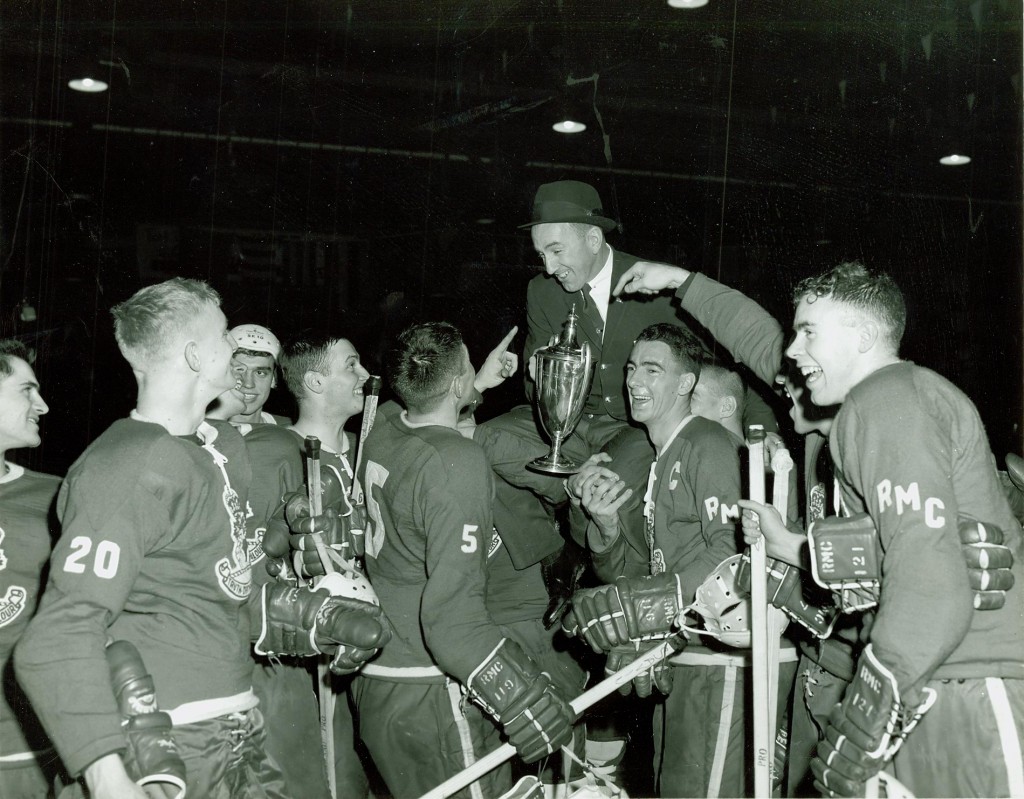 McLeod finally had his hockey player, and the college had a rugby player, track athlete, boxer and football player. "I played on something like 10 rep sports teams," Adams recalled. "I played hockey all four years and football for two years, but I got injured both years and Danny said that's enough of football."
Adams studied chemical engineering and he said it was difficult combining the academic demands of the program with those of playing intercollegiate sports.
"I went from football to hockey two years in a row," Adams said, "and I was in engineering. I had 40 hours of classes a week. It was a lot of work. I had a lot of help from my classmates. I was seldom here for the labs, which typically were on Fridays, so the guys would do the labs, give me the results when I got home on the Sunday, and I'd get ready for the next one."
Adams said he and some of his classmates had a method of coping that they called working the system. "I had practice right after school," he said. "I'd go to the dorm, have a bite to eat, and go to bed. I was out of steam. I'd sleep till midnight or 1 o'clock, get up, do my homework, get ready for parade the next morning and carry on.
"I was playing a sport virtually every week I was there, going from one sport to the other. It worked for me. It was tough when I had a roommate, because the roommate would want to sleep normal hours. I'll never forget Nigel Hilliard, my roommate in second year. We were in bunk beds in those days. Nige would get into the lower bunk and surround himself with blackout curtains (extra blankets). I'd be working and he'd be sleeping.
"You couldn't make too much noise, of course, but you do what you've got to do."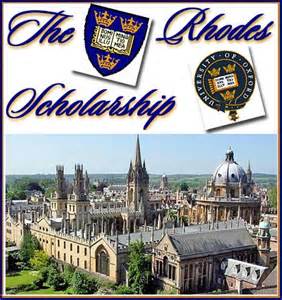 When Adams was in fourth year, the registrar came calling, and invited him to apply for a Rhodes Scholarship. "I said, 'Really a Rhodes Scholarship?'
"I just wanted to get on with officer training," Adams said, but he applied, and spent the next two years at Oxford. "I got a BA. I decided I'd better learn to read and write, seeing as I had studied engineering." Adams quipped with a smile
He remembered his time in England for the rugby and hockey he played there, and their unique tutorial approach to teaching  "We played Cambridge in hockey," he recalled. "Kicked their butts.
"We had a lot of Canadians at Oxford."
Adams passed on his option to attend Oxford for a third year. "I wanted to get back to the army," he said. "I really did all this to get into The Royal Canadian Engineers ."
As it turned out, his time at Oxford would be the only overseas posting of Adams' career. His early postings were in Chilliwack, BC, he came back to Kingston to attend the Army Staff College at Fort Frontenac. After his first tour in NDHQ he was promoted to Major and assumed command of 3 Field Engineer Squadron in Chilliwack. He was promoted to LCol and posted to 1 Brigade HQ in Calgary. He went from Calgary to Training Systems HQ in CFB Trenton "to work in the  Constuction Engineering  Staff" ,
After another tour in NDHQ, he attended the National Defence College, again in Fort Frontenac in Kingston. Another tour in NDHQ followed, after which he was moved to the Privy Council Office as Chief of Operations in the Foreign and Defence Policy Secretariat.  Then came a posting to 2 Brigade HQ at Petawawa as Deputy Commander Base Petawawa and the Special Service Force. Another tour in NDHQ followed after which he was made Commander of the Special Service Force at Petawawa, becoming the first engineer since the Second World War to command a brigade.
Adams was then promoted to Major-General, and he became Chief of Construction and Properties in NDHQ, and was the Senior Serving Military Engineer in the Canadian Forces. His last tour in uniform was as Associate ADM Mat again in NDHQ. In 1995 Adams left the forces to assume responsibility for ADM Infrastructure and Environment again in NDHQ.
In 1998, Adams got a phone call from Larry Murray, who had been Vice-Chief of Defence Staff and Acting CDS when he left the military and moved to the federal Department of Fisheries and Oceans as the Associate Deputy Minister. He was shopping for a Coast Guard commissioner.
"I said, 'I'm an army officer. What do I know about the coast guard?'" Adams said. "'We've got lots of mariners, John. We want to make some changes and we need somebody who can do that.'
" I admired Larry Murray, so I thought, OK, and I threw my hat in that ring. By this time, I'd had 38, years in public service, 35 in uniform. I thought I'd stay for two or three years, hopefully to make the necessary changes. I stayed for seven."
The Coast Guard, which had existed as five relatively autonomous divisions within the Fisheries Regions was re-organized into a more centralized organization responsible to the Commissioner and the funding was centralized in the Commissioner's Office in the HQ in Ottawa. Additionally the Coast Guard was made a Special Operating Agency. It was then a truly National Institution.
Adams saw similar fundamental flaws in the CSE. "It was a signals intelligence agency in transition to a cryptographic agency, responsible for cyber security as well signals intelligence but the collaboration essential for success wasn't there. Additionally the infrastruction needed for success wasn't available to them. Another seven year project to create a world class agency with the promise of new accommodation to match a superlative work force.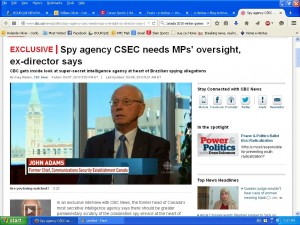 (Click on photo for short CBC video)
By this time, 2012, Adams was an associate deputy minister, with 53 years of  service to the public behind him. Still not ready to call it a day, he was encouraged to seek  the Skelton-Clark Fellowship at Queen's University, where he was reunited with Peter Harrison, a former colleague in Fisheries and Oceans. Peter suggested that John work with  Dr. Kim Nossal, the Director of The Centre of International and Defence Policy.
It was during this assignment that John developed the course, "Canada and the Cyber Challenge".as a proposed elective for the Queen's School of Policy Studies 'Masters of Public Policy Course' (MPA). It was accepted for inclusion in the MPA Program and Adams has taught it for the past three years. And this year he is teaching it in The Norman Paterson School of International Affairs as well.
Adams graduated in 1965 and in his time at the college, Adams won the Victor van der Smissen-Ridout Memorial Award and the Tommy Smart Cup for athletics, among a host of awards.
A son, Derek, a Lieutenant Colonel in the Armoured Corps with the Royal Canadian Dragoons, is currently serving as the Senior Canadian Liaison Officer with the coalition Task Force Headquarters in Kuwait City. His daughter, Erin, went to the University of Arkansas on a swimming scholarship, and stayed in Fayetteville, where she's now a counsellor at a lockdown facility for young offenders. His second son, Ryan, became a trucker, and is still involved in the moving business. Adams and his wife, Marilyn—"but nobody knows her as that, she's always been Wally"—live in Ottawa.
Adams remains an avid hockey player, and every Tuesday he leaves his home in Ottawa, at 6 a.m. to drive to Kingston, where he plays for an hour or so at the Constantine Arena—where his Redmen defeated West Point 4-2 in 1964—before going off to teach at Queen's.
"I'm 73 and I'm getting younger every day," he said. "I love it. It's just fantastic and the students think I'm great because I'm totally irreverent.
He can't quite imagine himself slowing down.
Does he foresee another challenge?
"The next thing will be finding more time to spend with my wife."