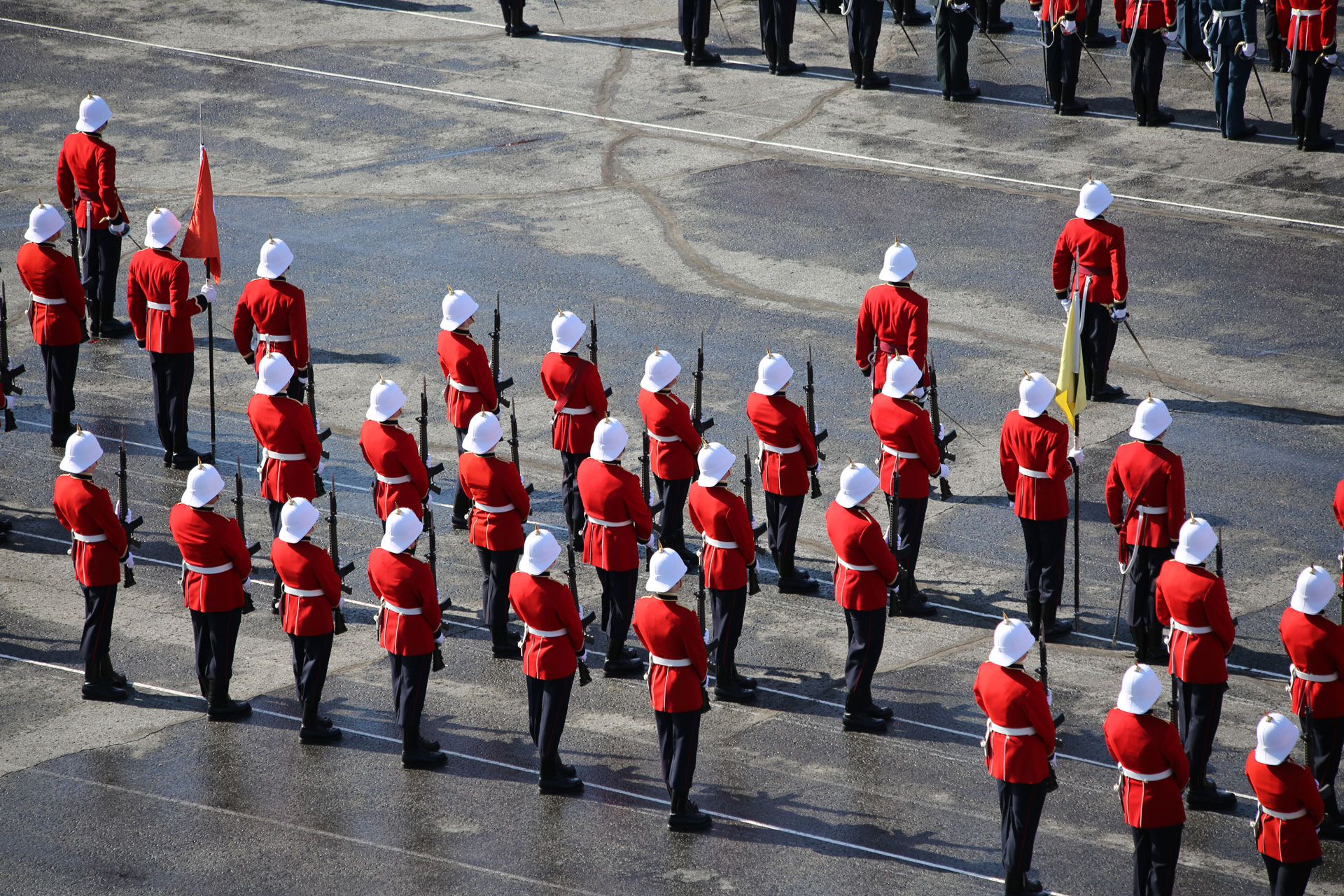 No more excuses
By: A/SLt 24498 Noelani Shore (RMC 2009)
Second Lieutenant 24446 Jaclyn Power, (RMC 2009), an active swimmer and rugby player in high school, was a likely candidate for the Royal Military College.
"I was involved in a lot of sports and leadership activities and my high school marks were high. It was really the challenge of seeing if I would be accepted that I liked," said 2Lt Power.
She enjoyed her time at RMC, despite the fact that former Cadet Wing Commander kept herself very busy throughout the four years.
"I just had to accept that I was going to be busy for eighteen hours of the day, and there was no way around it. I just worked all day long until it was time to sleep and did it again the next day and I was happy to do it," she said.
Being a part of the fencing team played a big part of 2Lt Power's life at RMC. Practice was a place to catch up with friends, and it was a great way to blow off steam through exercise.
"I was lucky to have that outlet. Being a member of the fencing team forced me to learn a lot about myself. It was a really diverse environment, as it's a co-ed team, and it was a new sport. Trying to learn a new sport and compete against athletes who had been fencing for years was a true test of my character and sportsmanship. In high school I played rugby and swam and didn't put much strategic thought into either sport. Fencing is a mental game and I had very little experience with a highly technical sport, or with combative strategy," she said.
The Toronto-native enjoyed great success with the fencing team, and she will continue competing with the military fencing team in Venezuela in April with the International Military Sports Council (CISM).
"In 2006, the fencing team beat west point, and won double Ontario University Athletics Championship banners on both the men's and women's sides. My women's epee team also won gold at every team tournament that we competed in. It was a good year," 2Lt Power said.
In addition to being a member of the top four and participating in varsity sports, 2Lt Power worked hard to graduate with an Honours degree in Psychology.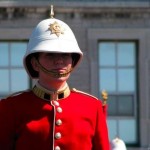 "Graduation was by far the proudest moment of my life. I cried as soon as I walked two inches past the arch. The whole event (convocation/parade/ball) was one of the most fun and meaningful three days of my life. I also received a leadership award and was very humbled," she said.
While a typical contender for RMC, this young and healthy 22-year-old was an unlikely candidate for developing Large Diffuse B-Cell Lymphoma (Non-Hodgkins), but just before graduating from RMC, that is exactly what happened.
"By the end of April 2009, I knew that I wasn't going anywhere after graduation. I had constant pain in my right foot since Feb 2008 and always thought that I had strained a ligament. I ignored it, iced, did a bit of physiotherapy, and tried to stay off it the best I could, until finally, I could barely walk. I was sent for a bone scan where they found a tumour growing inside a bone in my foot," 2Lt Power explained. "They did a long series of tests (CT scans, nuclear CT scans, MRIs, bone density tests, chest & lung x-rays, etc) and concluded that I had to stay in Kingston and would need surgery to fix my foot. After a biopsy, they found that the tumour was malignant and I was sent to the cancer centre."
The cancer had started in the lymph-nodes in her abdomen, and spread through her bone marrow, creating the tumour in her foot. She had to have surgery to remove the tumour, when they used cement to fill in the bone in her foot, as well as six rounds of chemotherapy.
"I never smoked cigarettes or used tanning beds, and I have always eaten healthily and exercised. My type of cancer is not genetic either, so I was really shocked," she said.
After four years at RMC, 2Lt Power felt fortunate to have the support system of her friends and peers.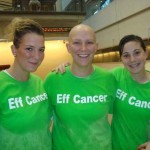 "My fencing team was amazing; they were a great support. They organized a Terry Fox Run where we raised $2000 for cancer research. I was overwhelmed with kindness and support and I will never forget how great everyone was to me. My coaches Patti and David Howes were like second parents who took me to all of my appointments when my own family couldn't be there," she said.
"I hated going to the cancer centre for my rounds of chemotherapy because I was the only young person there. The only people close in age to me, were women in their forties with breast cancer. I felt like I didn't belong there. When the nurses would call my name everyone would stare at me, and I once heard someone say "but she's too young." It was really hard on my mom to be there with me, when everyone else her age was there with their elderly parents, not their 22-year-old child."
2Lt Power kept herself motivated throughout the process, especially when the light at the end of the tunnel began to brighten.
"When your prognosis is good, it makes it a lot easier to be happy. I knew I was going to be sick, but at some point I would be better again and it would all be over," she said. "I also came to realize that many people are dealing with the same thing that I was, and often way worse, so I was thankful that I was going to live. I often told myself that things can always be worse, and things will always get better."
The entire military wing staff was very supportive of 2Lt Power, and the athletic department brightened her day with presents and flowers.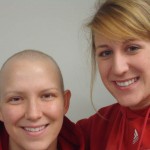 "They were all so good. I can't thank them enough for helping me through it all. Second Lieutenant 24052 Sarah Rogers (RMC 2008) is an amazing roommate, and she helped me a lot. Having Jenn, my sister, out with me meant a lot to me too. She even risked not graduating on time to be with me. I couldn't ask for better support, and I can't thank them enough."
She did not lose her sense of humour throughout, and managed to laugh despite her sickness.
"One funny story comes to mind for me. During chemo, I would lay back in the recliner and fall asleep because it took five hours each time I went. I would always wear a sweatshirt, sweat pants and hats. One time I was sleeping with my hood over my face and I woke up when chemo was over. I pulled my hood off and started talking to my sister who was there with me. I heard an old couple across from say, 'Oh look! It's a girl.' It made me laugh," she said.
Now that she finished her round of chemo, 2Lt Power is feeling better and better, and she couldn't be happier now that she is back at work.
"I am elated. I don't think that anyone is as happy as I am to get up early and go to work every morning. I really like my job. I am doing on-job-training with the Integrated Logistics Section on base, and they are giving me some important and meaningful tasks to do. I am actually busy at work and am learning a lot everyday. I feel like I have restored a bit of normalcy in my life, although I do feel like I had to create a new kind of normal for myself," she said.
"Getting cancer was one of the best things that could have happened to me. I got to learn at 22 exactly how much you need to appreciate the things and people that you have in your life, and how much you need to value yourself. I value my body 100% and strive for optimal health. I want to do everything that I can to never get cancer again."
Now that she has begun to heal, 2Lt Power has some big goals for herself in the coming months.
"I am going to run a marathon in the fall of this year, as well as do a few triathlons this summer. Erin O'Reilly, with the Personnel Support Program, is working with me to get back in shape, and she really helps me out."
She will not make any excuses for herself, and 2Lt Power is determined to push hard to accomplish great things.
"I realized that a lot of people make excuses for themselves, or are too scared or reluctant to achieve their goals. I was one of them. Now, I have no excuses. I'm not sick anymore, my foot doesn't hurt anymore, I am happy, and there is no reason not to do everything and anything that I want to do in this lifetime. When I need to push myself, I just think 'no excuses."      Jacklyn Power may be reached susiepo@ibm.ca
_________________________________________________________________________
Ex-Cadets in the News
Hector 'very excited' about opportunity
"The key thing is to have an impartial view of how you're doing in terms of following your laws. Every country has its own unique pieces as to how it goes through an election. Ukraine is no different."
14444 Dorothy Hector (RMC 1984) READ FULL STORY
_________________________________________________________________________
Team Winnipeg members participate in Haitian relief efforts
"We were the first Canadian (CC-130) crew to land in Jacmel and the approach into Jacmel was challenging due to the tall trees on the edge of the runway so the entire crew worked together to ensure we could safely execute the landing,"
20586 Scott Frost (CMR RMC 1997) READ FULL STORY
_________________________________________________________________________
Canadian Forces Captain, Collingwood Native, Directs Air Battle Space for Southwest Asia AWACS Missions
"I find that what we bring to the fight is possibly a little bit more experience than some of the junior lieutenants and junior captains the USAF provides. Bringing that experience and that little extra leadership, or the different style of leadership, into a theater like this is helpful. It gives a different perspective on how we fight to allow the U.S. Air Force and the Americans to see the war from different angles and not just in the one they were trained in. I think it's helpful."
22260 CJ Horner (RMC 2002) READ THE FULL ARTICLE HERE