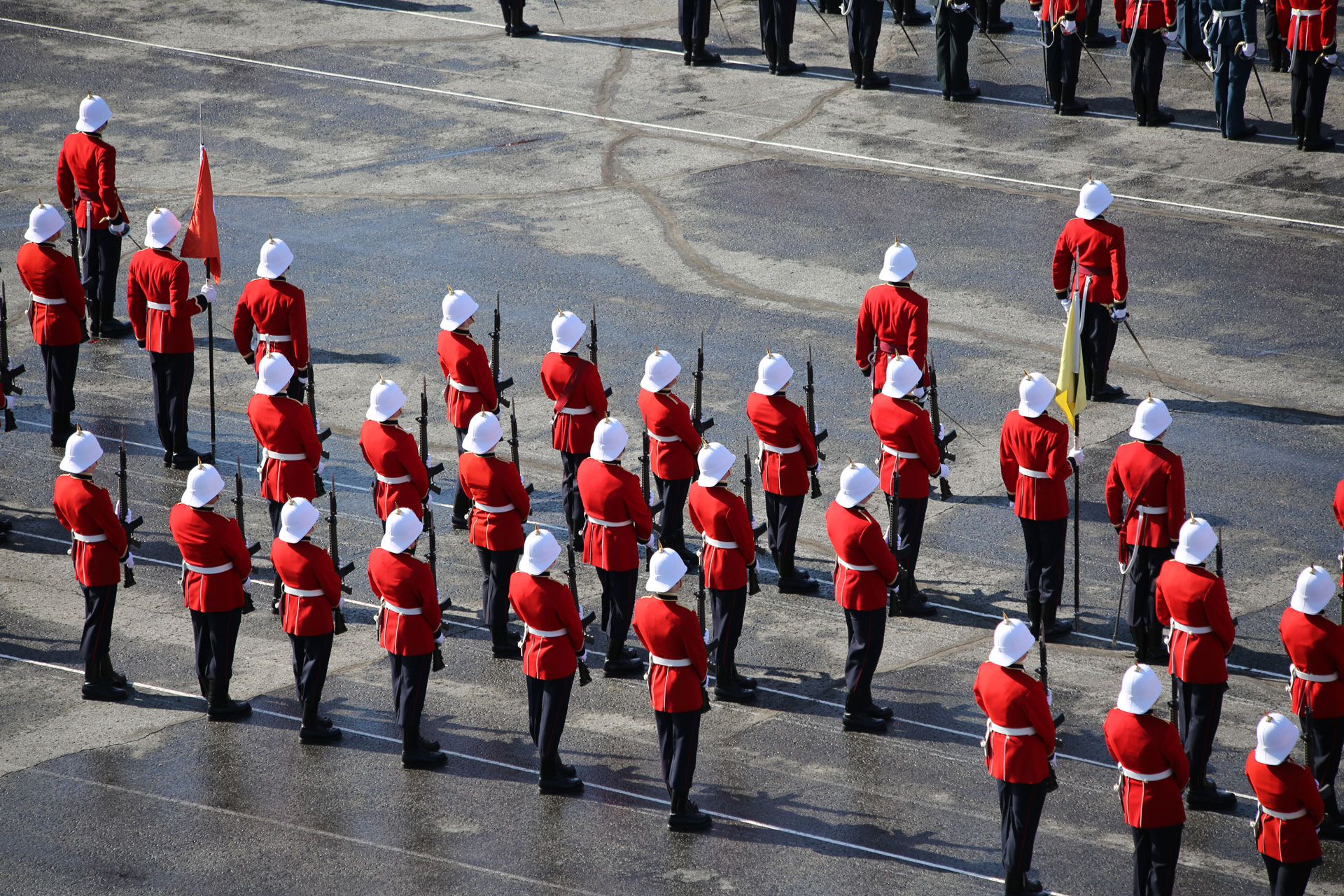 Carr-Harris Cup: The Pre-Game (Slide Show by 25436 Matt Telfser)
Carr-Harris Cup: The Game  (Slide Show by 25436 Matt Telfser)
Carr-Harris Cup: The Post-Game  (Slide Show by 25436 Matt Telfser)
(More photos from the Carr-Harris game)
GAELS BLANK PALADINS IN OLDEST HOCKEY RIVALRY
Play-Off Run Comes Up Short 24 hours later in Montreal

Queen's 3 – RMC 0;   Concordia 4 – RMC 2

Members from the Carr-Harris family travelled from different points in Ontario and were joined from a large turnout of RMC & Queen's Universities staff and students – all enjoyed a competitive game.
Queen's now holds a 15-7-2 advantage in Carr-Harris Challenge Cup games… Payton Liske was named the game's MVP for Queen's while Ken Morin of St. Prosper, Que., earned the same honour for RMC…The cup is named in honour of the Carr-Harris family which has had several members compete in the rivalry in the past and representing both schools.
The Gaels have captured the last three Carr-Harris Challenge Cup meetings in a game that commemorates what is considered the oldest hockey rivalry in the world. The two teams originally clashed in 1886 with Queen's winning 1-0.
As tough as the C-H loss was, it pales to what occurred just 24 hours later at Concordia.  RMC trailed Concordia by three points in the standings – with three games remaining.  Two goals in the third period – one into an empty net by Concordia sealed the fate of the 2009/10 version of the Paladins.  The final score was 4-2.
Consequently, the final two RMC games scheduled for friday and saturday this week against U of T will lack the hopeful drama that goes into a play-off run.
The Friday game will celebrate the 50th anniversary of the opening of the Constantine Rink.  RMC & CFB Kingston dignitaries along with descendants of General Constantine will be on hand for a red carpet pre-game ceremony scheduled for 7:15.  Opening faceoff is slated for 7:30.
Click Here for more on the opening of the Constantine Rink
_____________________________________________________
HISTORIC HOCKEY
(Slide Show by 25436 Matt Telfser)
5th title in 6 years!
This past weekend, RMC competed in the Historic Hockey Series which took place at Market Square in downtown Kingston. The series is an annual three game round robin tournament that features RMC, Queens and the 2nd Regiment of the Royal Canadian Horse Artillery. The series is a part of the Kingston Feb Fest activities and serves as a re-enactment of the first organized game of hockey played in 1886 on the Kingston Harbour.
This year, RMC claimed their fifth title in six years at the Historic Hockey Series. They dominated the tournament beating Queens 3-1 and the 2nd Regiment of RCHA 5-1. IV Paul Mayne 24518 was awarded the Jim Couvell Memorial Award as the tournament MVP with three goals. RMC is looking forward to defending their title at the series next year.