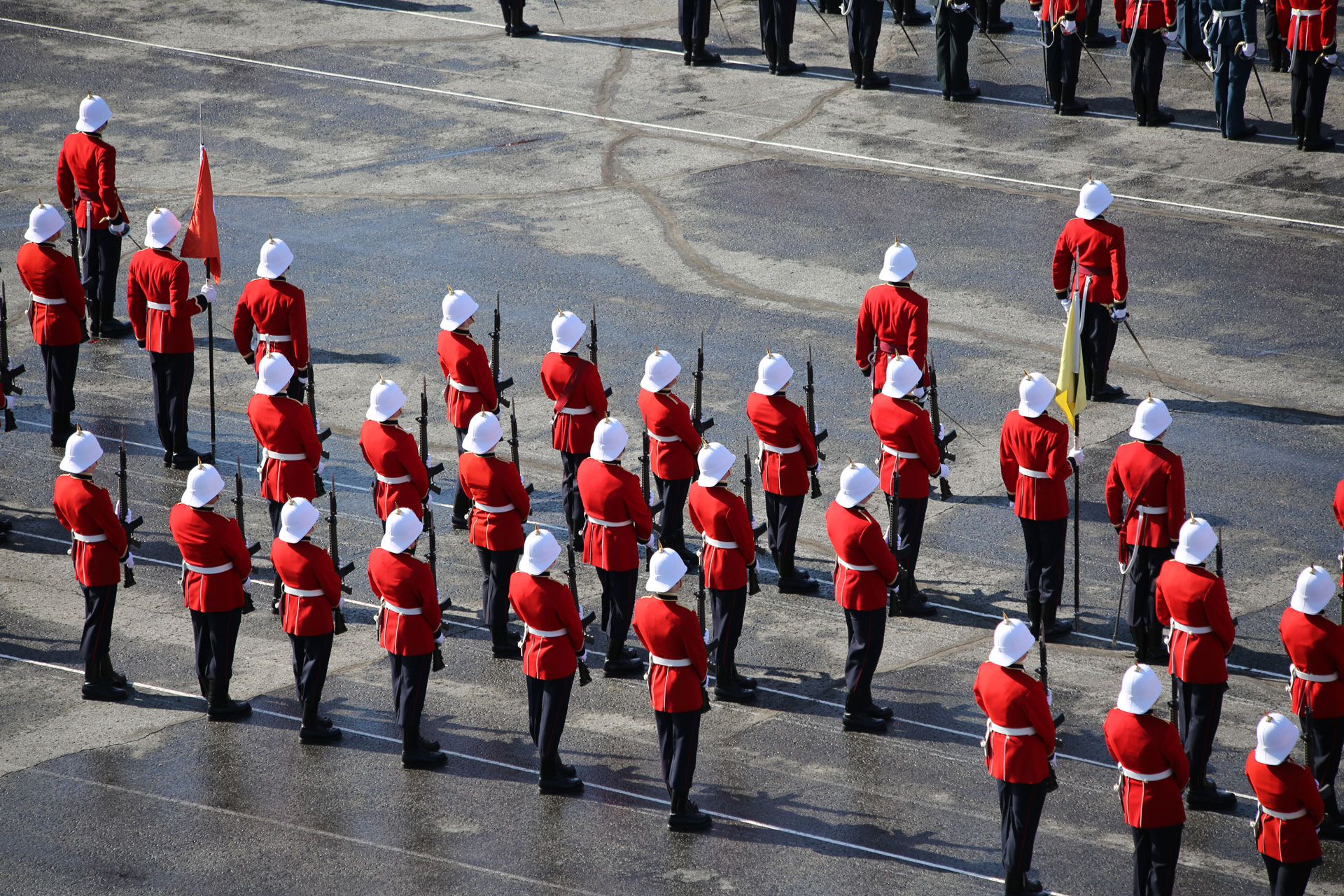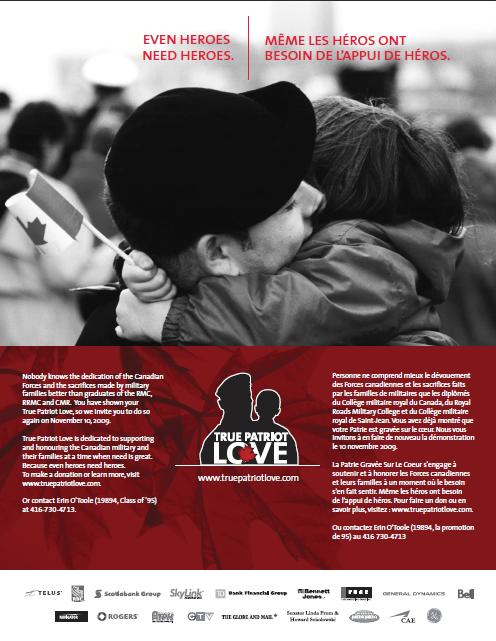 A few weeks after launching the Military Families Fund in 2007, then Chief of Defence Staff S148 General Rick Hillier spoke at the annual Rev. John Weir Foote Memorial Military Luncheon at the Albany Club in Toronto. At this luncheon, organized by 19894 Erin O'Toole (RMC 1995), General Hillier levelled a challenge to the corporate leaders and guests in attendance. After telling them about the challenges facing military families with increasing operational deployments and the numerous stresses associated with military life, he urged them to support the Military Families Fund. Shaun Francis, the CEO of Medcan Health Management and a Canadian graduate of the United States Naval Academy, took up the General's challenge and put together a team that developed the True Patriot Love Foundation. The Foundation's goal is to help military families and honour the men and women of the Canadian Forces. True Patriot Love speaks to the pride Canadians have in the military and their families. True Patriot Love is also intended to celebrate the best of Canada and to bring together leaders from business, politics, the military and the arts to thank the military and their families. RMC alumni have been early advisors and supporters of the True Patriot Love Foundation and the Gala Dinner planned for November 10, 2009 in Toronto. The Foundation was fortunate to have the early support of prominent ex-cadets from corporate Canada. 12606 Brian Read (RMC 1980) became a Fundraising Chair and 11721 Larry Stevenson (CMR RMC 1978) played an important role on the Fundraising Committee. 7771 Jim Leech (RRMC RMC 1968)joined the Tribute Committee and provided considerable goodwill and support. From its inception, True Patriot Love was also helped along by other key ex-cadets. 19166 Major Iain Huddleston (CMR RMC 1994) became the advisor to General Hillier for the project, in his previous role as Aide-de-Camp to General Hillier. General (Ret'd) Hillier remains directly involved as the Honourary Chair of the Gala. 20860 Major Cindy Tessier (RMC 1997) became a committee member and continues to advise the Chief of Defence Staff 12320 General Walt Natynczyk (RRMC CMR 1978) on the project. General Natynczyk is a big proponent of the Foundation and will attend the Gala as guest speaker. Finally, 19874 Brian Macdonald (RMC 1995) served as advisor to the Minister of National Defence in his role as Senior Policy Advisor to Minister MacKay. The True Patriot Love Gala on November 10th hopes to raise over $1million for the Military Families Fund and is well on its way to this goal. The Foundation welcomes the support of ex-cadets or their companies to help them in this special cause.
To learn more visit www.truepatriotlove.com
____________________________________________________________________________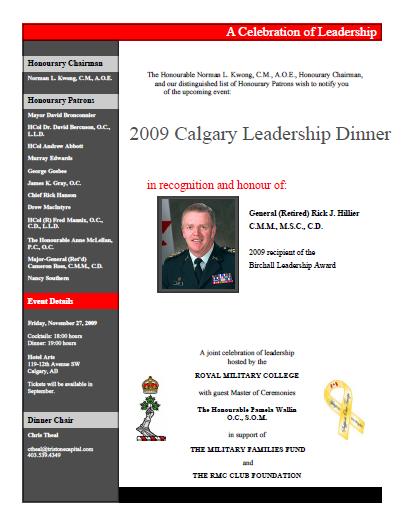 2009 Calgary Leadership Dinner Sponsorship Form
____________________________________________________________________________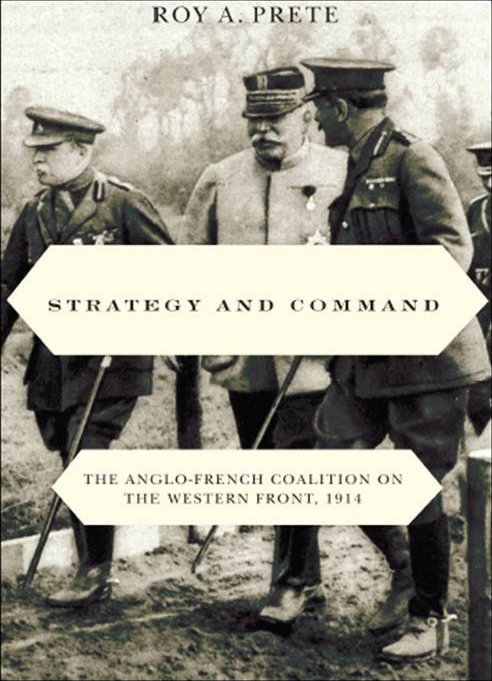 In conjunction with McGill-Queen's University Press, Roy Prete has now scheduled a book launch to be held at Novel Idea, 156 Princess St, Kingston, ON, on Tuesday 10 November, 2009, 6:00-8:00 pm.
Strategy and Command: The Anglo-French Coalition on the Western Front, 1914, For more information go to the 1 June issue of eVeritas.
_________________________________________________________________
Two RMC Cadets attending symposium
chaired by Senator Pamela Wallen
The two cadets are 24742 Matthew Hou and 24574 Chandler Zedic; the sympisium will take place on Oct 21 at the West Block on Parliament Hill. The forum is called Leadership, Citizenship and Nation Building for Our Times: Is There a Role for Officer Training in Universities? Engineering Without Borders Canada's Co-CEO and an EWB Canada student executive rep from both Ottawa U and Carleton U will be attending. EWB Canada (www.ewb.ca) is a most interesting and active organization which exemplifies CCNBL.
This initiative has generated an incredible amount of interest not only as it relates to the training of officers – the former COTC, UNTD, and Air Force programs – but also among a host of organizations which have or wish to have youth/student CCNBL programs such as the Legion, cultural organizations, political party youth organizations, churches, community and service clubs, etc. The CCNBL Exec Steering Com may well go national and form an umbrellas org to bring all these groups together in common cause and purpose. It is of interest to note that the education and leadership program philosophy at RMC is a perfect example of and a template for others to emulate, albeit it in a condensed organization specific and focused format. The CF and RMC could not only promote themselves as exemplars in this area but recapture the ground they lost and ceded some years ago, or the perception thereof, when it was accepted and acclaimed among business, academic, political, etc. circles that the CF and RMC were the pinnacle of CCNBL.