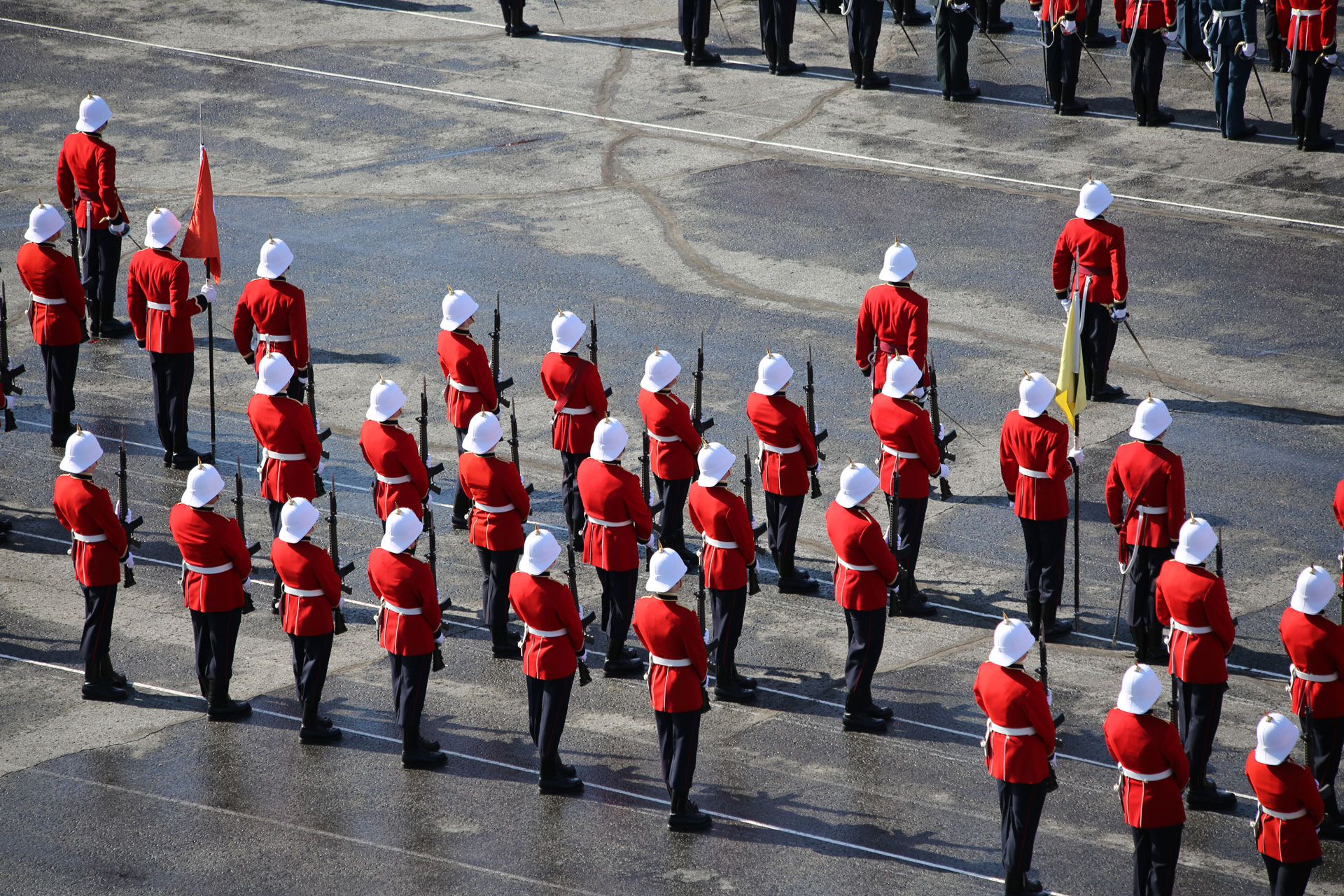 e-veritas has been given permission to publish excerpts of 5105 Doctor J. L. Granatstein's (CMR RMC 1961) interviews (1991-1993) for "The Generals: the Canadian Army's Senior Commanders in the Second World War". 5105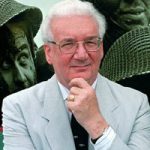 fonds are at the National Defence HQ Directorate of History and Heritage.
Mrs Margaret Palmer was interviewed in Oakville, Ont. on 9 Apr 1991. Mrs Palmer is the daughter of 749 General Harry Crerar PC, CH, CB, DSO, KStJ, CD (RMC 1909) who had served as professor of tactics at RMC and Commandant RMC 1938-9. Her husband, 2427 Mr. H. Zouch Palmer (RMC 1934) was an RMC ex-cadet she had known from Ottawa as a kid and had married in ENGLAND during the war, the first Cdn wartime marriage in UK.
xxx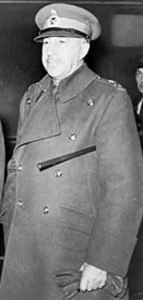 On the Permanent Force (PF)
Mrs. Palmer's recollections of the interwar years in the Permanent Force were that it was a frustrating time for "Daddy", in substantial part because he saw war coming. This was often discussed in the household. The suffocation of the PF also bothered them. But it was a good life in a house full of servants. On one UK posting, for example, they had a batman/groom, a cook-general, and a parlour maid. In Ottawa, they always had at least a cook/general who lived in a basement room, through whose window Margaret would crawl when she came in late. There was some money–small sums from the Crerar side and her mother also had some money too. There was a lot of entertaining, afternoon teas, leaving cards, etc. This all ended with the war which marked a real dividing line.
On RMC
She didn't know why her father went to RMC, but it was important to him, and she can remember how very pleased he was to be made Commandant in 1938. She didn't think her father played RMC favouritism games, though if you knew how people operated you had an insight into them. Her father's friends included 816 Lieutenant General Kenneth Stuart (RMC 1911) and General Eedson Louis Millard Burns (RMC 1915). His friends were not all ex-cadets; he thought it important to be well rounded and know people in all walks of life. Neither he nor her mother were terribly committed to the closed army society. She thought of General McNaughton as wonderfully unconventional and one who took kids into the woods camping etc. In all cases, Mrs Crerar liked the wives and the couples were close.
On Gen Crerar
Her father was an emotional man, full of strong feelings, that he tried to control. He was said to have no sense of humour, but in fact he had a keen sense of the ridiculous and she had to hold him in his seat at Marx Bros films. Still he was serious and had a sense of responsibility and drove himself hard. He was a very professional soldier who didn't like dabblers or tolerate sloppiness, and she thought that, although he would feel casualties keenly, he would not let his judgment be swayed by them. Control was his watchword. One of his brothers had been KIA in WWI.
Her father had a good political sense, and she thought he supported conscription for the sake of efficiency. But he had a political awareness of Quebec as a practical man. Certainly he had great regard for the VanDoos, for Vanier and Capt Triquet, VC. They talked politics in the house, but it was made clear to her at a young age that everything said in the house was private. She thought he was very Canadian, but he was also an imperialist, something natural after his postings in the UK.
He loved sailing–she would crew for him–and he played golf which he found frustrating. He rode. He was relatively fit and worked at it. They walked on holidays and even after the war he had terrific energy and could wear her and her husband out.
Her father was a disciplinarian, a stern and authoritarian personality in his own house. He put her on a clothing allowance when she was 18 and she had to keep accounts and present them monthly. She thinks he did the same with his wife. She enjoyed his company–on walks, X-country skiing, fishing, sailing.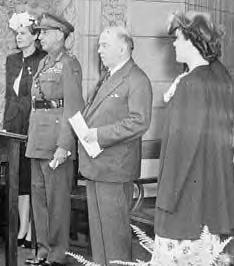 At the end of the war, she and her mother met Crerar at Halifax and there was a ceremonial procession home. The photo shows (L-R) Mrs. Crerar, General Harry Crerar, Rt. Hon. William Lyon Mackenzie King and Mrs. Margaret Palmer in Ottawa on 7 August 1945. He looked older (she'd not seen him for 3 yrs) but he was fit. Crerar retired from the army in 1946 and later had brief diplomatic postings in Czechoslovakia, the Netherlands and Japan. He was sworn into the Queen's Privy Council for Canada on June 25, 1964. He was offered the Ambassadorship in Netherlands but her mother had had it with official entertaining and flatly refused. He stayed in Ottawa on Acacia Dr in a house they had bought when he was CGS and he took a few company directorships and developed hobbies (photography). She thought he had trouble adjusting to the postwar world. But they filled time, travelled, and he read, especially on international affairs.
On Mrs. Crerar
Her mother, she said, had a strong personality and didn't "suck up" like other army wives, and she also had artistic interests–she was a trained singer, painted, loved music and art. Her mother was a great beauty-stunning-and she thought this was a close marriage, as much as army marriages with their enforced separations can be. They thought alike on some things, but Mrs Crerar was more forgiving about people than Gen Crerar. She and her mother had got to the UK in Nov 39, more or less sneaking aboard the liner which was virtually empty with Mrs. McNaughton and one other officer's wife. She was going to get married there. They returned in 1940; and after Crerar's posting as Chief of the General Staff ended and he returned overseas, her mother spent the rest of the war trying to get back to UK without success. She and her mother lived in Ottawa in separate apartments.