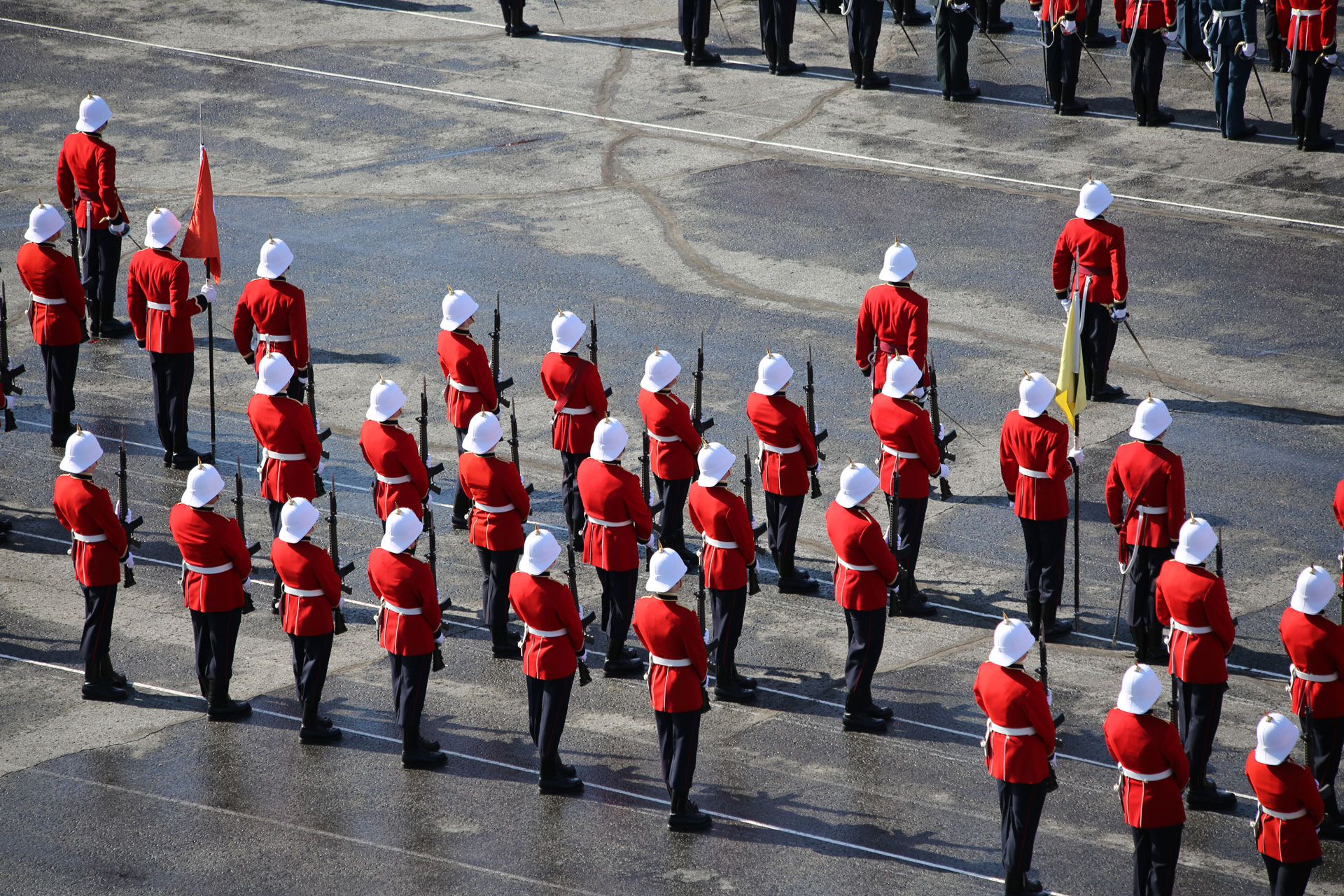 United States Military Academy – West Point; United States Naval Academy – Annapoli; United States Air Force Academy; Royal Military College of Australia; Royal Military Academy Sandhurst (RMAS); École Spéciale Militaire de Saint-Cyr; and New Zealand Defence College.
United States Military Academy – West Point
The United States Military Academy West Point accomplishes its mission by developing cadets in four critical areas: intellectual, physical, military, and moral-ethical – a four-year process called the "West Point Experience." Specific developmental goals are addressed through several fully coordinated and integrated programs. The foundation of the ethical code at West Point is found in the Academy's motto, "Duty, Honor, Country." Cadets also develop ethically by adhering to the Cadet Honor Code, which states "A cadet will not lie, cheat, steal, or tolerate those who do." The Academy is located approximately 50 miles north of New York City on the udson River. The campus and central post area comprise only a small portion of the nearly 16,000 acre reservation. The 4,000 members of the Corps of Cadets represent every state in the U.S. and several oreign countries. About 1,200 New Cadets enter the Academy on Reception Day each year (about July 1st). Upon graduation, cadets are awarded Bachelor of Science degrees and commissions in the U.S. Army. They serve on active duty for a minimum of five years. A favorite xpression at West Point is that "much-of the history we teach was made by people we taught." Brigadier General Michael S. Linnington is the Commandant of Cadets.
United States Naval Academy – Annapolis
United States Naval Academy, the undergraduate college of the naval service, accomplishes its mission to develop midshipmen "morally, mentally, and physically" – a four-year integrated continuum that focuses on the attributes of integrity, honor, and mutual respect.  Honor is emphasized through the Honor Concept of the Brigade of Midshipmen "Midshipmen are persons of integrity: They stand for that which is right.They tell the truth and ensure that the full truth is known. They do not lie. They embrace fairness in all actions. They ensure that work submitted as their own is their own, and that assistance received from any source is authorized and properly documented. They do not cheat. They respect the property of others and ensure that others are able to benefit from the use of their own property. They do not steal." The foundation of the ethical code at Annapolis is found in the Academy's motto "Honour, Courage, Commitment." The Academy provides young men and women the up-to-date academic and professional training needed to be effective naval and marine officers in their assignments after graduation. The Academy offers undergraduate and honors programs and opportunities to start work on postgraduate degrees. The Naval Academy was founded in 1845, in what is now Annapolis, Maryland. The Commandant of Midshipmen, Vice Admiral Jeffrey L. Fowler serves as dean of students and supervisor of all military and professional training.
United States Air Force Academy
The United States Air Force Academy's mission is to inspire and develop outstanding young men and women to become Air Force officers with knowledge, character, and discipline. Cadets at the service academies are currently entitled to basic pay in the amount of $700.00 per month. Cadets are also entitled to a basic allowance for
subsistence of $5.75 per day, which is used for food served at the Cadet Dining Hall. Medical and dental care are provided at no expense to cadets. The Academy mission is a concentrated, focused process aimed at developing leaders of character through military, academic nd athletic endeavors. The cadets' progress in all areas is carefully monitored during all four years.The Academy requires all cadets to take a core academic curriculum covering classes in humanities, social sciences, engineering and basic sciences. Cadets then receive further specialization in one of 32 Academy majors urrently offered. All Academy personnel who instruct, supervise or coach cadets submit a military performance appraisal on each cadet which are used to create the Military Performance Average (MPA) similar to the academic GPA. A cornerstone of cadet life at the Academy is the Cadet Wing Honor Code that states: 'We will not lie, teal or cheat, nor tolerate among us anyone who does.' The U.S. Air Force Academy is located 55 miles south of Denver and eight miles north of Colorado Springs, Colorado. Upon graduation, cadets are awarded commissions in the U.S. Air Force. They are required to serve t least five years in the Air Force. Brigadier General Susan Y. Desjardins is the Commandant of Cadets at the United States Air Force Academy.
Royal Military College of Australia
The Royal Military College of Australia prepares cadets and other selected candidates for careers in the Army by promoting leadership and integrity; by promoting high ideals and the pursuit of excellence, and by inculcating a sense of duty, loyalty and service to the nation. The mission of the Royal Military College is to produce officers capable of commanding platoon groups in the Hardened and Networked Army, and to prepare specialist candidates for commissioning. The RMC was founded in 1911 in Duntroon, Australia. The College's motto "Doctrina Vim Promovet" translates to "Learning Promotes Strength." RMC affiliated with the University of New South Wales to offer Bachelor courses in Arts, Science or Engineering, ommencing in the 1968 academic year. In order to graduate, cadets had to achieve passes in both military and academic studies and leadership. The RMC Commandant, Brigadier General M.D. Bornholt, AM is in charge of all Officer training Establishments throughout Australia.
http://www.defence.gov.au/army/rmc
Royal Military Academy Sandhurst (RMAS)
The Royal Military Academy Sandhurst (RMAS) develops leadership in cadets by expanding their character, intellect and professional competences to a level demanded of an Army Officer on first appointment through military training and education. The core objectives reflect the three key elements in the training and education of the young officers: the moral, the intellectual and the hysical. The RMAS was formed in 1947 in Camberley, Surrey, United Kingdom. It was descended from two older institutions, the Royal Military Academy (RMA) and the Royal Military College (RMC). The Commissioning Course is the first stage of officer training and education. Its main purpose is to develop an officer with the generic leadership qualities to lead soldiers both on and off operations. The course is accredited by various academic and professional institutions.The College's motto is "Serve to lead." Major General D J Rutherford-Jones is the Commandant of Sandhurst.
École Spéciale Militaire de Saint-Cyr
The Saint-Cyr military academy is the French national military academy at Coëtquidan, France. French students who enter the École Spéciale Militaire de Saint-Cyr as cadets are about 21 years old and have already completed the equivalent of a bachelor's degree in a military or civilian preparatory college of highest academic rank.  The "Bac" plus two years of "classes préparatoires aux Grandes Ecoles." The three-year term of study at Saint-Cyr has been modified in recent years to reflect more the system of credit used in "civilian" academic programs, mainly by fully integrating the "European Credit Transfer System" (ECTS). All ESM cadets graduate with a master of arts or a master of science and are commissioned officers. The Academy was founded in Fontainebleau in 1803 by Napoleon Bonaparte near Paris in the buildings of the Maison Royale de St-Louis, a school founded in 1685 by Louis XIV for "impoverished" daughters of noblemen who had died for France. The cadets moved several times more, eventually settling in Saint-Cyr, located west of
Paris, in 1808. Napoleon's original motto: "Ils s'instruisent pour vaincre" ("They study to overcome/conquer/win") was changed by the restoration king, Louis XVIII, to: "Ils s'instruisent pour la Defense de la Patrie" ("They study for the defense of the homeland"). The Napoleonic version was used again from 1848 to 1870. That motto was next changed to "Honneur et Patrie" (Honor and Country") until 1918, when it reverted again to the original Napoleonic wording. The academy consists of four officer schools: l'école spéciale militaire de Saint-Cyr, l'école militaire interarmes, l'école militaire du corps technique et administratif and le 4e bataillon de l'école spéciale militaire de Saint-Cyr. Major General Nicholas de Lardemelle is Commandant of Saint-Cyr.
http://www.st-cyr.terre.defense.gouv.fr
New Zealand Defence College
The New Zealand Defence College provides professional military education to New Zealand Defence Force Officers. The Defence Colleges incorporates the NZDF Command and Staff College which prepares officers for command and staff appointments. The College was established at Whenuapai, near Auckland, in 1950, as a school for junior officers of the RNZAF. In 2004, the College moved to its present location in Trentham Military Camp, Upper Hutt near Wellington, New Zealand. Courses follow a modular approach that incorporates the following core subjects: Communication Skills, Operational Studies, Strategic Studies, International Relations, Command, Leadership and Management. Due to the College's close association with Massey University, it is able to offer to successful graduates of the Staff Course a Postgraduate Diploma of Arts. Graduates can then choose to complete a further four papers to gain an MA (Defence and Strategic Studies), or they may choose to complete another type of degree with another university.
http://www.nzdf.mil.nz/corporate/hqnzdf/nz-defence-college/default.htm
Information compiled by E3161 Victoria Edwards (RMC '03)