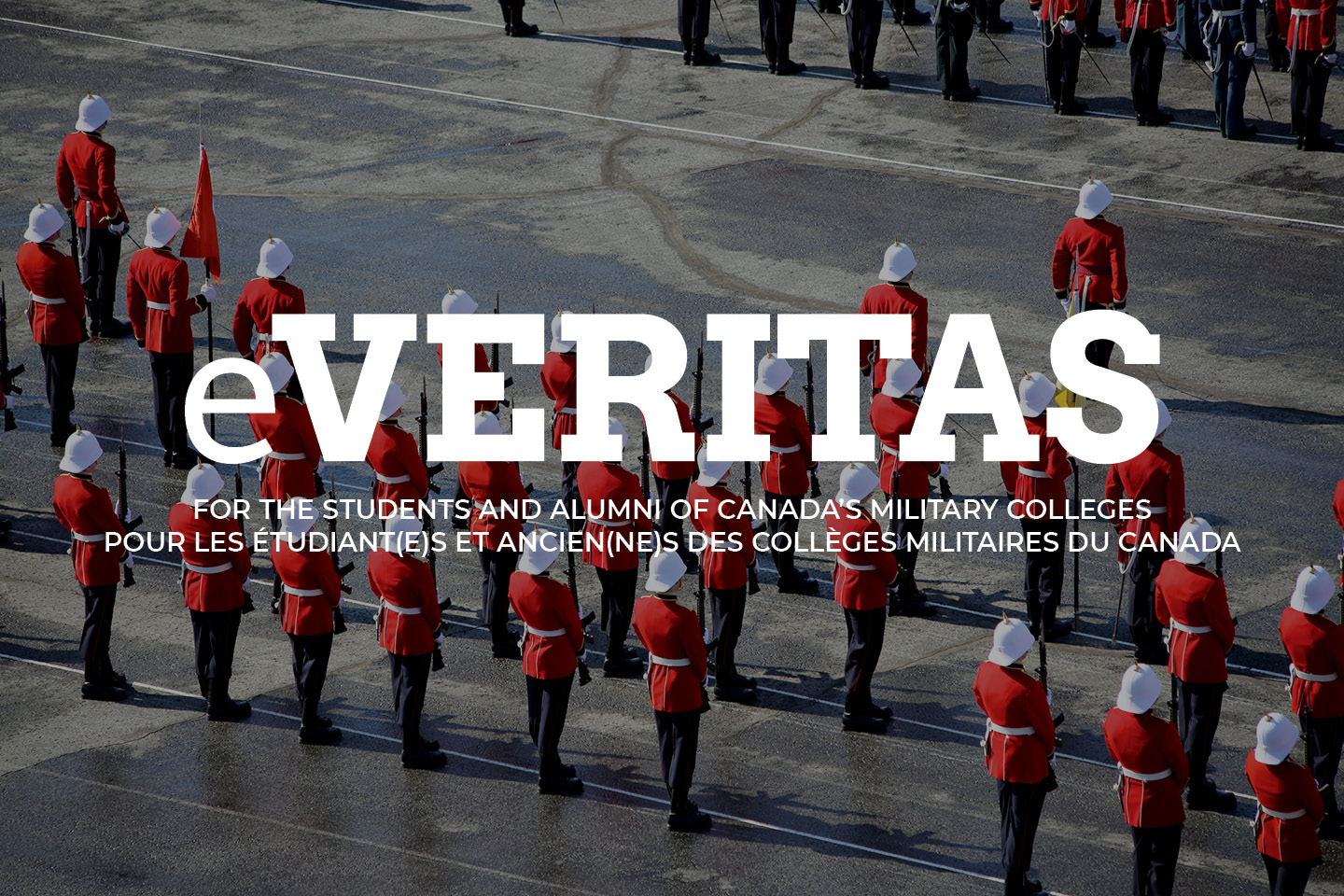 Article compiled from various sources –  Photos by: 25961 Ethan Strong
Last Wednesday (15 May) in Currie Hall, Peter C. Newman, an iconic journalist, author, newspaper, magazine editor and Companion of the Order of Canada, gave a presentation titled "The Peaceable Kingdom under Siege: Can We Survive Terrorism?".
Mr. Newman, provided a very interesting public lecture on Terrorism. He was very frank in his views and provided an entertaining lecture complete with numerous anecdotes and personal stories from his past.
Born in Vienna, Austria, Newman emigrated from Nazi-occupied Czechoslovakia to Canada in 1940 as a Jewish refugee. He shared an early WW II experience when his family were attempting to evacuate from France (on their way to Canada) when a Luftwaffe fighter aircraft started strafing the beach filled with refugees including the Newman family.
The author of 24 books and a number of best sellers, he emphasized the ways to mitigate the uncontrollable fear that terror can create. It was an interesting presentation from a great Canadian and RMCC Journalist-in-residence.
NOTE FROM THE EDITOR:
Further to Peter C Newman's lecture last week. Peter actually had a second part to his lecture – he was hoping to be able to give an address to the graduating class. Time, unfortunately, was not available.
He was disappointed that he was not afforded the opportunity, so in co-operation with the organizer of the lecture, we have agreed to post in its entirety the second part of the lecture.
It is our hope that as many as possible of the graduates of the Class of '13 and others have the opportunity to read this very inspiring article.
SALUTING RMC GRADS
MY ADVICE, IN THE FORM OF TEN COMMANDMENTS, FOR CANADA'S FUTURE WARRIORS
By Peter C. Newman — RMC JOURNALIST IN RESIDENCE
THIS FIRST COMMANDMENT IS VERY IMPORTANT.
IT HAS TO DO WITH HAPPINESS. THE TRICK IS TO REACH OUT FOR HAPPINESS BUT NOT TRY TOO HARD. HAPPINESS IS "A CAT-LIKE EMOTION — IF YOU COAX IT, HAPPINESS WILL AVOID YOU, IF YOU PAY NO ATTENTION, IT WILL RUB AGAINST YOUR LEG AND SPRING UNBIDDEN ON YOUR LAP…" SO DON'T PLAN FOR HAPPINESS. COUNT ON IT.
THE NEXT COMMANDMENT COMES FROM THE MOTHER SUPERIOR OF A CONVENT. WHO ANNOUNCES THAT A HOLY PRESENCE HAD APPEARED IN HER DREAMS, AND IS ABOUT TO DESCEND TO EARTH AND WILL LAND AT THIS VERY LOCATION "WHAT SHALL WE DO?" SAY HER PEOPLE AFLUTTER WITH EXCITEMENT. "LOOK BUSY", SHE WISELY COUNSELS.
THAT'S GOOD ADVICE. WHATEVER YOU DO IN LIFE, ALWAYS LOOK BUSY.
ANOTHER INTERESTING COMMANDMENT:
REMEMBER THAT THE GOOD LIFE IS LIVED NOT WIDELY, BUT DEEPLY. FEELINGS ARE MORE COMPELLING THAN THOUGHTS. IT IS NOT DOING THINGS, BUT UNDERSTANDING WHAT YOU DO THAT BRINGS LASTING CONTENTMENT. BY BEING HERE, YOU HAVE BEEN GRANTED A RARE PRIVILEGE APPRECIATE IT…
MY NEXT COMMANDMENT TAKES ME BACK TO YOUR STUDIES AND EXACTLY WHY YOU'RE AT THE COLLEGE:
YOU HAVE NOT ALWAYS FELT LIKE IT, BUT YOU HAVE BEEN CODDLED IN A HIGHLY FORGIVING ENVIRONMENT
WAR IS NOT A FORGIVING ENVIRONMENT
YOU ARE ABOUT TO JOIN THE TURBULENCE OF REAL LIFE –WHERE YOU MUST NOW PROVE YOURSELVES
WHAT YOU ARE CELEBRATING AT THIS END OF TERM IS THE END OF APPRENTICESHIP.
BUT IN TRUTH YOU STAND ON THE THRESHOLD OF YOUR REAL EDUCATION—
BELIEVE ME, YOU WILL LOOK BACK AT THESE HALLS OF LEARNING WITH NOSTALGIA…
YOU'VE BEEN LUCKY. VERY LUCKY.
REPAY YOUR GOOD FORTUNE BY NEVER ABANDONING YOUR IDEALISM–
WHICH BRINGS ME TO MY NEXT COMMANDMENT:
ALWAYS REMAIN OPEN TO NEW EXPERIENCE. GRAB EACH OPPORTUNITY. DON'T ALLOW YOURSELVES TO BECOME DISINTERESTED. BE TRUE TO THE VALUES OF YOUR GENERATION AND YOUR CITIZENSHIP–
A CITIZENSHIP THAT IS BEYOND VALUE…
THE NEXT COMMANDMENT IS A NATURAL SEQUEL TO THAT THOUGHT:
DON'T TRADE OFF YOUR ENERGY, YOUR IMAGINATION, YOUR CREATIVITY — TOO QUICKLY YOU AND YOU ALONE ARE OUR GENERATION'S FUTURE. IF YOU DON'T DEFEND US NOBODY WILL BUT ALWAYS TREAT THAT ASSIGNMENT AS AN HONOUR—NOT AS A DUTY
THAT LEADS ME TO THE SEVENTH COMMANDMENT:
ALWAYS OPT FOR ENLIGHTENMENT AND PROGRESS—NOT THE STATUS QUO
REJECT THE ASSUMPTION THAT MORE IS BETTER, REMEMBER THAT YOU REPRESENT A COUNTRY'S VALUES NOT JUST YOUR OWN PRIORITIES
I BEGAN AS A MAGICIAN IN EATON'S TOY TOWN, AND EXPERIENCED A DOZEN INCARNATIONS SINCE. AS A GOLD MINER, AUTHOR, EDITOR, I PICKED CHERRY TREES, SOLD CELERY AT HAMILTON MARKET, BECAME A CAPTAIN IN THE ROYAL CANADIAN NAVY ® NOT HONORARY—NOTHING HONORARY ABOUT ME=
WAS A WHARF RAT IN GIBSON'S LANDING, WROTE TWO DOZEN BOOKS IN MY THIRD LANGUAGE AND TAUGHT SIX DIFFERENT SUBJECTS AT SIX DIFFERENT UNIVERSITIES. HAVE WRITTEN 24 BOOKS THAT SOLD 2.4 MILLION COPIES
YOUR EDUCATION, WHICH YOU CRAMMED SO HARD TO ACHIEVE, WILL TURN OUT TO BE EMINENTLY WORTH WHILE.
BUT ALWAYS REMEMBER THIS IMPORTANT THOUGHT– YOUR EDUCATION WILL NOT NECESSARILY PREPARE YOU FOR A HIGHER STANDARD OF LIVING. BUT IT IS BOUND TO PROVIDE YOU WITH A HIGHER STANDARD OF LIFE – WHICH IS EXPONENTIALLY MORE SIGNIFICANT
MY TENTH AND LAST COMMANDMENT: GET EXCITED ABOUT BEING CANADIAN.
THIS CANADA OF OURS IS NOT SOME VAGUE, VALEDICTORIAN'S DREAM. IT IS NOT JUST AN ACCIDENTAL, GEOGRAPHICAL BACKDROP. GO OUT AND TOUCH THE EARTH, FEEL ITS CONTOURS, WADE ACROSS ITS STREAMS, CLIMB ITS MOUNTAINS, SAIL ITS LAKES, SAVOUR ITS FORESTS — WHAT'S LEFT OF THEM.
GET TO KNOW YOUR HOME COUNTRY. TOO OFTEN AS CANADIANS WE DECRY WHAT WE LACK INSTEAD OF CELEBRATING WHAT WE HAVE. IT'S TIME WE BEGAN TO SING SOME SONGS IN PRAISE OF OURSELVES. TO MOST OF THE WORLD WE APPEAR TO BE BLESSED WITH THE MANDATE OF HEAVEN.
WHAT IT CONSISTS OF, THIS CANADA OF OURS IS THE PRIDE THAT WE ARE HERE, THAT WE HAVE SURVIVED IN AN UNFRIENDLY CLIMATE, HARSH POLITICAL ENVIRONMENT AND A DOMINANT GIANT TO OUR SOUTH.
WE MAY BE A NATION WITH TROUBLES BUT THIS IS OUR HOME AND THE GREAT PRINCIPLES OF INDIVIDUAL AND COLLECTIVE FREEDOM ARE PRACTICED HERE AS NOWHERE ELSE.
THERE EXISTS—WHAT I CALL A QUIVER OF COMMON INTENT – THAT WE CAN BE COUNTED ON TO KEEP THIS COUNTRY TOGETHER. CANADA WAS BUILT ON DREAMS AS WELL AS APPETITES. THIS COUNTRY WAS FOUNDED, NOT BY BLOODLINES, KIN OR TRADITION BUT BY WAVES OF IMMIGRANTS OF EVERY SEED AND STOCK, WHO ARRIVED WITH BIG IDEAS AND BIGGER DREAMS, WHICH IS THE WAY IT SHOULD BE BECAUSE WE ARE STILL IN THE PROCESS OF BECOMING.
BEING CANADIAN REMAINS AN ACT OF FAITH THAT WILL TAKE GENERATIONS TO COMPLETE. WHAT WE'VE GOT HERE IS A DAILY MIRACLE OF A COUNTRY. EVER SINCE 1867, WE HAVE SUCCESSFULLY LIVED OUT THE DICTUM THAT A NATION IS A BODY OF PEOPLE WHO HAVE DONE GREAT THINGS TOGETHER.
WE HAVE – AND WE WILL AGAIN.
BUT STAY ADAPTABLE…
I WISH YOU LUCK. I WISH YOU LOVE, LIGHT AND LAUGHTER.
THAT'S WHAT COUNTS — AND DON'T FORGET TO FLOSS…
Peter C. Newman