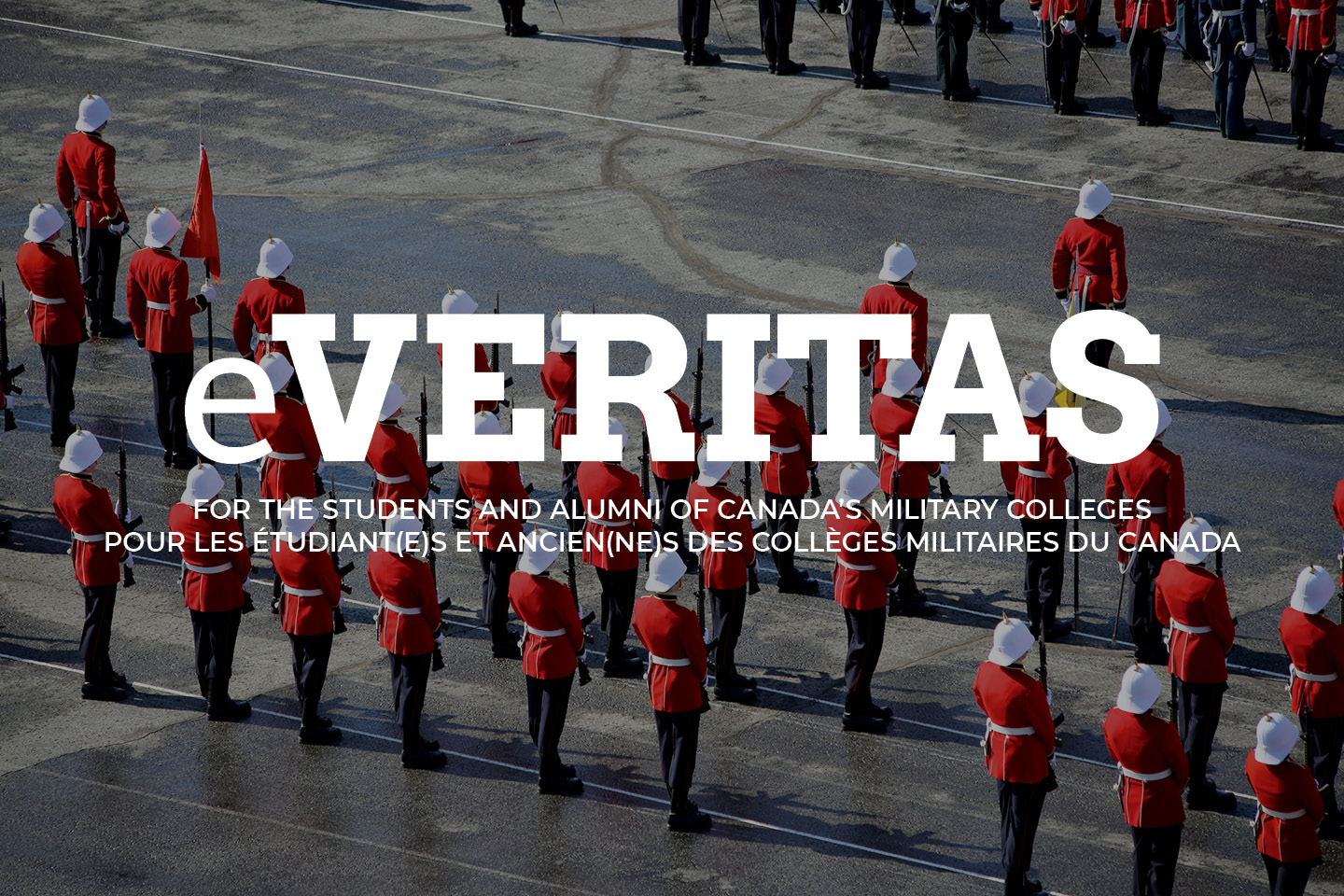 CIMVHR Hosts 3rd Annual Forum in Kingston
Article by Dr. Stéphanie A.H. Bélanger, PhD, Associate Director, CIMVHR
Canadian Institute for Military and Veteran Health Research (CIMVHR) hosted its 3rd annual forum this past week at the Ambassador Conference Resort in Kingston, bringing together more than 400 researchers, clinicians, military personnel, veterans, industry stakeholders, government representatives and international delegates to discuss military and veteran health issues, as well as family member's needs.
Participation from the Minister of National Defence, the honorable Peter MacKay, the Minister of Veterans Affairs, the honorable Steven Blaney and Lieutenant-General, Senator, Roméo Dallaire underlined the importance of this Forum. "This partnership that has been established continues to make an enormous difference in the day to day lives of our forces," said Minister MacKay.
Researchers were also given the opportunity to meet with veterans like Major (retired) Bruce Henwood, a double leg amputee from Bosnia and subject of Dr. Jacqueline Hebert's research on Canadian Veteran amputees, and Sergeant (retired) Trevor Wilson, a Canadian Veteran of Bosnia, Zaire and Afghanistan who successfully integrated into the civilian workforce after taking part in the VAC rehab program. Trevor is now employed in the Public Service as a CS and works as a Database Analyst/ Learning Management Admin for the Royal Military College of Canada. In this capacity, he also manages the online component of the Canadian Institute for Military and Veteran Health Research webinar course (http://www.cimvhr.ca/content/education).
Surgeon General/ Commander Canadian Forces Health Services Group, Brigadier-General Jean-Robert Bernier offered the Major Sir Frederick Banting MC, RCAMC Award for Military Health Research to Dr. Jacqueline Hebert, University of Alberta. Two RMCC professors were in nomination for the award. Dr. Valérie Langlois and Dr. Ken Reimer, both from the Chemistry and Chemical Engineering; which makes them top second and third out of the 90 oral presentations!
CIMVHR announced the launch of their new book, A New Coalition for a Challenging Battlefield: Military and Veteran Health Research, published by CDA Press and available on line at www.cimvhr.ca.
Next year's forum will be hosted by the University of Alberta in Edmonton, Nov 25-27 2013. We hope to see you in great number!
__________________________________

Capt John Bart Award Winners Donate Prize to Charity
Article by 26851 OCdt (I) Ali Mansour 
It was in 2000 that John Bart and his wife Mary were attending a Reunion Weekend and watched the Cadets during the obstacle course competition. During that event he "witnessed many standout examples of teamwork and individual leadership." An RMC graduate himself, John decided it would be appropriate to recognize those qualities early in a Cadet's time at the College.
Through the Royal Military Colleges Foundation he created two endowments. The first was to recognize the outstanding teamwork displayed by the winning team during the annual Obstacle Course Competition. The second, based on judgement by their peers, was to recognize a Cadet from each of the competing teams who was determined to display outstanding leadership during their particular competition.
This year the John Bart Award recipients, on behalf of the graduating class of 2016, donated a total of $2500 in contributions to the KCCU Christmas Caring Program. For over 20 years The Christmas Caring Program has, to date, assisted over 800 community members and their families.
The donation was made in the spirit of giving during the holiday season, and is symbolic to the core value of duty we all must uphold. As future Officers of the Canadian Forces, the John Bart Leadership Award recipients recognized our obligation to give back to the community.
__________________________________
Conférence en génie mécanique
Écrit par 25640 (IV) Éric Jeunehomme
Le mercredi 28 novembre, le Collège militaire royal de Kingston recevait le Capc Alain Sauvé et le Ltv Phillip Leblanc du DGGPEM 4-2 section des sous-marins, dans le cadre d'une conférence sur le génie maritime. Cet événement clôturait le cours MEE469 Marine Système Engineering, un cours à option offert par le département de génie mécanique et aéronautique. Néanmoins, les portes étaient ouvertes à tous les membres du personnel du collège, et tous avaient été invités à y assister.
Les deux officiers ont donné une série de quatre présentations. La première portait sur l'architecture navale. Elle présentait les diverses facettes du métier et invitait les futurs ingénieurs présents à considérer cette option comme choix de spécialisation. La deuxième présentation portait sur les sous-marins. Elle faisait un constat de plusieurs considérations de conception que l'ingénieur maritime doit prendre en compte lorsqu'il travaille sur un sous-marin. La troisième avait comme sujet les défis d'ingénierie que causent un navire endommagé, et une étude en laboratoire sur les comportements de ceux-ci. La dernière faisait rapport des projets actuels du MDN concernant la commande de nouveaux navires pour la MRC. Les conférenciers faisaient état des priorités actuelles d'acquisition, pour les intérêts canadiens que la Marine défend.
Après les présentations, nos invités ont ouvert une période de questions qui se tourna vers le futur de la marine dans les Forces canadiennes et l'avenir de ceux qui s'y engagent en tant qu'ingénieur.
Merci encore au Capc Sauvé et au Ltv Leblanc pour s'être déplacé.
__________________________________

CFRC Ottawa Recruiters Visit College
This past Friday, 10 staff and recruiters from Canadian Forces Recruiting Centre Ottawa visited the College for a day of familiarization. Over the course of their visit, the recruiters received briefings on all aspects of the College, including the Four Pillars, and went for a campus tour. They also had the opportunity to take lunch in the Cadet Mess and talk informally with Cadets.
Much, much more…
__________________________________

United Way Touch Down Breakfast Wraps Up Fund-raising Effort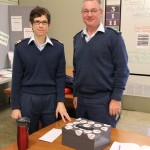 The United Way Touch Down Breakfast, held this past Tuesday morning in the Cadet Dining Hall, marked the official end of the College's fundraising effort for the United Way. This annual tradition at the College, held every fall, sees the Staff and Cadets of RMCC raise money for the charity through a variety of means, including the Christmas Concert, "civi dress Fridays," and more. This year's total, as of press time, was $113 441, which, according to Capt Geneviève Vallières, RMCC United Way Campaign Coordinator, is a record for the College and remarkable given the difficult financial situation many people currently find themselves in. Way to go RMC!
xxxxxx
Photos from the breakfast (click to enlarge):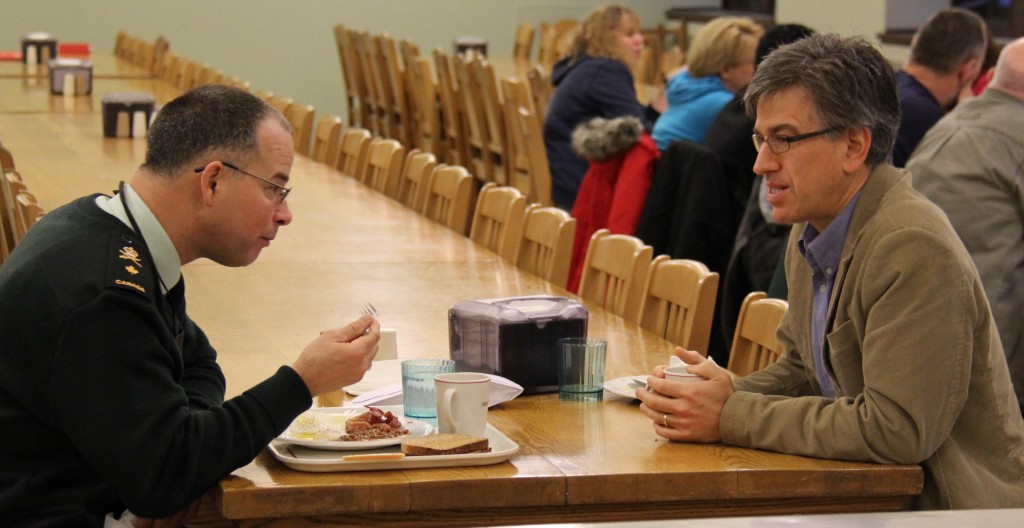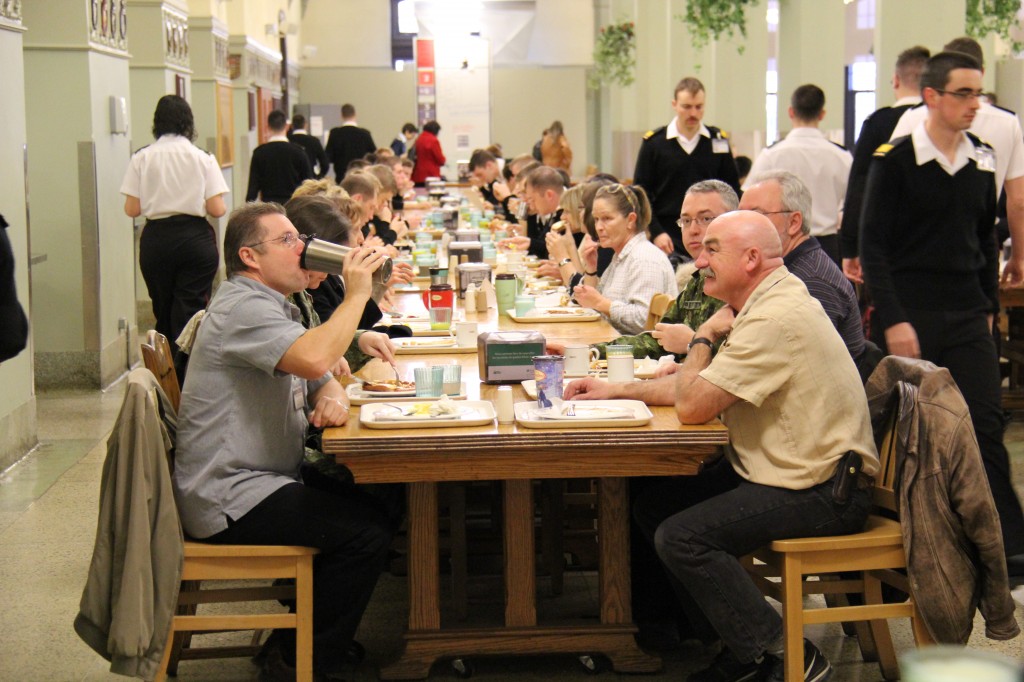 __________________________________

Cadets Represent College at 100th Grey Cups
Article by 25917 OCdt (III) Christopher MacKnight
Photos by 26171 OCdt (III) Jessica Henry
At 1500 hrs 20 November 2012, six Officer Cadets and one supervising officer departed the Royal Military College of Canada in Kingston, Ontario to take part in Op CONNECTION activities at the 100th Grey Cup Ceremony in downtown Toronto. The Cadets included 25844 OCdt (IV) James Baltus, 25956 OCdt (III) Wes Corkum, 25716 OCdt (IV) Brandon Gesner, 26019 OCdt (III) Michelle Hamilton, 26171 OCdt (III) Jessica Henry, and 25917 OCdt (III) Christopher MacKnight. The teams were accompanied by the TW Ops O, Maj Michael Froess.
Overall, this proved to be a great experience that allowed the Cadets to be visible to the community and engage with their fellow Canadians. The group was tasked to help run the CF Challenge Obstacle Course located in "The Adrenaline Zone" at Nathan Philips Square. This was a simple course designed for the average Canadian to have fun and challenge themselves. The course was open to all free of charge and consisted of 10 push-ups, five pull-ups, a rucksack pull, two ramps, a wall, an over-and-under obstacle, a rope swing, a water can carry, a toboggan pull and it was capped off by a short sprint to the finish line. This was an excellent opportunity for the CF and RMCC to demonstrate teamwork, camaraderie and leadership in the public eye.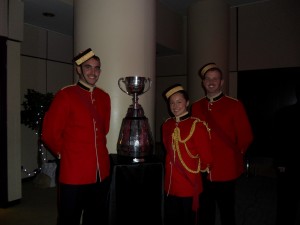 The second event that we took part in was representing RMCC at an information booth in the Metro Toronto Convention Centre (MTCC) next to other Canadian Forces' displays. The booth was in a great location just outside the "Stamps House" which was sponsored by the Calgary Stampeders. The public traveling through this area got to have their picture taken at a photo booth with their choice of an army, navy or air force backdrop. The most popular station, however, was one set up by the Army. Civilians were able to try on a flack vest, tac-vest, fully loaded ruck sack and helmet. They were able to see how much weight the average soldier has to carry and were shocked by it!
Overall this was a great event for the Cadets selected, and offered positive exposure for both the CF and RMCC. The group received great support from the public who stopped by at the information booth and from those who participated in or watched the obstacle course. Civilians were able to see, on a small scale, what their tax dollars go towards and they were impressed!
Unless otherwise indicated, articles and photos by 25366 Mike Shewfelt.