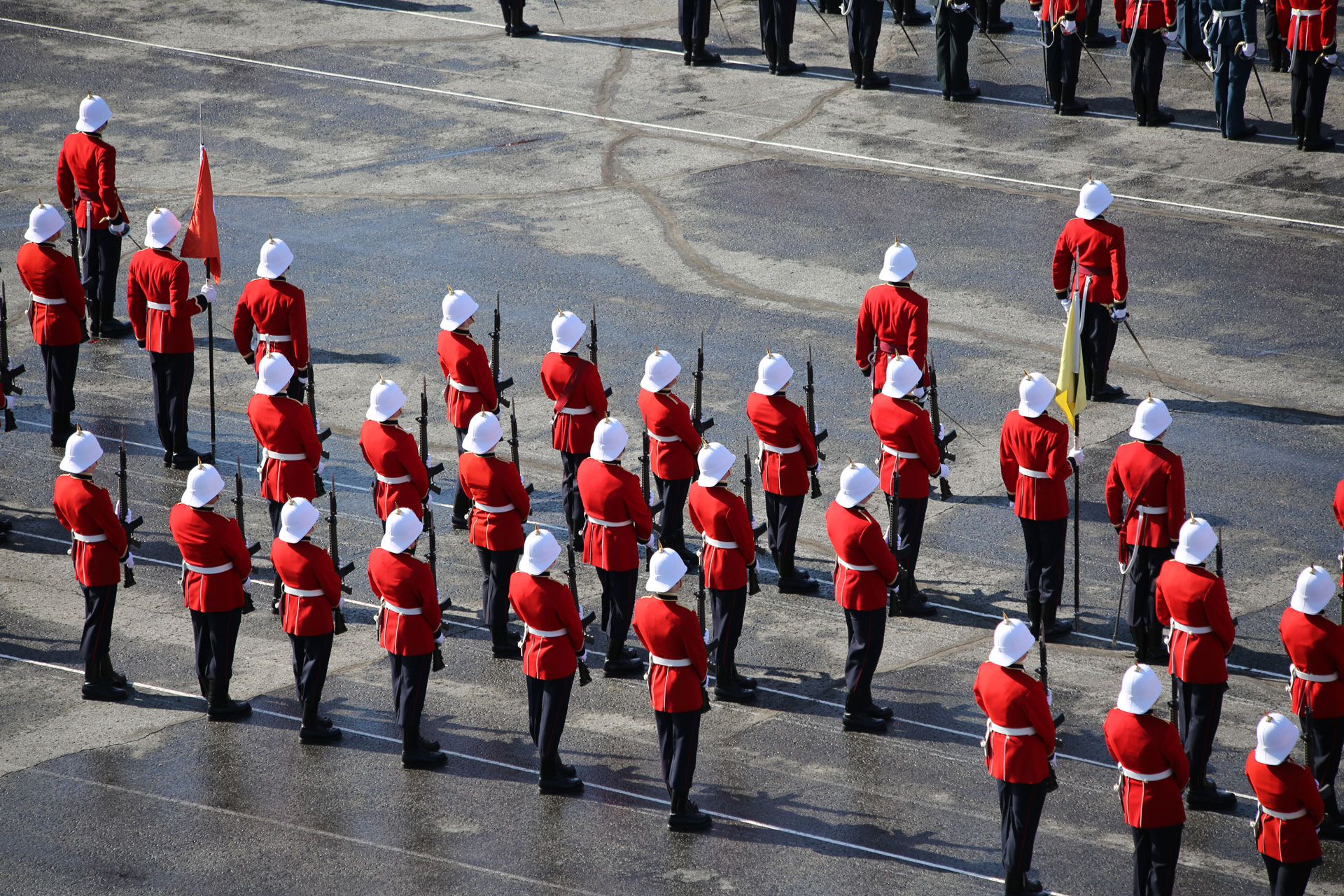 A126 Maj (ret`d) Glenn MacDonald has been the RMC Liaison Officer for the Prairies Region since 2002. He is currently located in Calgary, Alberta He studied psychology at Carleton University before serving in the Canadian Forces as an armoured officer from 1975-1995. He served at RMC as the LaSalle squadron commander from 1980-83. He brought the first lady cadets to RMC in 1980 and coached the RMC Track & Field Team. He completed partial courses in the War Studies graduate program at RMC from 1981-83. Since retiring from the CF in 1995, he managed the information technology centre for Hughes Aircraft, and subsequently established and worked in his own strategic planning company from 1998-2002.
Interview by E3161 Victoria Edwards (RMC '03)
e-veritas: How do you describe RMC to potential officer cadets?
Glenn MacDonald: RMC is located in Kingston, Ontario and is Canada's only military university. It is located on Point Frederick and has been a military site since 1789 and was a major Naval Site during the War of 1812. In 1876, the First Class of 18 Officer Cadets attended RMC. Approximately 1,000 students (Officer Cadets) attend each year. RMC offers four components; (1) Academics, (2) Leadership, (3) Fitness, and (4) Second Language.
e-veritas: Describe the application process.
Glenn MacDonald: Candidates must be a Canadian citizen and over 17 years of age. You select either the Regular Officer or Reserve Entry Training Plan. There are four application forms that must be completed. You must also provide suitable references as well as your latest academic transcript, birth certificate and SIN. After submitting your application you must then pass a medical and aptitude test and have a successful interview. All candidates are selected based on their academic and leadership potential. In other words, RMC is looking for well-rounded candidates thereby developing top-notch future leaders for the CF. The Red and White can play a key role in assisting candidates through an otherwise complex application process.
CDS speaking with two Red and White OCdts (I introduced them to
the CDS at this year's Legacy Dinner) – one from Edmonton (OCdt Henry
Graham) and one from Millarville, Alberta Jeremie Burney).
e-veritas: What are the financial considerations?
Glenn MacDonald: RMC offers a fully subsidized education. In addition, officer cadets receive a salary (approx $ 1,400 per month), a comprehensive medical and dental plan. A pension plan is also in effect during your academic years at the College.
e-veritas: What are the career considerations?
Glenn MacDonald: Cadets undergo military career training each summer and graduate as a commissioned officer. A challenging and rewarding career is guaranteed, with opportunities to serve your country and to travel. I also stress to each candidate that they are their own best career manager and should therefore become aware early on as to what opportunities are available as they progress in rank.
e-veritas: What are the academic considerations?
Glenn MacDonald: Degree programs are offered in Arts, Science or Engineering. There is a very low student to professor ratio at RMC. The facilities, labs and equipment are state-of-the-art. Students can walk to classes in 5 minutes from the dormitories. All degree programs are accredited and 4 years in duration. All degree programs are offered in English and French. Courses may be taken at Queens University (with authority).
In the Bachelor of Arts program, cadets can study Psychology & Leadership, English / French Studies, Military & Strategic Studies, Business Administration, History, Politics or Economics.
In the Bachelor of Science program, cadets study Mathematics, Computer Science, Chemistry, Physics and Space Science.
In the Bachelor of Engineering program, cadets study Chemical, Civil, Computer, Electrical, Mechanical or Aeronautical engineering.
e-veritas: What are the other considerations?
Glenn Macdonald: RMC graduates are able to communicate in English & French and without question the college brings out your very best. Its well-structured environment allows most people the opportunity to focus better and achieve greater results. Officer Cadets will make friends for life and will always be part of a close-knit group.
e-veritas: What are the admission requirements and core subjects?
Glenn MacDonald: An overall average that exceeds 80% in your core subjects will make your application much more competitive, especially if you are also well-rounded (i.e. team sports, volunteer activities, hobbies, employment experiences and minor leadership roles)! A minimum of 70% in your core subjects is considered the minimum requirement. The core subjects include English, Math, Calculus, Social and Sciences and will vary depending on whether a candidate is pursuing an Arts, Science or Engineering degree. English and Math must be at the advanced levels.
e-veritas: Do you have any tips to assist candidates in completing the ROTP / RMC Application.
Glenn MacDonald: I encourage all RMC candidates to complete an activities matrix which helps them recall all of their past activities and accomplishments. From this matrix each candidate is then able to develop an effective one page application cover letter or resume thereby assisting in the CF interview and overall selection process. I have learned that most candidates are not aware of how much they have accomplished during their middle and high school years. I developed the matrix after hearing a presentation by the CFRG at one of our annual Red and White national meetings. The feedback I have received on the matrix from parents and candidates has been very positive and most use it when applying to other institutions. A few parents have actually incorporated it in their own work related environments (e.g. guidance counsellors, vice principals, HR and employment recruiters).
Sports could be team or individual. The RMC 2008-9 varsity sports are: basketball, fencing, hockey, rugby, running, soccer, taekwondo, volleyball. The RMC 2008-9 intramural leagues are: ball hockey, basketball, ice hockey, soccer, ultimate frisbee, and waterpolo. The RMC 2008-9 club sports are broomball, cheerleading, cycling, fish & game, judo, juggling, outdoors, paintball, social dance, triathlon/running, water polo, windsurfing, rugby, and yacht.
School-related leadership roles include student council, president, treasurer, class rep, photographer, year book, special event coordinator, or participation in other roles. School-related activities often occur in the context of competitions. The RMC 2008-9 competitions involve: military skills, obstacle course engineering, science fairs, essay, snow sculpture, model NATO, debate, cement toboggan, and military law.
Leadership-related activities often occur in the context of team or individual sports, clubs or organizations, school, part-time or full-time employment or hobbies. Leadership related roles include captain/president, treasurer, coordinator, photographer, year book, representative or special event coordinator. Leadership related activities include coaching, instruction, coordination, lesson plan preparation, planning, developing new ideas, or implementing strategies, etc.
Accomplishments could include awards, special commendations or recognition, being promoted to a position, selected for training, qualifications / training and participation in related studies or courses. Volunteer-related accomplishments could include organizing trips or special events, coaching, mentoring, fundraising or advocacy.
Military/paramilitary organizations such as cadets, rangers, reserves, St. John's Ambulance, scouts, cubs, guides, or brownies provide practical and theoretical training in leadership, teamwork and followership skills, drill and ceremonial, and range practices.
Clubs / Organizations often occur in the context of hobbies, church, band, or employment. The RMC 2008-9 clubs include: arts, astronomy, debating, photo, power flying, stage band, theatre, video editing, and war games.
Specialized training and courses, qualifications are also listed separately to allow you to recall things you may have missed for the other activities. In this instance, carefully consider all previous activities that you have been involved in and attempt to remember as many as possible. The qualifications offered to RMC students in 2008-9 include: Pressure Point Control Tactics, Rappel Master Course, Lifesaving Society Bronze Medallion + First Aid Level B + CPR and Physical Education Teacher.
OCdts Julia Anderson (First Year RMC) and Justine
Bezile (Prep Year at St Jean) assisting potential RMC candidates at Juno
Beach Academy in Calgary, Alberta. They also delivered a presentation to the
entire student body before a two hour round table discussion on RMC. The
result thus far is four RMC applications being submitted from Juno.
e-veritas: Do you have any tips to assist candidates in completing an effective resume?
Glenn Macdonald: I always suggest the cover letter or resume focus on a candidate's most significant activities and accomplishments with an emphasis on minor leadership positions. It should not exceed one-page and should employ headings and bullets to draw attention to major items. For example:
I have played hockey for seven years and was both an assistant captain and the team captain for my Midget Team.
I have held three part-time jobs and most recently I have been the head cashier and have also assisted in training new employees.
I play the pipes and have assisted in training our younger band members.
e-veritas: Do you have any tips to assist the candidates' references?
Glenn Macdonald: I always suggest that each candidate ask the reference for permission to use their name and also provide each reference with a copy of their one page cover letter and matrix. In so doing the reference will no doubt be suitably impressed and will also be able to quickly review and recall your priority activities and accomplishments when called by the CF Representative.
RMC Candidate Activities & Accomplishments Work Sheet