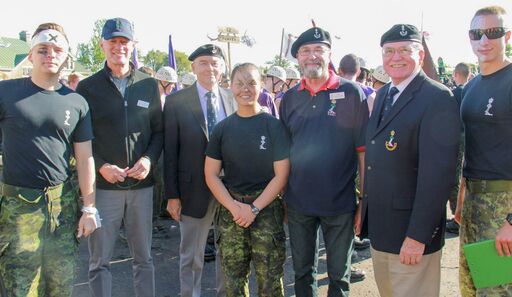 Reunion Weekend is just around the corner … maybe not right around the corner, but close enough that we want to help you start your planning!  Please find below the tentative schedule of events for RMC Saint-Jean, Royal Roads and RMC Kingston.
RMC Saint-Jean 25-26 August 2023
La fin de semaine des retrouvailles (FDSDR) 2023 au CMRSJ se tiendra les 25 et 26 août prochains. Le programme planifié présentement se déroulera comme suit: le vendredi soir l'heure de la bonne humeur (TGIF) ou anciens et anciennes se retrouvent de façon informel afin de reprendre le temps perdu; le samedi matin aura lieu la course à obstacles , suivi en après-midi de la Cérémonie de remise des médaillons commémoratifs du Club des ancien(ne)s et des insignes, cérémonie qui regroupera sur la parade, la classe d'entrée de 1973, laquelle sera intronisée au sein de la Vieille Brigade de même que tous les ancien(ne)s qui seront présents, par la suite il y aura le souper dansant pour la Vieille Brigade et tous les ancien(ne)s.
Le Musée du Fort Saint-Jean sera ouvert à tous pour la visite.
---
Royal Roads Homecoming 8-10 September 2023 
Homecoming Weekend at Royal Roads University (RRU) has been an annual event since 2001. The event is intended for all RRU alumni which includes anyone who attended Royal Roads through its evolution as first a Naval College, then a tri-service Military College, through to being a civilian University. So far it mainly attracts ex-cadets but RRU strives to include events that could attract more recent graduates as well. The Vancouver Island Ex-Cadet Club (VIECC) has worked with RRU to plan and take part in Homecomings since their inception.
À l'Université Royal Roads (URR), la fin de semaine des retrouvailles a lieu chaque année depuis 2001. Cet événement s'adresse à toutes les personnes qui ont fréquenté l'URR, peu importe l'étape de son évolution : d'abord collège de la Marine, puis collège militaire triservice et enfin université civile. Jusqu'à maintenant, il a surtout attiré les anciens élèves-officiers, mais l'URR tente d'organiser des activités qui intéresseront aussi les diplômé(e)s plus récents. Le Club des anciens élèves-officiers de l'île de Vancouver collabore à la planification de la fin de semaine des retrouvailles et y participe depuis sa création.
https://www.royalroads.ca/alumni/alumni-events/homecoming
---
RMC Reunion Weekend 15-17 September
Friday 15 September 2023
Wing Parade – 1300 hrs
RMC Obstacle Course (Staggered start) – 1300 hrs – 1900 hrs
Class Parties – 1800 -2200 hrs
Saturday 16 September 2023
Badging Parade – 1000- 1200 hrs
Wall of Honour Ceremony – 1300 -1500 hrs
Alumni Sports Challenge – 1400 – 1700hrs
Alumni Rugby Game – 1330 hrs
RMC Alumni Association Tailgate Party – 1400 hrs – 1900hrs
Old Brigade Dinner 1800 for 1900 hrs
Sunday 17 September 2023
Pre-Parade Assembly Panet House – 0930 hrs
Memorial Arch Parade – 1000 hrs
Vendredi 15 septembre 2023
Défilé des escadres – 13 h
Course à obstacles du CMR (départ décalé) – 13 h à 19 h
Soirée festive – 18 h à 22 h
Samedi 16 septembre 2023
Cérémonie de remise des insignes – 10 h à 12 h
Cérémonie du Mur d'honneur – 13 h à 15 h
Défi sportif des anciens – 14 h à 17 h
Match de rugby des anciens – 13 h 30
Fête d'avant-match de l'Association des ancien(ne)s des CMR – 14 h à 19 h
Souper de la Vieille brigade – 18 h pour 19h
Dimanche 17 septembre 2023
Rassemblement à la maison Panet avant le défilé – 9 h 30
Défilé de l'Arche commémorative – 10 h