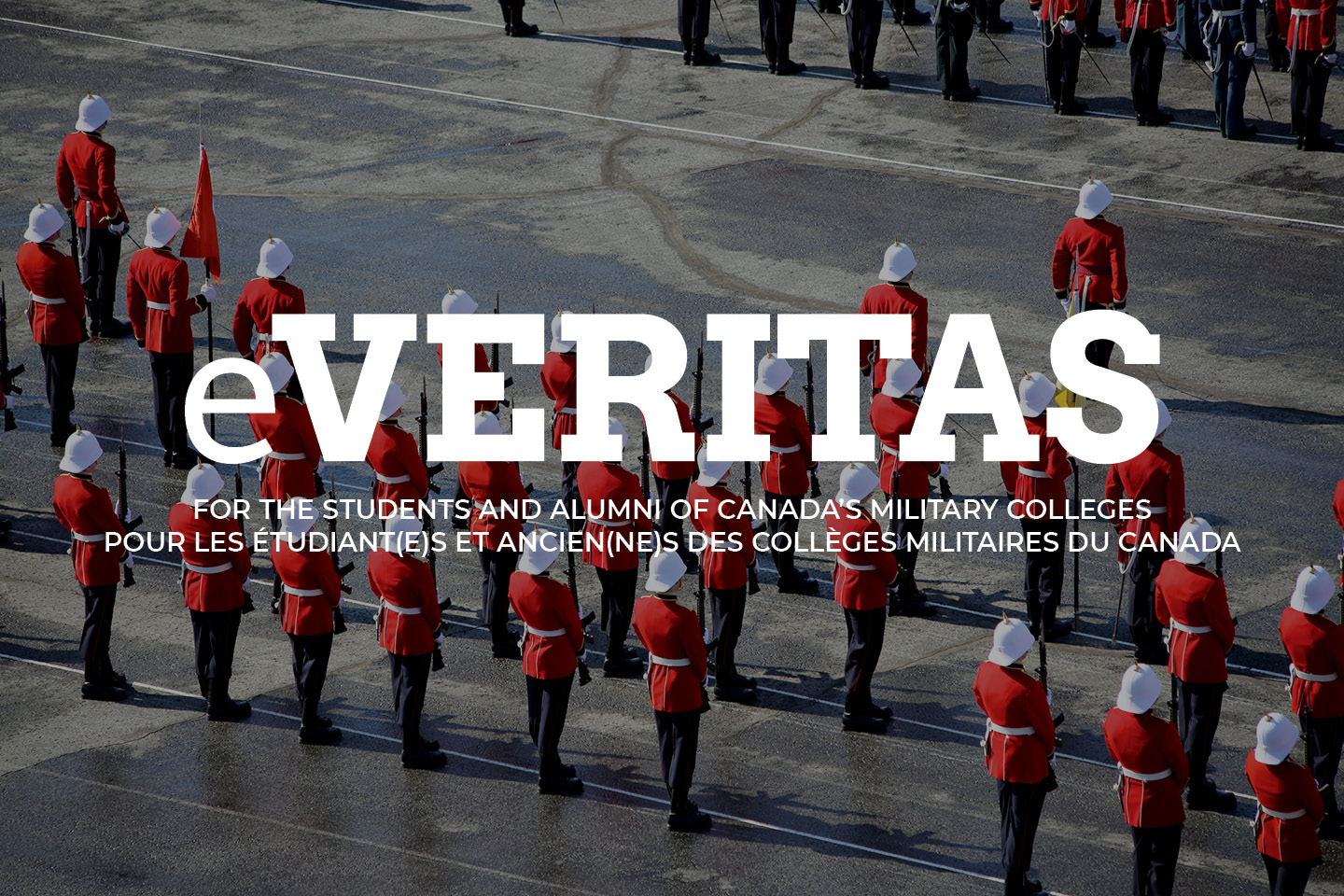 The RMCC Sailing Competitive Club are representing the College  at the 30° Trofeo Accademia Navale regatta in Livorno, Italy from 20 Apr to 28 Apr. There are 23 different countries taking part in the event.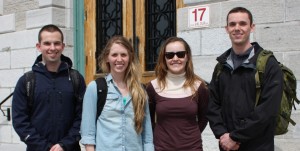 Club members 25745 OCdt Alanna Foscarini, 25902 OCdt Nigel Mahon, 26282 OCdt Kevin Bowen and 26554 OCdt Brittany Germain will be competing with CPO1 Keith Davidson as their coach and RMCC delegate.
http://www.trofeoaccademianavale.eu/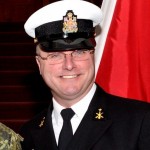 After two days of preparation, the TAN regatta commenced its first day of fleet racing.
The first race commenced with 34 boats from 24 Nations on the start line. Unfortunately, by the 3rd race there were only 25 boats remaining. The high winds and sea state overwhelmed some crews and by the end of the first day Broken masts, spinnaker poles, rigging and demoralized sailors were all that was left of several boats and crews.
The big players in town are of course the Italians, with home water advantage, as well as the teams from Baharain, United Arab Emirates, Bulgaria and the current power house from China.
OCdt Foscarini and her team had a superb day on the water. Lessons were learned and of course a great regatta wouldn't be one without a little blood shed. Ocdt Mahon offered lots of his to neptune, as a result of a few very tiny, teeny weeny facial lacerations, (those additional adjectives are for the parents) however the myth suggests that those who offer gifts to neptune will most likely be rewarded. Ocdt Mahon was cleaned up at the end of the day and is ready to start again tomorrow.
So, after the first day of racing, RMCC sailing team finished as follows
First Race – 7th place
Second Race – 6th Place
Third Race – 3rd place, beating China and Baharain.
The totals for the first day of racing have yet to be calculated and as such, we do not know were we stand overall at the end of three races. However, Because the top finishers have not consistently been the same boats, I am fairly certain that RMCC will be in the top 5 boats at the start of racing tomorrow.
I would like to sincerely thank those members of the academic wing, professors and deans, that displayed the much needed flexibility required when events such as these significantly impact on the exam period and subsequently causes more work for faculty members. Interestingly enough, the cadets turned down an off water event in order to find some much needed study time in what is a turning out to be very busy schedule.
Principle Sokolsky, could you please forward this update to the appropriate faculty members so that they are aware of how grateful the cadets are for their dedication and support.
I would also like to thank Christen Powers and her crew for providing outstanding support to all involved.
Cheers
RMCC CWO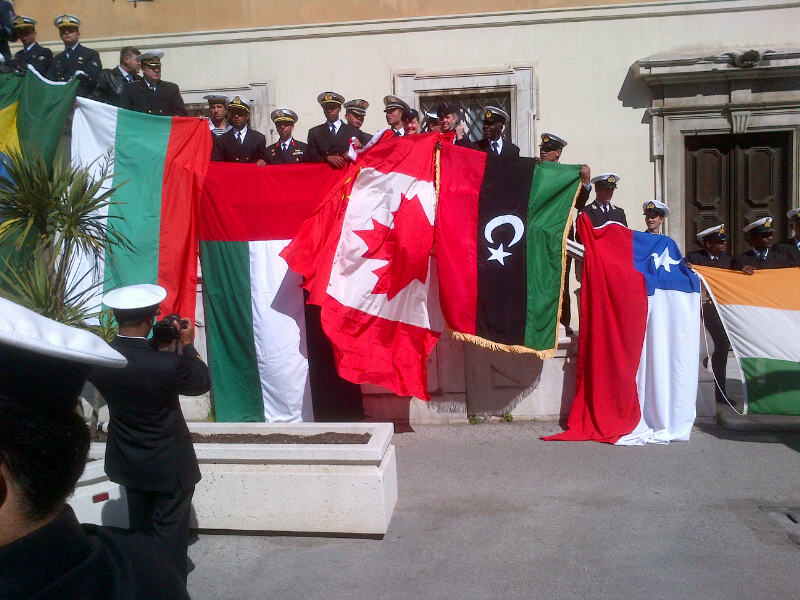 ………………
Day two (yesterday) of the TAN Regatta was very different from Mondays high winds and sea state. Due to very low winds tuesday, the race committee could only run 2 out of the scheduled 3 fleet races. The first day was hard on boats as described below, however the Italian Navy has managed to make all repairs required through the night and all 36 boats are once again on the start line.
Team RMCC got on to the water early to practice spinnaker hoists and douses as well as several gybes prior to the start.
Team RMC is now in the final stages of tweaking their sail handling and communication processes.
On completion of our 0630 morning runs, the team debriefs the previous days points. This morning, the team agreed that they have stopped yelling at each other and have started to communicate effectively.
All teams have been consistently improving thereby ensuring that dozens of boats are finishing within seconds of each other.
So at the end of day 2, RMCC placed as follows.
Race 4 – 2nd place
Race 5 – 8th place
Overall RMCC is tied for 3rd with Italy with 18 points. China is 2nd with 17 and UAE is first with 16 points. Its anyone's game at the start of the third day
The cadets spent the night in barracks, after a day of racing, studying for their up coming exams.
At the beginning of day three, (Wed), most teams have decided to discard one team mate for today's races, due to having too much weight in the boat for the very light winds expected. Team RMCC has decided that they would not be doing this as it conflicts with their over arching training requirements and admitted that although this decision may impact their placement, they believe the training value is much more important than their placement. I support their decision.
We will be ending the fleet racing portion of the regatta later this evening with an awards ceremony and banquet and will return friday for three days of match racing.
Thursday is a day off from sailing for some scheduled cultural activities in Pisa, Florence and Lucca.
RMCC CWO
……………….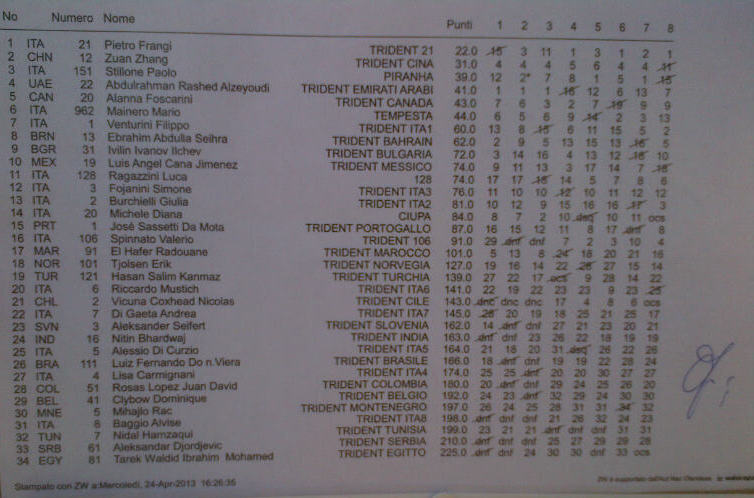 Fleet racing wrapped up today with a significant change in placement for the top boats.
I am so very proud of team RMCC. They caught the attention of everyone here at TAN. When I met with the Mayor of livorno she said "you Canadians have caught us all off guard".
So after the protests concluded, and the tempers were nothing but a distant memory, Team RMCC finished 5th out of 36 boats, results attached.
Tomorrow, the team starts 3 days of match racing elimination.
RMCC CWO
……………..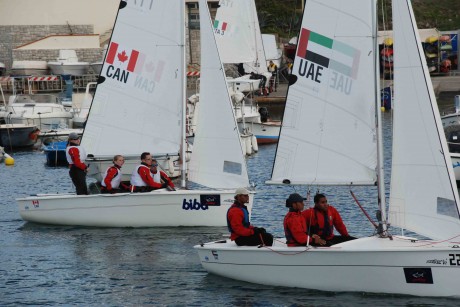 CAN has actually placed 3rd overall. What we didn't know, was that the two Italian teams that placed 1st and 3rd overall, were professional/trident 16 civilian racing teams and as such will not be included in the official Military Academy awards ceremony that will occur upon the completion of match racing. Therefore CAN will be bringing home the 3rd place trophy which RMCC can keep.
This is awesome.
RMCC CWO