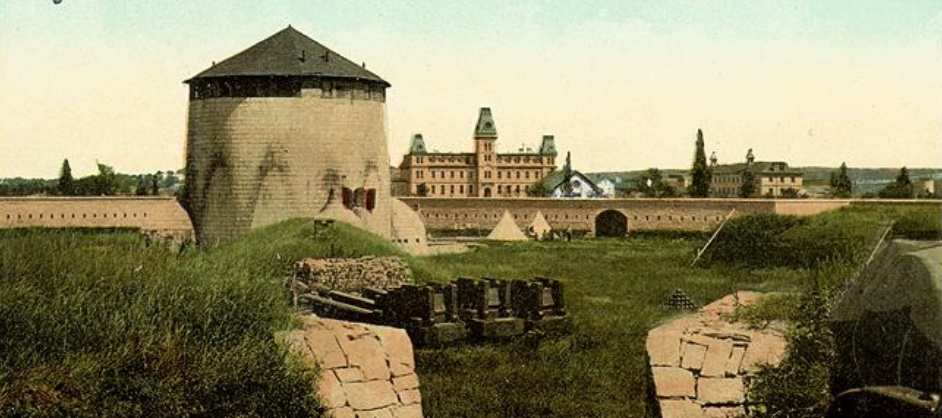 Royal Military Colleges Museum Corporation
Member of the Board of Directors
The Royal Military Colleges Museum Corporation (RMCMC) is seeking applicants for an immediate position on its Board of Directors as the Chair of the Planning and Implementation Committee.
We are especially interested in receiving applications from people who have a strong understanding and hands-on experience in the steps necessary to complete a successful building infrastructure development and construction project from beginning to conclusion, including alternative infrastructure delivery models that balance risk with accelerated project delivery including Integrated Project Delivery ('IPD').
Background
In 2016, the RMC Museum lost its home in the Fort Frederick Martello Tower due to deterioration of tower and its inability to sustain the necessary environment to house a museum collection.  The RMCMC is a not-for-profit corporation formed in 2021 whose purpose is to plan, build, then subsequently operate, and maintain the proposed Class A museum structure.
Chair of the Planning and Implementation Committee
Position Requirements:
In conjunction with the RMCMC Board, the Chair of the Planning and Implementation Committee will lead the planning, development, design, and procurement of the museum.  They will be supported by Committee members, facility users, and third-party consultants. The Planning and Implementation Committee will also have oversight of the construction of the museum facility.
Specific Responsibilities:
Leads both Committee and external resources in delivering the museum project (planning, design, and construction).
Negotiates with required consultants.
Puts a risk analysis process in place to ensure that the project meets the necessary criteria to move forward.
Manages the outside contract consultants that deliver services to the RMCMC and ensures that they deliver the desired outcomes in a timely and cost-efficient manner.
Provides contract oversight and management (design and engineering consultants as well as construction contract).
Ensures the Committee has the sufficient tools and resources to carry out its mandate.
Provides oversight to a future construction/project manager who be responsible for the program construction management and its delivery.
Shares appropriate information and proposes recommendations to enable the integration of Board goals and strategies.
Skills, Abilities, Experience:
Has 15-20 years of development and construction experience with a strong background in analysis and demonstrated ability to lead project teams and
Possesses and maintains strong relationships within the Canadian construction industry; leverages those relationships to ensure RMCMC delivers on its mandate.
Has outstanding business acumen and finance abilities.
Possesses excellent negotiating skills and can broker win-win deals and creates the best possible terms for the organization.
Can move forward with targeted agendas while identifying areas of risk for RMCMC. Is prepared to challenge and take calculated risks.
Can prioritize key issues and set plans to reach the goals and objectives of the project.
Possesses strong analytical and problem-solving skills; has delivered consistent complex major project results in a demanding and time sensitive environment.
Is politically astute. Able to identify potentially 'hot' issues and deal effectively with them while exercising tact and diplomacy.
Is transaction and project-oriented; understands technical and financial implications of decisions.
Has ability to apply logic and reasoning to analyze complex legal and contractual problems and to provide solutions or
Is a team player with an understanding of group dynamics and a track record of proactively managing tasks and
Has effective presentation skills with a high aptitude for networking and
Has highly developed written and verbal communication
Leadership:
Sets the tone for a team-oriented climate within the Committee and external resources that stresses cooperation and communication within the team.
Develops and fosters a culture that is innovative, progressive, and collaborative, ensuring team is engaged and supported.
Provides leadership to capitalize on the full potential of this critical initiative; in doing so, stimulates, motivates, guides, and supports all Committee team members to contribute fully to the realization of the project goals and objectives.
Acts with integrity, honesty, sincerity, and transparency in all dealings.
Term
This board position has a 3-year term effective November 2023, with approval at the AGM.  The new Director will commence immediately upon appointment by the Board in the interim.
Our volunteer Board is comprised of highly motivated and energetic individuals looking to make a difference.
Please forward a Letter of Interest and CV to Jackie Pothier, RMCMC Vice President and Chair of the Nominating Committee at:  Jackie.pothier@rmcmc.ca
Deadline:   Friday, June 23rd.  Interviews will be scheduled the week of July 3rd for selected candidates.
---
Société du Musée des Collèges militaires royaux du Canada
Membre du conseil d'administration
La société du Musée des Collèges militaires royaux du Canada (CMR) est à la recherche de candidats et candidates pour pourvoir immédiatement le poste de président ou de présidente du comité de la planification et de la mise en œuvre au sein du conseil d'administration.
Nous recherchons tout particulièrement les candidatures de personnes possédant une expérience concrète et une excellente compréhension des étapes à suivre en matière de développement d'infrastructures d'immeubles et de projets de construction, notamment en ce qui a trait aux différents modèles d'exécution d'infrastructures permettant d'équilibrer les risques et l'exécution accélérée de projets, y compris la réalisation intégrée de projets.
Contexte
En 2016, le Musée des CMR a dû quitter son emplacement de la tour Martello du fort Frederick en raison de sa détérioration. Il n'était en effet plus possible de maintenir un environnement adéquat pour abriter une collection muséale. La société du Musée des CMR est un organisme de bienfaisance sans but lucratif créé en 2021 dans le but de planifier, de construire, d'exploiter et d'entretenir une structure muséale proposée de classe A.
Président(e) du comité de la planification et de la mise en œuvre
Exigences du poste
En collaboration avec le conseil d'administration de la société du Musée des CMR, le président ou la présidente du comité de la planification et de la mise en œuvre dirigera la planification, le développement, la conception et l'approvisionnement dans le cadre des activités du Musée. Il ou elle recevra le soutien des membres du comité, des utilisateurs des installations et des consultants externes. Le comité de la planification et de la mise en œuvre supervisera également la construction des installations muséales.
Responsabilités particulières
Diriger les deux comités en plus des ressources externes dans le cadre de l'exécution du projet du musée (planification, conception et construction).
Négocier avec les consultants requis.
Mettre en œuvre un processus d'analyse des risques permettant d'assurer le respect des critères nécessaires pour aller de l'avant.
Diriger les consultants contractuels de la société du Musée des CMR et s'assurer qu'ils produisent les résultats souhaités rapidement et de manière rentable.
Assurer la supervision et la gestion des ressources contractuelles (y compris les consultants en conception et en ingénierie, en plus des contrats de construction).
Voir à ce que les membres du comité possèdent les ressources et les outils nécessaires pour accomplir le mandat établi.
Superviser un ou une gestionnaire de projet qui entrera en poste ultérieurement et qui sera responsable de la gestion et de la mise en œuvre du programme de construction.
Communiquer les renseignements appropriés et faire des recommandations pour faciliter la mise en œuvre des objectifs et des stratégies du conseil.
Compétences, capacités et expérience
Vous possédez de 15 à 20 ans d'expérience en gestion de projets de développement et de construction, en plus de solides antécédents en analyse et une capacité éprouvée à diriger des équipes de projet et leurs processus connexes.
Vous avez et maintenez de bonnes relations dans le secteur canadien de la construction, que vous pourrez mettre à profit pour que la société du Musée des CMR accomplisse son mandat.
Vous avez un bon sens des affaires et d'excellences compétences en finance.
Vous possédez de remarquables compétences en matière de négociation et pouvez conclure des ententes avantageuses pour tous les intervenants, en plus d'obtenir les meilleures modalités possibles pour l'organisation.
Vous pouvez aller de l'avant dans le cadre de programmes ciblés et déterminer les secteurs à risque pour la société du Musée des CMR. Vous ne craignez pas de remettre en question le statu quo et de prendre des risques calculés.
Vous pouvez prioriser les principaux enjeux du projet en plus d'établir des plans pour atteindre ses objectifs.
Vous avez d'excellentes compétences en analyse et en résolution de problèmes, ainsi qu'une capacité éprouvée à produire des résultats constants dans le cadre de projets d'envergure complexes, et dans un environnement où les échéances sont serrées.
Vous faites preuve de diplomatie. Vous pouvez cerner les enjeux pressants et les gérer efficacement, avec tact et diplomatie.
Vous avez de solides compétences en gestion de projet et de transactions, en plus d'une bonne compréhension des conséquences techniques et financières des décisions prises.
Vous avez un raisonnement logique et pouvez analyser des enjeux légaux et contractuels complexes, en plus de fournir des solutions et des recommandations pertinentes.
Vous possédez un bel esprit d'équipe et une bonne compréhension des dynamiques de groupe, ainsi qu'une capacité reconnue à gérer des tâches et des responsabilités de manière proactive.
Vous avez d'excellentes compétences en matière de présentation et une excellente aptitude pour le réseautage.
Vous démontrez de fortes aptitudes pour la communication orale et écrite.
Leadership
Vous donnerez le ton pour établir un environnement de travail axé sur la collaboration et la communication, tant au sein du comité qu'avec les ressources externes.
Vous mobiliserez et soutiendrez l'équipe en créant une culture qui favorise l'innovation, l'évolution et la collaboration.
Vous exercerez un leadership pour exploiter tout le potentiel de ce projet essentiel, en plus d'intéresser, de motiver, d'encadrer et d'épauler tous les membres du comité pour atteindre l'ensemble des objectifs établis.
Vous ferez preuve d'intégrité, d'honnêteté, de sincérité et de transparence dans le cadre de toutes vos fonctions et activités.
Mandat
Ce poste au sein du conseil d'administration est un mandat de trois ans, approuvé dans le cadre de l'assemblée générale annuelle et commençant en novembre 2023. Le nouvel administrateur ou la nouvelle administratrice occupera ses fonctions dès sa nomination par le conseil.
Toutes les personnes siégeant au conseil d'administration sont animées d'une grande motivation et sont résolues à travailler activement pour changer les choses.
Veuillez envoyer votre lettre de motivation et votre CV à Jackie Pothier, vice-présidente de la société du Musée des CMR et présidente du comité des mises en candidature, à : Jackie.pothier@rmcmc.ca.
Date limite : vendredi 23 juin. Les entretiens avec les personnes dont la candidature aura été retenue auront lieu durant la semaine du 3 juillet.