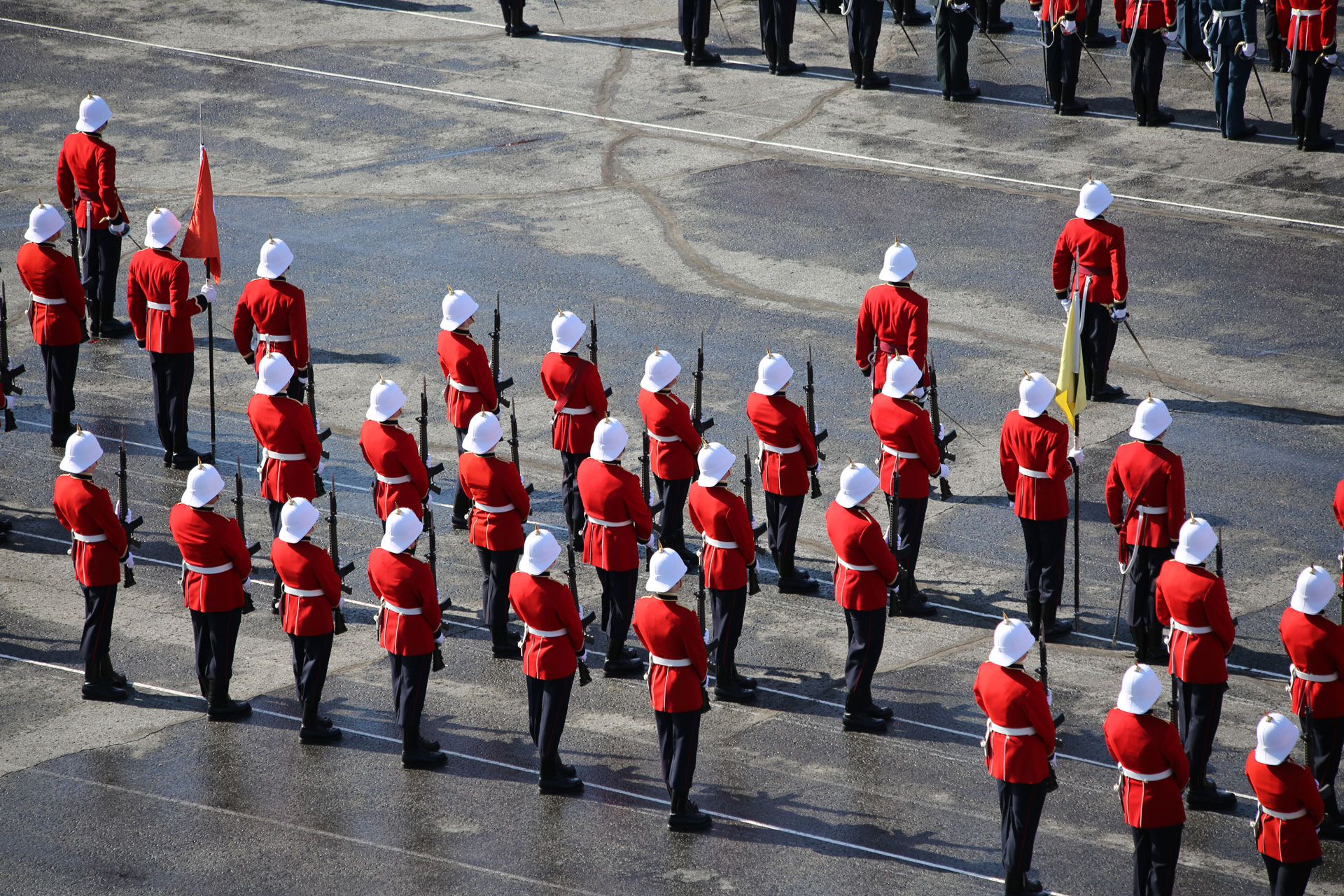 (W) Basketball Team Struggling…
Forfeit two OUA games this past weekend
By: WJO

The (W) Paladins basketball team already with a short bench by OUA standards was left with five healthy players – both medically and academically last week. This situation forced them to forfeit two road games – Windsor and UWO.
The team has been carrying only nine players since the start of the season. Most OUA teams have 12 – 15 on their roster. Forfeitures of this type reflect poorly on RMC, OUA and the CIS. The league will likely apply sanctions which usually involve a fine.
"We highly respect the Royal Military College and the work that Brad Schur has done with the team in the past few years," said Chantal Vallée, Windsor Head Coach who currently sit with a 4-0 won / loss record in the OUA West Division while RMC is 0 & 5 in the East Division. "We completely trust their judgment on cancelling the game and wish the RMC Women's Basketball team health and success in the future."
"It is unfortunate that we are in this position," commented Darren Cates, Director of Athletics. "All members of the Women's Basketball Team and their coaching staff work very hard, and to be in a position where we can't compete in scheduled games is disappointing," he added.
Besides basketball, lady cadets have varsity teams in fencing; volleyball; soccer; running; & TKD. (W) rugby although not a varsity sport is very popular and involve 20 – 25 cadets. Most teams are comprised mainly with cadets.  In addition there are also a few Special Interest students on the rosters on some of the teams.
In total all the (w) teams rosters add up to roughly 90 athletes. The RMC female cadet populations for the current year is at around 180 – give or take a few. 50% playing at this level does not appear to be sustainable, witnessed from what has just happened.
Word has it that a full review of the varsity sports program (which was already planned before this incident) will get underway some time soon. Undoubtedly, a good hard look will be taken on what is the right mix for the number of full-time varsity sports teams.
In a discussion with DCdt, LCol Tony O'Keeffe, he had this to say on the subject. "The women's basketball team has overcome numerous challenges over the years." O'Keeffe, the Canadian Forces Sports Hall of Fame member also added. " I am proud of the athletes and Coach Schur."
"The situation with our team is most unfortunate, and I am disappointed to find the program in such turmoil. As the leadership, we owe it to ourselves to critically assess how and why this program has no fourth years and such a short bench. And if we are honest with ourselves, this process will make us stronger. For now, our energy is focused on supporting the team and Coach Schur as they face this challenge."
The team is due to wrap up the first term schedule the following weekend 28 / 29 November at home and are expected to meet their playing commitment against Brock and Guelph.
This is the first time in recent history that an RMC varsity team had to forfeit, although, reading through old RMC Reviews from the 1950s it did happen in the good ole' days too!
________________________________________________
More sports…
Hockey – The team has had a bit of a yo-yo type season so far.  This past weekend was no exception.  They lost friday night 6-0 and bounced back with a 5-4 overtime win on saturday.  Both games were against Lakehead who were ranked 8th in the country last week.
Currently they have 4 wins; 5 losses; and three overtime losses. I may have missed a game according to the official OUA website. They show 13 games played.
PG student Paul Whalen has demonstrated that he hasn't lost the scoring touch he had as an officer cadet over 4 seasons. He has 7 goals and 6 assists to lead the team in scoring. Matt Pinder is next with 7 tallies and 5 helpers. After that team scoring is almost non-existent.
The Paladins have two tough games on tap for next weekend. Friday night, Carleton Ravens provide the opposition. They are currently in 3rd spot in the close OUA East division. UQTR come to Constantine arena with their typical numbers this time of year – they are in first place with 22 points. UQTR are currently ranked 5th nationally and may even be a notch higher when they arrive on saturday.
Next week will wrap up things in league play until early in the new year.
(W) Volleyball – The team is off to a 0 & 5 start. However, for the first time since they have  been in the OUA –  six years  – they are competitive. Prior to this season, in my view, the team only participated – they seldom competed.  Teams have to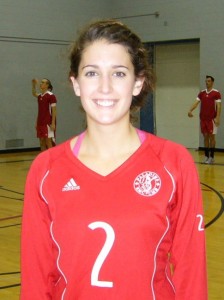 compete first – winning follows.
Friday night past, they competed in four sets – won 25 /22; and lost 25/22; 26/24; & 25/20. Saturday the scores against U o T were not as close but they still competed – 25/11; 25/19 & 25/13.  Both matches showed a spirited high energy RMC team which bodes well for the rest of the season.
I'm no volleyball expert but I have been a fan of the game for years. The serving, sets, digs, spikes, blocking, overall defensive and offensive teamwork were the best I've seen from an RMC (w) volleyball team in a long, long time.
Choosing a player of the game had to be tough.  Friday night, MELISSA MCCOY (4) earned the honour.  On saturday, BRIANNE BAUM (2) was chosen.  Both good choices.
A concern for coach Carolyn Welden and the Athletic Department hierarchy has to be the fact that they have a short bench. For the two weekend games only 7 players were recorded in the lineups.  According to the roster on the OUA site they have a total of 9 players.  Still far short of what most other teams have on their rosters.   OUA (W) Volleyball
(M) Volleyball – They are a dismal 0 & 9.
We had prior commitments when the team played this past weekend. Consequently, we didn't see them play. Scores indicate that they competed well too.  Friday they lost 3 sets to 1 against Ryerson. In the U o T match-up they also fell 3 – 1.  RMC won the first set 25/20 and lost three close ones: 22;21; &23.  Obviously tough losses.  OUA (M) Volleyball
(M) Basketball – Traveled to UWO and Windsor over the weekend.  The scores are not pretty.
105 -57 & 118 – 57.  RMC record is now 0 & 6.   OUA (M) Basketball
Volleyball & Basketball (M&W) Summary: Combined record four teams 0 & 27.
________________________________________________
Nineteen Fencers Qualify for Senior Canadian National Championships
The RMC Fencing team gathered at the obstacle course red wall last week at the beginning of practice. Mumblings could be heard from the athletes as to whether going over the wall was going to be part of practice that night or not. In fact, that red wall brings up lots of memories and emotions for every officer cadet, who has challenged themselves and their peers, to go over it. A perfect analogy for the coach to relay to the fencers, as they prepare to train and compete at the 2009 Senior Canadian National Championships, to be held in Ottawa Nov 26-29th.
Not one officer cadet has ever gone over that red wall alone. Every single student has needed their squadron peers to help him or her get up and over that wall. While they each faced a personal challenge and individual goal to do it, they did it collectively, and with team spirit. This is what it takes to be both an individual athlete and a team athlete at RMC. While the fencers may compete one on one on the piste, they must train, compete and challenge each other constantly to excel in a collective spirit.
Several officer cadets have already climbed the wall to fence at the national level in Canada. They know the strength of the competition, the level of expectation, and the nerve-wracking challenge it is to be competing at the top. They are already over their wall, but they are also focused on helping their team-mates climb this athletic hurdle, for the first time.
For those athletes about to debut their fencing skills at the National Championships it is a daunting and intimidating challenge. They know that even from the first fight, they must be ready, they must be focused, and they must be determined to meet every opponent with their best skills and tactics from the first "en garde, prêt, allez". It is comforting however, to know that strength in numbers will help our team feel supported, and no matter the outcome, they are going through this process and this experience together.
For the less experienced athletes on the team, mostly first and second years, the Nationals may be a long-term goal, but they also know that it is their job to train hard to help prepare their team-mates for this big event. They also know, that a couple of years from now, some brand new first year fencer will do the same for them, as they prepare to climb the red wall, which also embodies the nationals.
Since there are no CIS or CF Nationals in the sport of fencing, the civilian national championships represent an important step in the development of top athletes. To compete successfully at the university level, the RMC fencers need to at least have a greater, more intimidating, demanding experience such that the OUA events seem manageable and achievable in comparison. Likewise, several RMC fencers are also members of the CF CISM Fencing Program and competing at the Nationals provides them an excellent stepping-stone to higher-level competition and helps prepare them for world-class military championships in the future.
In all nineteen RMC fencers have qualified for the nationals by ranking in the Top 64 in Canada of their discipline; foil, epee or sabre, and will compete against the best in Canada in both individual and team events. The varsity teams even raised their own funds to support this event, through the Men's Team Pizza Sales, the Women's Team Bake Sale and hosting the 40th RMC Invitational in November, to pay for their participation in this event. They are working hard collectively, so that each of them will gain enormous perspective, and challenge themselves to climb a hurdle in their sport, equally as daunting as the red wall. In the end it is not the results that matter, but the fact that they are doing this together, and it will be an experience they will remember for years to come!
For event schedule please follow these links. Come out and support the Red & White RMC fencers!
English Link http://www.fencing.ca/competitions/2009nov_csc_info_eng.htm
French Link http://www.fencing.ca/competitions/2009nov_csc_info_fr.htm