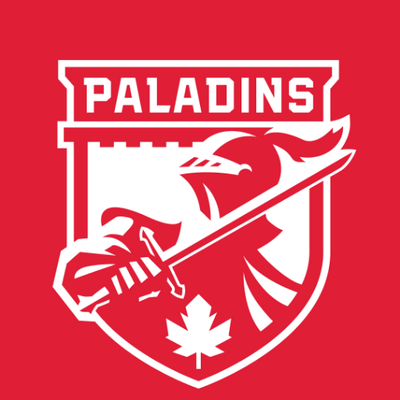 Can't attend, but don't want to miss the action? Watch all RMC teams on OUA Tv – https://oua.yaretv.com/RMC
Sports information is shared from the RMC Athletics website www.gopaladinsgo.ca 
Women's Sabre Earns Bronze at Carleton Invitational
The RMC fencing team competed at the Carleton Invitational on the weekend (Jan. 14 and Jan. 15). Women's sabre had the best finish for RMC, winning a bronze medal.
On day one, the team of Andrew Willison, Bomin Yun, Ethan MacMillan and Parker Wells placed fifth in the men's foil. That group lost a heartbreaking match 45-43 to Queen's A to place just outside the top four. The women's épée A team consisting of Joanna Kasprzak, Ruby Ernest and Trinity Armstrong also came fifth. The second women's épée squad (Sarah Gauthier, Hannah Maughan, Stephanie Leach) finished 12th.
In the quarterfinals of the men's sabre, RMC dropped a tight 45-43 decision to Queen's A. The team of Braden Lohnes, Caley Barscello, Dongha Oh and Jeremy Albert came in 7th.
On day two, the Paladins earned their highest finish of the tournament as the team of Lauren Lee, Nikhita Antil, Noah Lee and Rina Lee finished third in the women's sabre. The lone RMC team in the division defeated McMaster A 45-43 in a thrilling bronze medal match.
The men's épée teams (Daniil Makarenko, Rowan Bye-Lock, Andrew Willison) (Isaac Whitehead, Joshua Vessey, Scott Mawhinney) came in 10th and 11, respectively, while the women's foil teams (Stephanie Leach, Jiyoon Park, Vas Patapovich) (Chelsey Guo, Joanna Kasprzak, Mary Joyce Flood) also placed 10th and 11th.
The Paladins are back in action next week (Jan. 20 – Jan. 21) as they continue their busy January. The fencers are headed to West Point to compete in the West Point Invitational.
L'équipe d'escrime du CMR a participé au tournoi Carleton Invitational au cours du weekend (14 et 15 janvier). L'équipe sabre féminin a réalisé le meilleur résultat du CMR en remportant la médaille de bronze.
À la première journée de compétition, une équipe composée d'Andrew Willison, Bomin Yun, Ethan MacMillan et Parker Wells a pris le cinquième rang au fleuret masculin. Ce groupe a perdu un match crève-cœur par la marque de 45-43 contre Queen's A pour être écarté du carré d'as. L'équipe A d'épée féminine composée de Joanna Kasprzak, Ruby Ernest et Trinity Armstrong a aussi pris le cinquième rang. La deuxième équipe féminine d'épée (Sarah Gaultier, Hannah Maughan, Stephanie Leach) a pris le 12e rang.
En quarts de finale du sabre masculin, le CMR a perdu 45-43 contre Queen's A. L'équipe composée de Braden Lowness, Caley Barscello, Dongha Oh et Jeremy Albert a pris le septième rang.
La deuxième journée de compétition, les Paladins ont réalisé leur meilleur résultat du tournoi alors que l'équipe composée de Lauren Lee, Nikita Anti, Noah Lee et Rina Lee a pris le troisième rang du sabre féminin. La seule équipe du CMR dans la division a vaincu McMaster A 45-43, dans un duel palpitant pour la médaille de bronze.
Les équipes masculines d'épée (Daniil Makarenko, Rowan Bye-Lock et Andrew Willison, puis Isaac Whitehead, Joshua Vessey et Scott Mawhinney) ont respectivement pris le 10e et le 11e rang, tandis que les équipes féminines du fleuret (Stephanie Leach, Jiyoon Park et Vas Patapovich, puis Chelsey Guo, Joanna Kasprzak et Mary Joyce Flood) ont aussi pris les 10e et 11e rangs.
Les Paladins seront de retour en action la semaine (Jan. 20 – Jan. 21) prochaine dans le cadre d'un mois de janvier plutôt chargé. Les escrimeurs se déplaceront à West Point pour le tournoi West Point Invitational.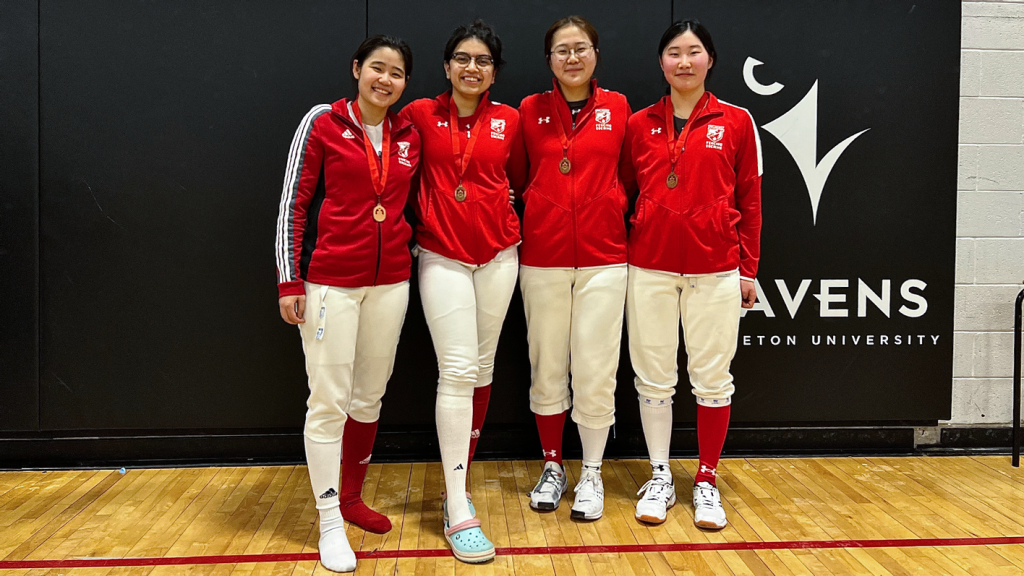 ---
Paladins Win Second Straight Game in Oshawa
The next game is Friday 20 January at 7pm at Carleton University against the Carleton Ravens.
RMC played the second of a back-to-back in Oshawa against the Ontario Tech Ridgebacks on Saturday (Jan. 14). The Paladins defeated the Ridgebacks 5-3, earning their second straight victory.
At the start of the game, the Paladins were looking to continue their momentum from a thrilling Saturday overtime victory. Chris Paquette scored his eighth goal of the season at the 4:28 mark to give the Paladins the early lead. Just over three minutes later, the Ridgebacks found the tying goal as Andrew Suriyuth scored right after the Ontario Tech power play ended. The Paladins threw ten shots on the net, while the Ridgebacks had 14 of their own. Both teams were unable to get the go-ahead marker in the first.
Chris Paquette got himself on the scoresheet once again, putting in the rebound for his ninth of the year. The Paladins kept their scoring going in the second as Austin Saint continues his campaign for being on the OUA all-rookie team, notching his 11th of the season. The Bonnyville, Alta., product wristed the shot in from a wide angle, putting it past Ontario Tech goalie William Desmarais, who got the start on Saturday. Despite being outshot 25-17 after two periods, the Paladins held a 3-1 lead.
Ontario Tech switched to their starter from last night in Leif Hertz during the intermission. The third period saw the Paladins continuing to apply pressure as Josh Spratt took advantage of an Ontario Tech turnover and skated in on a two-on-one, electing to shoot and putting it in the back of the net for the three-goal advantage. The Ridgebacks attempted a comeback as Stephen Calisiti scored a power play goal for the Ridgebacks, reducing the RMC lead to 4-2. The Ridgebacks took a timeout late in the third as they tried to power a comeback. This led to a James White goal for Ontario Tech with just under two minutes left. Despite the Ontario Tech pressure, the Paladins were able to secure the victory as captain Noah Rowe sealed the contest with an empty netter.
Goaltender Joey May made 33 saves, earning his fourth win of the season and doubling his previous season-high of two wins in the 2019-2020 season. Paquette's two points put him tied for third on the team with eleven along with fellow goal scorer Josh Spratt.
The Paladins are back at home on Friday (Jan. 20) as they host the Carleton Ravens at 7:00 p.m. RMC is looking to even the season series in this crucial January matchup.
Le CMR a disputé le deuxième match d'une série de deux d'affilée à Oshawa contre les Ridgebacks d'Ontario Tech, samedi (14 janvier). Les Paladins ont défait les Ridgebacks 5-3 pour ainsi signer un deuxième gain d'affilée.
Au moment d'amorcer la rencontre, les Paladins ont cherché à poursuivre dans la même veine après avoir décroché une palpitante victoire en prolongation, vendredi. Et ç'a réussi alors que Chris Paquette a marqué son huitième but de la saison après 4:28 de jeu pour donner une avance rapide aux Paladins. Un peu plus de trois minutes plus tard, les Ridgebacks ont créé l'égalité quand Andrew Suriyuth a trouvé le fond du filet peu après la fin d'un avantage numérique d'Ontario Tech. Les Paladins ont dirigé 10 tirs au but, comparé à 14 pour les Ridgebacks. Aucune des deux équipes n'a été en mesure de prendre les devants au moyen d'un deuxième but au premier engagement.
Chris Paquette a toutefois fait mouche à nouveau en deuxième période, parvenant à pousser le retour d'un tir au fond du filet pour son neuvième but de la campagne. Les Paladins ont continué de produire à l'attaque en période médiane quand Austin Saint a encore une fois montré qu'il mérite d'être considéré pour une place au sein de l'équipe d'étoiles des recrues des SUO en marquant son 11e filet de la saison. L'athlète de Bonnyville, en Alberta, a décoché un tir des poignets d'un angle relativement restreint qui a battu William Desmarais, le gardien de but partant d'Ontario Tech, samedi. Même s'ils ont été dominés 25-17 au chapitre des tirs au cours des deux premières périodes de jeu, les Paladins détenaient une priorité de 3-1.
Ontario Tech ont ensuite fait appel à son gardien partant du match de vendredi, Leif Hertz, pour amorcer la troisième période. Les Paladins ont alors continué d'appliquer de la pression et Josh Spratt a profité d'un revirement commis par Ontario Tech pour filer à deux contre un, et il a choisi de tirer pour permettre aux siens de prendre une avance de trois buts. Les Ridgebacks ont cherché à remonter la pente et Stephen Calisiti a profité d'une supériorité numérique pour marquer et réduire le déficit des siens à 4-2. Les Ridgebacks ont demandé un temps d'arrêt en fin de troisième dans l'espoir de créer l'égalité. Ç'a permis à James White de marquer pour Ontario Tech avec un peu moins de deux minutes à disputer. Malgré la forte pression appliquée par Ontario Tech, les Paladins ont pu confirmer la victoire quand le capitaine Noah Rowe a inscrit un but d'assurance dans une cage déserte.
Le gardien de but Joey May a réalisé 33 arrêts en route vers sa quatrième victoire de la campagne, lui dont le sommet personnel était auparavant de deux victoires en une saison, qu'il avait établi en 2019-2020. Les deux points récoltés par Paquette lui ont donné une égalité au troisième rang des marqueurs de l'équipe avec un autre des buteurs du jour, Josh Spratt.
Les Paladins seront de retour à domicile vendredi prochain (20 janvier) alors qu'ils recevront les Ravens de Carleton à compter de 19h00. Le CMR cherchera alors à créer l'égalité dans la série de matchs entre les deux équipes cette saison à l'occasion de cet affrontement crucial du mois de janvier.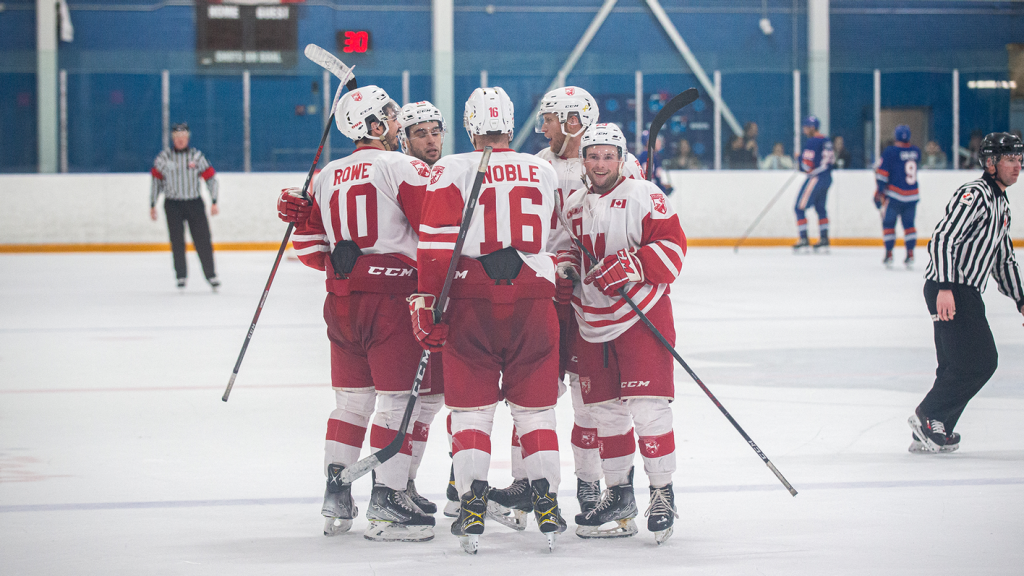 ---
RMC Finishes Weekend Road Trip in Waterloo
The Paladins played the second of a back-to-back against the Waterloo Warriors on Saturday (Jan. 14). The Warriors got the best of the Paladins, winning in three sets (11-25, 9-25, 18-25).
The Warriors continued their momentum from yesterday, taking an early lead. Emma Titley had a good start to the day, getting her first kill on her first attempt. The outside hitter ended the set with two kills. Waterloo's pressure gave them the set one victory 25-11.
In the second, the home side kept things going and once again took an early advantage. However, RMC attempted to fight back as Jayda Phillipson earned an ace on a diving float serve.  The Warriors ended up taking down the Paladins in the second.
RMC took their first lead of the match, taking a 6-5 lead early on in the third. An RMC timeout was taken as the Warriors took their lead back. The Paladins kept fighting back as Titley delivered two kills in the latter stages of the set. It was not enough as the Warriors won the third by a score of 25-18.
RMC was led by outside Emma Titley, who delivered eight kills. Right side Taryn Bender had 11 digs, while setter Jayda Phillipson distributed 11 assists.
The Paladins get the next week off and will return on Friday, January 27 at home to take on the visiting TMU Bold. First-serve is scheduled for 6:00 p.m.
Les Paladins ont disputé le deuxième match d'une série de deux contre les Warriors de Waterloo, samedi (14 janvier). Les Warriors ont eu le dessus sur les Paladins, l'emportant en trois manches (11-25, 9-25, 18-25).
Les Warriors ont poursuivi dans la même veine que la veille en prenant les devants rapidement. Emma Titley a connu un bon départ au profit du CMR, réussissant une attaque marquante à sa première tentative. L'attaquante opposante a complété la première manche avec deux attaques marquantes. La pression constante appliquée par Waterloo a toutefois permis aux Warriors de s'imposer 25-11 en première manche.
En deuxième manche, l'équipe locale a continué sur son erre d'aller et a encore une fois pris les devants rapidement. Toutefois, le CMR a cherché à répliquer, notamment quand Jayda Phillipson a réussi un as au moyen d'un service flottant et plongeant. Les Warriors ont quand même remporté la deuxième manche aux dépens des Paladins.
Le CMR a pris sa première avance du match, au compte de 6-5, tôt en troisième manche. Un temps d'arrêt a été demandé par le CMR quand les Warriors ont repris les devants. Les Paladins ont toutefois continué de répliquer, notamment quand Titley a réalisé deux attaques marquantes dans les derniers moments de la manche. Mais ça n'a pas suffi et les Warriors ont remporté la troisième manche sur le score de 25-18.
La meilleure joueuse du côté du CMR a été l'attaquante opposante Emma Titley, qui a totalisé huit attaques marquantes. Du côté droit, Taryn Bender y est allée de 11 récupérations, tandis que la passeuse Jayda Phillipson a livré 11 mentions d'aide.
Les Paladins auront congé la fin de semaine prochaine, si bien que leur prochain match aura lieu le vendredi 27 janvier à domicile contre le Bold de l'Université Toronto Metropolitan. L'affrontement commencera à 18h00.