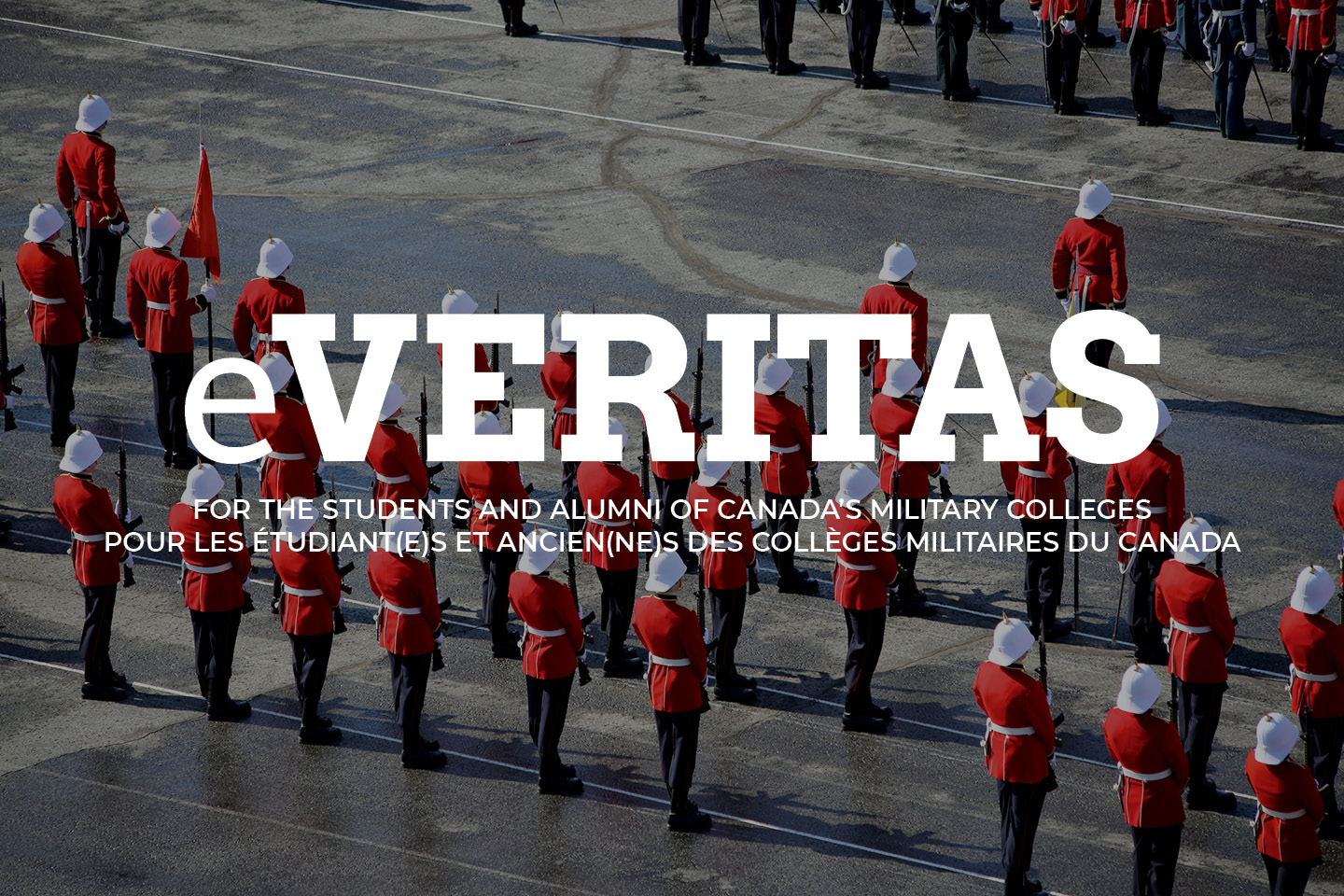 This Remembrance Day the RMC Men's Volleyball team played a match at the University of Waterloo. Prior to the match the team started the day off by watching the local legion parade in Kitchener Waterloo. The team arrived a little early, and prior to the start of the parade the local legion president Mr. James Frasier ask if Cadets would actually participate on the parade. The RMC volleyball team gladly accepted the invitation and went from spectators to participants .
Once again the cadets represented RMC is a professional first rate manner. Job well done.
___________________________________________
Follow your favourite team by clicking on the link in the table below:
| | | |
| --- | --- | --- |
| | | |
| Men's Basketball | OUA- Men's Basketball | CIS – Men's Basketball |
| Women's Basketball | OUA – Women's Basketball | CIS – Women's Basketball |
| Men's and Women's Running | OUA – Cross Country | CIS Mens Running / CIS Womens Running |
| Men's and Women's Fencing | OUA – Fencing | |
| Hockey | OUA- Hockey | CIS – Hockey |
| Rugby | OUA – Rugby | CIS – Women's Rugby |
| Men's Soccer | OUA – Men's Soccer | CIS – Men's Soccer |
| Women's Soccer | OUA – Women's Soccer | CIS -Women's Soccer |
| Taekwondo | | |
| Men's Volleyball | OUA – Men's Volleyball | CIS – Men's Volleyball |
| Women's Volleyball | OUA – Women's Volleyball | CIS – Women's Volleyball |
_________________________________________________
Rebecca Fielding, Cadet Wing Sports Public Information Officer (CWSPIO) – On Assignment
Hometown: Ottawa, ON
Family: how many sisters/brothers: I have one brother, Mathew, who is 13 years old. He plays competitive hockey and loves flying. My mom is a school secretary and loves to volunteer. My dad is a retired Infantry and RCMP officer and is now in charge of a portion of security for West Jet. Cheap flights!! 🙂
Degree: Psychology
Miligtary Occupatio: Pilot
Position: Cadet Divisional Staff Officer
One special memory you have from fencing is: When my coach, Patty, originally wouldn't let me try out for the team as I missed the first day of tryouts and she already had too many girls trying out. One of the girls on the team, Diana Prenoveau, who was the one who got me to even tryout kept pushing it and eventually Patty agreed with the condition that I could do 20 push-ups. 2 days later I made the team and now am Captain of the Women's team.
My most memorable competition was: The RMC Invitational last year. I was Captain of the B team and we were down by 7 points. I began the 5 point bout and I wound up beating the girl 12-2. She wasn't too happy… It was a good day!
One thing people don't know about me is: I love to travel!
Biggest Fear: Bodies of open water!! 🙁
Hobbies: Sports, shopping, travelling, food!
Future Aspirations: Griffon pilot
Hometown: Moncton NB
Family: One sister
Degree: PoliSci History Minor
Trade: Infantry
Position: FYOP CFL
One special memory I have from fencing was watching our Epee team win the gold medal in second year. I was the unfortunate fourth on the team and didn`t actually get to do more than provide weapons that actually worked; yet the experience gave me a lot of motivation to improve my skills.
My most memorable competition was the Carleton Invitational of second year: I was the most junior member of our team and had expected, and was expected to, bleed points all over the place, but I managed to actually win most of the bouts.
Biggest Fear: I have a deep fear of the dissolution of the Commonwealth and the declining sentiment towards the Monarchy rampant amongst my generation.
Hobbies: During my spare time I enjoy a good class of scotch whiskey and a fine cigar; sadly my measly Officer Cadet pay disallows much indulgence.
Future Aspirations: I`m looking forward to graduation and to progress from the College to unit. After graduation I`ll move onto my DP 1.2 infantry and with all luck get sent to the PPCLI.
_________________________________________________
Made to honour
Since the start of the Ontario University Athletics hockey season Beirnes, a goaltender with the Royal Military College Paladins, has been wearing a mask painted with First World War scenes.
"I wanted a mask with a Canadian Forces theme," said Beirnes, 22, a native of Barrie.  Read the article
_________________________________________________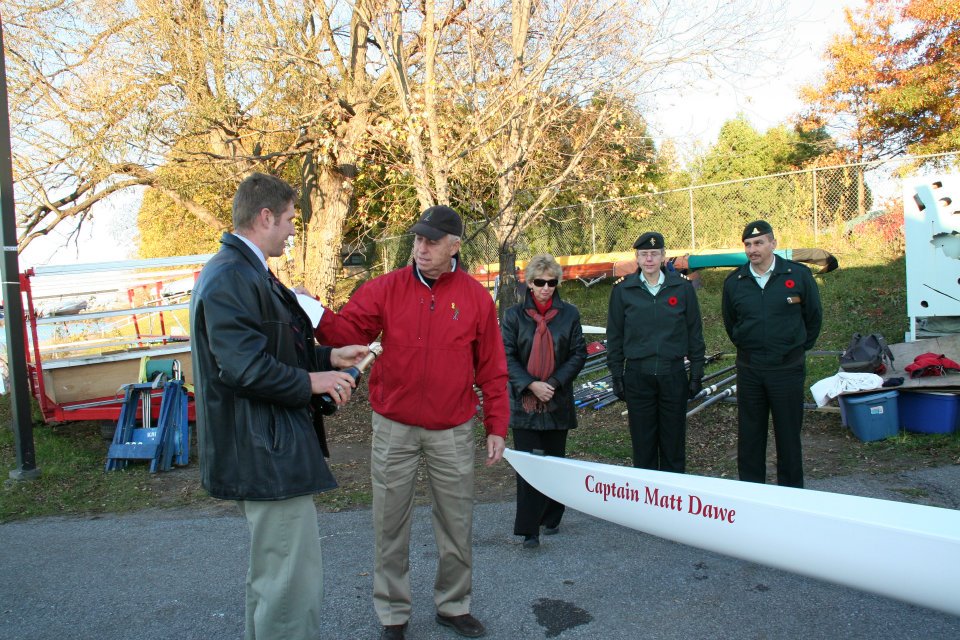 Caption: 22323 Ryan Slate, coach of the college rowing team; a former OUA champion  with the traditional bottle of champagne and Peter Dawe father of the Capt Matt Dawe during the official christening of "Captain Matt Dawe" rowing shell. Looking proudly on is Matt's mother, Reine accompanied by Director of Cadets, 14510 LCol  Sue Wigg and MWO Andy Skinner, Military Wing Sergeant Major.
Newly Christened 'Captain Matt Dawe' and RMC Rowing Club Leave Impression at Nationals
Written by: 25752 OCdt (III) Christopher Lane
Last weekend, ten members of the RMC Rowing Club represented the college at the Canadian University Rowing Championships in Welland, ON. RMC entered three boats into the event: a Men's Single, Pair and Eight. RMC rowers impressed schools coming from as far as Victoria, Calgary and Fraser Valley. RMC finished eleventh in the overall rankings out of the twenty best university rowing teams in Canada.
The highlight event of the weekend, as it always is in rowing, was the Men's Eight. All eight active RMC rowers competed in the newly christened rowing shell, the 'Captain Matt Dawe'. They performed well, cracking the top ten in Saturday's time trial and finishing fourth out of five boats in their final on Sunday, missing out on third place by just two tenths of a second.
The Captain Matt Dawe was christened two weeks before at HMCS Cataraqui, the home of the RMC Rowing Club this fall season. The shell, named after the RMC grad who was Killed In Action (KIA) July 4,  2007, was the first to be dedicated since the 'Liam Hassett' pair back in 2001, which also saw action at Welland.
The inscription of 'Captain Matt Dawe' on the eight shell will undoubtedly serve as motivation for rowers in seasons to come, as the name represents the epitome of dedication, determination and sacrifice. As spoken by Head Coach Ryan Slate at the ceremony, "The boat will serve as an inspiration, and also a reminder of the seriousness of the profession of arms."
With the fall season now over, rowers will soon begin a rigorous winter training program to prepare them for the fall season. RMC rowers will be prepared for the Canadian Indoor Rowing Championships scheduled for February, as well as the spring season's regattas.
The RMC Rowing Club would like to thank all who have supported the club through its most successful and competitive season since its reformation last year.