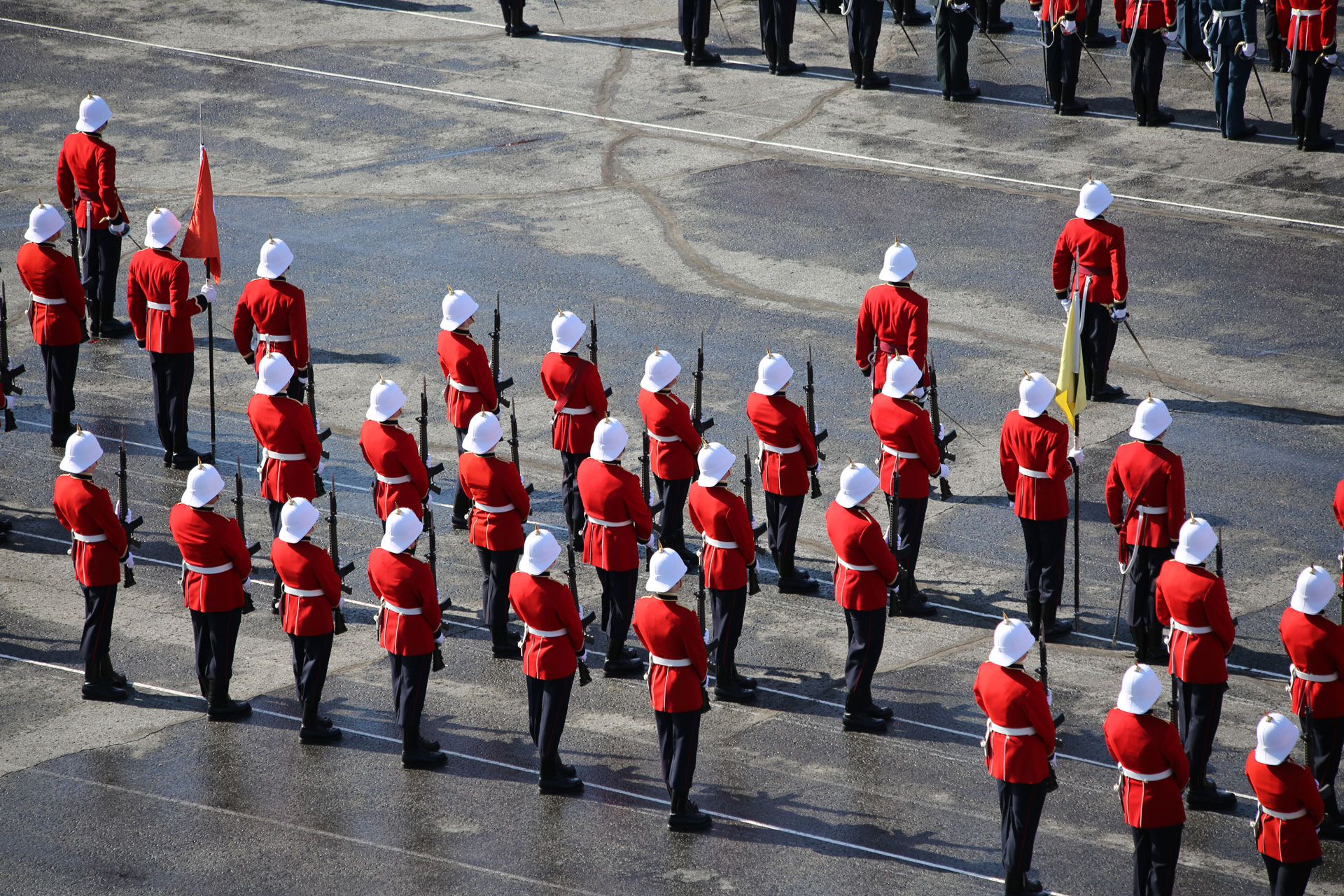 CIAU / CIS builder and administrator Major W.J. 'Danny' McLeod honoured by Canadian Interuniversity Sport.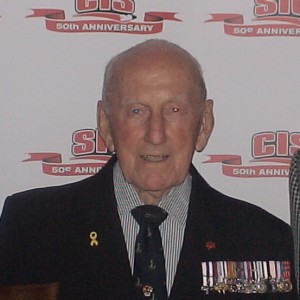 The CIS Awards Banquet was held last Wednesday, 8 June at the Hotel Grand Pacific in Victoria, B.C. as part of the organization's annual general meeting.
'The Major' received the Austin-Matthews Award, presented annually to an individual who has made an outstanding contribution to interuniversity sport, as demonstrated by his/her long-term commitment and leadership as a coach, director, chairperson and/or executive committee member at the local, provincial and/or national levels of Canadian interuniversity sport.
A special tip of the hat to Darren Cates, current Director of Athletics at RMC who submitted the nomination; see the write-up below.
NOMINEE'S NAME: William John (Danny) McLeod
NOMINEE'S BIOGRAPHY:
Danny McLeod has been a teacher his entire life; although not in the traditional sense of the word. He did not teach in the classroom, he taught everywhere else.
Growing up on a small farm on the outskirts of Medicine Hat in the 1920-30s as the eldest of four boys, he learned the value of hard work and the importance of doing things right the first time. His first teaching job was teaching his siblings chores on the farm so he could move on to more demanding ones.
At the outbreak of WWII he left the farm to serve his country, which he did with distinction; rising from the rank of private to captain, becoming the first Canadian to graduate from Sandhurst the historic home of British officer training(first in his class), leading troops in battle and winning the Military Cross for valour in action. He and his troops survived because Danny taught them about war, and they followed his leadership, determination and pursuit of excellence.
Danny honed his skills by remaining in the army after the war, achieving the rank of Major and doing what officers did in peacetime, prepare for war by training and teaching others. He also polished his athletic and management skills, which were substantial, especially in hockey, boxing and lacrosse.
In 1960 Danny was the popular choice to become the founding Director of Athletics at Royal Military College, in Kingston, Ontario. He had, without being aware of it, achieved his "dream job", teaching young men to be officers in the Canadian Forces. He started with a clean sheet and developed a comprehensive program that featured inclusiveness, individual sport, team sport and contact sport participation, along with periodic physical testing to validate his approach. He was innovative and mentoring and produced numerous subordinates who came to prominence in their own right.
He was instrumental in generating interest in resurrecting the defunct Canadian Intercollegiate Athletic Union, but this time on a true national basis. He succeeded in creating a national organization and accepted the position as the founding Secretary- Treasurer. He served until 1971 when he left Royal Military College upon retirement.
Rejecting overtures to accept national coaching jobs abroad, he accepted the challenge of joining the National Hockey League as a Supervisor of Officials in the Expanded 12 team league. This involved training and supervising referees and linesmen in the NHL and AHL. He also trained all the on-ice officials on international hockey rules for the historic Canada-USSR Series of 1972.
Returning to Kingston upon retirement from the NHL, he re-connected with friends and colleagues in the area and currently is active on intercollegiate hockey and sports related issues. Danny resides in Kingston with his wife Sheila.
REASONS FOR NOMINATION:
• Driving Force behind the creation of the CIAU
• Founding Secretary-Treasurer of CIAU(1961-71)
• President of OSLAA
• Member of The OQAA, OIAA, OIFA
• Inaugural Director of Athletics of Royal Military College
• Innovative teacher, motivator and developer of athletic staff
• Successfully presented CIAU application to join FISU
• Chef de Mission 1968 International Student Games
• Member of the NHL Eligibility Committee
• Conducted testing on student athletics as an assist to the Institute for Aviation Medicine. Test results were later well received by the Canadian Association of Health, Physical Education, and Recreation
• Winner of the prestigious Birchell Leadership Award
• Recipient of Honorary Doctorate of Military Science from RMC
• Creator (with the late Father Bauer) of the CAHA Leadership Academy for professionalism in amateur sport management.
• Served as a mentor to developing staff such as Rolf Lund, Doug Hargreaves and Hank Tatarchuk.
• Previously recognized by the CIAU by naming the Men's Hockey Championship MVP Trophy, The Danny McLeod Trophy.
NOMINATED BY:
Darren Cates, Director of Athletics
Royal Military College of Canada
Drew Love, Director of Athletics and Recreation
McGill University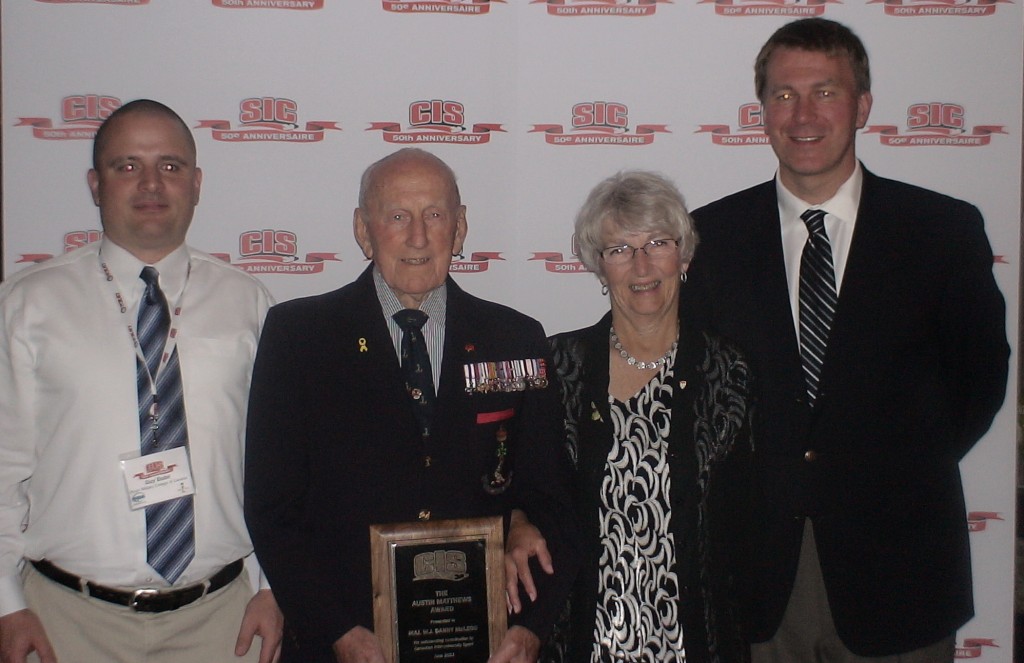 What Darren Cates had to say following the presentation:
The photos and the award itself do not tell the story. It truly was a magical night.
The banquet consists of approximately 150 people, two to three representatives from each of the 52 Canadian Universities as well as invited guests. Prior to the ceremony only a few people approached Danny to speak with him. Some, like Bob Phillips from UBC played hockey at St George Williams (now Concordia) and knew Danny. However as it has been almost 40 years since Danny was directly involved with university sport very few people knew who he was.
That all changed after he was introduced and said his speech. Those in attendance were spell bound. They hung on every word Danny said. It was easy to see that my colleagues were more than impressed with what Danny has accomplished in life and the contributions he has made to sport and in particular university sport. He received two standing ovations and enthusiastic applause. When he came down from the stage he was mauled by admirers and after the ceremonies he spent an hour to an hour and a half getting photos with people and talking with them. You could see how the room's mood changed.
Danny's speech was outstanding. He talked about the history of the formation of the CIS and about his impressions on where it has grown. It was clear to me that Danny was appreciative and honoured.
Like the photo my words do not do the night justice It was a magical night and one that I, nor many others, will forget.
Darren Cates
Director of Athletics
Royal Military College of Canada
Austin-Matthews Award recipients:
2011 Major William John 'Danny' McLeod
2010 Francis Clayton
2009 Robert Dubeau
2008 Ross Wilson
2007 Barb Mullaly
2006 Lyle Sanderson
2005 Aubrey Ferris
2004 Not awarded
2003 Val Schneider
2002 Joyce Fromson
2001 Darwin Semotiuk
2000 Jean-François Grenier
1999 Not awarded
1998 Don Wells
1997 Rich Newbrough
1996 Keith Harris
1995 Ken & Donna Fultz
1994 Mary Lyons
1993 Robert Hindmarch
1990-92 Not awarded
1989 Carl Totzke
1988 Not awarded
1987 Robert Descheneaux
1986 Marilyn Pomfret
1985 Ed Zemrau
1984 Dr. Vance Toner
1983 Gladys Bean
1982 Elizabeth Chard
1981 Robert Pugh