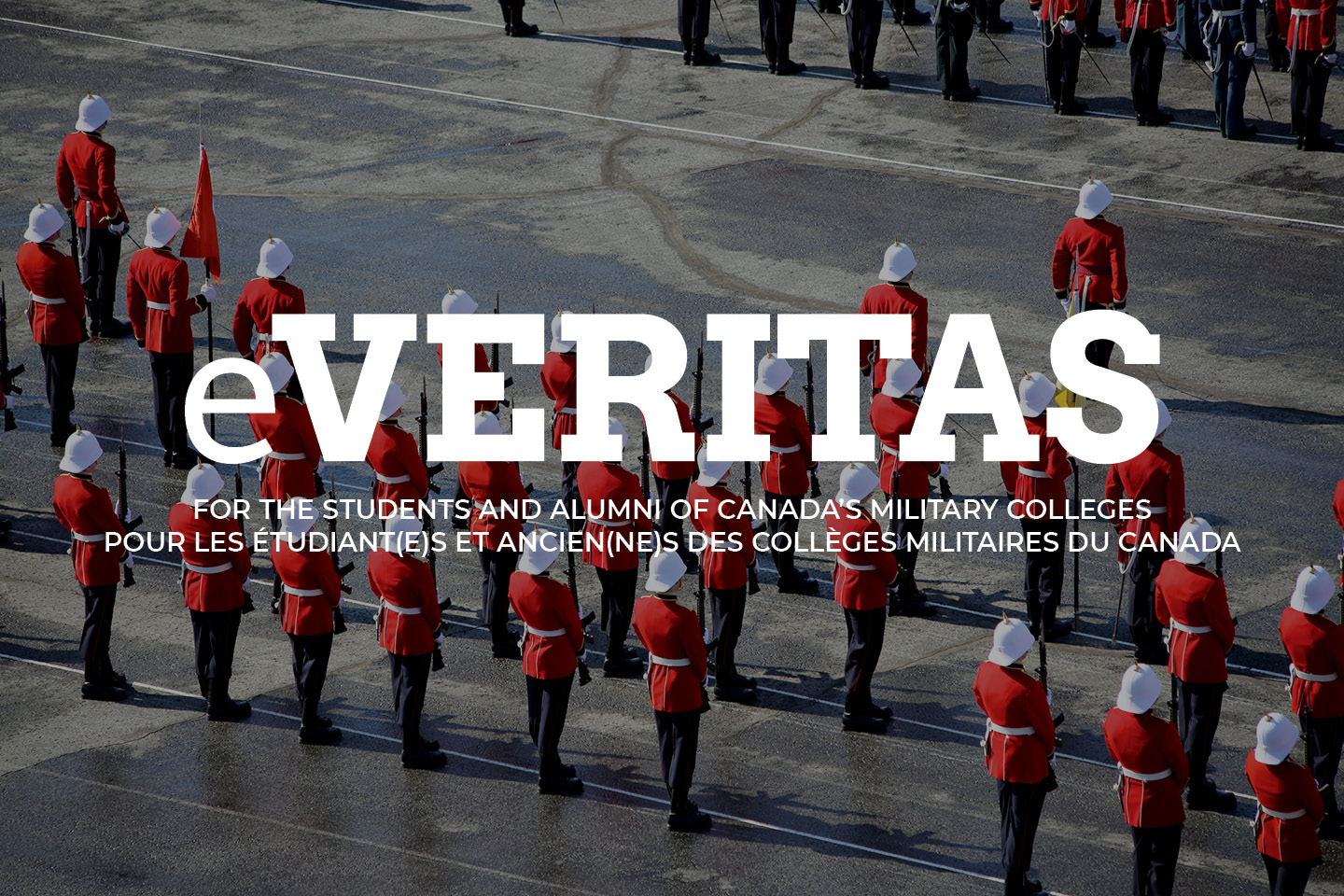 Highlights of the Week…

DCdts Inspects Cadet Wing / United Way Waterborne Obstacle Course Challenge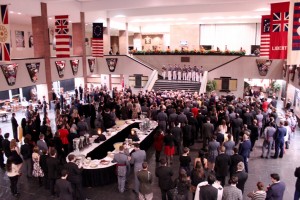 Cadets At Prestigious West Point Conference
Click for more details, plus US Defence Attache Pays the College a Visit, The RMCC – Norwich Exchange, and Much More…

Training Wing Staff Put the Cadet Wing Under the Microscope
Article and Photos by 25366 Mike Shewfelt
Large-scale formal inspections are a fact of life at the College. The inspecting officer may change, but the Cadet Wing knows it can look forward to an average of one major inspection per semester. This semester's inspection, however, differed from formal inspections over the last few years in that it was drawn out over almost a week. Whereas in recent years, a large-scale formal inspection meant that the entire College was inspected on a Wendesday morning during PMT (Professional Military Training), this semester's inspection was conducted over four mornings, with each Division being inspected on a different morning. B, C, and D Divisions were inspected this past week, while A Division had to wait until this week for their turn.
LCol Patrick Lemyre, Director of Cadets, and his party inspected select rooms while senior barmen inspected the room of every Cadet in each Division. Overall, the results were positive, with the hard work and effort put in by the Cadet Wing being quite evident.
Photos from the inspection (click to enlarge):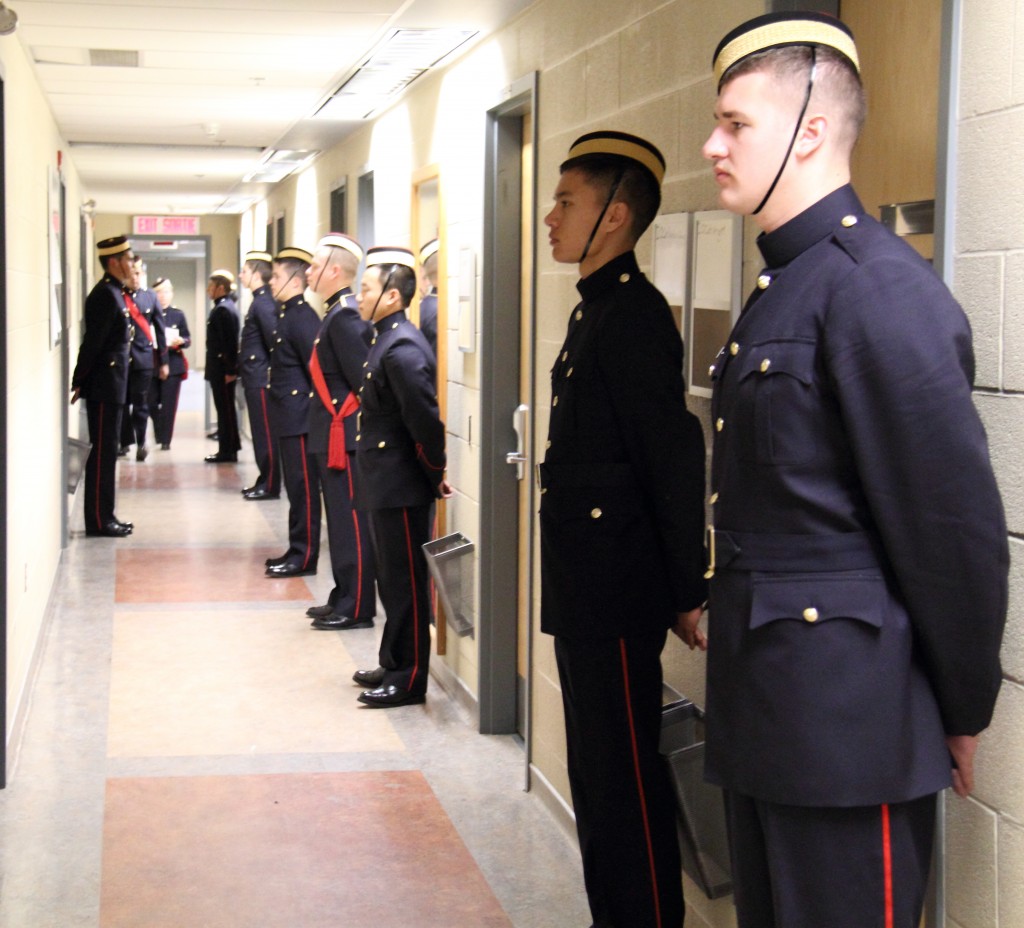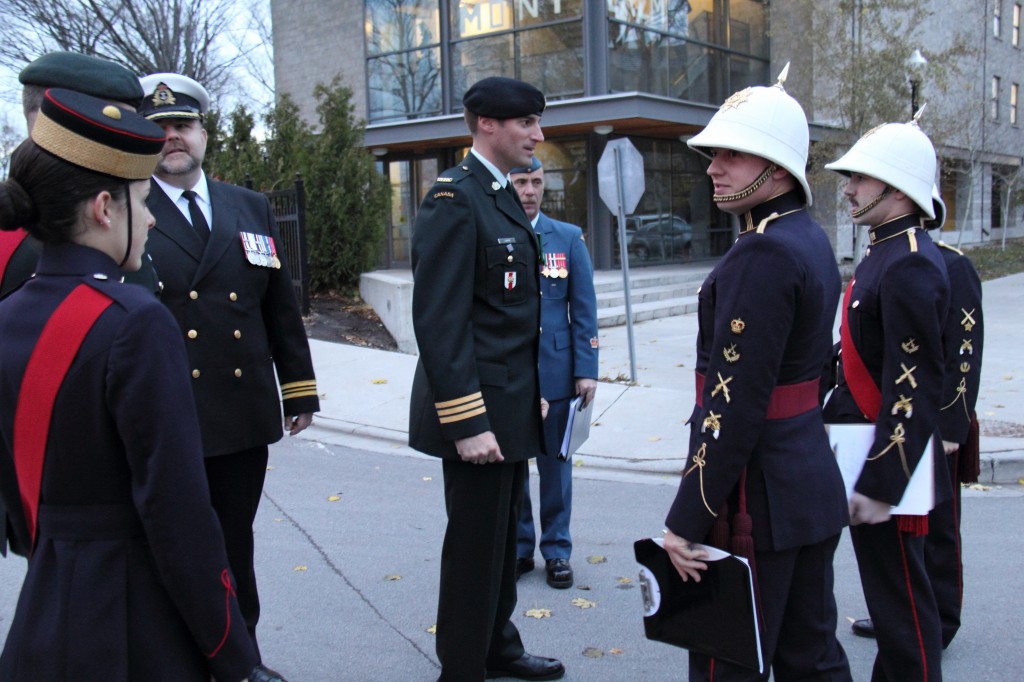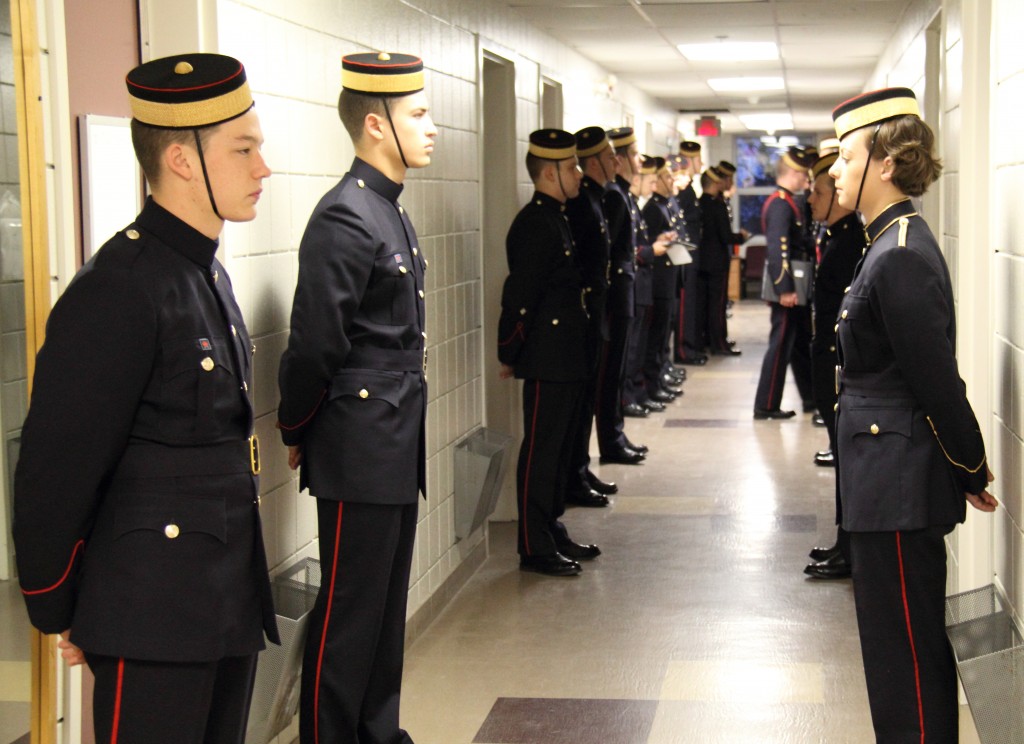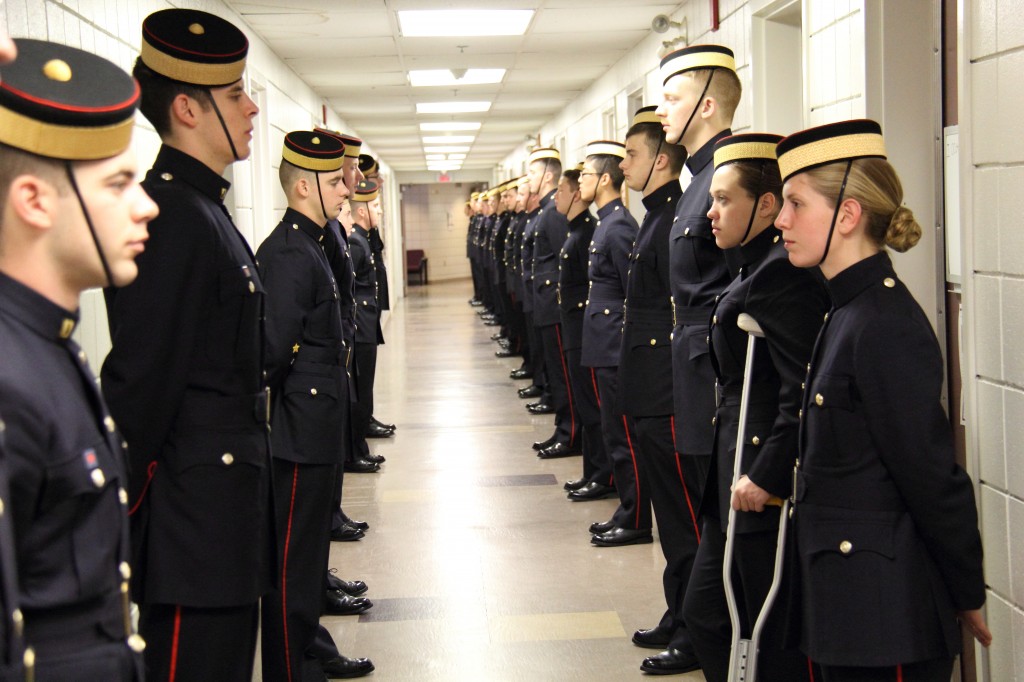 ____________________________________

US Defence Attache Visits College
Article by 25794 OCdt (IV) Jung Choi / Écrit par 25607 (III) Marc-André B. Southière
Photos by 25366 Mike Shewfelt
The Third and Fourth Year Officer Cadets of the Royal Military College had the privilege to receive a presentation from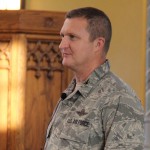 this past Wednesday morning during PMT (Professional Military Training). He is the Senior United States Military Attaché at the U.S. Embassy in Ottawa. Colonel Paulk enlightened us with a brief history about his successful career in the military as well as his time with the Joint Task Force Nijmegan on the 96th annual International Four Day March. He gave a very detailed time line of the growth and transformation of the defence structure in the United States. Most notably, he explained the significance of the National Security Act of 1947 which was responsible for the establishment of the Department of the Air Force. He stated that although there are structural differences between the Canadian military and the United States military, they both uphold the same core values and ethos which dictate how the military operates.
While he gave such an intriguing and informative presentation, my favorite moment was at the end when he gave some words of wisdom for future officers of the Canadian Forces. The most memorable advice was when he said "The road to success is not working hard at something you feel like its worth doing, but working hard at everything no matter how significant you feel it may be." It was an honor to have him and the Third and Fourth Year Officer Cadets would like to show our most sincere gratitude for having us in his presentation.
Cette semaine, la classe de 3e année et celle de 4e année ont reçu une présentation de la part du colonel américain Creg Paulk. Le colonel à fait une présentation détaillée sur les forces américaines et il a identifié les différences les plus importantes entre les forces canadiennes et américaines. Il a également fait part de ses expériences en matière de relation avec les Forces canadiennes afin d'identifier les aspects qui favorisent les relations entre nos deux pays. La présentation du colonel fut très éducative puisque, dans un avenir rapproché, des membres de la classe de 3e année et de celle de 4e année auront peut-être à travailler avec différentes organisations militaires, que ce soit dans le cadre d'opérations domestiques ou bien internationalement.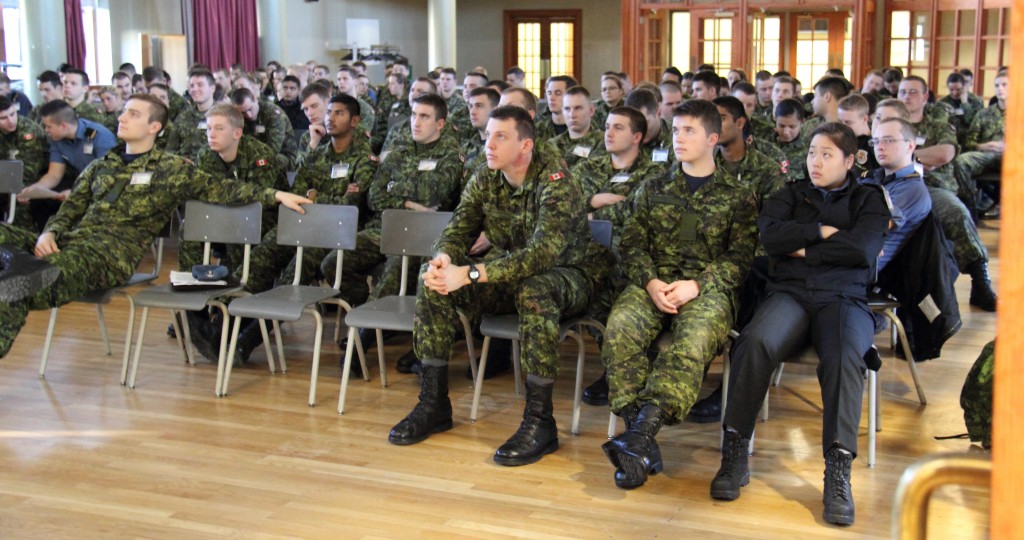 ____________________________________

2 Cadets Join the CF Officer Corps
Article and Photos by 25366 Mike Shewfelt
It is always a special time at the College when Cadets leave the peninsula to begin their careers commissioned Officers in the CF. It is, after all, what the Royal Military College of Canada is all about. For 25496 2Lt Ryan Chapman and 25208 2Lt Benjamin Hughes, this day came this past Wednesday, 14 Nov. In a small but impressive ceremony held at the base of the Memorial Staircase in Mackenzie building, both received their commissions from BGen Eric Tremblay, College Commandant, who wished them well in the next step in their respective careers.
____________________________________

Waterborne Obstacle Course Challenge
Article and Photos by 25366 Mike Shewfelt
Fall is the season of helping out the United Way at RMCC and CFB Kingston. Cadets at the College chip in for the privilege of wearing civilian dress on Fridays throughout the semester, and other fundraisers are held throughout the Autumn months. New this year was the Waterborne Obstacle Course Challenge, put on by the College Athletic Department. For a $25 donation, teams of 5 could compete for bragging rights. Each team could make one, or if they wished, two circuits of the course, which involved a series of floating obstacles as well as a brick retrieval from the deep end of the pool. With a time of 4:08 for the course, the trophy, and the bragging rights, went to the Physical Education Team.
Only 5 teams participated in the Challenge, none of which were from RMCC. This was a lower than anticipated turnout, but given the extensive media coverage of the event (CKWS TV, The Kingston Whig-Standard, and EMS were all present), organizes are hopeful for a better showing next year.
____________________________________

A Great Weekend Escape: The 2012 RMCC – Norwich Exchange
Article by 26202 OCdt (III) McKayla Couch, Norwich Exchange Cadet OPI
On October 25th, six RMCC Cadets clamored into panel vans and started a six-hour trek to Northfield, Vermont, to participate in a weekend exchange at Norwich University. Unlike Westpoint, USAFA or even RMCC itself, Norwich is a private military academy. The school is comprised of a Cadet corps, only bigger by half than our own wing, as well as a civilian student body. Norwich University offers a wide variety of degree programs, ranging from Criminal Justice to Engineering to Nursing. As for the military side of the school, every Cadet is in a different situation. Unlike RMCC, where we all have guaranteed employment after graduation, Norwich Cadets must 'contract' into one of the four branches before they are guaranteed a position in the United States military. On top of that, they only receive their trades in their fourth year, following the same system that Westpoint has in place.
We arrived on campus on Thursday evening, right after Army branching; this meant that all Army contracted seniors had just received their occupations, and the campus was filled with chatter regarding who got which trade. After we were collected by our officer counterpart, we had a quick meal in their chow hall and were given our very liberal itinerary, and then it was off to the dorms with our host cadets. To get to our dorms, we trudged up a hill that makes Fort Henry look tame, and arrived at their "U.P." or upper parade ground, around which all Cadet dorm buildings were located. While we were getting settled in our various rooms, we were introduced to a number of cadre, or our equivalent to barmen. They gave us the chance to inspect some of the First Years, also known as rooks, as well as giving us a pretty thorough run down of what their First Year, or rook term, is like.
The next morning we were given our choice of classes to attend, and interspersed with classes was a campus tour and more opportunities to experience the life of a Cadet at Norwich. That evening we watched a march-down to a hockey game, where Norwich faced off against a team from Quebec. Needless to say, we were the only ones in the crowd cheering for the Canadian team.
Saturday was the day of the Regimental Ball, one of the main reasons for our exchange. The morning was spent getting ready, as well as watching the women's rugby team take down Boston University. That evening, we got to watch the rooks serenade their dates, most of whom they had not seen in over three months. As you can imagine, the result was hilarious. The RMCC contingent was given the title of 'honored guests' for the event, and had the opportunity to walk through an arch of swords ahead of the senior class. From that point on, the ball was in full swing, filled with music, dancing, and even a proposal! The night was memorable to say the least, and allowed RMCC and Norwich Cadets to enjoy each other's company.
Overall, all six of us agreed that the weekend surpasses all expectations. We made a great many friends, and enjoyed the opportunity to experience an entirely different military culture. Needless to say, the countdown has already begun for the next exchange!
____________________________________

Cadets Represent College at Prestigious Conference
Article by 25961 OCdt (III) Ethan Strong
Four Officer Cadets were given the valuable opportunity to travel to West Point and take part in the 64th annual Student Conference on United States Affairs (SCUSA 64). This conference, which began in 1948, brings together leading undergraduate students, both military and civilian, to discuss issues that face the United States.
Since its inception, the conference has brought together the best and brightest students from social science programs across the USA and across the world. Past delegates have discussed issues from the rise of Germany to the struggle with the USSR. This year, SCUSA 64 focused on the future of the United States in an age of austerity and included round-tables on American Grand Strategy, foreign policy, military concerns and domestic policy.
Before the rising of the sun on the 7th of November, Officer Cadets 25573 (IV) David Neppel, 25907 (IV) Tom Neilson, 25912 (III) John Kay and 25961 (III) Ethan Strong hit the road and aimed their minivan for this prestigious conference. The RMCC delegates participated in round-table discussions on the future of US Foreign policy on development and democratization, the utility of the American all-volunteer force and its equipment, and the security of US borders.
The participation of RMCC Cadets was very well received by all other delegates and our Officer Cadets represented the College well, often directing group discussions and interjecting with intelligent, thought provoking comments.
It is important for RMCC to not only continue to participate in SCUSA, but to encourage further participation in student conferences of this nature to enhance development of Cadets' academic and leadership abilities on an international scale. This interaction with civilian and military students in a multi-lateral discussion, with the goal of producing a policy paper, allowed for the leadership training that RMCC stresses to bear fruit.
While at this conference, RMCC delegates were invited to participate in similar student conferences that would provide the same training and development opportunity to Cadets. The value of this experience, in the eyes of this Officer Cadet, is priceless.
Huge thanks are due to Dr James McKay, who prepared us for the conference and worked tirelessly to make this trip a success. In addition, the delegation would like to thank the RMCC Principal and Commandant for supporting and funding this event.
Photos from the conference (click to enlarge):
____________________________________

RMCC Cadets Tour Maritimes on Recruiting Trip
Photos by MCpl Leona Chaisson, Maritime Forces Atlantic Formation Imaging Services
From the 6th to the 10th of November, 15 Officer Cadets from RMC accompanied by two staff members, Maj. Urzinger and MWO Reedy, had the privilege to go on a recruiting trip to Halifax. The Officer Cadets selected were mostly part of the Pipe and Drum Band and the Highland Dance Team. They got to do a short performance at the beginning of the Birchall Leadership Gala and some recruiting in the Halifax and Saint John regions. Following are some of their stories and in depth details from the trip…
"On the morning of November 7th, the RMC Pipes and Drums had the opportunity to go Kings-Edgehill School. The purpose of this visit was to inform interested students about RMC life, the ROTP, and career paths in the Canadian Forces. Through a slide show presentation and an informal question and answer session, Kings-Edgehill students had time to learn about a potential career in the CF starting at RMC, from the perspectives of current students and senior CF officers. Senior year students conducted the slide show presentation, covering such items as RMC's Four Pillars, summer training opportunities, and clubs within RMC. After this students then interacted with the remainder of the RMC Pipes and Drums and were able to have a first-hand account of what life at the Royal Military College of Canada entails. This was a great experience for all those involved. " 26320 OCdt (II) Andrew McNaughton
"On November 7th, OCdt Tholl, OCdt Chapman , OCdt Miller, MWO Reedy and myself had the chance to participate at a university fair in Saint John, NB. The event was held at HMCS Brunswicker on the naval base. Over 20 universities were present at the fair and they welcomed various high schools from the area of Saint John. We had a recruiting poster setup with information available through books for the students at our booth. Many students had never heard of RMC before but they were very interested in learning what it was all about. We also had a recruiter from the CFRC St John next to our booth to answer more in depth questions about the application process. After having participated in the university fair that morning, we flew to Halifax and joined the rest of the Cadets for the remainder of the week's activities." 25390 OCdt (IV) Isabelle Allain 
"In the afternoon of November 8th, OCdts White (25891) and Chapman (25849) visited the Canadian Forces Recruitment Center in Halifax, for a presentation and Q&A period with prospective RMCC Cadets and their parents. After a brief presentation on the four components the College applies to train officers, well educated for service in the Canadian Forces, they handled questions on the daily life and activities of O/NCdts in their First Year, and throughout the rest of their RMCC experience. Feedback from the parents, in particular, demonstrated the effectiveness of community outreach projects like CFRC visits for RMCC recruitment." 25849 OCdt (IV) Andrew Chapman 
"During the RMC Pipes and Drums stay in Halifax, we had the opportunity to visit HMCS Sackville, a Flower-Class corvette from the Second World War, and the last in her class still afloat. Several knowledgeable volunteers who devote their time and energy to the up-keep of the ship led the tour; they also ensure its proud heritage is kept alive. Sackville spent the majority of the war making the trans-Atlantic run, providing the British war effort with vital supplies amid the constant German U-Boat threat, which came to define the Battle of the Atlantic. For us taking the tour, it was remarkable to note the rustic lifestyle the sailors endured for weeks on end before making it to shore. Especially for us Navy guys in the crowd, the differences between a 1940s Corvette and modern warship were significant. Thanks to the keeper's accurate restoration and models, it was easy to imagine everyday life aboard Sackville for these volunteers. For all, the tour gave an appreciation to the men who served in Corvettes or other warships during the Battle of the Atlantic, and the sacrifices they made to keep the war effort alive." 25859 NCdt (IV) Benjamin Deutsch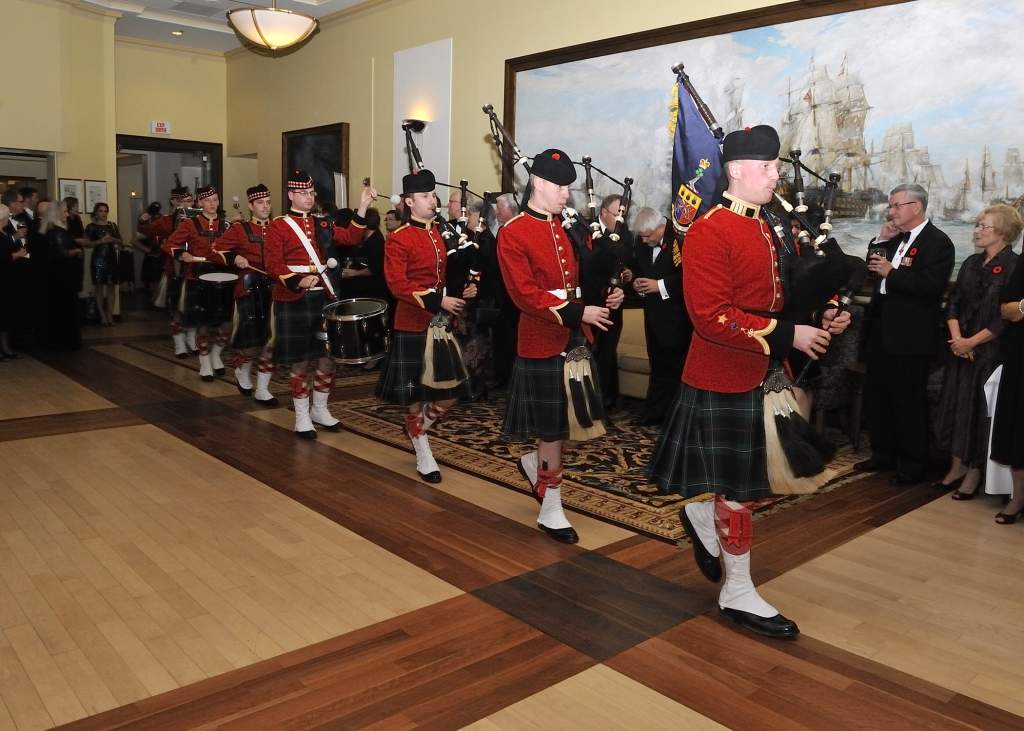 "The Birchall Leadership gala was held on the evening of November 8th. The Birchall Award is presented annually by the Royal Military College Club of Canada, to recognize outstanding leadership. This year Vice Admiral (Ret'd) Larry Murray received the award for his leadership during his time in the Canadian Forces. The Birchall Leadership Award Dinner was held in Halifax, Nova Scotia at CFB Stadacona. At the dinner portion of the ceremony many Officer Cadets from the Pipe and Drum Band attended, and were able to talk to many high-ranking Officers in the Royal Canadian Navy and members of the Old Brigade. All in all it was a great experience and a privilege to attend." 25891 OCdt (IV) Brandon White
"The morning of November 9th, the members of the RMCC Band divided into various groups to present to different schools. OCdt. Stockermans and OCdt. Roberts travelled to Isley High School where they presented to approximately 30 students from grade 11 and 12. A Sergent from the recruiting center in Halifax accompanied the Officer Cadets. This was a great experience for the Officer Cadets to interact with the public and promote RMCC." 25596 OCdt (IV) Alida Stockermans 
"During the Halifax trip, the Officer Cadets took the time to visit and entertain veterans at the Camp Hill Hospital. Some groups got to play cards and various other activities. I, 26255 NCdt Morgan, and 25390 OCdt Allain had the privilege of playing bocce ball with a group of great individuals. They loved seeing us come out to play, and, as expected, had great sportsmanship throughout the game (only making fun of us when we missed entirely). It was a great getting to spend time with them all, learning from their experiences, listening to their stories, and seeing the joy in their faces when they scored. Despite our best efforts, OCdt Allain (better known as Hawkeye), and I tied each other, and lost horribly to one of the veterans, Vern. It was a fantastic afternoon that I wish did not have to end so quickly. I recommend to everyone here at the College to take some time out of their schedules to go and spend time with our veterans. There is nothing better than seeing their faces light up when you walk through the door, and hearing their stories is very humbling. I can't wait to do it again." 26255 NCdt (II) Kevin Morgan