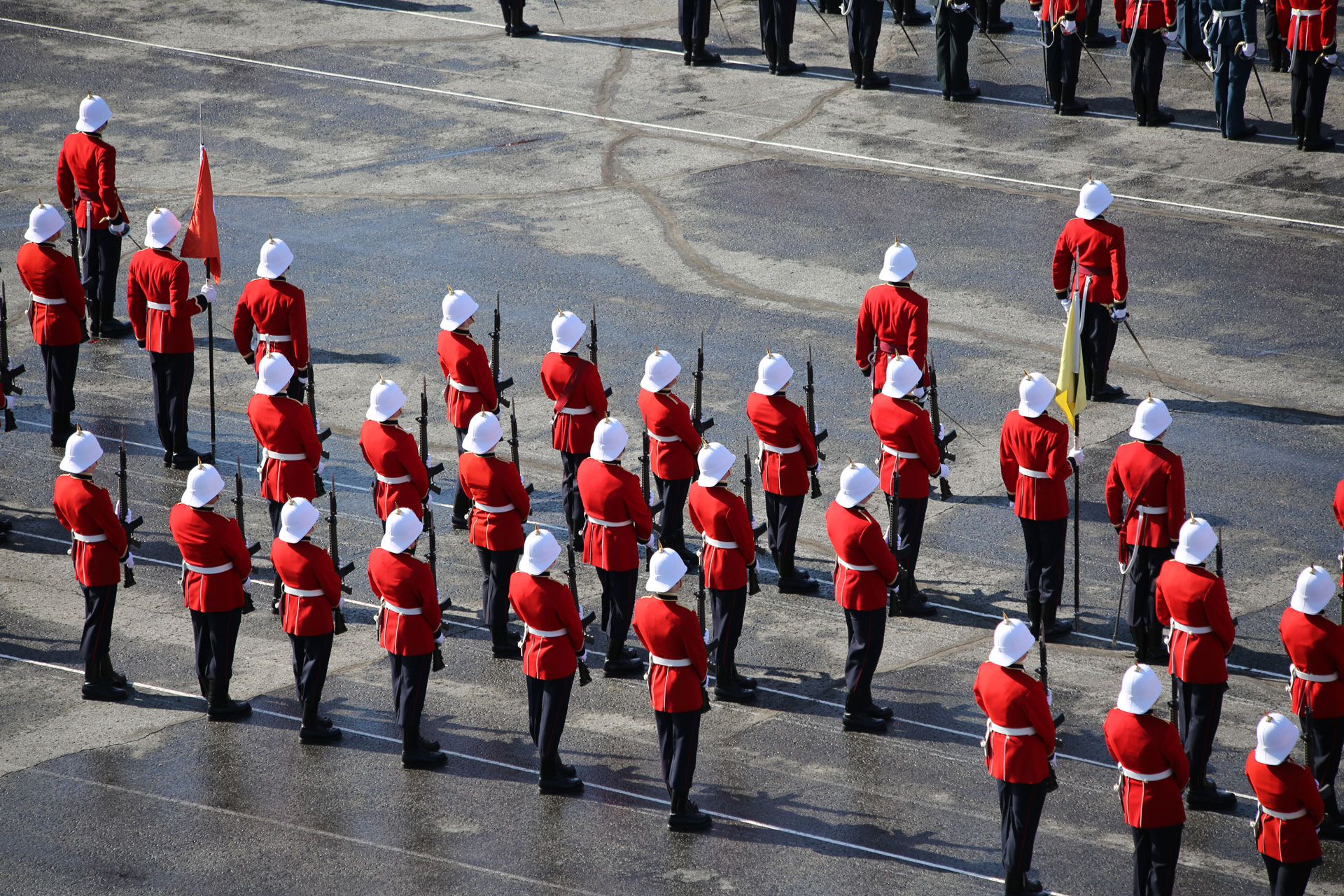 Photos & Caption by Capt Cynthia Kent, RMC PAO
An event to honour Dr. Jane Errington was held at the Cadet Mess on Thursday, September 15th, 2011. Many of Dr. Errington's colleagues, friends and former students turned out to bid farewell to one of the College's beloved professors. There were several speeches, including a very moving tribute from now Registrar Major Ray Stouffer, who recalled his delight at working with Dr. Errington in the Arts Department.
And all who were there agreed, Dr. Errington shoes will be hard to fill!!
Dear Jane,
From the moment I started working at RMC back in 1997, the question I would get asked at almost every conference or academic gathering (and remember that I am in a different discipline!) was "so you must know Jane Errington." The consistency of that question never changed over the years, or if it did it was only to reflect the increasing number of people who asked. As a younger scholar, I always felt rather proud that my then-adopted (or parttime) institution boasted such a well-known, well-respected academic. More so because I could always answer, "of course I know Jane Errington."
I feel honoured to have worked with you in various capacities over the years, to have watched you negotiate carefully, and sometimes necessarily noisily, this institution in which we labour. You have been a role model to me, Jane. Your position as a pioneering woman at RMC will not be forgotten; you have left a high standard and powerful legacy for the rest of us to live up to. Your scholarship, headship, and deanship have paved the way for other women to follow suit. And you are simply a wonderful, compassionate person, a feature that isn't always concomitant with those other successes.
Thank you for giving so much of yourself to us at RMC.
In gratitude,
Laura Robinson
Department of English
A Tribute to RMC's Departing Dean of Arts, Dr. Jane Errington.
OCdt Chris Manning, 25337 CWPIO
A large number of staff and students turned out to wish Dr. Errington well in her retirement from the position of Dean of Arts. The atmosphere was anything but solemn as members from all wings of the college reflected on the impressive career of Dr. Errington. Many of the Academic Wing staff took the opportunity to pay their compliments to the outgoing Dean with a series of presentations.
Always known as a student-oriented professor, Dr. Errington took the time to speak with some of the students who showed up to the reception. Included in these students were a group of English students who were grateful for the opportunity to thank Dr. Errington for her hard work on the Department Shakespeare Trip, which will be taking place next week, and would not have been possible without her.
Although her tenure as Dean of Arts has come to an end, Dr. Errington has not finished working closely with both RMC and Queens, making it reasonable to expect to see her around for a long while to come. With the speeches made and the reception complete, the expressions of gratitude were not complete, a testament to Dr. Errington's invaluable contribution to RMC over many years.
Jane is simply a gift, a rare treasure, that RMCC/CMRC & Queen's are lucky to be graced with. Dynamic, professional, personable, tactful, wise, down-to-earth, open-hearted, "open-minded," funky, feisty, playful, Jane is all of these & more. A very supportive, loyal colleague with a wonderful sense of humour & a perspective on events that keeps her (& the rest of us) grounded & functional when the spit hits the fan, Jane is a "practical visionary" who can manifest her dreams & inspire others to do the same. Though unassuming, not one to put on airs or pose, she wows colleagues because of a seemingly superhuman capacity for handling just about everything. She has enriched this & other learning environments over decades. Not a bad track record for anyone, let alone someone with the odds stacked against her as one of the first female professors hired here back in the Dark Ages. Someone, I believe, initially perceived as a radical with radical ideas re the Arts, women, minorities & other "issues." Back in the 80s, she helped bring RMC into the 20th century. A gutsy trail-blazer & torch-bearer, in 2011, Jane continues to lead by example & boldly go ahead of the pack, beckoning, smiling, laughing, shining a very bright, radiant, reassuring light. Lucky us.
-Dr. Michael Hurley, Professor, Department of English
_____________________________________
Brigadier-General Éric Tremblay and his wife Lieutenant-Colonel Brigid Dooley-Tremblay hosted a large group of former and current staff, cadets and local dignitaries to a Garden Party & Residence Tour of the Commandant's Residence Thursday, 15 September.
Our e-Veritas camera man, Alex Zaporzan was also on hand was able to capture a few photos.