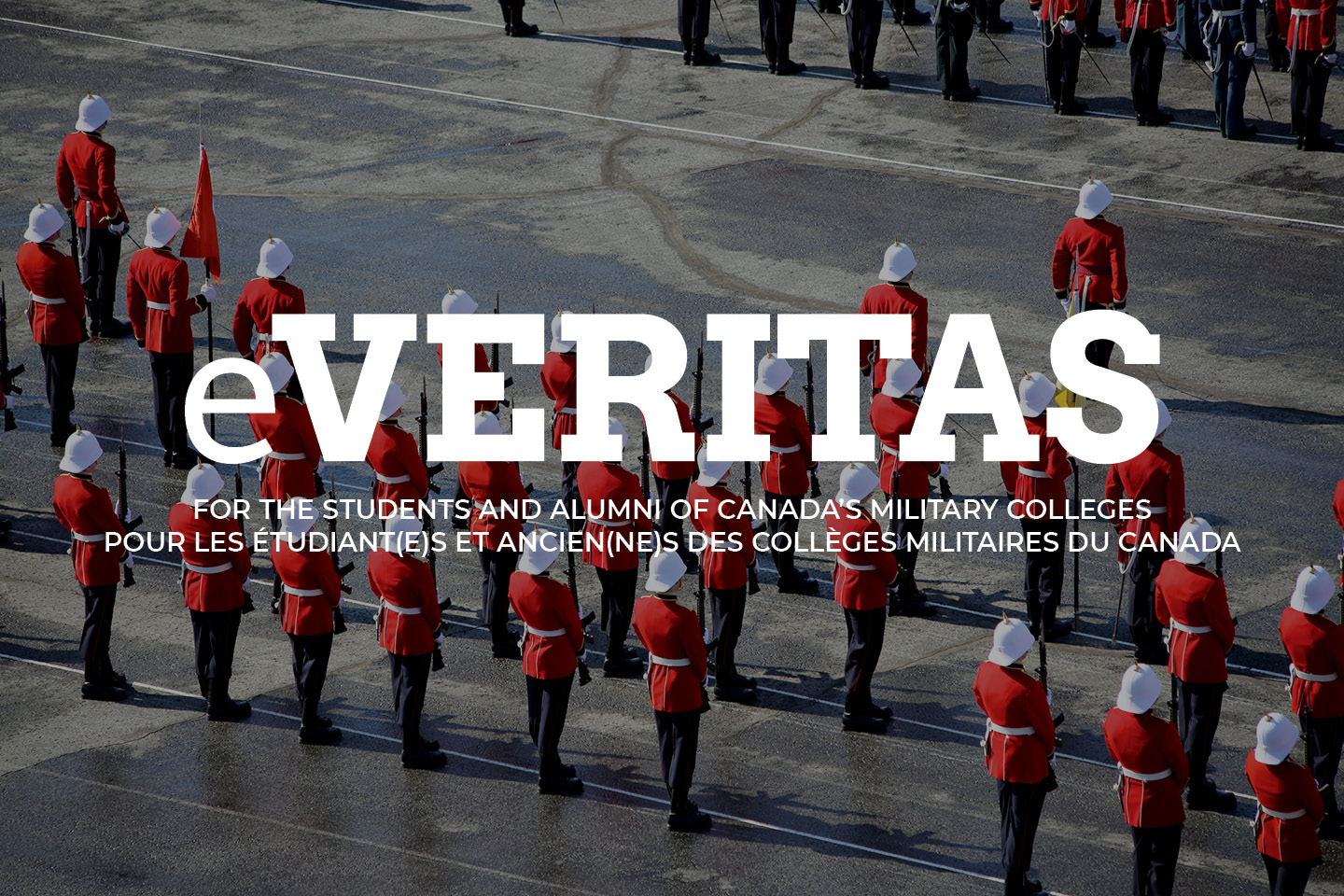 DCdts Speaks to 1st Years
Article by 26659 OCdt (I) Danielle Andela
This past Wednesday the first year class of RMC participated in a DCdts hour with the Director of Cadets Lieutenant Patrick Lemyre for their Professional Military Training. This hour not only included a briefing from the DCadets on the expectations of the First Years for this semester but also a question period where the First Years could voice concerns over several different issues. LCol Lemyre laid down the expectations to the First Years, ranging from proper dress and deportment at all times to looking after one another and owning up to their mistakes.
During question period LCol Lemyre addressed several issues such as budget cut effects, First Year dress in the Cadet Dining Hall and Reserve Entry Training Plan standards in the school. The DCadets finished off the hour by giving some advice on what to expect as members of the Canadian Forces. He discussed professionalism, timeliness and to own ones orders. LCol Lemyre finished the question period with a reminder that being an officer is not a popularity contest and thanked the Officer Cadets for all their questions.
This hour was informative not only because the Cadets were able to ask serious questions to the DCadets but also for the quality advice given by a seasoned member of the Canadian Forces.
____________________________________

How Not to Fail: Senior Chiefs Share Experiences With 4th Years
Écrit par / Written by 25842 Élof (IV) Constance-Aurélie Ratelle
Mercredi dernier, le major (Ret'd) Boire a rassemblé six adjudants chefs afin d'avoir une discussion ouverte avec les élofs de 4e année. Chaque élément y était représenté et chacun des Adjuc a donné des conseils quant à différentes situations qu'ils ont vécues, par exemple, l'incompétence, les erreurs, les rapports d'évaluation, les différentes qualités à travailler lors de l'arrivée à l'unité, etc.
The general idea behind this meeting was to get the future officers to open their minds to the reality of being an officer. Get to know your people, be sociable, look beyond your position, be aware of your position and the one of others. Those few points were reiterated by the Chiefs all meeting long. The presentation was appreciated by all 4th years since they are getting closer and closer to do the job they have been waiting so long for.
____________________________________

College Hosts City Council Meeting
Article by 25366 Mike Shewfelt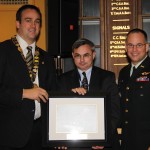 RMCC reached out to the City of Kingston late this past month when it provided a venue for a meeting of the City Council. With the Council's normal facilities under renovation, they have looked to the community for a number of temporary locations, and the College provided Currie Hall on the night of Tuesday, 22 Jan.
This event marked a number of firsts. It was the first time in recent memory that such an event has been held on the peninsula, as well as the first time in Currie Hall for many of the Council members. For those Staff and Cadets who attended the open portion of the meeting, it was a unique opportunity to see firsthand how the municipal level of government functions. Kingston Mayor Mark Gerretsen presented College Commandant BGen Eric Tremblay and the Principal. Dr. Joel Sokolsky, with a framed photo of City Hall to mark the occasion.
____________________________________
Click for more College action from this past week. 
Cadets Improve Military Skills Over Training Weekend
This past weekend, the First Year Cadets of the Royal Military College of Canada were back hard at work broadening and improving their military skills. Learning from the expertise and experience of senior Cadets and under the watchful eye of the military staff of the College, the First Year class began learning sword drill.
As always, the lessons involved a steep learning curve for the Cadets as they were introduced to the historic military tradition of sword drill. After a morning of drill, many of the First Year Cadets had the opportunity to take part in a waterborne obstacle course. Made up of a series of floating obstacles, Cadets slipped, climbed and swam through the course in the hopes of capturing points towards the Commandant's Cup. (See article and photos below.)
Representing their squadrons, Cadets needed teamwork and physical fitness as they raced against the other squadrons in a competitive, challenging and thrilling race. Sunday also brought new learning and challenges to the First Year Cadets as they worked to improve their rifle drill. Under the dynamic instruction of senior Cadets and military staff, First Year Cadets worked to prepare themselves for the looming Grad Parade.
Cadets found themselves thinking more about Second Year as Sunday afternoon brought them together for explanations of the numerous academic programs from which they must choose a major. Thinking ahead to Second Year led many Cadets to think back over the past year and remember all the experiences that have led them to where they are now.
26711 OCdt (I) Joshua Horlings
__________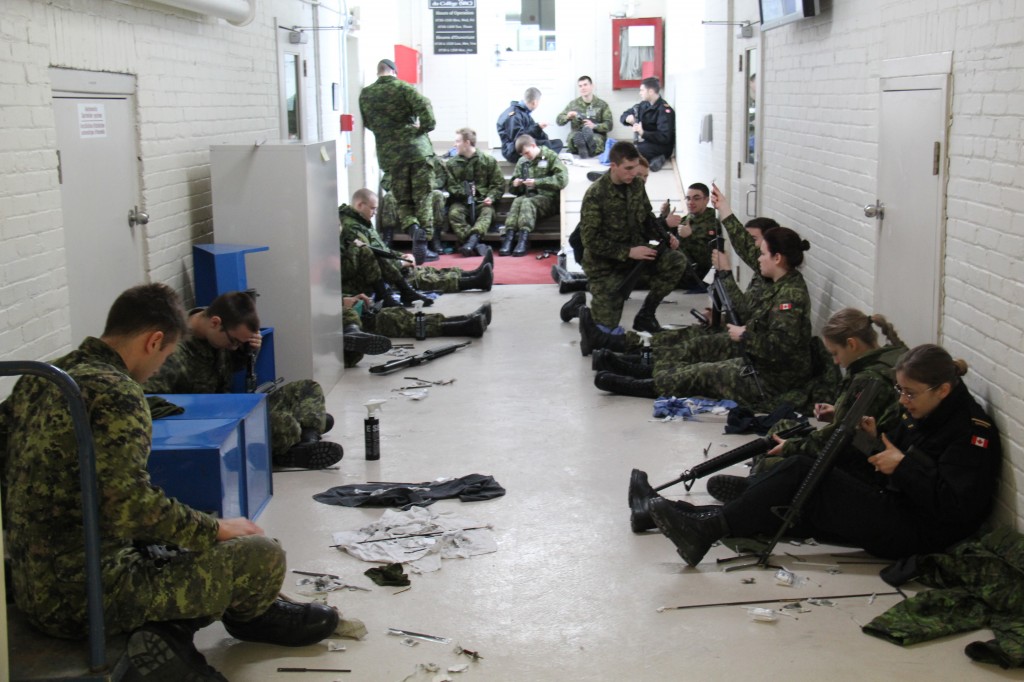 On the first training weekend of the new semester at RMCC, half of the Second Year class spent their morning ensuring that RMCC's weapons were at the highest possible standard of cleanliness, and the remainder participated in MFSA training, a mental fitness and suicide awareness course.
In the afternoon, those who had not received this opportunity in the morning completed MFSA training; the remaining Officer Cadets participated in a Waterborne Obstacle Course or bolstered the confidence of the RMC Volleyball teams.
The following morning, the Second Year class participated in a psychology survey as part of a case study conducted by their Fourth Year peers. Thus concluded the first training weekend of the new semester.
26368 OCdt (II) Jesse Elliott 
__________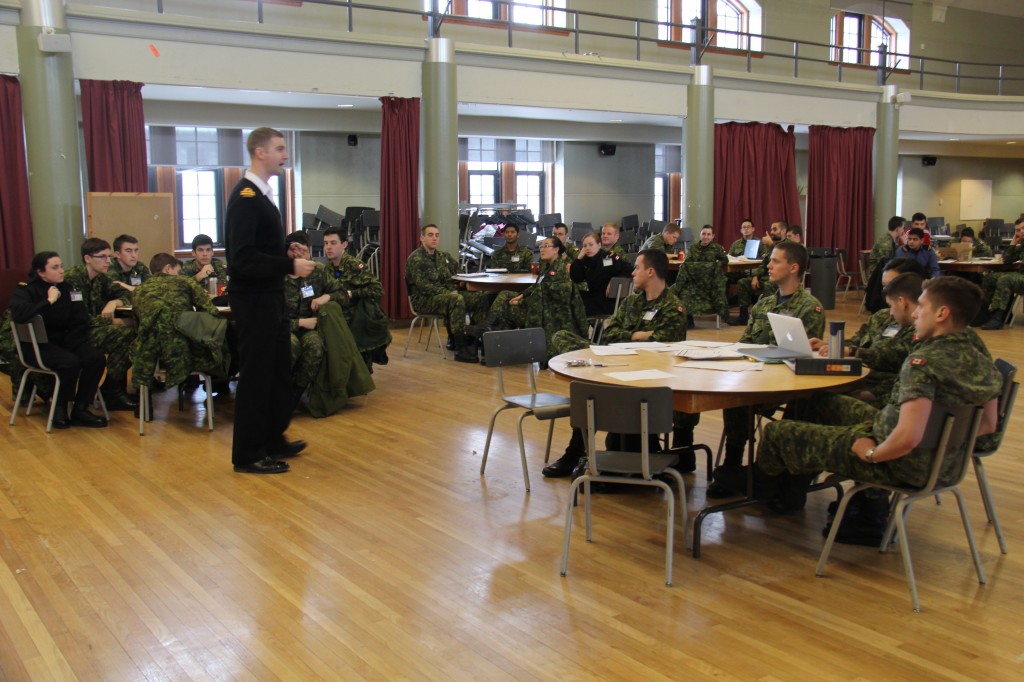 During the training weekend of February 2nd – 3rd, the Third Year class underwent training on how to plan and organize an event in accordance with the RMCC Task Planning Process (TPP).
The TPP follows in line with the principles laid out by the CF Operational Planning Process in order to prepare RMCC Cadets for any events that they may need to plan and execute in the future. In order to facilitate the training, the 3rd year class was split into several smaller groups, each taught by a Training Wing instructor.
The weekend training began with an introduction to the principles of the TPP to develop an understanding of how this process occurs. Following this, each group worked through the planning process for an adventure training event under the guidance of their respective training wing instructor.
By the end of the weekend, each group had worked their way through the entire planning process for an event, from initial stages such as Mission Analysis through to COA development and finally writing an OP order for an event.
The simulation of the planning of an event was useful in adding a degree of realism and keeping the Cadets engaged in the training. This allowed for a thorough understanding of how the TPP works to be developed, thus preparing the members of the Third Year class for any events they may be required to plan and execute during their time at RMCC, as well as preparing them for similar duties they will likely have as future officers.
26008 OCdt (III) Alexander Carson
__________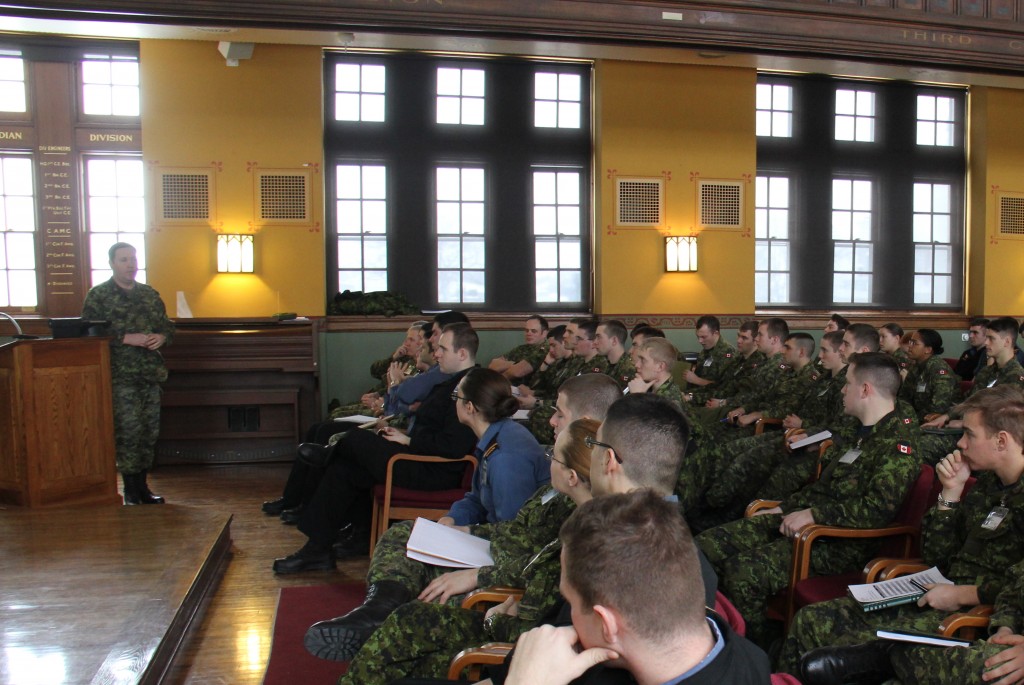 La fin de semaine du 2-3 janvier, la classe de quatrième année se sont vus donner des cours quant à leur futur tâche de superviseur. Ils ont été rencontrés par plusieurs instructeurs qui ont souligné l'importance de la gestion des troupes, le respect des règles de sécurité ainsi que le fonctionnement des rapports d'évaluation à long et court terme. Il vas sans dire que les élofs seront bien formés en quittant le collège puisque les nombreuses formations qu'ils sont suivies au cours des dernières semaines étaient principalement centrées sur le rôle d'officier.
25842 Élof (IV) Constance-Aurélie Ratelle
____________________________________

First Years Take On Waterborne Obstacle Course
Article by 26613 OCdt (I) Kyra Smith
Photos by 26346 OCdt (II) Dan Ryan & 26323 OCdt (II) Shane Savage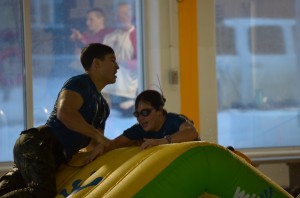 It was another duty weekend here at RMCC, and the Cadets have been training hard. A morning full of drill followed by an afternoon of College spirit and some friendly squadron competitions was laid on for all the first years this past Saturday. Ten First and Second Years were selected per squadron to compete in the yearly waterborne obstacle course. This year the obstacle course lined up perfectly with the volleyball games against McMaster. Cadets were jumping between both the matches and the obstacle course all afternoon, cheering on fellow classmates. Each division had their own time slot to run the course against the timers. The times ranged between 7 and 9 minutes, depending on the squadron. Fortunately, I had a chance to catch up with some 9 squadron First Years and hear about their perspective of the course.
Competing against each other in friendly competitions like this one can bring out a lot of exhilaration and adrenaline. You could really feel the excitement rippling through the audience as their squadrons plunged into the deep end, only to emerged jumping over inflatable barriers. But how did they feel right before taking the dive? And what about right at the end, as they crossed the finish line?
"I actually felt that the obstacle course would be a breeze going in. I mean it's swimming, that's fun right? Yet it was surprisingly challenging, using a lot of lower body strength to get through it. Afterwards, I felt disappointed that we didn't beat the record, but at the same time it was fun being part of a team again. Like being back in September when Warrior Flight teamed up to take on the obstacle course. Good times." 26667 OCdt (I) Stephen Bowles
"I felt amped before it; it's always fun to compete with my squadron. I found it to be fun and challenging if you pushed your hardest. At the end I felt tired, but also excited because of how well we performed." 26673 NCdt (I) Cody Pogue
"I felt adrenaline before hand. The excitement of another obstacle course with my squadron. I started getting tired half way through; it was harder then it looked. I felt really good afterwards; we defiantly came out and performed well. It was a good team effort!" 26621 NCdt (I) Sarah Kelly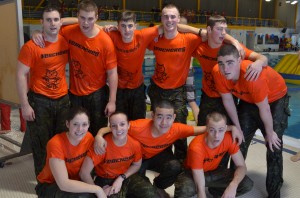 All of the squadrons participated well, and took on each obstacle with determination. Some proved more challenging then others, but the team work between Cadets was impeccable. You could really see the cohesion between squadron mates as they threw each other over obstacles and pulled each other to safety. There were six different obstacles, each one as difficult as the one before. Some squadrons succeeded quickly at one, while other squadrons did better on other ones. What was everyone's favourite obstacle?
"My favourite obstacle was definitely the log run." 26621 NCdt (I) Sarah Kelly
"My favourite obstacle was the jumping one, where we had to climb up and jump to the other side of a hollow square. It was really exciting making a leap for the other side, and hoping you made the distance." 26673 NCdt (I) Cody Pogue
"The toughest obstacle was the bridge, where you had to run across a narrow section. My legs were almost worn out by that time, so I actually lost my balance halfway across." 26627 OCdt (I) Stephen Bowles
Everyone had a pleasant experience running the obstacle course, and as an observer, I sure had a blast cheering on all the different squadrons and watching the different types of teamwork across divisions.
Another successful training weekend here at RMCC, all coming at you from the perspective of a fresh First Year!
Photos from the competition (click to enlarge):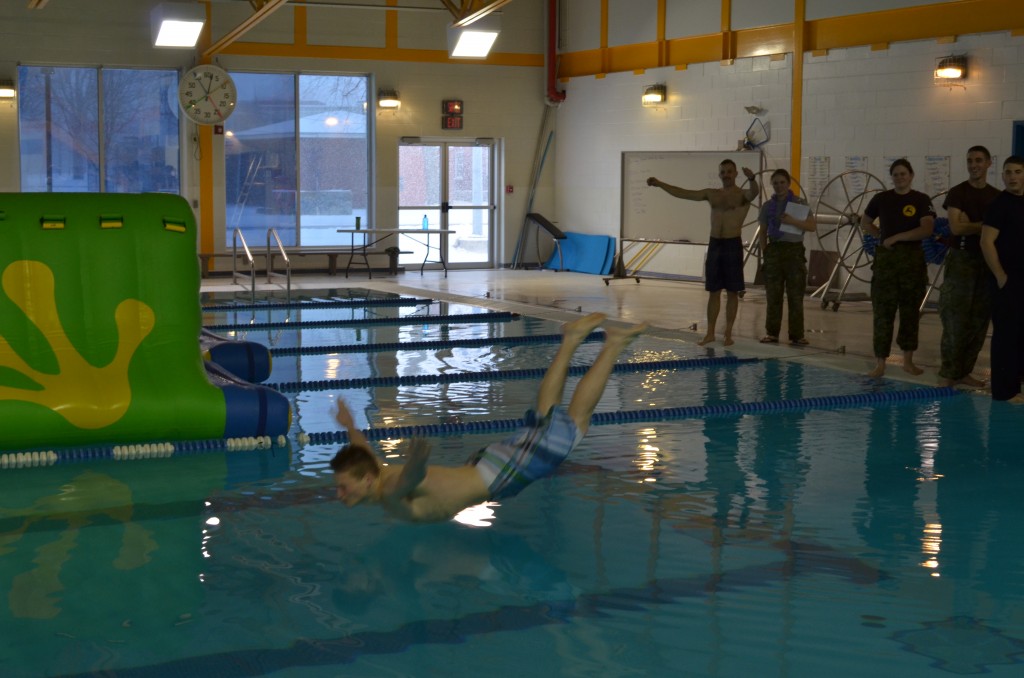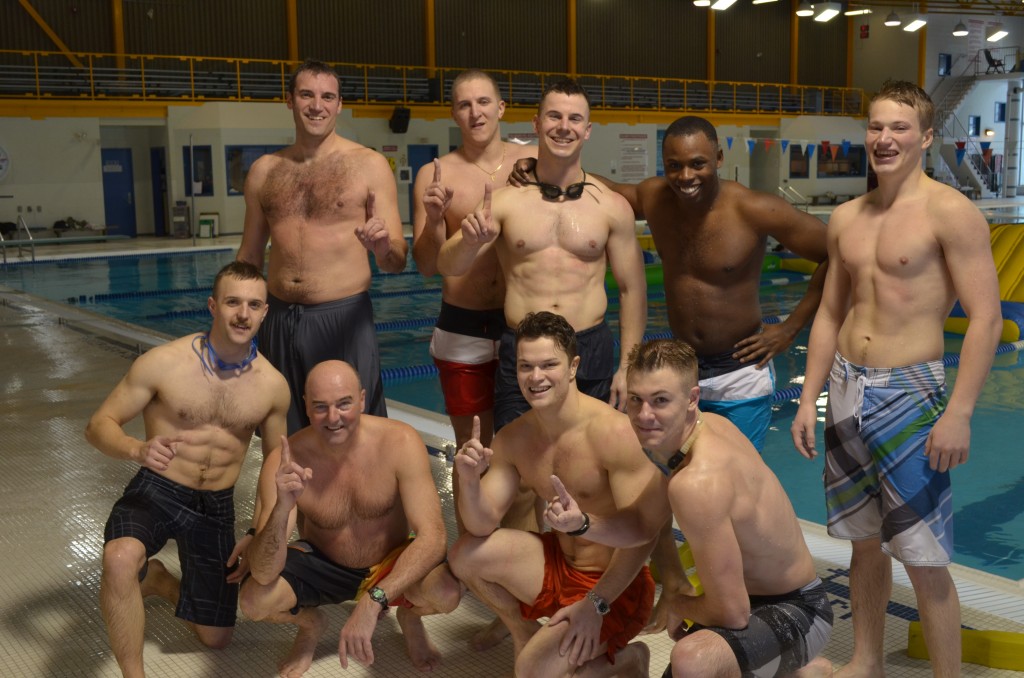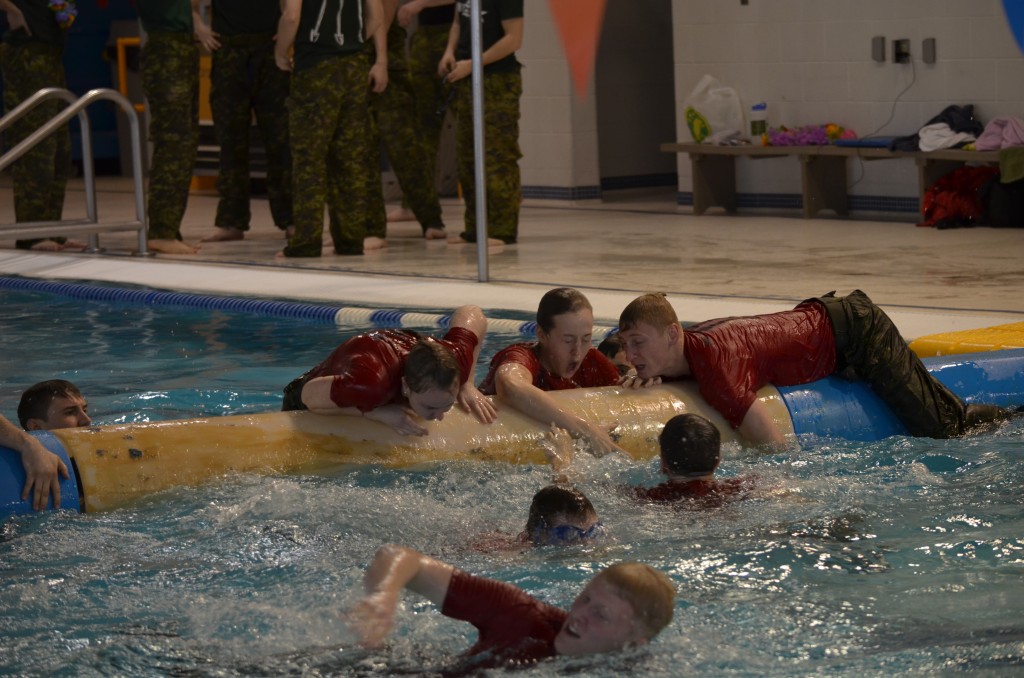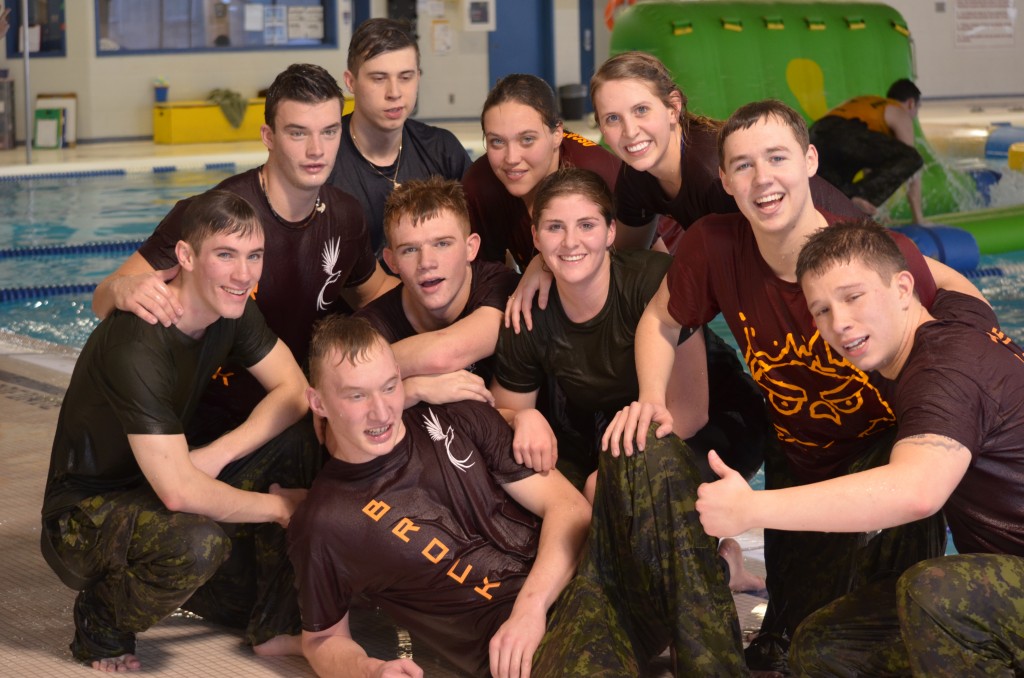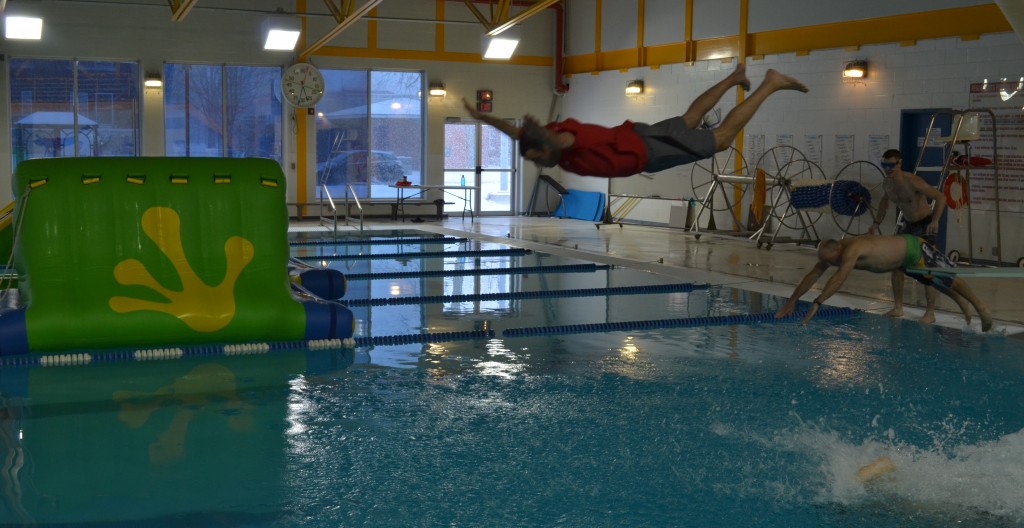 Look for details on the Talent Show in the next e-Veritas. 
Unless indicated, photos by 25366 Mike Shewfelt.