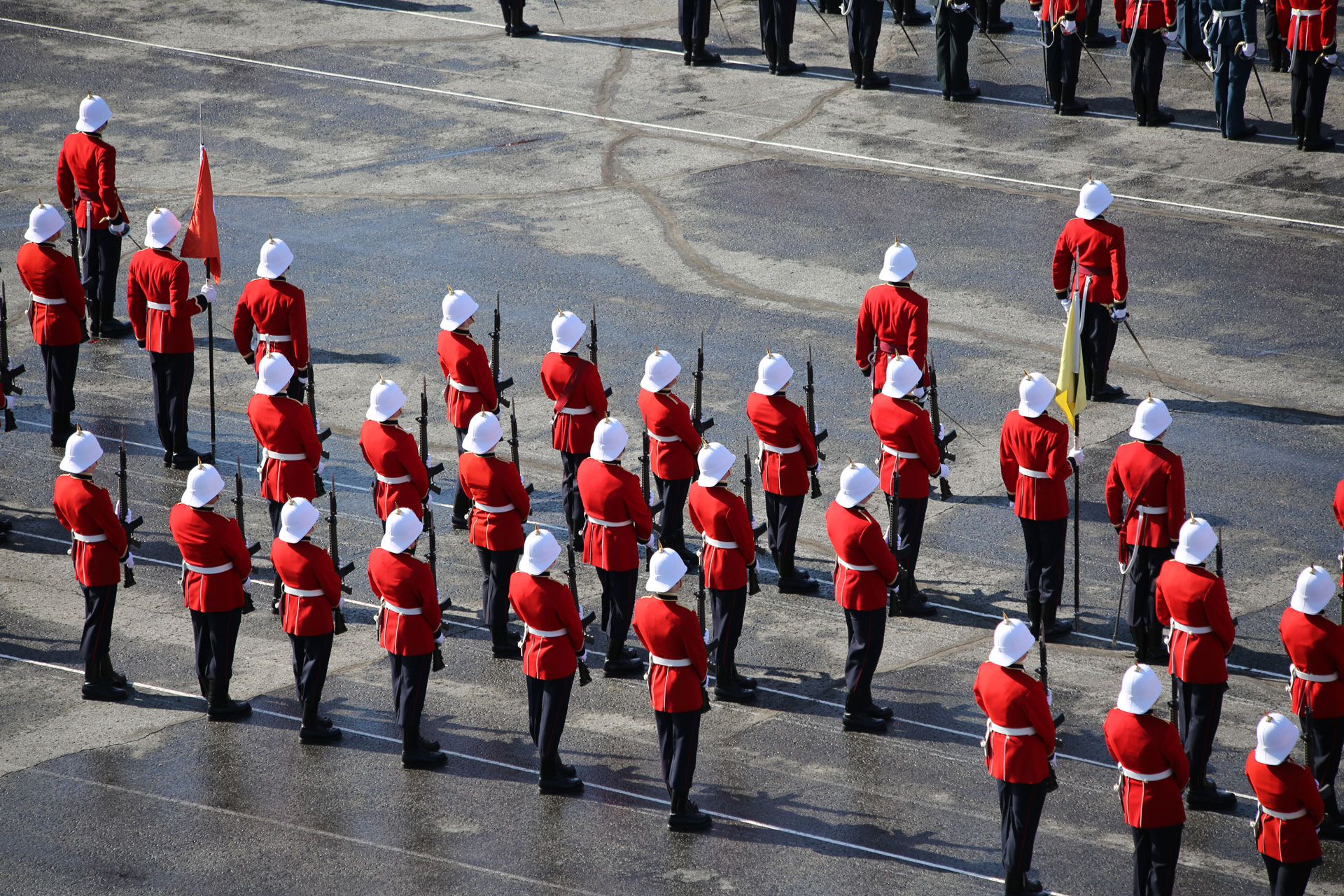 Supplementary Article
RMC Foundation In Action!
By: 24908  OCdt Derek Vanstone
Last week I wrote about an excellent event that I and five others attended at the University of Toronto. It was the U of T Model Parliament (UTMP). I described many things about the event but I forgot to mention something of even greater importance: how we got there. We were funded by the RMC Foundation, without which attending the event would have been impossible. The RMC Foundation contributed over eight thousand dollars towards paying for us to go and it was money well spent. Not only did we have an excellent time in Toronto, staying in a very nice hotel, and having transport to and from Toronto, but we were given an opportunity to meet other future leaders from Canada and learn more about our parliamentary system. This was the first year that RMC had attended this run, and as I mentioned in my after action report, we had no expectations except that everyone there would be professional adults. The contributors to the RMC Foundation, had no idea what we would be experiencing in Toronto or if it would be useful for gaining knowledge and experience, but they donated the money anyways. If it were not for the willingness of the RMC Foundation to give cadets the opportunity to try out new events like this, then we would not progress very far as a school and an institution. I would like to personally thank the RMC Foundation for being so generous and contributing to an excellent cause.
Other students from the University of British Columbia, and the University of Toronto had to pay their own way. By focusing their attention on collecting funds to go to this event, they were not able to focus as much on collecting data and research on the topics we were discussing and debating. The members from the RMC delegation did not have to worry about where the money was coming from and therefore were able to relax and focus more on studying the issues and building their arguments for debate. As well, our officer in charge, Major Lepine did not have to worry about the administration process or hounding us for money because it was already taken care of. We had a huge advantage over our civilian counterparts and we are very grateful to have such a unique opportunity. I hope that the members and contributors to the RMC Foundation see the value of where their money is being spent and continue to show interest in the results of events like UTMP. It is because of organizations like the RMC Foundation that I am proud to say I attend RMC.
________________________________

Caption:CME mess dinner17 March (left to right) Branch Chief CWO Jones, Capt Horton, Maj Vlachopoulos, Col Cmdt BGen (Ret'd) Deslauriers, OCdt Holt, OCdt Cockburn
Annual CME Mess Dinner Revival
Article by: 25116 OCdt Stephen Holt
It is not uncommon to hear an Officer Cadet wishing he or she had more exposure to his trade. For members of the Canadian Military Engineers branch (CME) this wish has come true on 17 March with the revival of the annual CME mess dinner.
Thanks to the efforts of (25473) OCdt Michael Cockburn, (9802) Col (ret'd) John Lesperance (President CMEA Kingston) and myself, the dinner was quickly organized, and, despite some conflicts with some people's schedule, we quickly had a group of 40 sappers, both Cadets and other members of the branch, retired and serving from the Kingston area, including the CME Colonel Commandant BGen (ret'd) Deslauriers and Branch Chief CWO Jones.
The evening was a tremendous hit.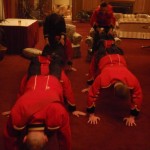 Everyone relaxed and spoke with one another, learning a great deal about what it means, and what it takes, to be an engineer. When the meal ended the fun and the learning were only beginning. Shortly thereafter, once people had found something to quench their thirst, the Colonel Commandant and the Branch Chief graced us with a wonderfully inspirational speech. Following this, people continued to mingle chat, laugh, and conducted a human bridging competition (see photo left) until one in the morning when some departed for bed but many went downtown to continue the festivities.
Many praised the evening after saying how it was truly a great experience. With such success on the first attempt, we all hope that such a valuable and enjoyable experience will remain an annual event to help develop the sense of a branch "family", and to pass on knowledge between the experienced and the up and coming Branch members.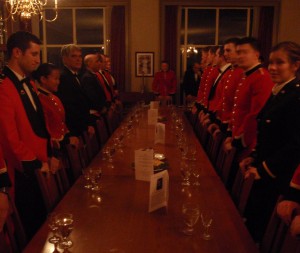 ________________________________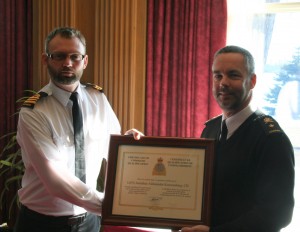 "LCdr Jonathon Kouwenberg (known affectionately by his peers as "Johnny K") was presented his Certificate of Surface Warship Command Qualification by Commandant,  Commodore Bill Truelove last Thursday at the RMC Senior Staff Mess. This qualification is the culmination of a challenging set of 10 written Command Exams and the successful completion of a demanding Naval Command Board. It marks a significant milestone in a MARS officer's career as it qualifies him to serve as an Executive Officer on an HMC Ship and for subsequent warship Command. LCdr Kouwenberg is currently studying at RMC completing his BMASc through the Department of Continuing Studies."
Photo: OCdt Dan Fleming
________________________________
MOC Weekend
MOC Weekend – Cadets could get informal questions answered and many benefited from the opportunity
By: 24347 (IV) Meghan McCready
This past Friday and Saturday marked the annual Military Occupation Classification (MOC ) Weekend, when all cadets split of into their respective elements. Friday saw meet and greets take place throughout the College as cadets met with visiting officers over a few pints.
The chiefs of maritime, land and air staff all visited and started off Saturday's briefings by addressing their respective cadets.
The navy gathered at HMCS Cataraqui and were briefed about recent counter-piracy operations, the maritime presence off the coast of Libya and the plan for the next generation of ships. In the afternoon there were also briefed on what to expect as young officers and the training paths that lay ahead of them.
For the Army the weekend started on Friday afternoon with the arrival of an artillery gun and LAV on the parade square. On Saturday morning army officer cadets heard primarily about operations in Afghanistan and what to expect following the end of combat operations this summer. The afternoon saw trade specific briefings and further details related to training and the life of a junior officer.
Following the first brief of the day by Lt.Gen Deschamps, Chief of the Air Staff, Air Force officer cadets heard about the strategic plan for the air force in the coming years and then briefly about life in the 7 different officer trades. These briefs were give largely by recent RMC grads who since leaving the college have all hit the ground running. In the afternoon, trade specific briefs were given with particular attention being paid to what to expect at the schools and training timelines. For 4th year cadets in particular the afternoon was highly anticipated as all were told where they would be posted immediately following grad while they waited for courses to begin.
___________________________________