To the Graduating Class of 2022,
I am 13861 Christopher Deere, Cdr, RCN (Ret'd)  I am a veteran from the RCN where I served 40 years as a Naval Officer and deep sea mine clearance diver. I was exposed to a lot of operational missions, exciting work, but also much tragedy both in and out of the CAF. Timing of good times and bad times has proven to be totally un-predictable.  I am also a member of the RMC Graduating Class of 83.
My younger brother, Capt David Deere was a graduate as well in the Class of 82 (Fighter Pilot, Snowbird, and now a Westjet technical pilot in Calgary).  My older brother, joined the RCAF (Not through RMC but nonetheless distinguished service) and served many years as a C130 Transport Pilot both in operations, and training. He recently retired from Air Canada as the Chief Pilot on the Boeing 787 Dreamliner.  My father, now 92 years old flew as a navigator in the RAF in UK and on emigrating to Canada with his family finished his flying career as a pilot with Air Canada on the Boeing 747.
My message to the Graduates from the Class of 2022 is simply: this tragedy, despite it's magnitude and sadness is a meaningful moment in time. It can't be changed.  However, you will move on and serve your country as you have been charged and chosen to do. There is no one event, no matter how traumatic, that can lessen your responsibility to LEAD others in uniform. You are graduating to fulfil that commitment. You will learn in the years to come that "Truth, Duty, Valour" is not just a school motto. Your subordinates will depend on your strengths and leadership always. This tragic accident, although you may not know it now, will make you better leaders, better people, and better citizens of Canada. Mourn as you have to, cry as you need to, and remember them as you must do.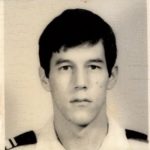 In 1988, 5 years after graduation I lost my recruit term room-mate (Capt Greg Benedict – Benny) in a tragic Kiowa helicopter crash in BC – he drowned in uniform. I was so saddened, and devastated as was his wife, mother, family, and friends. I thought, at the time I'd lost "lock on life" – but I went forward stronger. Every course I took, every mission I engaged in, and every decision I made throughout my career (off and on the ice), Benny was there to help me. He was part of me, and despite the accident, he still is!
Embrace what your fallen classmates have left you.
With sincere emotions,
Yours Aye,
13861 CJ Deere, Class of 1983
---
To the Cadets of the Royal Military College of Canada,
The sudden loss of four of your classmates is tragic and leaves all of us with a profound sense of loss and grief amongst many other emotions that each must bear. They were remarkable leaders who were about to graduate from Canada's finest institution and set out on the next step of an exciting career in our nation's military. Their future was robbed from them far too quickly to serve a full career that would have been replete with opportunity and challenge. In the short time they were with us, they lived their lives with gust and determination, and they did not back down from adversity. Those of us who before you who marched through the Memorial Arch and dutifully toiled at daily tasks on the path to commissioning and earning a degree, offer our most sincere thoughts and prayers to each of you as you seek the strength and light to carry on.
You are not alone. You are never alone.
You are a member of a special cohort of Canadians that have unselfishly decided to serve our county to bring peace and hope to others in the world. Know that you are members of Canadian Armed Forces and you are surrounded by caring and thoughtful brothers and sisters in arms who are, and will always be, there for you in your time of need. You are led by outstanding officers, supportive non-commissioned members and professional staff who care deeply about your welfare. Times like these can be used to build from the spirit and character of your fallen classmates and strengthen your resiliency and resolve to become even stronger than you ever imagined. Their lives have touched each of you in different ways and it is now your duty to keep their memories alive by continuing to serve with Truth Duty Valour so you can achieve your goal of becoming an officer and lead others in the greatest call of duty. We hope that you continue to keep your head's up and swing along with a newfound sense of purpose. They would expect no less.
13846 Kevin Bryski, OMM, CD
RMC Class of 1983
Colonel, RCAF, retired