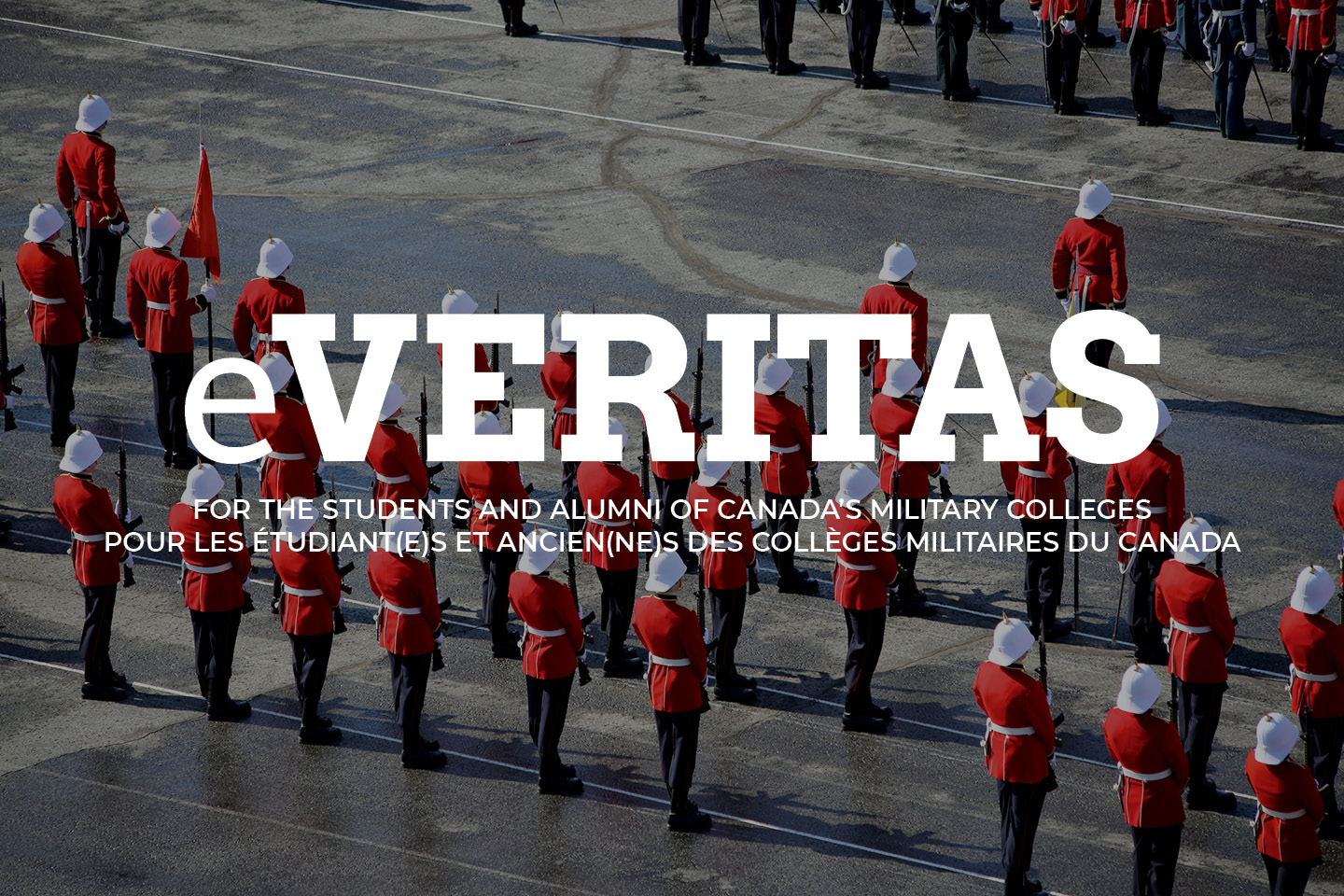 Week 7 – First Year @ RMC – Extracts from 1949 Diary:
3069 W. A. McColl
Oct. 24 – 1949: At breakfast parade it was so dark they couldn't have an inspection and was it cold! I've never felt wind like we get here. No mail today. Nearly everybody was up to all hours writing out chemistry lab reports; Tony Archembault stayed up all night and didn't even crease his bed. Poor Freddy Gilbert conked out completely in Geometry. Andy, Bob and I all got dates for the dance on Friday through Bob Smith. I hope to hell we get our uniforms by then, these dungarees would go over big. Rifle club got under way. I finally finished a draughting drawing without boobing it. If I'm going to the dance I suppose I'll have to shave off my lovely mustache, the whole week's growth of it.
Oct. 25 – 1949: It was too cold even for Major Brooks to give us morning inspection. It seems Bud White will be next squadron senior and Bourne is our next section leader. Poor Bud was afraid the flight senior would be too tall for him, but they'll be Bandy and Young. Ran about 3 miles for P.T. today with that bugger Hancock. Lt. Commander Nixon gave us a good lecture today, he amuses me no end. Told us the story of the admiral who got out of the wrong side of his launch as it drew along side of the flagship. One of his men said "Where did the old bastard go?" and then a voice came up from the water, "Now that you've identified me, would you mind helping me out?" Good soccer practice, recruits won over college team 2-1. Letter from Fran today. Had a lot of fun tonight carting Bud on his mattress down to Winter's room; what a bunch of loons we are in this dorm!
Oct. 26 – 1949: The big news has finally been announced – we get our uniforms tomorrow. Got an indecipherable letter from Don, seems he's 6' and 175 lbs. Squadron rugby practice again today was a grueling session with no pads. The ground is frozen on top now and it really knocks you when you fall. Started shooting today and didn't do too badly: got one target with about a 1½" grouping.
Oct. 27 – 1949: Finally got my uniform fitted, everything had to be altered except the cape. It's a damn smart uniform and the sewing is much better than the seniors'. Apparently the tailors fell down on their contract and they have to have everything finished by tomorrow; they say that the tailors are working all night. Had our first guest night with no guests. I was telephone orderly today for the first time. Had our introduction to P.T. exercises in the new gym with Sgt. Curtis. P.T. is to be dreaded, I'm convinced.
Oct. 28 – 1949: We got our uniforms back today and mine still has to have a few alterations. The dance was a swell affair and my date was very nice. As a matter of fact most of the Kingston girls were very nice. Andy drew a lulu and poor Watson drew a little chubby girl – what a pair they made! Rugby team beat Queen's thirds 7-0.
Oct. 29 – 1949: A very restful day. Scotty, Green, and Conrad got passed off today, the lucky dogs. Spent the afternoon sleeping and studying. Soccer team tied with T.C.S.
Oct. 30 – 1949: This has been a very full and varied day. The church parade into Kingston went off well. The RCMP band played us in and back. The Mounties had their scarlet uniforms and they certainly looked smart. It would be swell if RMC got back their reds. The governor-general attended the service, we seem to see a lot of him. Numbers 1 and 3 squadrons played off today and we lost the game 6-5. Freddy Joyce intercepted or just grabbed a fumble in mid-air and ran it out. I was subbing for Dave Winter and only got on for 5 or 6 minutes (no, less than that) when Dave's belt broke and he had to come off. After the church parade, the seniors were dismissed and the new seniors took posts. We carried Chant and Kiar around on our shoulders for a while. Some jokers put Strong from no 2 squadron in a hot bath and he is in KMH for 1st degree burns. The brigadier gave us a very serious talk tonight, and as yet, no one has owned up. That is no one who was directly involved. The bloody affair is a rotten mess. Bob's folks came down and brought him a lot of cookies etc. We had a little feast tonight.
_____________________________________________________________________________________________________
"Dear Diary" – 11 Oct 1983 to 23 Oct 1983 for
Theresa Winchester, UTPM
Theresa Winchester, a UTPM (UTP-NCM equivalent) student at RMC in 1983, records her daily struggles with balancing drill lessons, academic studies as well as kids and family. The following excerpt, taken from the 1983 edition of "The Arch" student run RMC newspaper, documents Theresa's unique view of life at RMC.
11 Oct. 83 – Thanksgiving weekend has come and gone and it was the shortest long weekend of my life. Started out on Friday night with a huge list of "Things I am going to do this weekend"; Sunday night comes around with almost the same list!
13 Oct. 83 – Drill. Lord, how I dread the dreaded drill day! The drill staff has commented on my improvement. You, too, can earn these rare words of praise: first, you start out with a very low standard… Went to a party this week for one of my ex-co-workers in Records. It was good to talk with Mrs. L'Esperance and Joe the Pervert in Transportation/Claims Section. It brought back fond memories of what seems to be so long ago. Things, in retrospect, seem so much simpler; challenges then were ones I felt comfortable with and capable of beating. Now there is so much to learn, and none of it seems as easy as the RMC calendar made it sound.
15 Oct. 83 – Last Tuesday, a boxful or perennials arrived from Sears with "Plant me now" written on the outside. MY husband refused to plant them. He checked with his union and says it is prepared to back him up on this: househusbands do not have to plant flowers. So outside I went with a handful of forks and managed to Tom Sawyer every kid in the neighborhood over the age of three digging up the flowerbed. Hope something grows in the spring.
17 Oct. 83 – Oh, Oh! Oktoberfest at CFB(K) and a jug of wine seemed like a good idea last night.
18 Oct. 83 – Joke on the coffeeroom board: Did you hear about the UTPM who was killed in a car accident on his way to write a mid-term: He was in Hell for three days before he realized he had left RMC. One of the profs told us not to worry about the panic sensation we are now experiencing. It is normal at this time of the year. Yeah, hurrah, we're part of a tradition. Carpooling again. The last two classes were cancelled today and rushed home to get some work done. Had that uneasy feeling that I had forgotten to do something at RMC. Was turning onto Butternut Street when I realized what I had forgotten. It was the other half of the carpool. To whoever picked up a captain with a briefcase hitch-hiking a ride in Collins bay direction between 1630 and 1700 hours tonight – thanks. (Sorry, Capt. K, it was a bad day.).
19 Oct. 83 – Before going to school this morning, I had time for a half of an hour's sewing to put together my daughter's Halloween costume. Life is great.!
22 Oct. 83 – Welcome, Cary and Bev Babin, to the wonderful world of parenthood: sleepless nights, diapers and bottles. You'll love it and it is only the first 20 years that are difficult.
23 Oct. 83 – Hope mid-terms are over soon. Passed by the family room and heard the kids talking about "that lady in the study room." Finished Kyla's costume, she can be a pumpkin on October 31. Bryson started to make noise about not wanting to be a penguin; managed to talk him back into it. Three-year-olds are so nice and pliable. We already have a penguin costume so he has to be a penguin. Last week, while I was complaining about the amount of work due in the next month, one of the ROTP's said he has a tough time feeling sorry for a UTPM. The ROTP feel the UTPMs have it made, we look at the UTPOs and think they have it made. And everyone knows the PGs have the best deal of all.